As a kid, many a morning I'd arrive at the breakfast table to find a happy face made of jam staring right back at me. Had it not been smeared atop a pile of cream of wheat, perhaps it would have evoked some sort of morning joy. Although Mom obviously made attempt to make breakfast fun, I didn't particularly like cream of wheat. In fact, most breakfast food just didn't do it for me. I still clearly remember choking down that sad excuse for porridge while that sinister berry face grinned mockingly back at me. Digging my spoon in, I was determined to wipe that self-satisfied smirk off its pasty white face, while simultaneously attempting to stretch the meagre spattering of a jam smile as far as possible; anything to drown out the flavourlessness of the cream of wheat. It was never enough jam.
I've always been a morning person, but it still takes me a while to work up an appetite for solid food, especially solid food I'm not a fan of. Smoothies really would have been the perfect breakfast for me, but in the 1970's the only ones drinking smoothies were body builders and maybe "health food fanatics." It was not something regular people had for breakfast. It's just as hard for me to get my kids to eat breakfast before they leave for school. I get it.
But having something to drink, well, that isn't as much of a stretch. And my kids love this Raspberry Gingerbread Smoothie recipe! No longer reserved for body builders, smoothies are a great way to get a flavourful, quick and protein packed breakfast into your kids and yourself. Plus, being a health food fanatic is no longer considered a bad thing.
Smoothies are like healthy shakes:
When you give your kids this smoothie, they feel like they are getting a treat and you can feel good about the health benefits (I have given my kids this smoothie for dessert as well as breakfast)! Yogurt smoothies, made with Greek yogurt, also have the added  benefit or protein, which you need to fuel your day. So, if you're on the hunt for healthy breakfast smoothie recipes, this one is for you!
Use up frozen bananas:
Fruit smoothie recipes are also a great way to use up some of those frozen bananas. If you are anything like me, you probably have a bunch of frozen bananas, taking up prime real estate, in your freezer right now!
HERE'S A GREAT TIP: PEEL YOUR BANANAS BEFORE YOU FREEZE THEM – SAVES YOU LOTS OF HASSLE AND MINOR FROSTBITE!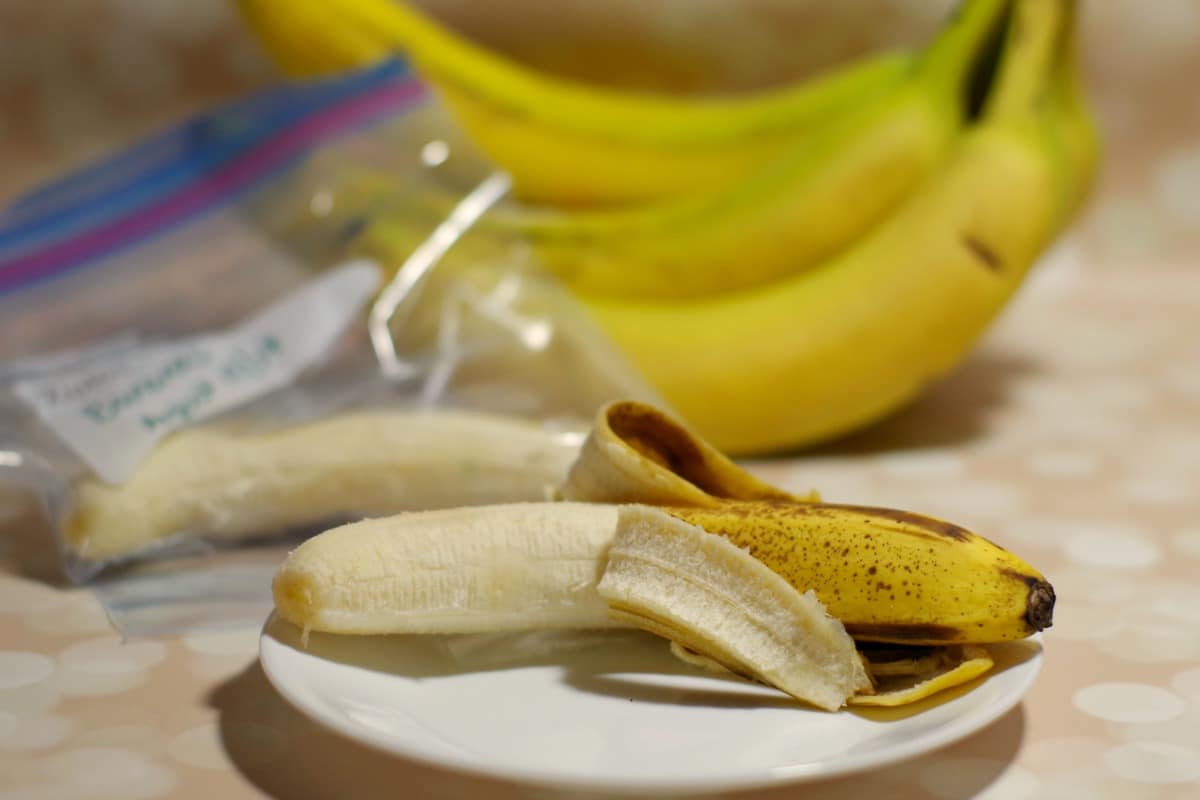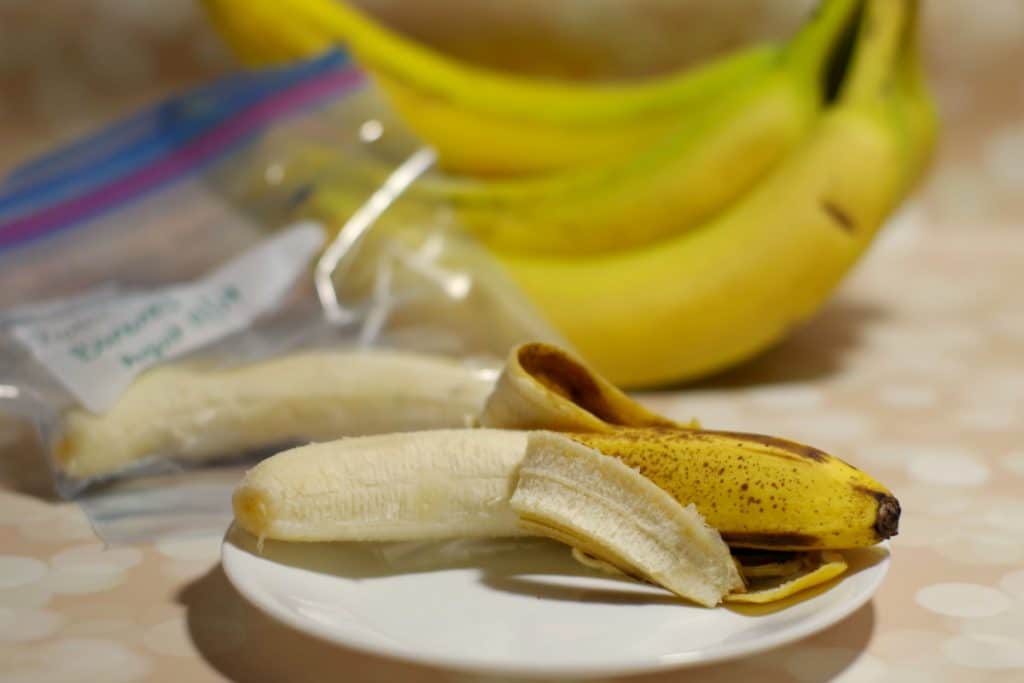 If you are looking to use up even more of your frozen bananas in a healthy way, give my Coconut Lime Nice Cream (vegan) a try! No ice cream maker required (only a food processor).
The bonus is that this gingerbread smoothie recipe is also festive! I especially love this easy breakfast smoothie recipe because it's a little bit different and it's perfect for the holidays. Although it's great anytime of the year, it's December and that spells gingerbread time!
So, if you are looking for a quick healthy, low-fat raspberry smoothie, give this one a try!
In retrospect, I should have been a lot more appreciative of my Mom's attempt to feed us a FUN & HEALTHY breakfast. I guess having my own kids, kids that don't want to eat breakfast and exercise the same lack of appreciation, is simply my karmic payback.
If you love this recipe, PIN IT for later~!

All the same, here's another one of my attempts to make breakfast fun:
If you love gingerbread, be sure to try my Strawberry Gingerbread Pupcakes ! Your kids will love them – it's like eating healthy cupcakes for breakfast!
Terri's Amazon picks: I own both the food processor and the blender and love them! (And I want the bullet!)
Raspberry  Gingerbread Smoothie
A festive and delicious yogurt smoothie made with frozen raspberries, bananas and gingerbread flavours
Instructions
Add all ingredients in blender and mix until smooth (about 1 minute). Pour into glasses.

Garnish with fresh raspberries and cinnamon stick, if desired.
Notes
Nutrition Facts
Raspberry  Gingerbread Smoothie
Amount Per Serving
Calories 181
Calories from Fat 45
% Daily Value*
Fat 5g8%
Cholesterol 9mg3%
Sodium 92mg4%
Potassium 414mg12%
Carbohydrates 26g9%
Protein 7g14%
Vitamin A 160IU3%
Vitamin C 16.8mg20%
Calcium 171mg17%
Iron 0.6mg3%
* Percent Daily Values are based on a 2000 calorie diet.
Nutrition
Calories:
181
kcal
|
Carbohydrates:
26
g
|
Protein:
7
g
|
Fat:
5
g
|
Saturated Fat:
4
g
|
Cholesterol:
9
mg
|
Sodium:
92
mg
|
Potassium:
414
mg
|
Fiber:
4
g
|
Sugar:
16
g
|
Vitamin A:
160
IU
|
Vitamin C:
16.8
mg
|
Calcium:
171
mg
|
Iron:
0.6
mg