This is, hands down, the most delicious and addictive cookie I have ever created! And by gawd it better be, given that it has been at least 2 years in the works! But consider this a warning... you will not be able to stop eating them (even if you freeze them)!

Butter tarts are amazing not only because they taste soooo good, but because they symbolize Christmas and are quintessentially Canadian. I also happen to love anything that vaguely resembles a butter tart, but there really isn't much out there as far as butter tart flavour goes. You've got your basic butter tarts, your butter tart squares and really, that's about it. As far as I'm concerned, that's not nearly enough butter tart options. And that's precisely why I created these Butter Tart cookies. I needed butter tarts in the form of a cookie.
Sometimes recipe creation is nothing other than a labour of love.
Jump to:
Nailed it! The creation of this cookie was a very long process. I was able to get the butter tart cookies to taste pretty good at one point, but they still looked hideous. There were times when I wanted to throw in the towel, but instead, I just walked away for a while and focused on other recipes. I have made a lot of batches of these guys, experimenting with different amounts of ingredients (fats, leaveners etc), pre-cooking the filling, then filling the cookie before baking, then filling the cookie partway through the baking process and finally filling it afterwards. And after many trials, I believe I finally nailed it!

🥘 Ingredients
I grew up with my Grandma's butter tarts and I needed an easy butter tart filling for this butter tart stuffed cookie, so I adapted my Grandma's Best Ever Butter tart filling and it is perfect! In fact, I love her butter tarts so much that I basically wrote and Ode to the Butter Tart and baking in my story: Comfort & Baked Expectations.
For this recipe, you'll need:
sugar
butter
eggs
ground pecans
baking powder
flour
vanilla
brown sugar
whipping cream
cornstarch
raisins
vinegar
💭To chill or not to chill cookie dough
HEADS UP: There is chilling time involved in this recipe, so you need to budget for it. But if you find you are asking yourself, "Do I really need to chill cookie dough?" "What's the worst that could happen?" Well, I'm here to tell you that, "yes, you do need to chill" or your cookies will spread way too much and they won't be nearly as good or as nice looking. I know this because I am impatient and I tried it. That's also my job as a recipe tester.
So I am pretty sure you will want to budget that extra hour. However, if you're still on the fence and need more convincing, read this article: To chill or not to chill - that is the question!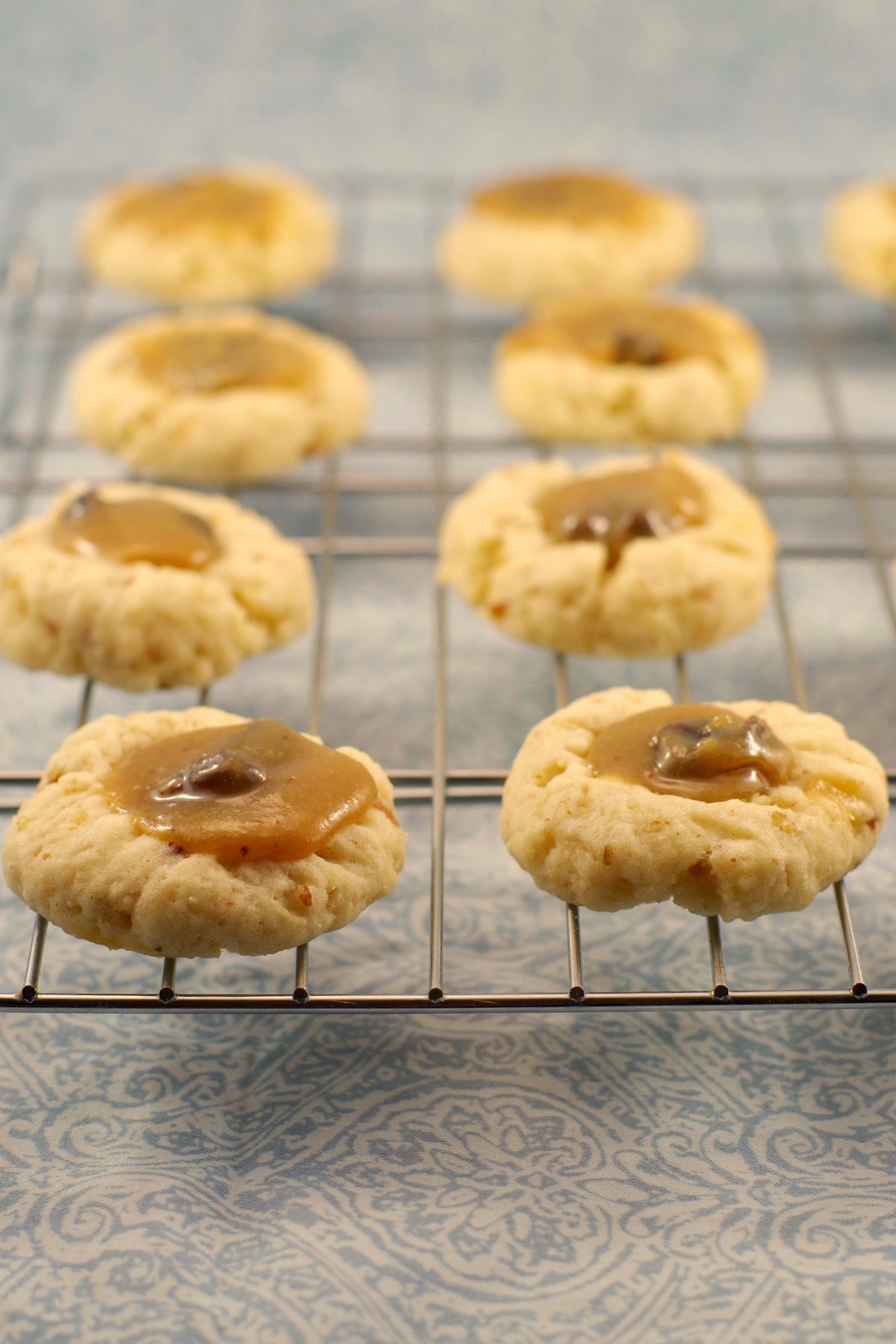 If you are looking for an interesting cookie for your holiday baking tray, these butter tart thumbprint cookies are the perfect addition.
📖 Variations
Raisins: If you are not a fan of raisin butter tarts, you can easily substitute pecans.
Ground pecans: You can substitute ground almonds for ground pecans.
🌡️Storing
Refrigeration: These cookies have a gooey centre, so I do NOT recommend stacking them when you store them. You can store them in the fridge for up to 3 days
Freezing: These cookies will freeze well for up to 3 months, but do not stack them when freezing.
Although I love to create recipes for contests, I did not create this recipe for a contest. Nor did I create this recipe for this blog post or for a special someone.  I created it because I simply wanted a fantastic butter tart cookie. I won't get any money, accolades or showered with any affection (unless you really want to, of course... and you just may after you taste this!) But it's truly not about that.  It's about love; the love of baking and creating something so delicious out of a bunch of random ingredients. I also love challenging myself creatively. And I especially love the feeling I get when I do finally nail it! It's also called passion. Oh, and maybe there's a little obsession. I like to call it determination, but some may see it in a different light. Be sure to check out my other butter tart recipes!
⭐ REVIEWS
Did you make this recipe? Please RATE THE RECIPE below
Please SUBSCRIBE (get my FREE E-cookbook) and be sure to FOLLOW ME on FACEBOOK, TWITTER, INSTAGRAM and PINTEREST!
📋Butter Tart Thumbprint Cookies
These Butter Tart Thumbprint Cookies are filled with ooey gooey rich butter tart filling, nestled in a pecan sugar cookie. If you don't love raisins, you can easily substitute pecans in the filling. But if you love butter tarts, you will love this scrumptious cookie with an easy butter tart filling!
Ingredients
Cookie dough:
Butter tart filling:
1

tablespoon

unsalted butter + 1 tsp

½

teaspoon

vanilla

¾

cup

brown sugar

1

egg

2

tablespoon

whipping cream

1

teaspoon

vinegar

1

teaspoon

cornstarch

2

tablespoon

raisins

*pecans can be substituted -finely chopped
Instructions
Butter tart Filling:
In small pot on stove top, add vanilla and whipping cream, heat, then add butter.

In a separate bowl, combine egg, and brown sugar.

Add egg mixture to warm cream mixture and simmer on low, then add vinegar and cornstarch. Add raisins here.

Keep whisking until thickened on med-low heat for about 10-15 minutes. It should be the consistency of gravy. Remove from heat and set aside to cool. After 10 minutes, refrigerate.
Cookie dough:
Preheat oven to 350 degrees F.

In large mixing bowl, cream butter and sugar until combined. Add eggs and mix well,

In a separate bowl, add flour, ground pecan and baking powder together. Mix with spoon until it becomes to stiff to continue using a spoon, then use your hands to mix the dough together until it's completely incorporated.

Cover and chill dough for 1 hour
Assembly:
Roll dough into 1 " (approximately) balls. If the dough feels sticky, make sure you have some flour nearby to flour your hands as needed.

Press thumb into centre of ball to make a pit

Press outside edges of cookie with a floured fork, as you would around the edge of a pie

Bake for 10-12 minutes until lightly browned on the bottom

As soon as the cookies are out of the oven, use your thumb or the bottom of a teaspoon to reinforce indent in cookie.

Fill indent with about ½ teaspoon of cooled butter tart filling.

Continue to cool on rack for 5 minutes

Store in fridge for 10 days or freeze for up to 4 months
Notes
My Amazon Recommendations (affiliate links)
Nutrition Facts
📋Butter Tart Thumbprint Cookies
Amount Per Serving (1 cookie)
Calories 130
Calories from Fat 54
% Daily Value*
Fat 6g9%
Cholesterol 30mg10%
Sodium 42mg2%
Potassium 49mg1%
Carbohydrates 16g5%
Protein 1g2%
Vitamin A 165IU3%
Vitamin C 0.1mg0%
Calcium 16mg2%
Iron 0.6mg3%
* Percent Daily Values are based on a 2000 calorie diet.
Nutrition
Serving:
1
cookie
|
Calories:
130
kcal
|
Carbohydrates:
16
g
|
Protein:
1
g
|
Fat:
6
g
|
Saturated Fat:
3
g
|
Cholesterol:
30
mg
|
Sodium:
42
mg
|
Potassium:
49
mg
|
Sugar:
8
g
|
Vitamin A:
165
IU
|
Vitamin C:
0.1
mg
|
Calcium:
16
mg
|
Iron:
0.6
mg
Save
Saved!
🍪

More Cookies!