The holidays can be a pretty indulgent time of year. That's what inspired me to create this healthy holiday cookie recipe. I wanted to make a healthier Christmas cookie that was unique, kid friendly, easy to make and didn't leave me overdrawn at the calorie bank.

This Gingerbread Cookie Edible Christmas Wreath makes a great edible Christmas gift or holiday centerpiece for your table. It's also Weight Watchers friendly at only 8 WW points per serving on the blue plan!
Weight Watchers Dessert Recipes
Christmas baking can be pretty tempting. I love both the baking of it and the eating of it. And that often pushes me way off track during the holiday season. I want to indulge, but I don't want to go overboard either. And it's really tough to find ww dessert recipes that aren't full of artificial sweeteners. If you've been following along with me for a while, you'll know I don't use artificial sweeteners in my cooking or baking. This recipe has no artificial sweeteners, is healthy and light (especially for actual gingerbread cookies) and kids LOVE it too! Obviously, you don't have to be following the Weight Watchers program to enjoy this holiday dessert. In fact, no one will ever even suspect it's WW friendly. And if you're looking for more Weight Watchers Dessert Recipes (without artificial sweeteners) then check out these HERE!

Gingerbread Wreath
A gingerbread wreath is a fun and festive way to celebrate Christmas, especially when it's edible and healthy! And nothing makes your house smell as amazing and Christmasy as gingerbread baking in your oven! You can use my favorite gingerbread recipe to make this gingerbread wreath, which I highly recommend, your own recipe or a cookie mix. The gingerbread recipe I use is very strong but it's not too hard, and still tastes delicious, so it's ideal for this recipe. The chocolate cream cheese adds a lovely creamy and tangy texture that pairs perfectly with the gingerbread and fruit. Plus, chocolate just makes everything better, right?!
You can buy the chocolate cream cheese or quickly make your own with just 3 ingredients (and that way you control the WW points)!
Edible Christmas Wreath
If you need this edible Christmas wreath to be nut free, leave out the nut pine cones (or you could make pine cone shaped cookies with the excess gingerbread.) Either way, you'll want to give this is delicious, healthy and festive holiday edible wreath a try. You won't be disappointed!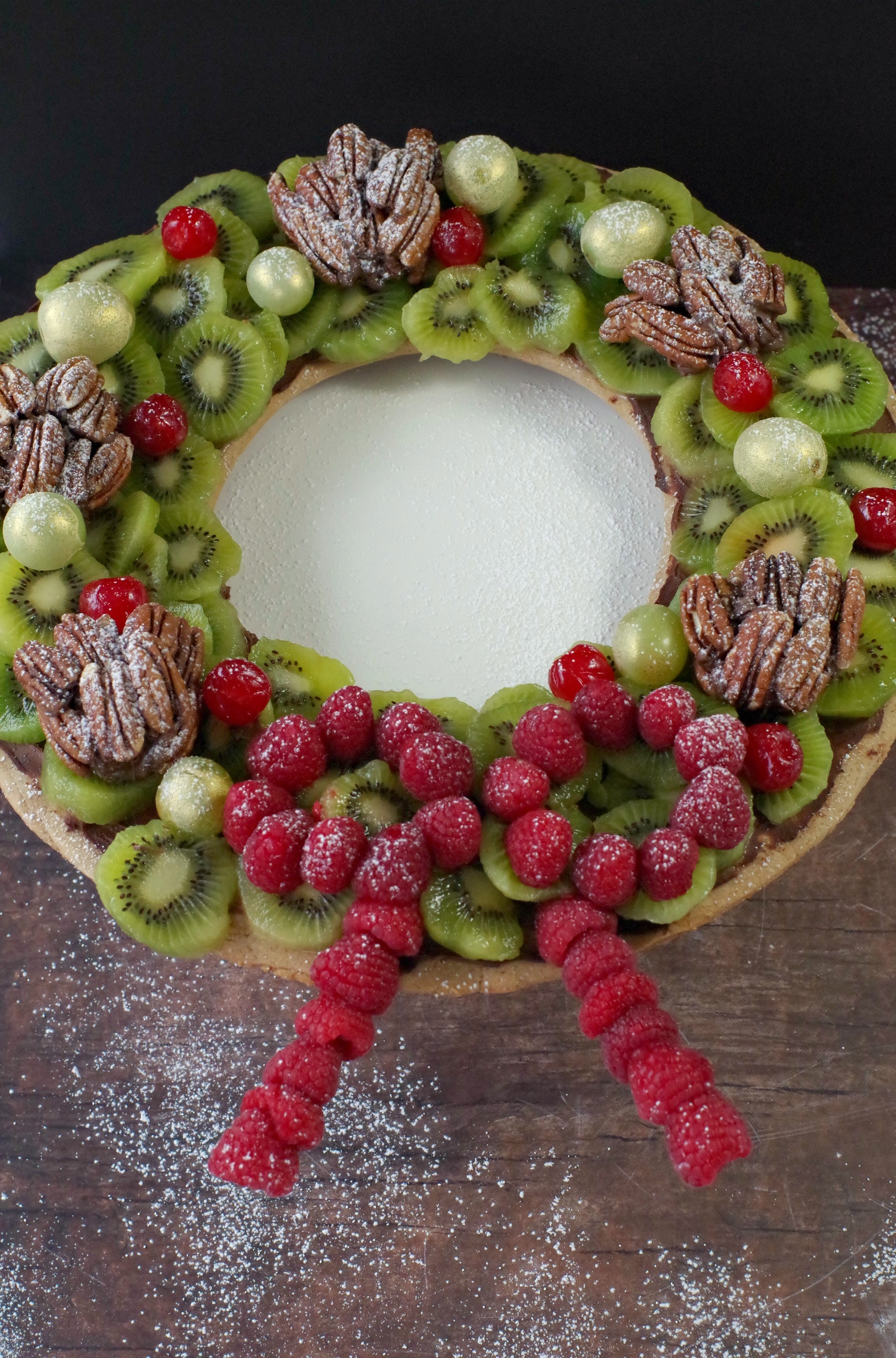 So go ahead and indulge with this Edible Christmas wreath over the holidays because you won't break your WW bank doing it! And most importantly, remember...
It's not what you eat between Christmas and New Year's that matters as much as what you eat between New Year's and Christmas!
Merry Christmas!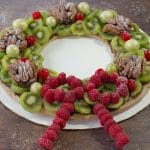 Print
Gingerbread Fruit & Nut Edible Christmas Wreath - WW friendly!
This healthy holiday gingerbread fruit and nut edible Christmas wreath is a tasty gingerbread cookie layered with chocolate cream cheese, lots of fruit and nuts and makes a wonderful edible holiday gift! It's also Weight Watchers friendly at 8 WW points per piece!
Ingredients
Instructions
Gingerbread cookie wreath:
Gingerbread cookie mix: (you can make this homemade gingerbread, use your own or a package mix)
*If using a package gingerbread cookie mix, prepare as per package instructions then skip down to 'wreath' instructions (Note: it may not be as strong as the homemade one I recommend)

Preheat oven to 350 degrees F (177 Celcius)

Spray a 12 inch round pizza pan with non- stick cooking spray.

Stir the dry ingredients together in a large bowl and set aside.

Combine light corn syrup, light brown sugar and margarine in a 2 quart saucepan. Stir constantly over medium heat  on stove top until margarine is melted.

Stir the liquid into the flour mixture. Mix well with a spoon, then using hands as dough becomes stiff.

Chill the dough until it is easy to handle (10 – 15 minutes approximately)
Wreath:
Roll the dough out to ¼ inch thickness directly  onto pizza pan (it is easier than trying to transfer the dough after it's rolled out).

Then trim around the edges of the pizza pan.

Use the rim of a bowl (or anything round that is approximately 4-5 inches across) to cut out the centre of the gingerbread wreath.

Remove excess dough  * you can use it to cut into shapes for cookies, as desired.

Bake for 12- 15 minutes or until golden brown. *Check for air bubbles during baking and poke them with a toothpick.

Remove and cool  for 5 minutes. Then gently lift around edges, with a pie lifter (or similar utensil), while it's still warm, so it will be easier to remove from the pan.

Transfer by sliding onto large cooling rack. If you don't have a large cooling rack that will accommodate this size of cookie, then leave it on the pan until completely cooled. When completely cooled, transfer to large (14 inch) cardboard cake tray, large flat platter or cake platter.
Assembly:
Spread all the chocolate cream cheese evenly over the gingerbread cookie wreath, using a butter knife.

Slice kiwis (see NOTES for video on best way to peel kiwis - it works! ) and diagonally layer
Make the pecan pine cones (you can also do this in advance):
Cut large tootsie rolls in half. Microwave tootsie roll on ½ power in microwave for about 20 seconds or until it is a little soft and therefore pliable. Lay tootsie roll on parchment paper.

Melt chocolate melts in microwave on ½ power (5 power on my microwave) in 30 second intervals for up to 1 ½ - 2 minutes, stirring each time, until melted. * do not get any water near utensils, bowls etc as the chocolate will seize.

Rub some chocolate candy melt on the  tootsie roll and add a layer of pecans. Allow to harden for about 5 minutes. Rub a little chocolate melt on each pecan halves as you layer pecans to  build the pine cone upwards and outwards. 

You will likely need to stop and allow the 2nd layer to harden before putting on the final layer. You only have to worry about doing one side, as they are laying flat ( 2D.) When pine cones are completely hardened, transfer to wreath and place them equal distance from one another.

Add pine cones to wreath.

Spray with edible gold spray ,if desired, then allow a few minutes to dry before adding

Add grapes and maraschino cherries to wreath. *Be sure to pat the cherries dry with a paper towel before placing on wreath.
Make raspberry bow:
Poke raspberries through 2 wooden skewers to make the bottom of the bow.

Place raspberries on 2 wooden skewers and lay on top of wreath at the bottom (see photo). Poke the top, sharp end of the skewer into the fruit at the top so it will stay in place.

Then arrange remaining berries in a circle on each side to look like a bow.
Garnish:
Sprinkle with powdered sugar/icing sugar, then slice, serve and enjoy!
Notes
*NOTE: How to make your own Chocolate Cream Cheese
**NOTE: 
Video: How to peel a kiwi
***NOTE: I calculated this recipe using the WW app, as my nutritional calculator on my blog does not account for 0 point foods.
My Amazon Recommendations (affiliate links)
Nutrition Facts
Gingerbread Fruit & Nut Edible Christmas Wreath - WW friendly!
Amount Per Serving
Calories 417
Calories from Fat 162
% Daily Value*
Fat 18g28%
Cholesterol 1mg0%
Sodium 125mg5%
Potassium 596mg17%
Carbohydrates 63g21%
Protein 6g12%
Vitamin A 401IU8%
Vitamin C 141mg171%
Calcium 88mg9%
Iron 2mg11%
* Percent Daily Values are based on a 2000 calorie diet.
Nutrition
Calories:
417
kcal
|
Carbohydrates:
63
g
|
Protein:
6
g
|
Fat:
18
g
|
Saturated Fat:
2
g
|
Cholesterol:
1
mg
|
Sodium:
125
mg
|
Potassium:
596
mg
|
Fiber:
8
g
|
Sugar:
33
g
|
Vitamin A:
401
IU
|
Vitamin C:
141
mg
|
Calcium:
88
mg
|
Iron:
2
mg
Save
Saved!
More Gingerbread Recipes!
Gingerbread Pudding Pancakes (no molasses) with Cranberry Compote
Raspberry Gingerbread Smoothie
Cranberry Gingerbread Stovetop Rice Pudding (Gluten-free)
Old Fashioned Gingerbread Cake with Blueberry Cookie Butter Filling
Strawberry Gingerbread Pupcakes: Healthy Cupcakes for Breakfast!
Blueberry Gingerbread Loaf with Fresh Lime Glaze
This post is part of The Country Cook Weekend Potluck!