If you love Miami Vice Cocktails or Mocktails, then you're going to love this Skinny Miami Vice Frozen Cheesecake because it tastes like a Miami Vice!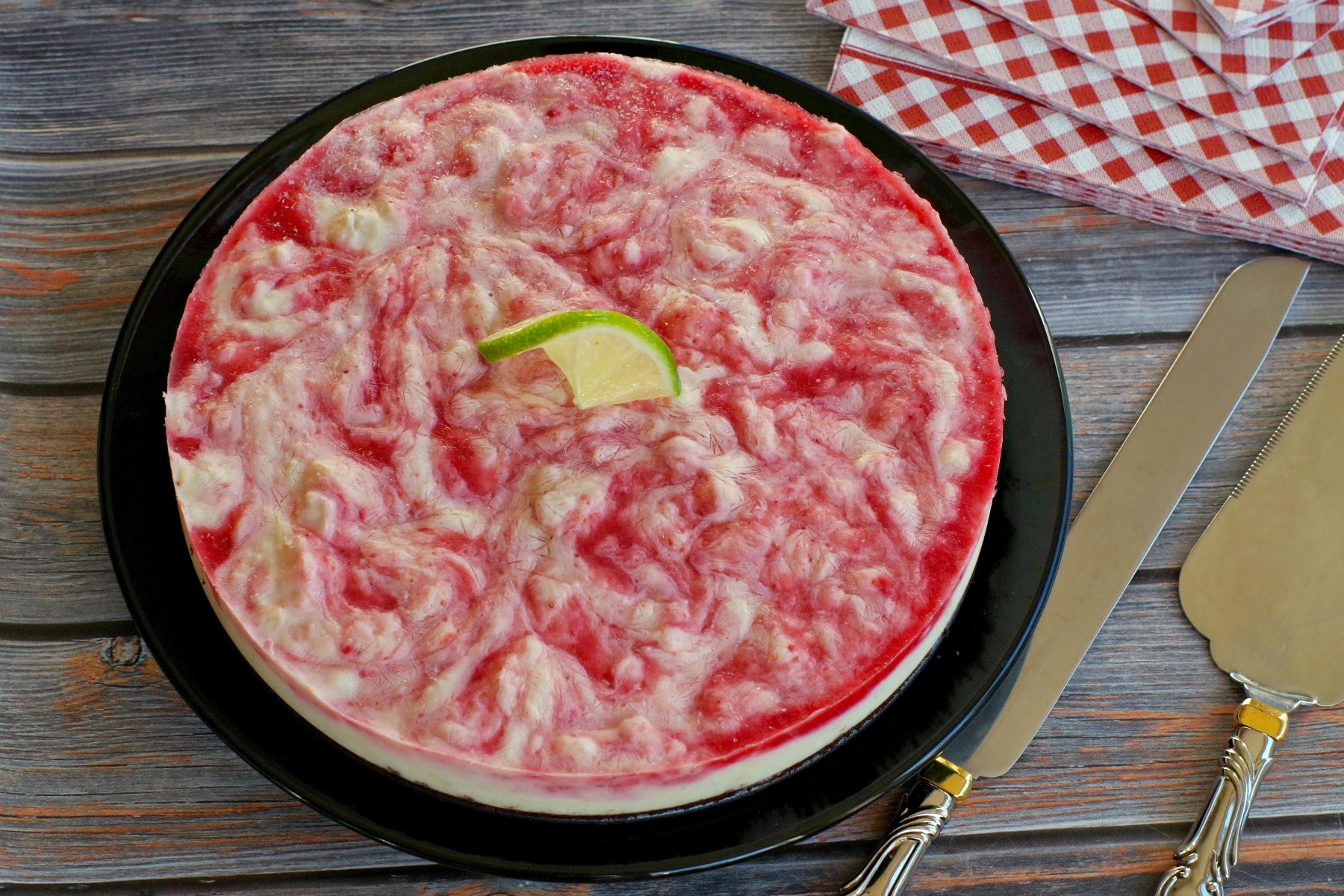 Not only is it easy to make and NO BAKE, it's a mere 5 WW points on the blue plan (without artificial sweeteners) ! Considering cheesecake is generally about 18 points, that's a real plus! And since my guinea pigs (the kids) loved it, you know it's darn good, especially when they don't even notice it's Weight Watchers! This red and white dessert is also perfect for your Canada Day celebrations!
Frozen Cheesecake
This recipe came into being because my daughter loves cheesecake and Miami Vice Mocktails. So last summer I attempted to make her a Miami Vice Cheesecake for her birthday, but it turned out a little too runny. So, I froze it. And WOW was frozen cheesecake ever good - a total game changer! And frozen is the way a Miami Vice cheesecake should be, given the Miami Vice is a frozen drink. So this year I made it again, but BETTER because it's so much healthier and lighter than my original creation!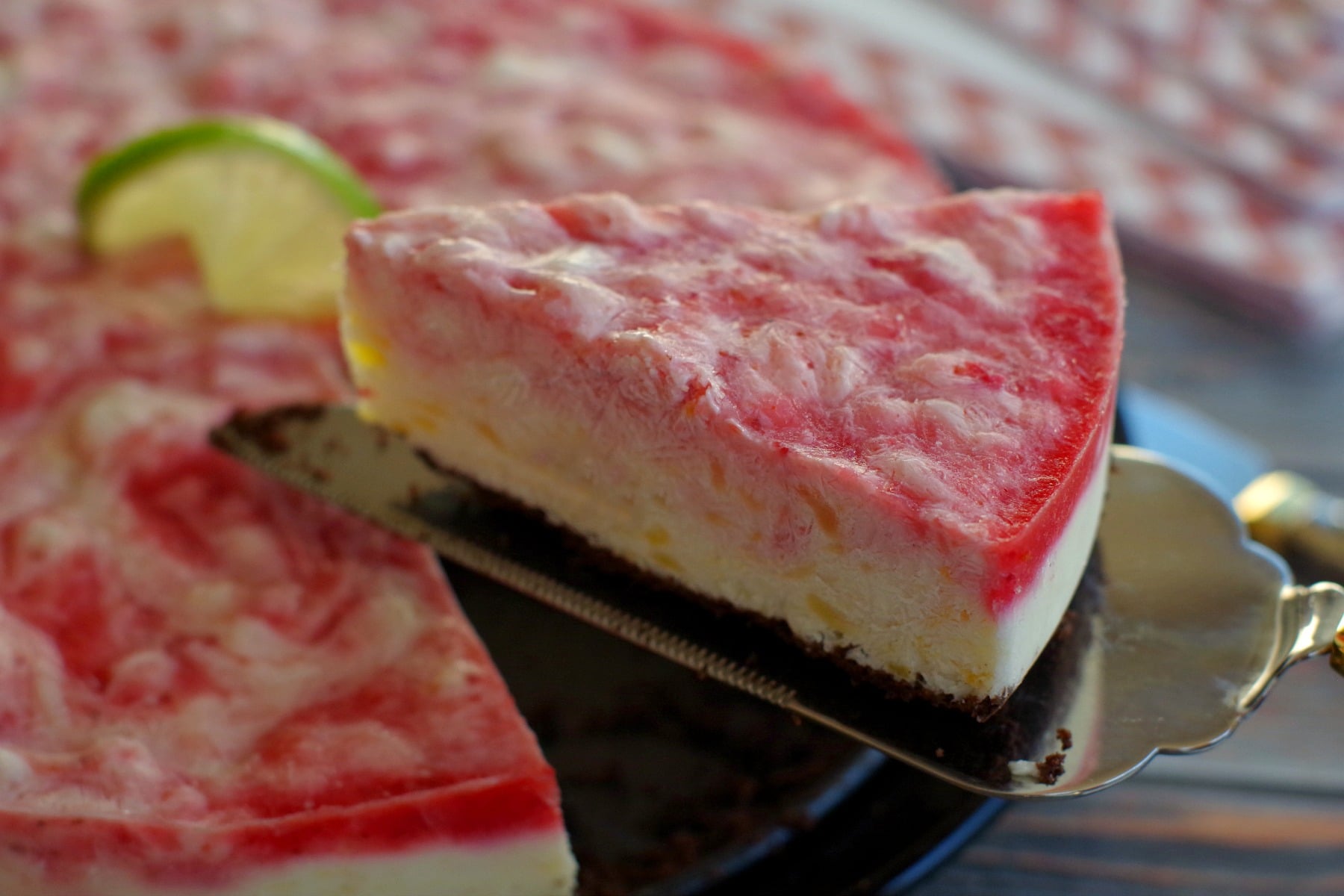 Miami Vice Recipe
The Miami Vice is such a delicious hybrid of pina colada and strawberry daiquiri that I couldn't resist taking the miami vice recipe concept and making it into a frozen cheesecake! However, if you want to indulge a little more then try my Miami Vice Mocktail (or turn it into a cocktail, if you please). Warning: It's A LOT of WW points, so you may want to save it for a splurge day or make it for the kids.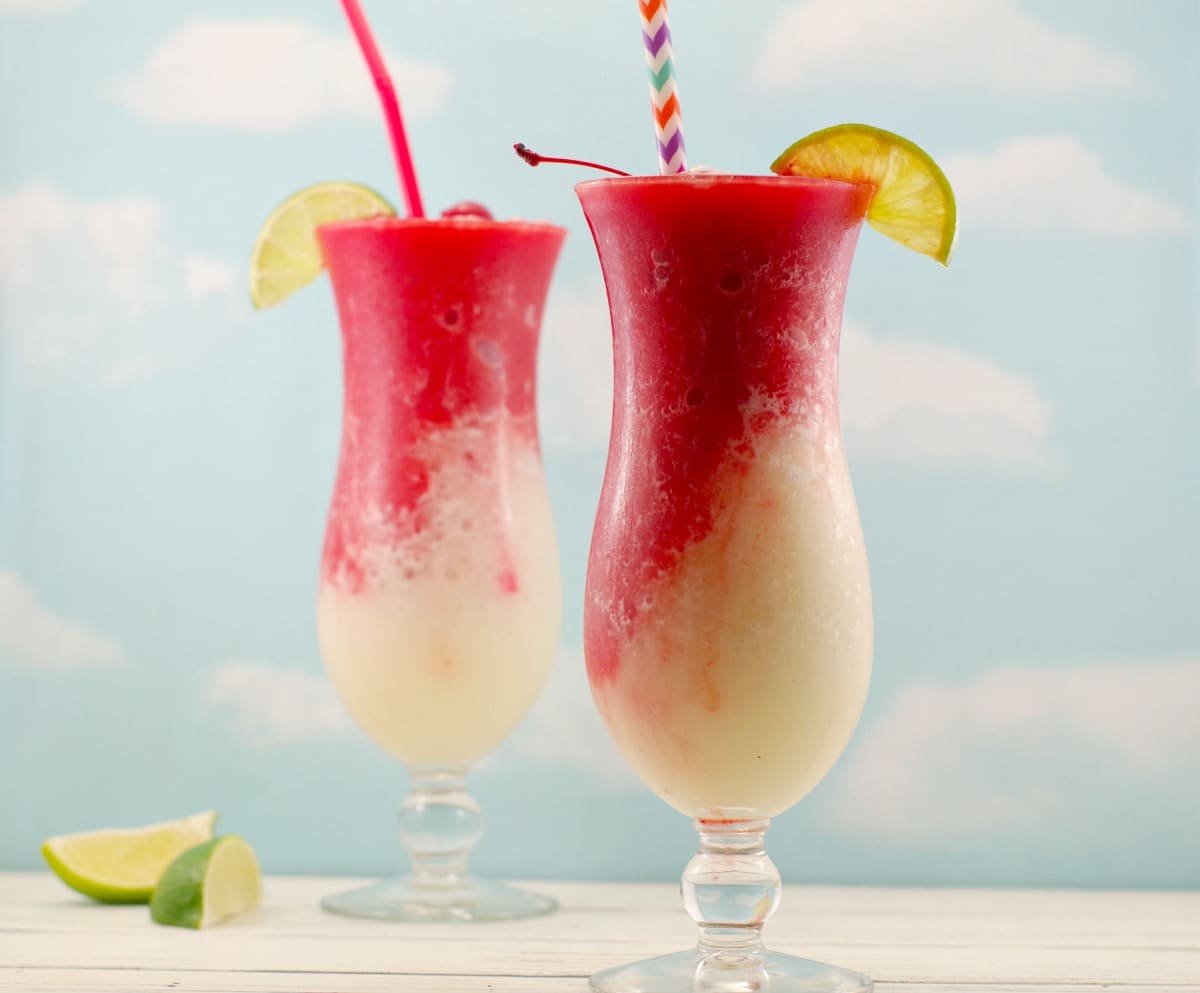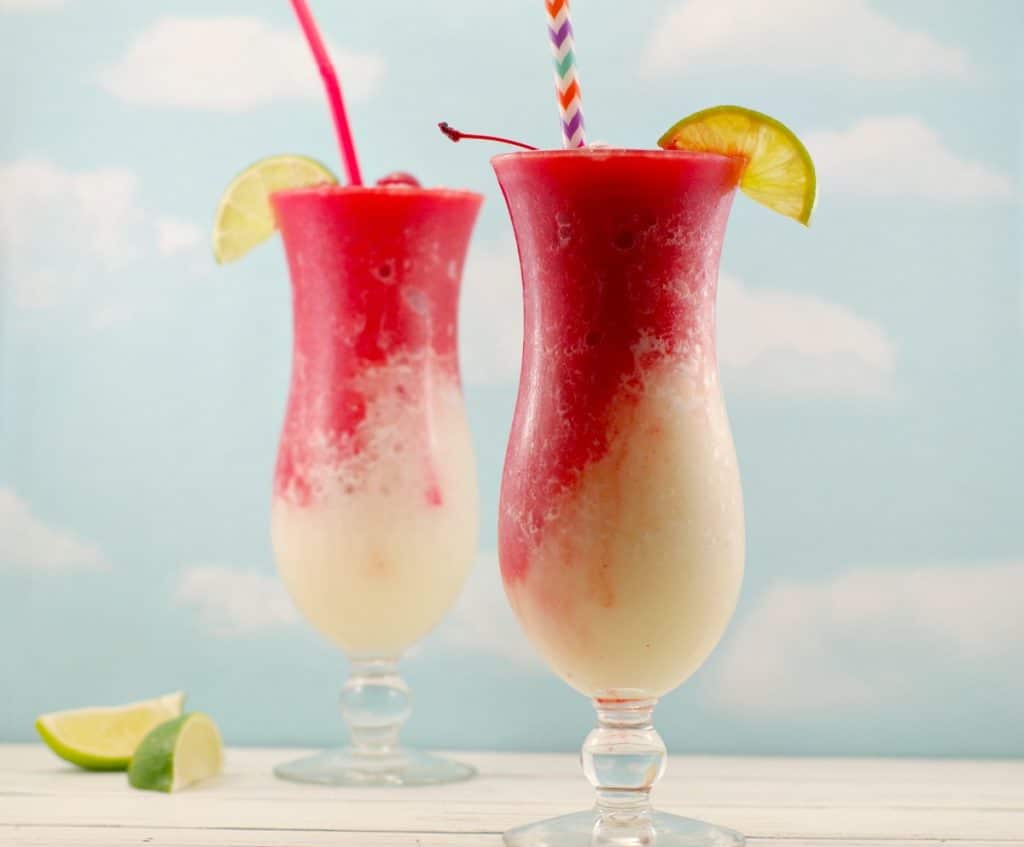 Weight Watchers Cheesecake
I've struggled to find a good tasting and light Weight Watchers Cheesecake that isn't loaded with artificial sweeteners. I know a lot of people use artificial sweeteners to lose weight, but I don't like the taste of them or how they make me feel, so I don't use them.
Red & White Canada Day Dessert
This cheesecake is not only a great summer dessert, but also an excellent red and white Canada Day dessert. You can make it for the whole family and no one will even suspect it's Weight Watchers! If my kids didn't notice (they are expert at picking out WW recipes) then trust me, no one else will!
So if you're looking for a healthy, easy and Weight Watchers friendly summer dessert that everyone will love, then give this Skinny Miami Vice Frozen Cheesecake a try!
Need a Springform pan? My Amazon Recommendations (affiliate links)
You may also like my Skinny Pumpkin Cheesecake (11 WW points on blue)- it's the perfect pumpkin pie alternative for Thanksgiving!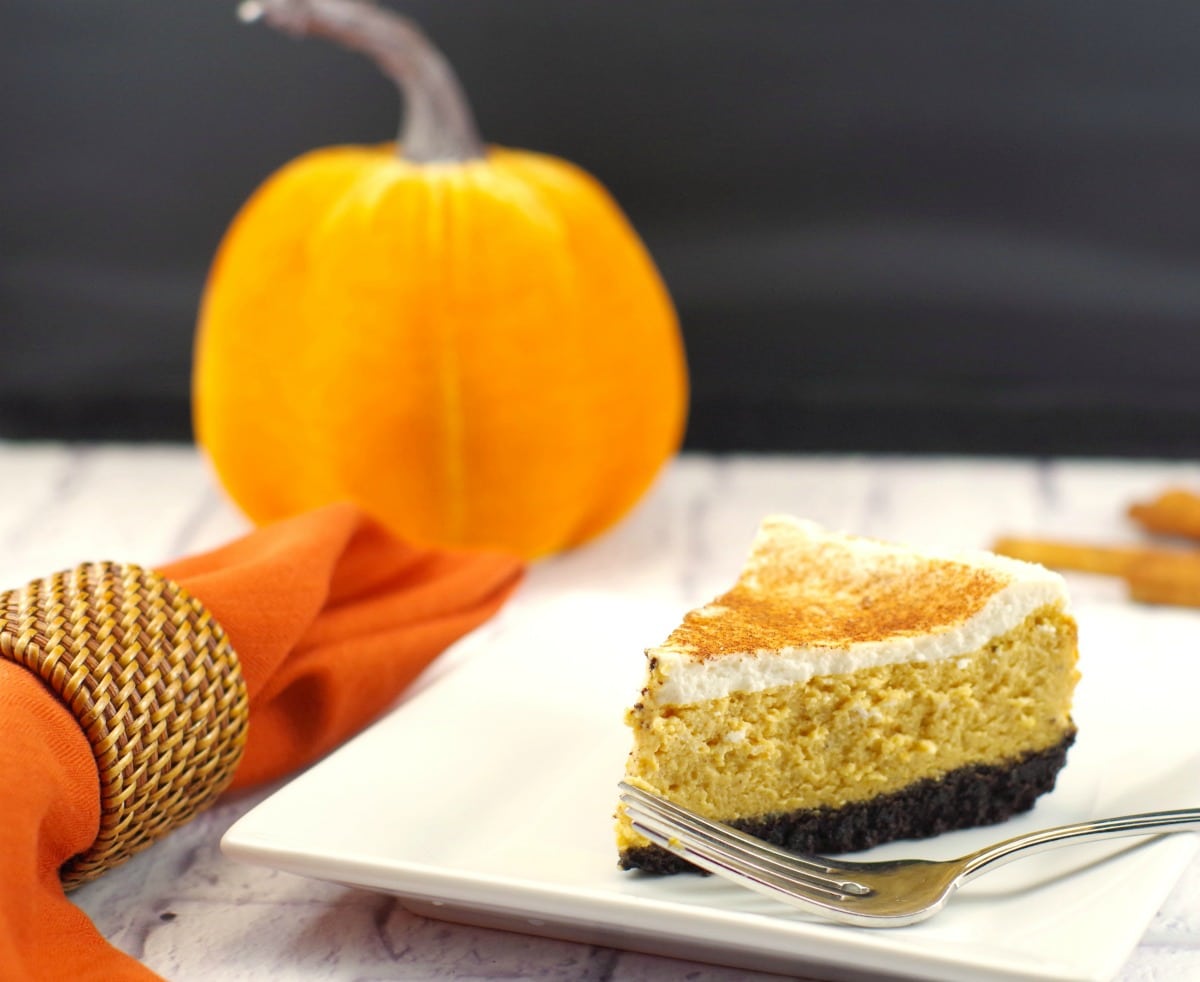 Skinny Miami Vice Frozen Cheesecake
This Skinny Miami Vice Frozen Cheesecake takes the strawberry daiquiri and pina colada flavors in a Miami Vice to an entirely new level in the form of a no bake cheesecake. With a chocolate crust and way fewer calories, this cheesecake Weight Watchers friendly at only 5 WW points on the blue plan! It's also a great summer dessert for your next BBQ and the perfect red & white cheesecake for your Canada Day celebration!
Ingredients
Cheesecake:
1 -7

gram 

package of gelatin crystals 

* I use Knox brand

½ 

cup 

water 

divided into 2

2 - 8

oz 

-packages of fat free cream cheese 

room temperature (softened) * You can use light but this will increase the WW points

4

tsp 

coconut extract

2

cups

frozen strawberries

or fresh

1

tsp

rum extract

1 

cup 

fat free sour cream

* You can use light sour cream but it will increase the WW points

½ 

cup 

non fat Greek yogurt

6

tbsp

agave syrup

398

ml

-can crushed pineapple

Drained and liquid squeezed out- reserve 3 tbsp

3

tbsp

pineapple juice

* reserved from crushed pineapple

2

tbsp

lite coconut milk
Instructions
Crust
Spray the bottom of a 9- inch springform pan with non- stick cooking spray.

Process chocolate graham crumbs in the food processor until they form a fine crumb then add melted margarine and blend for about 30 seconds or until it begins to cling together.

Pour into greased springform pan.

Press chocolate graham crumb mixture into the greased springform pan. Level and press to the bottom of the pan using a rubber spatula and neatly taper at the edge. Place in the fridge for 15 minutes.
Strawberry Daiquiri swirl
Microwave strawberries for about 2 minutes, then drain off excess liquid. Puree strawberries for approximately 1 minute in food processor or blender. Add rum extract and set aside in small bowl.** If you are using fresh, use the same process, except do not microwave strawberries!
Pina Colada Cheesecake
Mix gelatin crystals and ¼ cup water in a small bowl and allow to bloom for 5 minutes. Heat ¼ cup water for 30 seconds in the microwave on high and pour into the gelatin bloom. Stir to dissolve, set aside and allow to cool.

Place cream cheese, in the large bowl of a stand mixer fitted with a paddle attachment (you can use a hand mixer and a large bowl). Mix on low to break down the cream cheese for 30 seconds, and increase to medium speed for another 1 minute. Scrape the sides of the bowl and add sour cream, Greek yogurt and crushed pineapple. Add coconut extract, coconut milk, agave and reserved pineapple juice. Mix on medium for 30 seconds, scrape the sides, and on medium-high speed for 2 minutes, until smooth and fluffy.

Starting on low, pour gelatin into the cream cheese mixture. Continue to mix at medium speed for a minute, scraping the sides of the bowl after 30 seconds.
Assembly
Pour the pina colada cream cheese mixture into the springform pan on top of crust and level with a spatula.

Drop several dollaps of strawberry swirl mix onto the white pina colada cheesecake.

Swirl in with a butter knife.

*Try to cut into it to get it deeper and bring up the white part and don't over-mix or it will lose the swirled effect.

Tap pan lightly against the counter to get rid of air bubbles. Cover with plastic wrap (* I use Glad press n' seal) and freeze for 6- 8 hours or until firm (preferably overnight.)

When frozen, unhinge rim of springform pan and remove.
Garnish
Garnish with lime wedges and serve frozen.
Notes
*NOTE: I originally had this recipe at 8 WW points on the blue plan, but recently discovered a difference between my blog's nutritional calculator and the WW app. It is only 5 WW points when I create it in the app. The WW app accounts for zero point foods, where my blog's nutritional calculator does not.
Nutrition
Calories:
186
kcal
|
Carbohydrates:
23
g
|
Protein:
4
g
|
Fat:
9
g
|
Saturated Fat:
4
g
|
Cholesterol:
20
mg
|
Sodium:
186
mg
|
Potassium:
206
mg
|
Fiber:
1
g
|
Sugar:
17
g
|
Vitamin A:
295
IU
|
Vitamin C:
18
mg
|
Calcium:
84
mg
|
Iron:
1
mg
Save
Saved!
More Weight Watchers Frozen Desserts
Strawberry Drumstick Frozen Yogurt Cups
Weight Watcher Ice Cream Sandwich
Raspberry Bliss Frozen Yogurt Bark