When I was a kid and the ice cream truck came around, I really did try to be adventurous and sample new things. But it was always the ice cream sandwiches I went back to.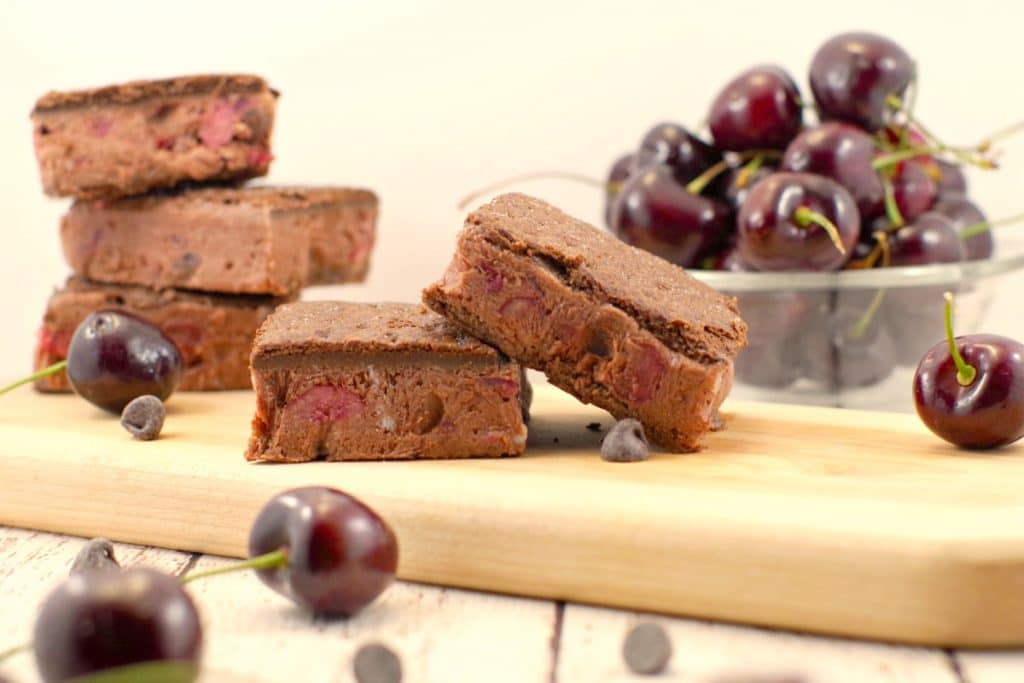 They were just so darn reliably delicious and extremely satisfying! But when you're an adult and following the Weight Watchers program, you don't want to blow all your points on an ice cream sandwich. So I created this Weight Watchers Friendly Black Forest Homemade Ice Cream Sandwich. And these guys are only 3 WW points on the blue plan and also super satisfying!
Homemade ice cream sandwiches
I had never made my own homemade ice cream sandwiches until I made these... and WOW! Why had I not done this healthy, Weight Watchers version with homemade chocolate frozen yogurt, years ago? They are so easy and completely satisfy both the chocolate and frozen dessert cravings!
Cherries also happen to be my absolute favorite fruit and the long-awaited cherry season is finally here! When it comes to fruit, I pretty much live for cherry season, so I'm celebrating by putting my fave flavor combination of chocolate and cherry together, nestled in between more chocolate ; just as they were meant to be.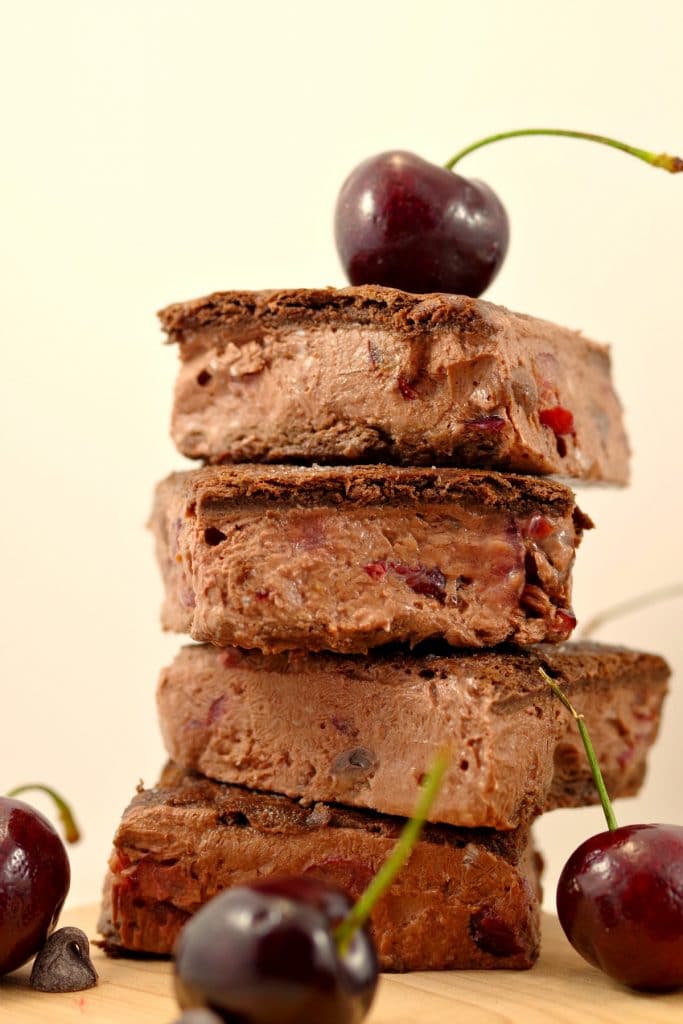 Homemade frozen yogurt
I'll be honest, I love frozen yogurt as much, if not more, than ice cream. So, eating frozen yogurt is not even a sacrifice for me. This recipe was born out of my homemade chocolate yogurt recipe . And the great thing about this skinny ice cream bar recipe is how quick and easy it is! You don't have to freeze the chocolate yogurt first; you simply spread it in the pan to freeze, then cut it into pieces after it's frozen.
The biggest challenge for me is the rationing of my chocolate graham crackers. Since I have not been able to find them in Canada, I stock up when we head down to the US every summer, then ration them for the entire year! Fortunately, if I got really desperate, I could order some through Amazon (see link in recipe). Either way, they are a fantastic way to get your chocolate fix when you're on Weight Watchers.
Weight Watchers frozen dessert
Summertime is for enjoying frozen desserts and just because you're on Weight Watchers, doesn't mean you should be deprived! My Rocky Road Froyo Bark happens to be one of the most popular Weight Watchers frozen dessert recipes on this blog! And again, it's also inspired by this homemade chocolate frozen yogurt (as its base).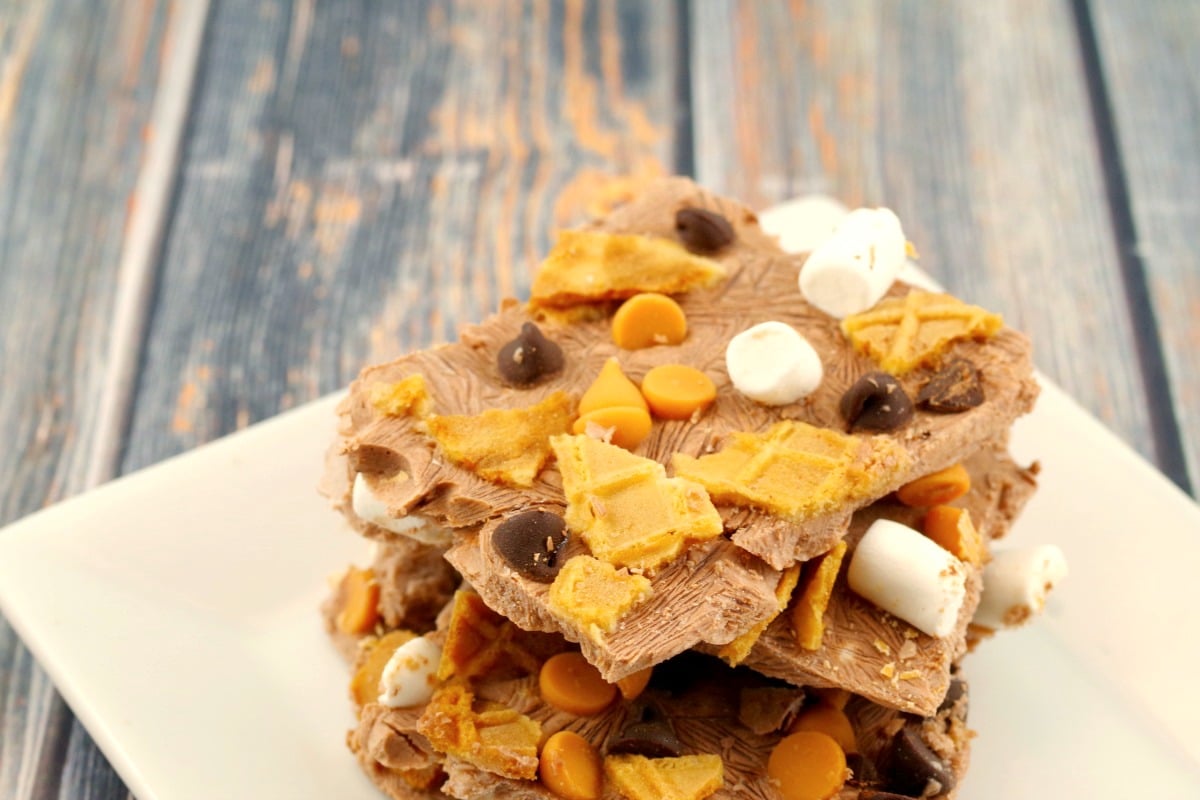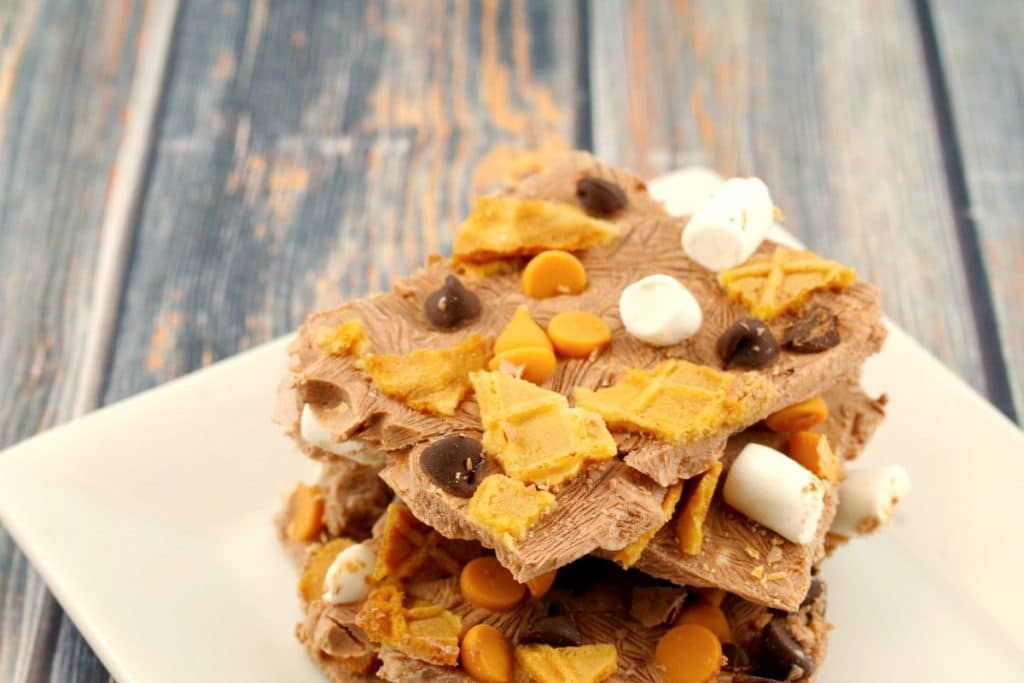 Summer is short so enjoy those frozen desserts while you can! And cherry season is ever shorter, so I would encourage you to make as many of these ice cream sandwiches as possible. They will keep well in the freezer, in a good quality freezer bag, for up to 6 months! So stock up and enjoy...
Print
Weight Watchers Black Forest Ice Cream sandwich
Easy to make, these healthy Weight Watchers Black Forest Ice Cream Sandwiches are made with homemade chocolate frozen yogurt, fresh cherries and chocolate graham crackers. They are a totally satisfying Weight Watchers frozen dessert at only 3 WW points on the blue plan each!
Instructions
Pit, de-stem, chop cherries and set aside.

Lay chocolate graham wafers across the bottom of a 8X8 pan, using 4 ½ crackers on the bottom (reserving the remaining 4 ½ for the top). * It doesn't matter what size pieces they are broken up in, as long as they cover the pan.

Mix in chocolate chips and cherries together with yogurt.

Top chocolate graham crackers with the chocolate yogurt mixture and spread evenly. Bang pan gently on counter a couple of times to even out.

Top with another layer of graham crackers. *Again, it doesn't matter what size pieces, as long as they can be cut into 9 squares.

Freeze for 8 hours or until solid.

Once frozen, loosen with butter knife or spatula.

Then remove from pan in one piece with knife or spatula (it will come out very easily) and place on cutting board.

Then into 9 pieces. You will get a total of 9 sandwiches
Notes
Nutrition Facts
Weight Watchers Black Forest Ice Cream sandwich
Amount Per Serving
Calories 68
Calories from Fat 27
% Daily Value*
Fat 3g5%
Cholesterol 1mg0%
Sodium 26mg1%
Potassium 96mg3%
Carbohydrates 9g3%
Protein 1g2%
Vitamin C 0.5mg1%
Calcium 4mg0%
Iron 0.5mg3%
* Percent Daily Values are based on a 2000 calorie diet.
Nutrition
Calories:
68
kcal
|
Carbohydrates:
9
g
|
Protein:
1
g
|
Fat:
3
g
|
Saturated Fat:
2
g
|
Monounsaturated Fat:
1
g
|
Trans Fat:
1
g
|
Cholesterol:
1
mg
|
Sodium:
26
mg
|
Potassium:
96
mg
|
Fiber:
1
g
|
Sugar:
6
g
|
Vitamin C:
0.5
mg
|
Calcium:
4
mg
|
Iron:
0.5
mg
Save
Saved!
More Weight Watchers Frozen Desserts
Strawberry Drumstick Frozen Yogurt Cups
Skinny Miami Vice Frozen Cheesecake
Raspberry Bliss Frozen Yogurt Bark
This post is part of The Country Cook Weekend Potluck!