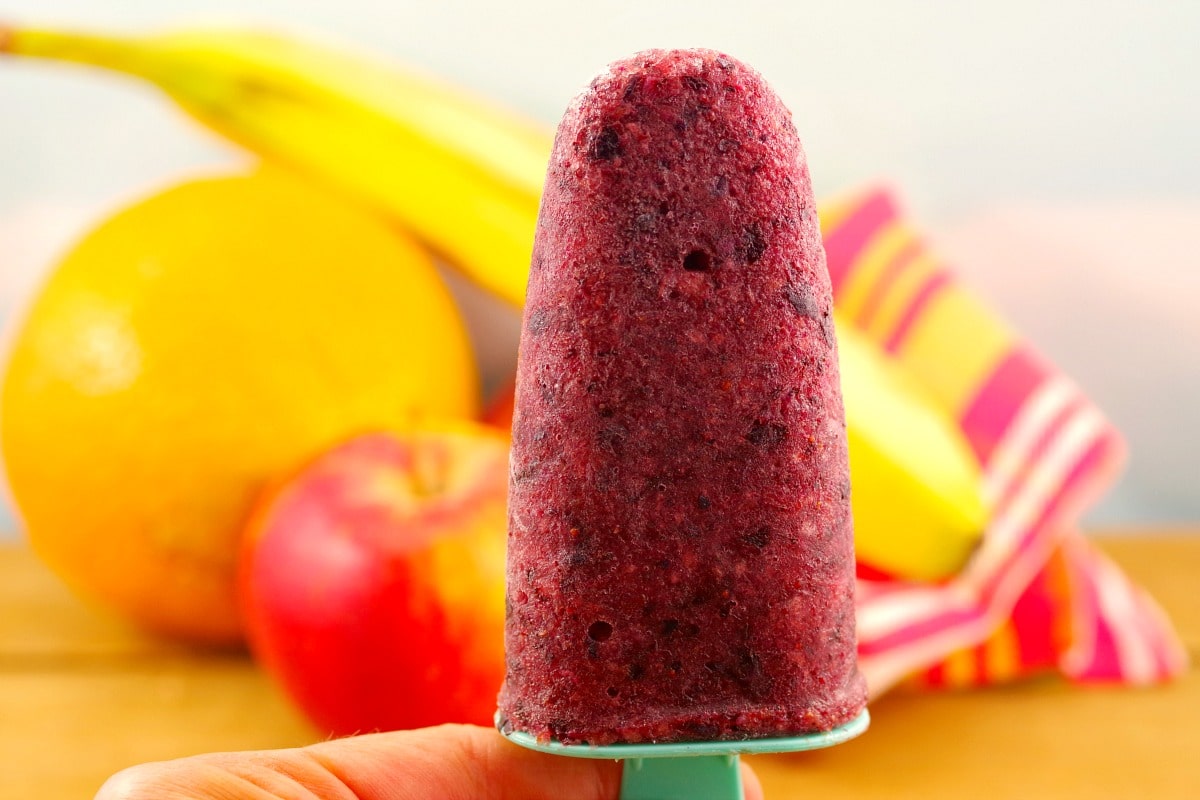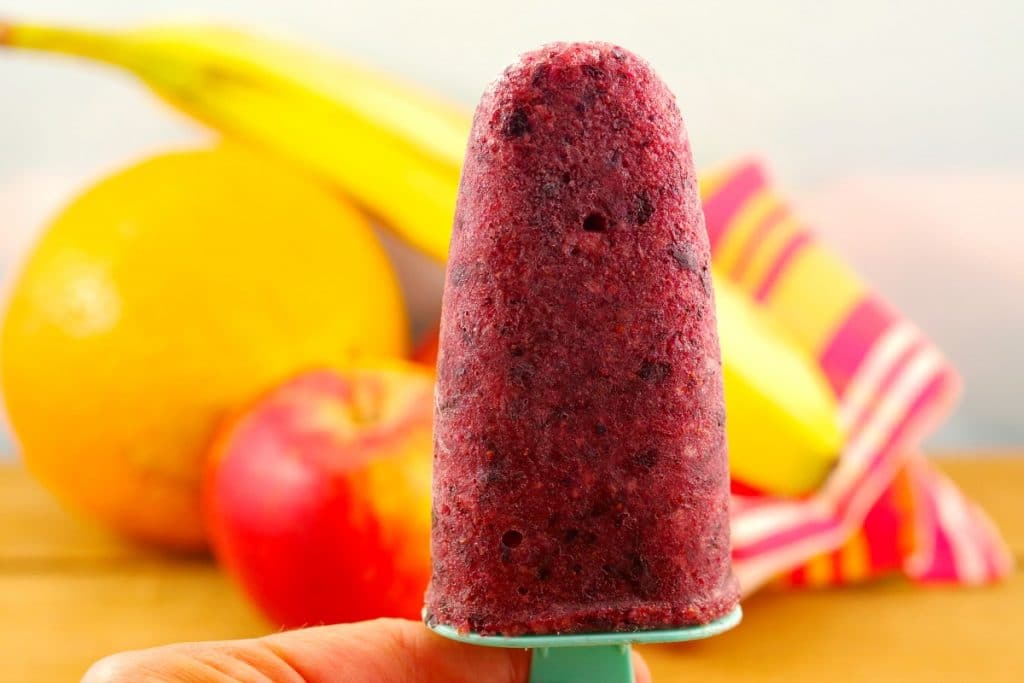 *This post contains some affiliate links (SEE DISCLOSURE POLICY)
It was only day 2 as a mother of two and I was already failing miserably. Being a new Mom is hard and scary, but when you're second comes along, those feelings are only amplified. However, what you learn very quickly as a Mom is that popsicles make almost everything better!
And these homemade fruit popsicles are the BEST because they are not only sugar-free, they are zero food waste and zero (0) weight watchers freestyle smart points! The bonus is that you get to use up your overripe and spoiling fruit!
I had only given birth less than 48 hours before and yet, here I was, at the park with my toddler son and husband. And as my 22 month old came careening over the side of the slide, little did I know, I was about to embark on one of the biggest trips of my life - the guilt trip.
Another thing you learn very quickly as a Mom is that motherhood is one very long guilt trip. You will eventually feel guilty about pretty much everything. And that includes food and whether you are feeding your kids healthy enough. But one food you don't have to feel guilty about is these popsicles. Your typical popsicle is full of sugar, as are popsicles made with juice. So, I've made these zero food waste, pure fruit popsicles with my spoiling and/or leftover fruit. Sugar-free + zero food waste + zero weight watchers points = guilt-free! And that is one good feeling!
Although you may buy lots of fresh fruit with the best intentions of eating it, life gets busy! Have you ever come home to this? It happens to me all the time....
What to do with fruit that's going bad?
I hate food waste and I feel like I deal with too much of it. So, if you've ever wondered what to do with fruit that's on the verge of spoiling or overripe, make these homemade pure fruit popsicles or fruit ice pops. Not only do they save on waste, they are better for you!
On the Weight Watchers freestyle program, fresh fruits have 0 points, including:
apricots
apples
bananas
oranges
peaches
cantaloupe
strawberries
blueberries
blackberries
watermelon
plums
pineapple
grapes
And you can use any of these in this recipe. Read more about fruit and weight watchers smart points HERE or HERE.
Popsicles do make everything better: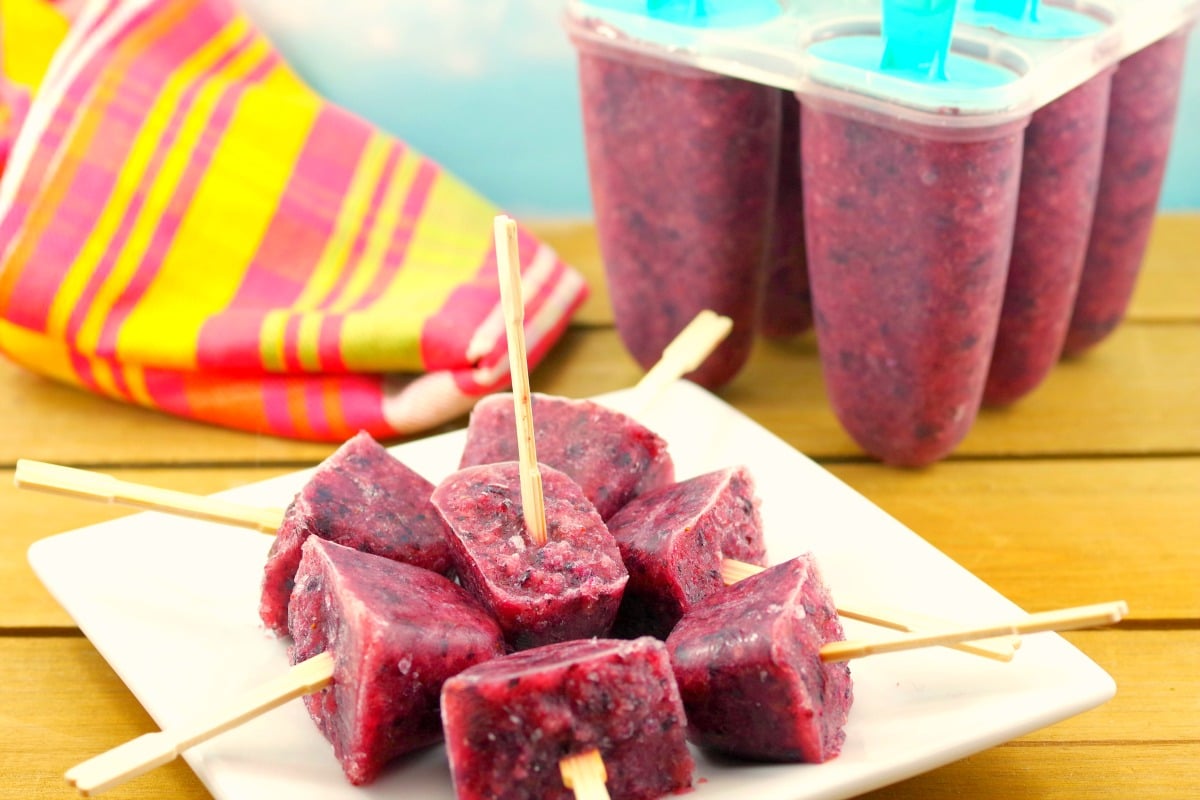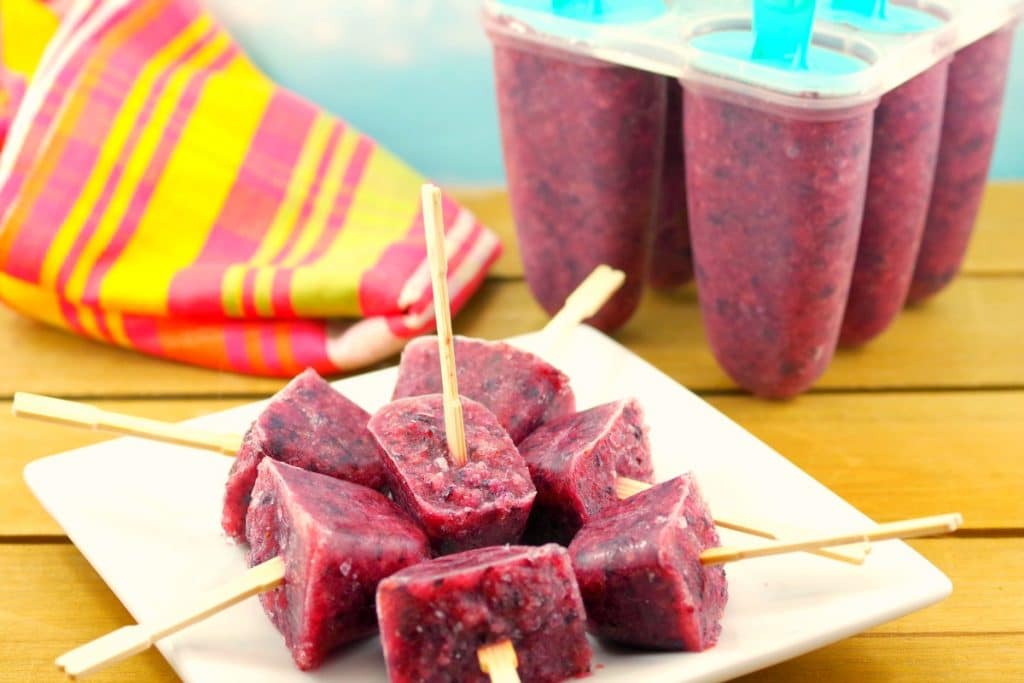 We ended up at the Children's hospital with my son that afternoon. Maybe it's because I had only given birth to his sister the day before or because I hadn't had a decent sleep in at least 2 years, but I wasn't on my game. And although I was standing right beside the slide, as he came flying over the edge, I just couldn't move fast enough to reach him before he slammed onto the pavement below. And then the snot and tears set in...
And it wasn't just the boy's snot and tears that DH had to deal with, I couldn't stop blubbering. Although I was pretty emotional to begin with, it was the guilt that got me. I was already a Mom, so guilt was not a new concept to me, but this experience took it to an entirely new level.
However, I now realize that my son's tears probably had more do with him feeding off of my extreme distress and panic, than being really hurt. This became pretty obvious when, not long after our arrival at the Children's, they gave him a popsicle and miraculously, everything was all better in his world.
When life gives you spoiling fruit, make popsicles!
Since you already have enough to feel guilty about, you shouldn't have to feel guilty about wasting food and money as well. So, when you end up with a bowl of ½ spoiled fruit, join the club, grab your knife, cut off the bad stuff and make popsicles!
See, popsicles really do make everything better!
Follow my Weight Watchers Board on Pinterest:
AND... if you are looking for more frozen summer treats that prevent food waste, give my Coconut Lime Nice Cream a try. You get to use up all those overripe bananas, it's vegan, super healthy and as an added bonus, it has rum in it!
OR my 5 Minute Weight Watchers friendly Rocky Road Froyo Bark can extend the life of your yogurt that's just about to expire!
Print
Homemade Zero Waste Pure Fruit Popsicles (Sugar-free)
These Homemade Sugar-free Pure Fruit Popsicles are not only zero (0) Weight Watchers Freestyle Smart Points, they are zero food waste. Use up your spoiling and/or overripe fruit and make these ice pops into popsicle or fruit cubes, which are great on their own or in smoothies!
Ingredients
4

cups

over ripe/ spoiling fruit (approximately)

I use apples, canteloupe, bananas, oranges, plums, strawberries - any fruit I have that is going bad

1

cup

frozen blueberries or mixed berries
Instructions
Cut off bruised, spoiled parts of fruit.

Pour into popsicle molds or ice cube trays (add large toothpicks to ice cube trays as shown in next photo) if desired.

Freeze for at least 6 hours or overnight (until solid).
Nutrition
Calories:
52
kcal
|
Carbohydrates:
13
g
|
Sodium:
4
mg
|
Potassium:
79
mg
|
Fiber:
1
g
|
Sugar:
10
g
|
Vitamin A:
245
IU
|
Vitamin C:
3
mg
|
Calcium:
4
mg
|
Iron:
0.3
mg
Save
Saved!
This post is part of Tasty Tuesdays Link-up Party at Creative K Kids