Over the last several years I've watched my kids eat a lot of ice cream. And I'll admit, at times it was painful. That's one of the not-so-fun parts of being an adult.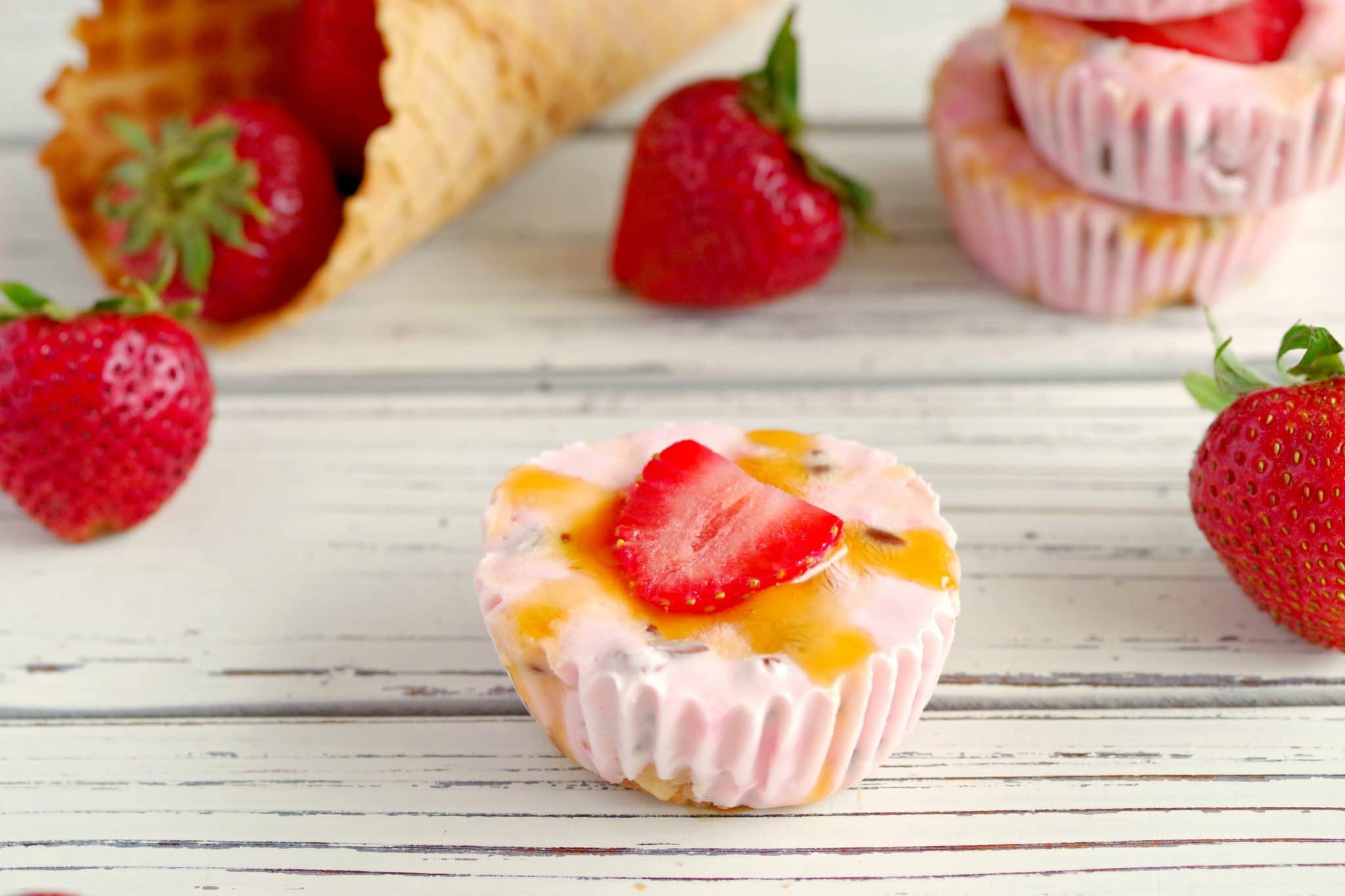 Don't we all grow up thinking, "when I grow up I can finally eat all the ice cream I want!" ? But then you arrive at adulthood and you're like, "wait a minute...no, actually, I can't eat all the ice cream I want. That is, unless I want to live with the negative consequences that accompany that behavior." Nature can be really cruel. Fortunately, one of the great parts of being an adult is eating these Strawberry Drumstick Frozen Yogurt Cups. They taste like a strawberry drumstick but they're good for you!
I love drumsticks, but rarely indulge in them because they aren't exactly healthy and are a whopping 9+ Weight Watchers freestyle smart points. That's why I like to create Weight Watchers Desserts that are frozen. This frozen yogurt cup version is like a dream come true for the health conscious adult!
Loaded with real ingredients, natural and delicious strawberry flavor, they are easy to make, taste just like a strawberry drumstick and are super satisfying. But the best part is...wait for it.... they are only 3 Weight Watchers smart points (on the blue plan) each! Yes, that's ⅓ the points of a regular ice cream drumstick! And they have all the health benefits of fresh strawberries and Greek yogurt. I guess being an adult isn't so bad after all....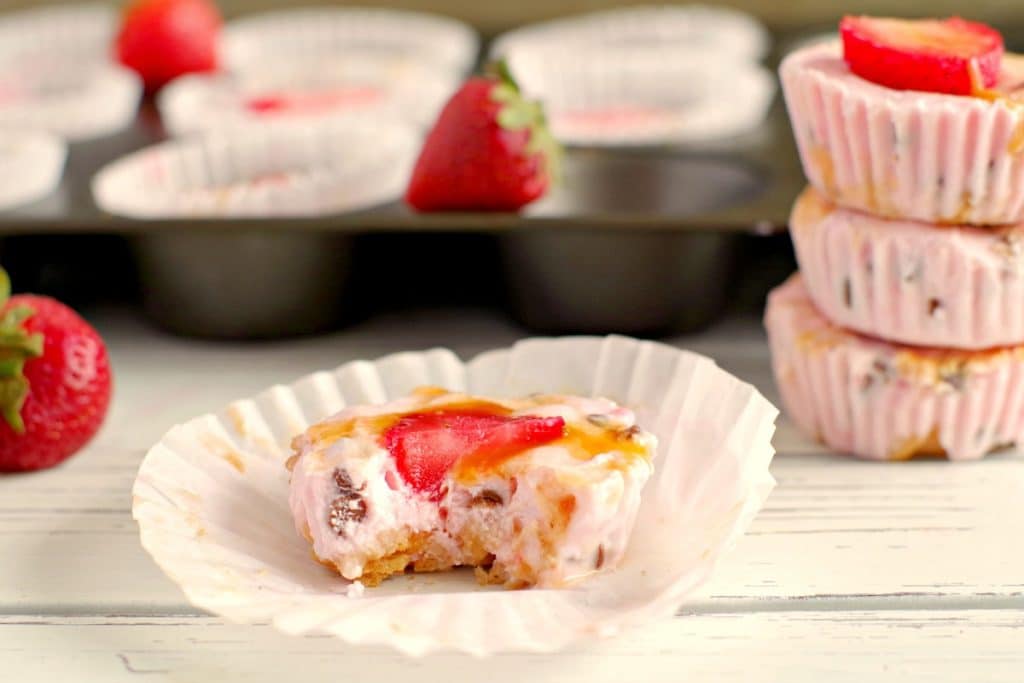 Healthy Frozen Yogurt
And honestly, it no longer bothers me to watch my kids inhale ice cream because I know I have yummier, healthier and Weight Watchers friendly frozen treats like these healthy frozen yogurt cups, as well as my Weight Watchers Black Forest Ice Cream Sandwiches and my WW Rocky Road Froyo Bark waiting for me in my freezer!
Easy to make and oh so satisfying, these healthy frozen yogurt cups are also kid friendly and I'm pleased to say, totally KID APPROVED! And believe me, my kids are a tough crowd when it comes to taste testing healthy frozen stuff. But they completely inhaled these and even begged for more!
So, if you LOVE strawberries and drumsticks, but want a super satisfying frozen yogurt treat that's healthy and won't break your WW points bank, then give these frozen yogurt cups a try. You won't be disappointed!
Print
Strawberry Drumstick Frozen Yogurt Cups
These 6 ingredient Strawberry Drumstick Frozen Yogurt Cups are a healthy way to get your frozen treat fix! They are easy to make and only 3 Weight Watchers freestyle smart points each, making them the ultimate summer snack or dessert.
Instructions
Line an 18 muffin tin (or 6 and 12) with paper muffins liners.

Crush the the waffle cones with your hands or in a bag with a rolling pin to crush into small pieces (not crumbs).


Divide crushed waffles cones evenly between 18 cups.

Hull and chop half of the 454 g container of strawberries and add those to food processor (reserving the other half of the container of whole strawberries for the topping)

Puree the half container of chopped and hulled strawberries

Mix yogurt, agave, mini chocolate chips and pureed strawberries together in a large bowl.

Spoon yogurt mixture into each cup over crushed waffle cones, dividing evenly by all 18.

Hull the remaining half container of strawberries and slice in half. Top each yogurt cup with ½ a strawberry, pushing it slightly into the yogurt. Then drizzle with caramel sauce, dividing caramel between all 18 cups.

Freeze for 4-6 hours or until solid (I usually freeze them overnight).

Serve frozen.*Use a butter knife or small spatula to loosen frozen yogurt cups from the muffin tin. The paper will come off each cup very easily.
Notes
These stay solid out of the fridge in a hot climate for about 20 minutes, so that should help as a gauge for how long to keep it out! Of course, they still taste absolutely delicious partially melted!
Nutrition Facts
Strawberry Drumstick Frozen Yogurt Cups
Amount Per Serving
Calories 85
Calories from Fat 18
% Daily Value*
Fat 2g3%
Cholesterol 3mg1%
Sodium 33mg1%
Potassium 100mg3%
Carbohydrates 12g4%
Protein 5g10%
Vitamin A 20IU0%
Vitamin C 14.9mg18%
Calcium 61mg6%
Iron 0.3mg2%
* Percent Daily Values are based on a 2000 calorie diet.
Nutrition
Calories:
85
kcal
|
Carbohydrates:
12
g
|
Protein:
5
g
|
Fat:
2
g
|
Saturated Fat:
1
g
|
Cholesterol:
3
mg
|
Sodium:
33
mg
|
Potassium:
100
mg
|
Fiber:
1
g
|
Sugar:
8
g
|
Vitamin A:
20
IU
|
Vitamin C:
14.9
mg
|
Calcium:
61
mg
|
Iron:
0.3
mg
Save
Saved!
More Frozen Weight Watchers Desserts!
Raspberry Bliss Frozen Yogurt Bark
Sugar-free Popsicles (0 points)
WW Black Forest Ice Cream Sandwiches