If you are not sure what to serve with Beer Can Chicken I have some great suggestions for you! I have compiled a roundup of sides that are ideal for serving with beer can chicken. I have everything from potatoes to salads to vegetables and several grilled recipes to cook alongside your beer butt chicken. I have also included many healthy sides for beer can chicken, not to mention ww friendly recipes.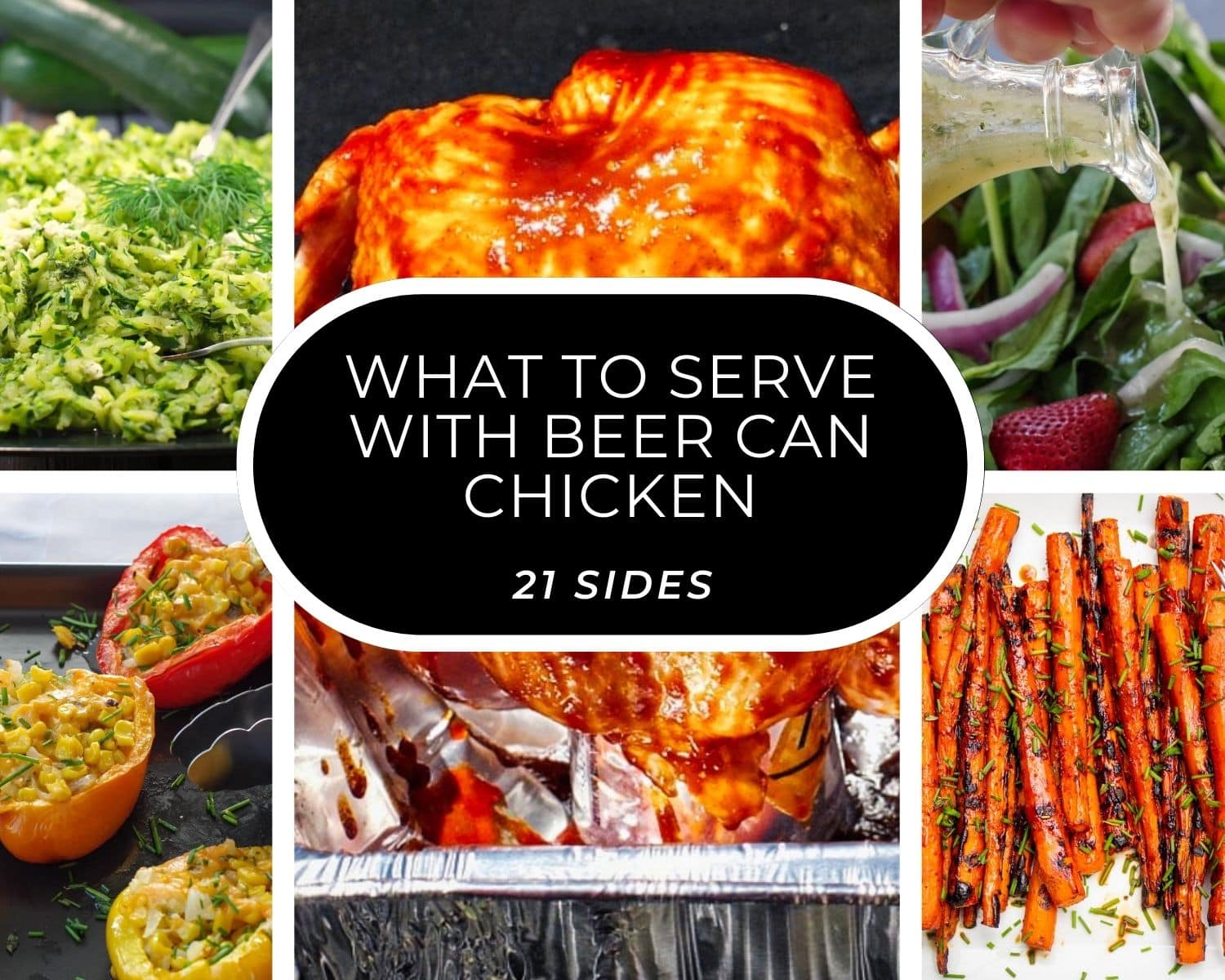 These sides are especially popular during the summer and pair perfectly with my own Healthy Beer Can Chicken recipe. If you are looking for the best side dishes to go with BBQ Beer Can Chicken, you'll love these!
Jump to:
Beer Can Chicken (also known as Beer Butt Chicken) is really the best way to do a whole chicken in the summer, right on the grill, using indirect heat. You simply place chicken upright, on a can of your favorite beer, and put it on the gas grill (see my post for detailed instructions). The result is a next level juicy and flavorful chicken dinner!
Sides for Beer Can Chicken
🍽Equipment
The equipment you need will depend on the specific recipe, but you will need a grill and a meat thermometer for your beer can chicken and some of the side dishes. I love my Thermapen instant-read thermometer and use it for so many recipes, including pies and bread. I would also recommend an air fryer (affiliate links), especially for the summer (if you don't have air conditioning). It doesn't heat up your house like the oven does and uses less electricity.
🌡️Storage
Please see each individual recipe storage instructions. However, a rule of thumb is storing your leftovers in an airtight container in the fridge or freezer.
👪 Serving Size
Each recipe will state serving sizes and many have adjustable servings (all of my recipes have this feature). You can half, double, or triple the recipe by clicking on the blue serving number and selecting the number of servings you'd like. The ingredient quantities will automatically adjust.
🔢WW Points
Many of these recipes are ww friendly. See each recipe for points values.
🦺Food safety
So if you're looking for delicious side dishes to go with your Beer Can Chicken, give some of these a try!
⭐ Reviews
📋More Summer Grilling Recipes