When we're young we take a lot of things for granted, especially when it comes to food that we don't have to cook ourselves. These potatoes were one of those things I took for granted. My Grandma used to make them and like most things when you're a kid, I didn't have the appreciation for them back then that I do now. And although I have often longingly thought about these Onion Baked Potatoes in Foil over the years, until recently, I've never actually made them myself.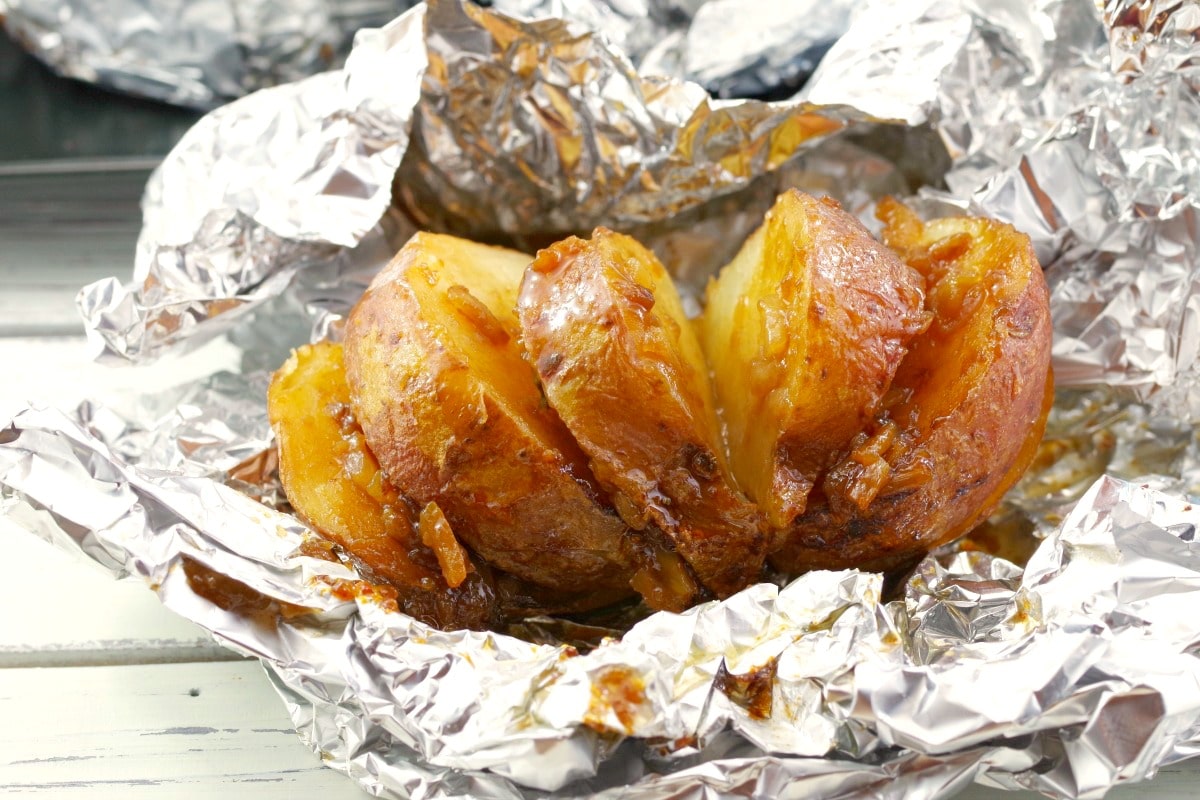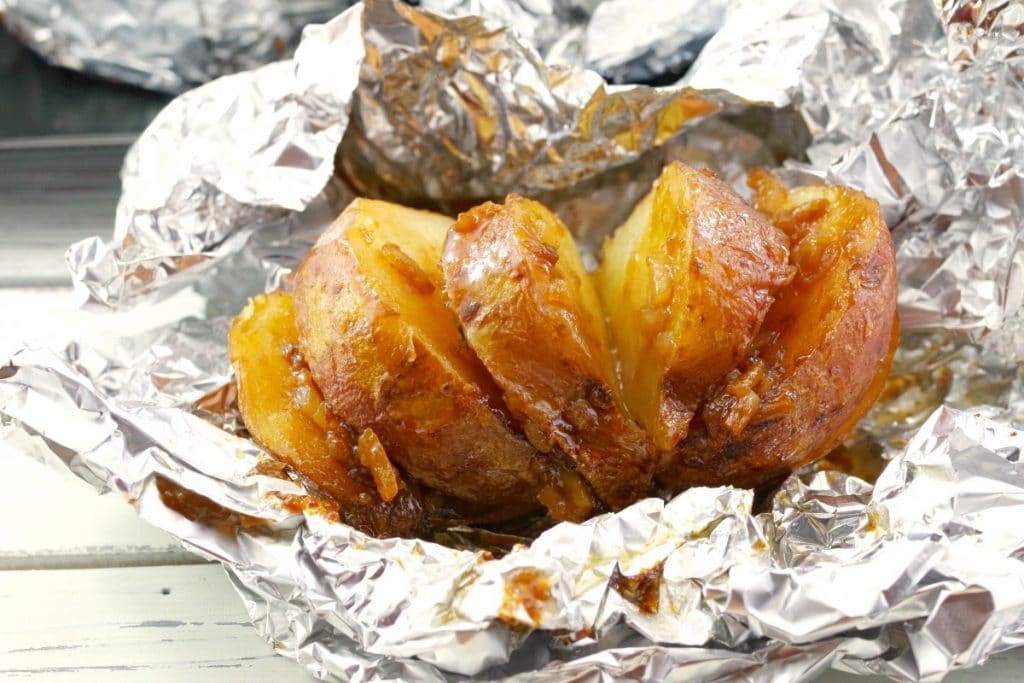 This is such an easy baked potato in foil recipe and a simple way to add some variety and a little pizzazz to your baked potato repertoire.
I guess these would be considered old skool hasselback potatoes because my Grandma was making these 45 ish years ago. The big difference is that they are not peeled, nor are they cut as thin as hasselback potatoes, meaning way less work! And that's always a good thing because I'm all about less work. Why peel potatoes when you don't have to? Plus, the potatoes peels are full of nutrients! And why make 12 cuts when you only have to make 4 or 5? Am I right?
Baked Potatoes in Foil (all year 'round!)
This baked potatoes in foil recipe is something that my Grandma used to make on the BBQ and I just loved them! However, since it's not currently barbecue season at the time of this posting, I decided to do these potatoes in the oven. But you can also do these baked potatoes in foil on the grill!
If you're making these potatoes on the grill, then why not try them with my Weight Watchers friendly BBQ Beer Can Chicken?!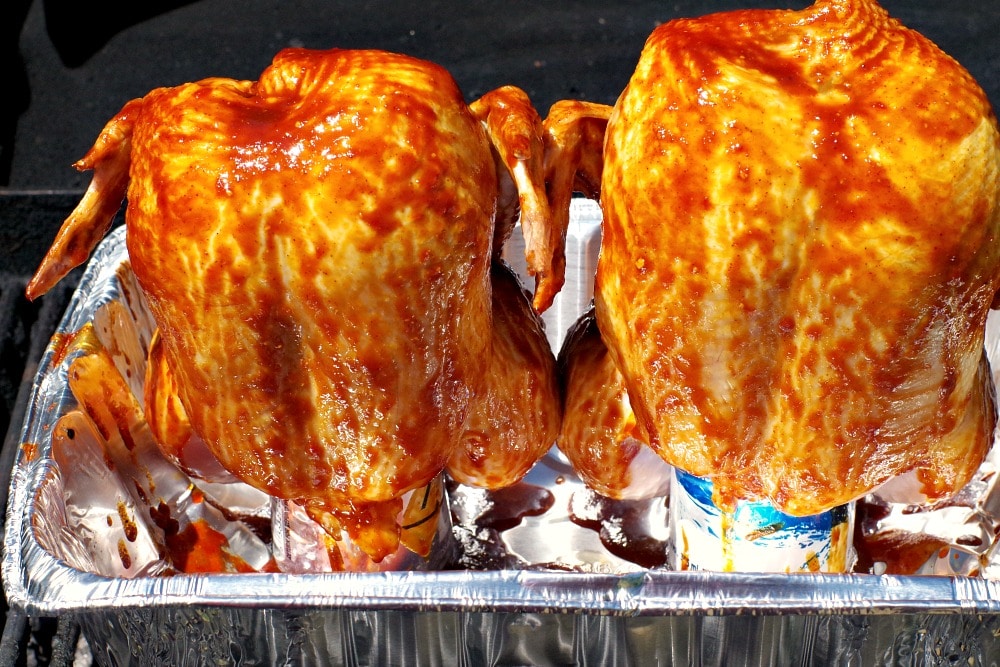 There are a lot of baked potato recipes out there and even a few that use butter or margarine with onion soup mix. But I did not see any others that used the exact same method as this. And this method is far superior to the others when it comes to being easy AND locking in the flavor!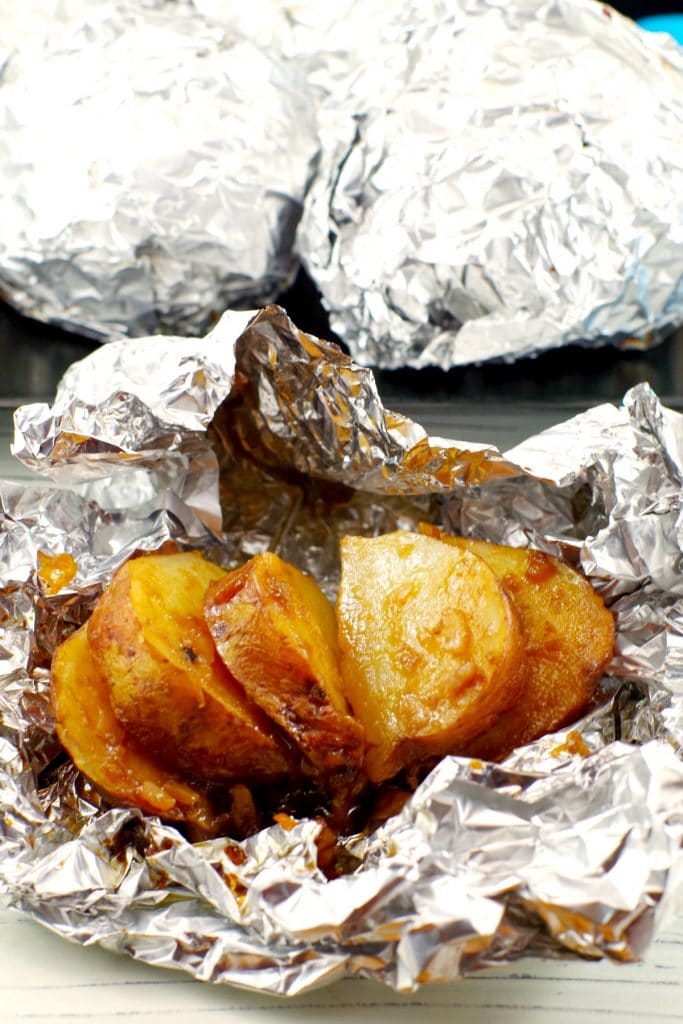 Lipton Onion Soup Potatoes
Most of the sliced baked potato with onion recipes instruct the cook to pour the melted onion and butter over the potato. However, you potentially lose a lot of flavor that way. With these Lipton Onion Soup Potatoes, you spread the onion/butter mixture, unmelted, between the slices, then you wrap in foil and bake; it literally locks and bakes in the flavor. It takes a little more time than just pouring melted butter over the potato, but it is well worth it for the rich buttery, onion flavor you get in the end!
Sliced Potatoes in Foil
These sliced potatoes in foil in the oven are an easy, delicious and economical way to add some excitement to your baked potatoes!
📋 Onion Baked Potatoes in Foil Recipe
These 3 Ingredient Onion Baked Potatoes in Foil are easy to make and unbelievably delicious! Adding the onion/butter mixture between the slices and baking in aluminum foil locks in the rich flavor, adding real pizzazz to your potatoes! They are perfect in the oven or on the grill.
Ingredients
6

medium

potatoes

1

-1 ounce

- pkg onion soup mix

28 g (approximately)

⅔

cup

margarine or butter

* I use Becel olive oil margarine
Instructions
Preheat oven to 400 degrees F.

Mix margarine (or butter) and onion soup mix together.

Using a sharp knife, make crosswise cuts in each potato about a ½ inch apart, (you want to make about 4 -5 cuts in each potato) stopping about ¼ inch from the bottom of the potato. *Do NOT cut right through.

With a butter knife, add a dab of the margarine (or butter) onion soup mixture between each slice, dividing evenly between all slices in all potatoes.

Wrap each potato in aluminum foil (shiny side in) and place on a cookie sheet, as they may leak a little.

Bake in oven for 40- 45 minutes or until fork easily goes through the potato.

Grill/BBQ method: Follow the above directions, but bake on med-high grill/BBQ (with lid down) for 30-40 minutes until fork easily goes through the potato.
Notes
My Amazon Recommendations (affiliate links)
Nutrition Facts
📋 Onion Baked Potatoes in Foil Recipe
Amount Per Serving
Calories 304
Calories from Fat 180
% Daily Value*
Fat 20g31%
Cholesterol 54mg18%
Sodium 214mg9%
Potassium 885mg25%
Carbohydrates 26g9%
Protein 5g10%
Vitamin A 630IU13%
Vitamin C 24.3mg29%
Calcium 70mg7%
Iron 6.9mg38%
* Percent Daily Values are based on a 2000 calorie diet.
*Note: these are lower fat than indicated in the nutrition label, as some of the butter/margarine does melt off
Nutrition
Calories:
304
kcal
|
Carbohydrates:
26
g
|
Protein:
5
g
|
Fat:
20
g
|
Saturated Fat:
13
g
|
Cholesterol:
54
mg
|
Sodium:
214
mg
|
Potassium:
885
mg
|
Fiber:
5
g
|
Vitamin A:
630
IU
|
Vitamin C:
24.3
mg
|
Calcium:
70
mg
|
Iron:
6.9
mg
Save
Saved!
🥔 More Potato Recipes
Cottage Cheese and Potato Perogies