I could stare at it for hours... I imagined myself there; that beautiful place inside that little ball.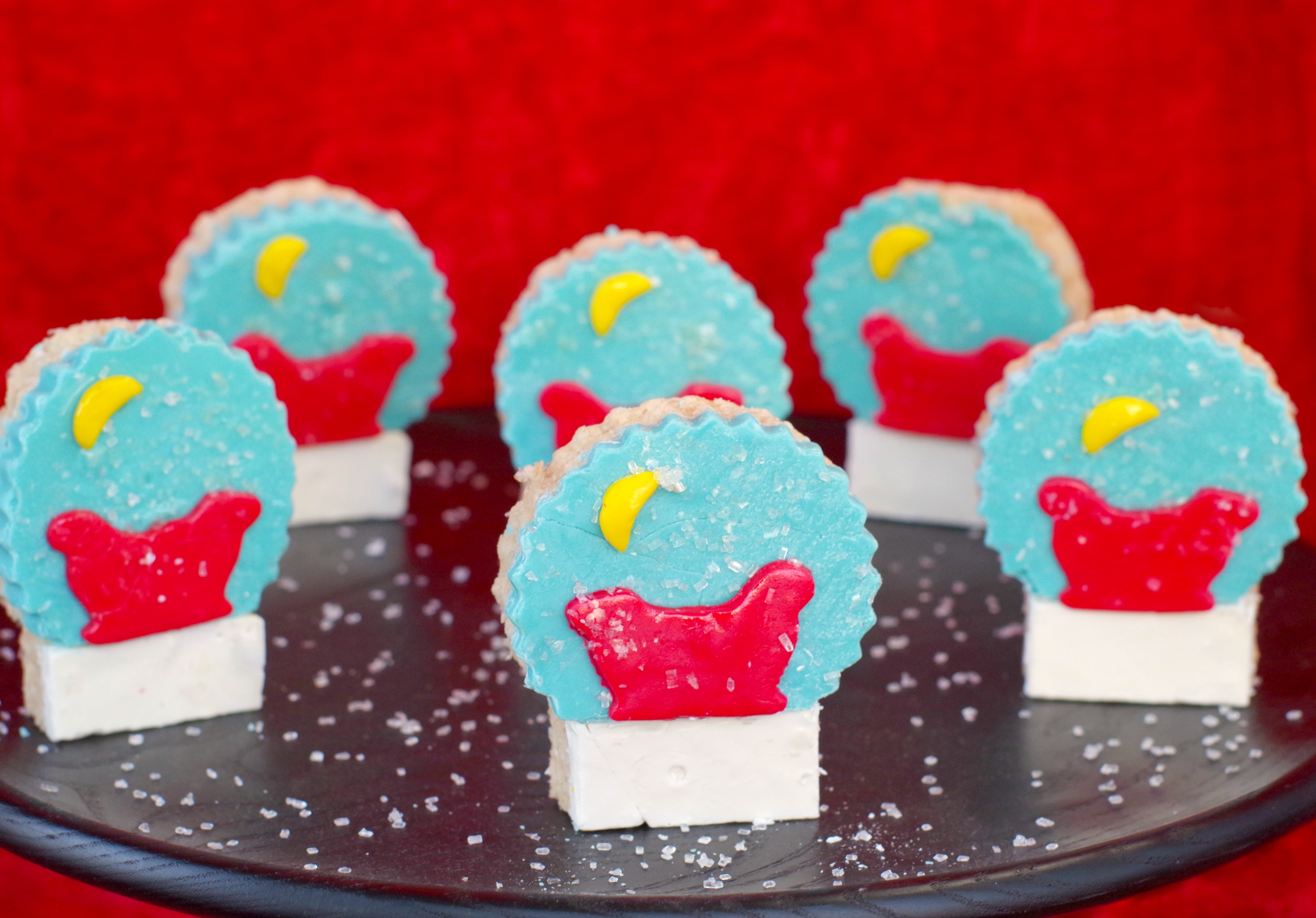 And although it was snowing, I still wanted to go wherever that was. It was a little snippet of something so idyllic, set inside a perfect globe. Ever since I was a little kid snow globes made me happy. And since rice krispie treats also make me happy, what better than a Rice Krispie Treat Snow Globe?!~
Christmas Rice Krispie Treats Recipe
Rice Krispie treats are a fun and easy treat for Christmas or anytime and kids and adults alike love them! And these Christmas Rice Krispie treats are a little different than your typical Christmas cookie or treat. Kids can even help to make them. There are a lot of snow globe cookies out there, but you won't find snow globe rice krispie treats like this. I used candy melts instead of fondant so they didn't have to be individually rolled out for each rice krispie treat. The candy melts are poured over the entire pan of rice krispie treats, then cut into shapes. It's a lot easier than making snow globe cookies! They are also great for sending along to a kids' Christmas party!
Edible Christmas Gifts
These edible snow globes make a great edible gift because they are not your typical Christmas cookie or even a typical red and white Christmas cereal treat. And you can customize them by using a different scene in the snow globe, if you so desire.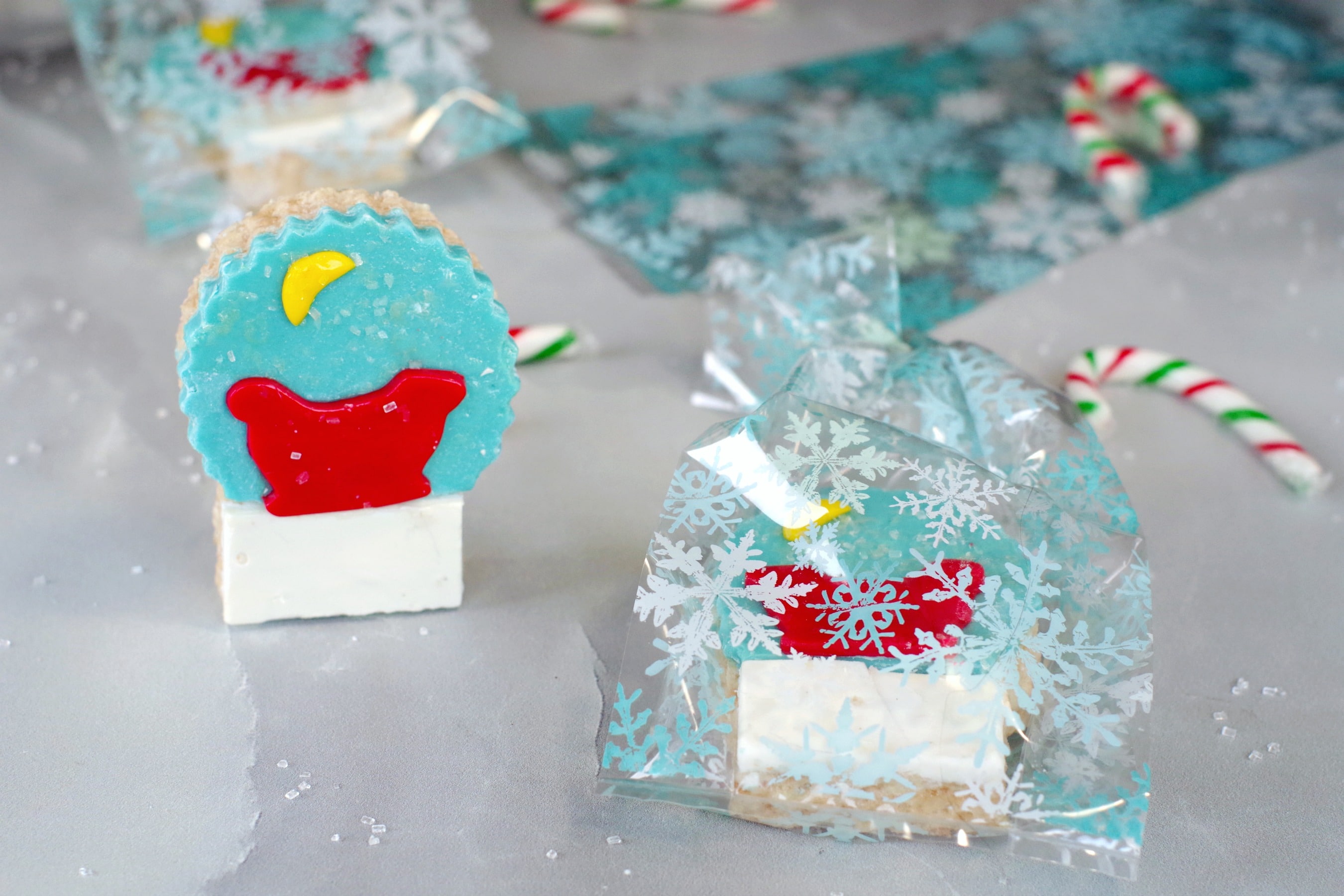 Healthy Rice krispie squares
And although it's fun to indulge over the holidays, when the holidays are over, you can still enjoy rice krispie treats in a healthy way with these Apricot Sunflower Seed Rice Krispie Treats!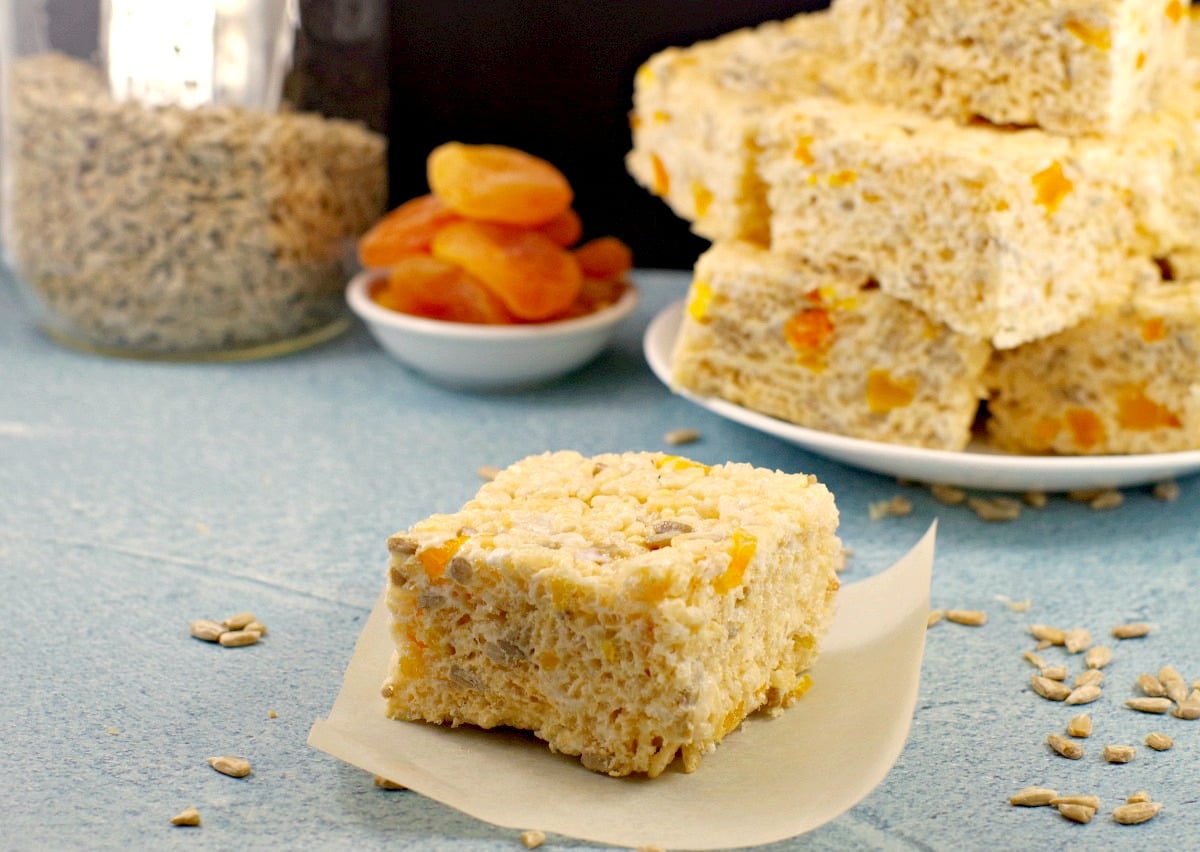 In the meantime, if you are looking for a fun, different Christmas Rice Kripsie treat for a party or an edible gift, then give these a try! Although these are a little more involved than the usual rice krispie squares, they are definitely worth the little extra time investment!
Merry Christmas!
Print
Snow Globe Christmas Rice Krispie Treats
These Snow Globe Christmas Rice Krispie Treats, made with candy melts and fondant decorations, are a great holiday cereal treat for kids parties, classroom parties and make a unique edible Christmas gift!
Instructions
Spray a 9 X 13 pan and an 8X8 pan with non-stick cooking spray.

Grease a large microwave safe bowl and a large spoon (plastic preferably) with a little vegetable shortening (this will prevent the rice krispies from sticking)

Add  margarine and marshmallows to bowl and microwave for 1 minute and 30 seconds. Remove and stir. If not fully melted, put back into microwave in 15-20 second increments and remove and stir each time until melted. * They will melt as you stir. Do NOT overcook marshmallows!

Once melted, remove from microwave and immediately stir in rice krispies,

Press ⅔ of the mixture into a 9X13 pan, then the remaining ⅓ into a square 8X8 pan. You can dampen your hands with water or lightly grease them to press into pan or use a greased spatula. 

Refrigerate for 15- 20 minutes.

Melt blue and white candy melts in separate bowls for 3 minutes approx on 50 % power, add in 3 tbsp of shortening to blue candy melts and 1 tbsp to white candy melts. You may need to melt a little again after adding shortening (be sure it's still on 50% power or it will seize!)

Pour the blue candy melts over the 9X13 pan of rice krispie treats and spread evenly with spatula,

Then bang pan on counter to smooth out. If there are air bubbles, poke them with toothpick, then gently bang again. (* If there are a few air bubbles left, don't worry, as it doesn't matter)

Do the same thing with the white candy melts and the 8X8 pan of rice krispie squares

Refrigerate another 15- 20 minutes

When the candy melts have set (hard to the touch), remove from fridge, loosen edges of pan with a butter knife and gently ease entire rice kripies out of the pans and onto a large cutting board, candy melt side facing up.

Cut the blue rice krispie with 3- 4 inch round cutter (preferably with a fluted edge as shown) ** They WILL crack somewhat at this stage, but don't worry because you simply gently push it back together and gently run your fingers over the cracks a few times- the heat from your hands will melt the candy melts enough to repair the cracks. And the glaze you put on later will also help to seal the cracks (then they are covered up with sparkling sugar)

Cut a little off one end to make it a straight line (square) - this is where you'll add the base.

Then cut the white rice krispie squares into squares, then in half again. This will be your base.

Add the base to the bottom of the circle (where you squared it off). I just pushed it together and it stuck well enough, but you could add a little syrup or fondant to make it stick.

Roll out fondant cut out your decorations with mini cookie cutters. I used the large end of an icing tip to cut the circles for the moon, then cut them in half and shaped them a little into a moon shape.

Attach them to the rice krispie treats by adding a little corn syrup on the back. * You could use another scene (ie: a Christmas tree with green fondant)

Paint with confectioners glaze OR spray with an edible glaze to give glassy look.

Sprinkle on white sparkling sugar and cake sparkles.

Let dry for 30 minutes or until they are no longer wet (they will still be a little sticky to the touch) Serve!
Notes
*NOTE: Rice krispie squares are a challenging canvas to decorate on, so when you cut them out, I will warn you,  they will crack somewhat and they will not look perfect. But no one will notice or care. 
Nutrition Facts
Snow Globe Christmas Rice Krispie Treats
Amount Per Serving
Calories 147
Calories from Fat 45
% Daily Value*
Fat 5g8%
Cholesterol 6mg2%
Sodium 83mg4%
Potassium 110mg3%
Carbohydrates 23g8%
Protein 2g4%
Vitamin A 895IU18%
Vitamin C 6mg7%
Calcium 8mg1%
Iron 3.3mg18%
* Percent Daily Values are based on a 2000 calorie diet.
Nutrition
Calories:
147
kcal
|
Carbohydrates:
23
g
|
Protein:
2
g
|
Fat:
5
g
|
Saturated Fat:
1
g
|
Cholesterol:
6
mg
|
Sodium:
83
mg
|
Potassium:
110
mg
|
Sugar:
11
g
|
Vitamin A:
895
IU
|
Vitamin C:
6
mg
|
Calcium:
8
mg
|
Iron:
3.3
mg
Save
Saved!