It's that time of the year! March is upon us and March means St. Patrick's Day. In honor of St. Patrick's Day this year, I have put together a roundup of 10 of the BEST Baileys Irish Cream Dessert Recipes (you need in your life) because well, Baileys makes everything better!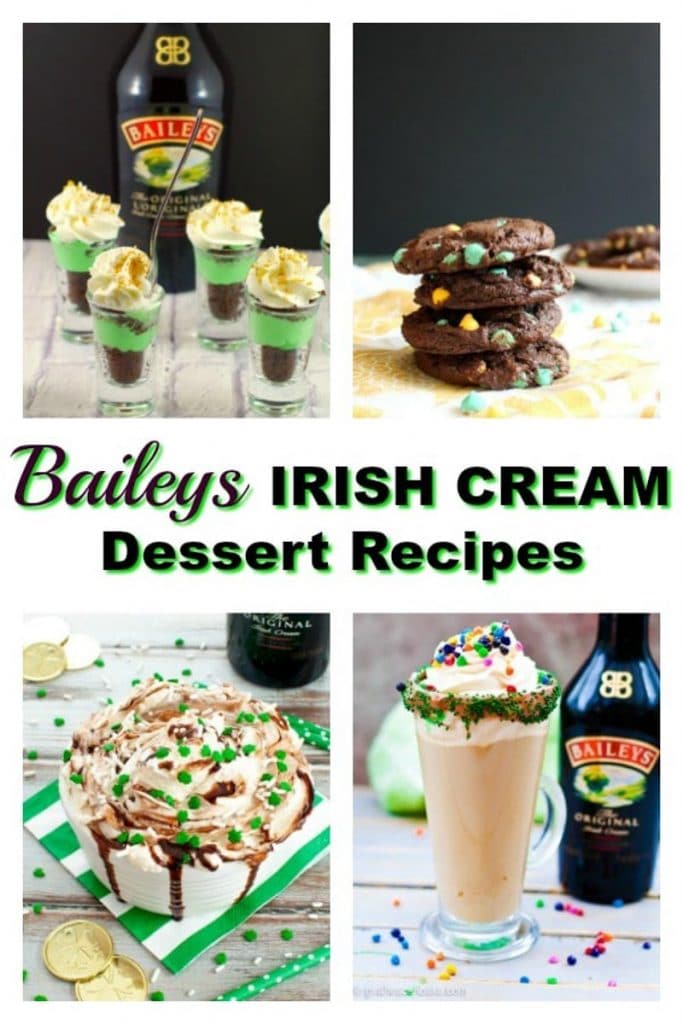 This all-grown-up roundup of Baileys desserts includes everything for the Baileys lovers in your life. From Baileys cakes to Baileys doughnuts to truffles, with decadent desserts with heavy whipping cream to lighter options, green desserts and even Irish cream sips, you will find everything you need to make the perfect desserts to celebrate St. Paddy's Day in style. And you will wonder how you ever lived without these after-dinner delights!
This delicious recipe for No Bake Baileys and 2 Bite Brownie Shamrock Dessert Shots with whipped cream will rock your world (and become your new favorite dessert)!
☘️ Shamrock Irish Cream Dessert Shots
These Shamrock Irish Cream Dessert Shots can be made in 15 minutes,  with or without alcohol and are the perfect fast and easy green dessert for St. Patrick's Day. The mini desserts are made with 2 bite brownies, pudding and Baileys Irish cream, but you can indulge guilt-free because they are miniature!
Check out this Irish Cream Desserts Shot recipe!
Exactly what you need with your coffee and Baileys - MORE coffee and Baileys! And in the form of delicious vanilla buttermilk cake, with chocolate ganache and a coffee Baileys Swiss meringue buttercream, of course. You will love this beautiful and decadent dessert!
Talk about a party in a bowl?! Baileys, chocolate, cream cheese, and green sprinkles! This is one St. Patrick's Day party you won't want to miss!
Baileys Irish Cream in Chocolate Truffle form - YES PLEASE!
Satisfy your sweet cravings without the guilt! This lighter No Bake Baileys Cheesecake is an easy dessert, made with all the deliciousness of a classic No Bake Baileys Cheesecake, but with a lighter twist.
No Bake Baileys Irish Cream Cheesecake
This easy-to-make No Bake Baileys Cheesecake (with an Oreo crust) is a creamy and delicious dessert that's perfect for those looking for a lighter option. It's the ideal dessert for St. Patrick's Day or Christmas, for the Baileys Irish Cream lover , or for any special occasion or celebration!
Check out this No Bake Baileys Irish Cream Cheesecake Recipe!
Baileys Irish Cream infused into a Chocolate Mint Chip Cookie can only mean one thing- boozy and creamy deliciousness!
Chocolate Mint Chip Cookies infused with Baileys Irish Cream
These Chocolate Mint Chip Cookies are infused with Baileys Irish Cream, and filled with minty chocolate chips. They're crispy on the edges, chewy and soft on the inside, chocolaty and minty!
Check out this Baileys Irish Cream Cookie recipe!
A colorful and fun latte with Irish cream flavors, for Saint Patrick's Day!
Mint Irish Latte - A St Patrick's Day Coffee
A Mint Irish Latte will put a little luck of the Irish in your morning coffee - Créme de menthe, irish cream, espresso & hot milk! Plus cream & sprinkles!
Check out this Bailey's Latte recipe!
You had me at cream puffs!
Irish Cream Profiteroles (Cream Puffs)
These Irish Cream Profiteroles are piped full of a beautiful Bailey's Irish Cream pastry cream and topped with an easy chocolate glaze. These cream puffs are the perfect St. Patrick's Day dessert (but great all year round!)!
Check out this Baileys Cream Puffs recipe!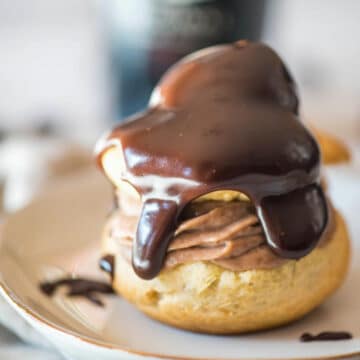 Baileys and buttercream were obviously meant for each other AND definitely meant to be sandwiched between delicious little chocolate Guinness cakes!
Chocolate Guinness Mini Cakes with Baileys Buttercream - Strawberry Blondie Kitchen
Guinness and Baileys are a match made in Heaven in these decadently rich and moist Chocolate Guinness Mini Cakes with Baileys Buttercream.
Check out this Baileys Mini Cakes recipe!
Another perfect coffee and Baileys pairing - easy-to-make Baileys Doughnuts!
Baileys Baked Doughnuts Recipe
Easy baked Baileys doughnuts, with a Baileys glaze and sprinkles. Easy baked donut recipe, homemade donuts recipe, Baileys recipe.
Check out this Baileys Doughnuts recipe!
💭Top Tip
Baileys Coffee Creamer (affiliate link) is the perfect non-alcoholic substitute for Baileys Irish Cream in this recipes! There a are few different brands you can buy and this should be available at your local grocery store
🍽Equipment
Each recipe has specific equipment requirements, but you'll generally want to have an electric hand mixer or stand mixer, a food processor, a large mixing bowl, spatulas, trivets, and a variety of pots and pans (affiliate links). You'll also want to have plastic wrap and parchment paper on hand!
🌡️Storage
You can generally store most baileys Irish cream desserts in an airtight container in the fridge for up to 4-5 days, and freeze them for up to 3-4 months. But be sure to check each recipe for specific storage information.
❔ Frequently Asked Questions
What is Baileys Irish Cream?
Baileys is one brand of Irish cream liqueur and probably one of the most well-known brands in North America. It's an alcoholic drink made with cream, cocoa and Irish whisky. You can drink Baileys straight up, on the rocks, or mix it into cocktails or desserts! You can also make your own homemade Baileys Irish Cream.
⭐ Reviews
And if you love Baileys and can't get enough, give my EASY Baileys Irish Cream Overnight French Toast Casserole a try!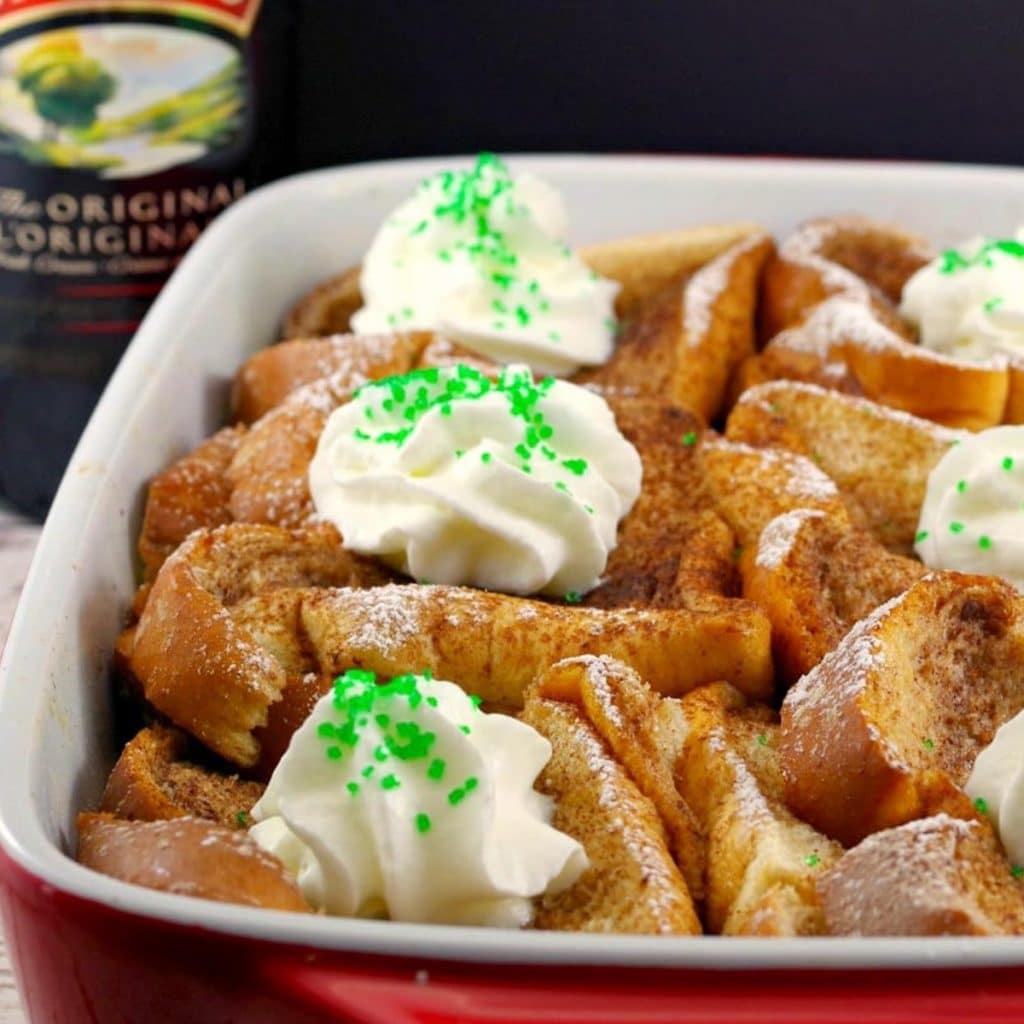 So, if you're looking for recipes for Baileys Irish Cream or St. Patrick's Day Desserts with Baileys, you'll love these!