Easy and make-ahead company worthy food is hard to come by. And although my Lasagna recipe has always been my go-to, I can't make it every single time I have people coming for dinner (especially when it's the same people). That's why I love this One-Pan Plum Glazed Pork Chop recipe! It's quick, simple, delicious, Weight Watchers friendly and can be made ahead or within 30 minutes.

I have made that mistake; trying to make a fancy, complicated dinner the same night I was having company. It happened not too long after we moved into our house, about 15 years ago. While trying to play amazing hostess (which I am clearly not) to some of my husband's family, I attempted to make this fancy rib roast meal out of some womens' magazine. Not only did I make it right before they were coming over, I had never made it before that night. Lesson learned.
Plum Pork
You have to step it up a notch when you have company and I honestly find that a little stressful. I love this recipe because it can be made ahead (and even frozen) or made right after work (in under 30 minutes) and the bonus is that it's completely company worthy! This is one pan plum pork is one of my favorite easy pork chop recipes and I have been making it for years, although I've changed it somewhat along the way.
Boneless Pork Recipes
It's hard to whip up a fancy meal when you already have people at your house. You want to visit, you are trying to do other things and I don't know about you, but personally, I don't tend to perform well under any kind of pressure. I much prefer to cook ahead and this is one of my favorite one-pot boneless pork recipes for that very reason.
The microwave is not your dinner party friend:
Speaking from experience, you may want to consider heating these pork chops up on the stove (instead of the microwave) if you make it ahead and want to serve it to company. I learned the hard way that the microwave is not your friend when it comes to dinner parties. It may heat things up fast, but it also cools things down really fast too.
When you cook food in the microwave, it cools food down faster than on the stove top or oven and this has to do with how the microwave heats food, as well as standing time. Read more about that here: why food that was cooked in the microwave cools faster. And here, a microwave scientist answers the question: why microwave food cools faster in a little more 'sciency' detail ( you know, thermodynamics and all that stuff!)
All I know is that by the time I got all 4 of my microwave heated fancy dishes out on to the table at that dinner party and we started eating, the food was stone cold. I would have been much better off to keep it on warm in the oven or on the stove top. Or better yet - I would have been better off making something simpler, making it ahead and not reheating it in the microwave! And since most stoves have a warming drawer and/or warming element now-a-days anyway, this is even more practical and doable.
Fabulous Food Hack
And speaking of practical: store your fresh ginger in the freezer!
This recipe uses fresh ginger and ginger is usually a real pain to store because it goes bad so fast. I store my ginger in the freezer in a small freezer bag, pull it out and peel it with a carrot peeler, then grate it right into my food. It lasts several months in the freezer and this hack saves you both time and money!
And don't forget Dessert!
If you need a make-ahead, easy dessert that's also totally company worthy, which of course you do, try my No Bake Black Forest Tiramisu -it's always well-loved by guests and potluck goers alike.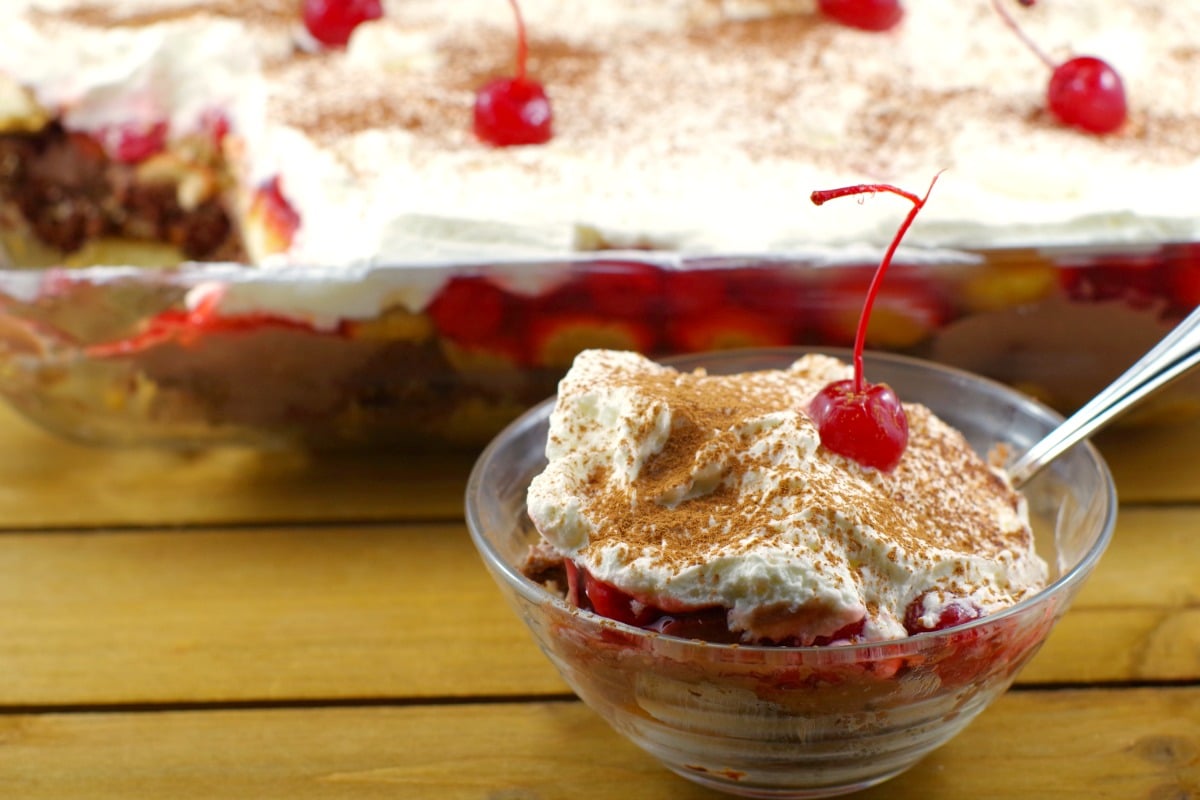 Since that dinner party fail all those years ago, I have become a big believer in the KISS principal (Keep it simple stupid) and the rule: don't attempt fancy meals that you have never made when you are having people over for dinner. Better yet, don't make fancy meals at all when you are having guests for dinner, especially ones that can't be cooked in advance or take more than 30 minutes. One just doesn't need the stress or pressure. Plus, wouldn't you rather have that time for socializing and enjoying your guests? I would.
Print
Plum-Glazed Pork Chops
Healthy and quick, these easy one pan Plum-Glazed Pork Chops with carrot, peppers and ginger are the perfect meal for after work, make-ahead and are completely company worthy! It's WW friendly @ 9 WW points on the blue plan!
Ingredients
4

pork loin chops

boneless or bone in

¼

cup

flour

1

tbsp

olive oil

¼

tsp

each salt and pepper

1

cup

shredded carrots

2

green onions

chopped

½

red pepper

cored and sliced (julienned)

½

green pepper

cored and sliced (julienned)

1

tsp

fresh ginger

grated

⅔

cup

plum sauce

4

tbsp

orange juice

1

tsp

orange zest
Instructions
In large non-stick skillet, heat oil over medium heat. Mix flour and salt and pepper together.

Coat both sides of each pork with flour mixture and cook in oil heated pan , turning once, for about 3 minutes on each side or until the pork is browned.

Reduce heat to medium. Stir in plum sauce, orange juice, orange zest and hot pepper flakes. Add carrot, both red and green pepper, onion and ginger to pan, cover and cook, stirring occasionally for about 15 minutes.
Garnish:
Garnish with crispy/dry chow mein noodles, if desired.
Notes
My Amazon Recommendations (affiliate links)
Nutrition Facts
Plum-Glazed Pork Chops
Amount Per Serving
Calories 384
Calories from Fat 117
% Daily Value*
Fat 13g20%
Cholesterol 89mg30%
Sodium 361mg16%
Potassium 784mg22%
Carbohydrates 33g11%
Protein 30g60%
Vitamin A 5460IU109%
Vitamin C 12.5mg15%
Calcium 30mg3%
Iron 1.9mg11%
* Percent Daily Values are based on a 2000 calorie diet.
Nutrition
Calories:
384
kcal
|
Carbohydrates:
33
g
|
Protein:
30
g
|
Fat:
13
g
|
Saturated Fat:
3
g
|
Cholesterol:
89
mg
|
Sodium:
361
mg
|
Potassium:
784
mg
|
Fiber:
1
g
|
Sugar:
3
g
|
Vitamin A:
5460
IU
|
Vitamin C:
12.5
mg
|
Calcium:
30
mg
|
Iron:
1.9
mg
Save
Saved!
More Pork Recipes!
Marinated Grilled Maple Lemon Pork
Easy Pork with Caper Sauce: Weight Watchers Friendly
Pork with Creamy Mushroom Salsa -5 ingredients
Easy Pork Dinner: Mandarin Orange & Red Pepper Pork
Easy Thai Pork and Noodles Recipe- Weight Watchers friendly
This recipe is part of The Tasty Tuesday Link up!