These Open Face Tuna Melts are healthy, a little spicy, cheesy, have no mayonnaise, and are loaded with flavor! It's fast (under 20 minutes), easy, and makes a great quick weeknight dinner or lunch recipe. And if you are following the Weight Watchers program, they are also WW friendly.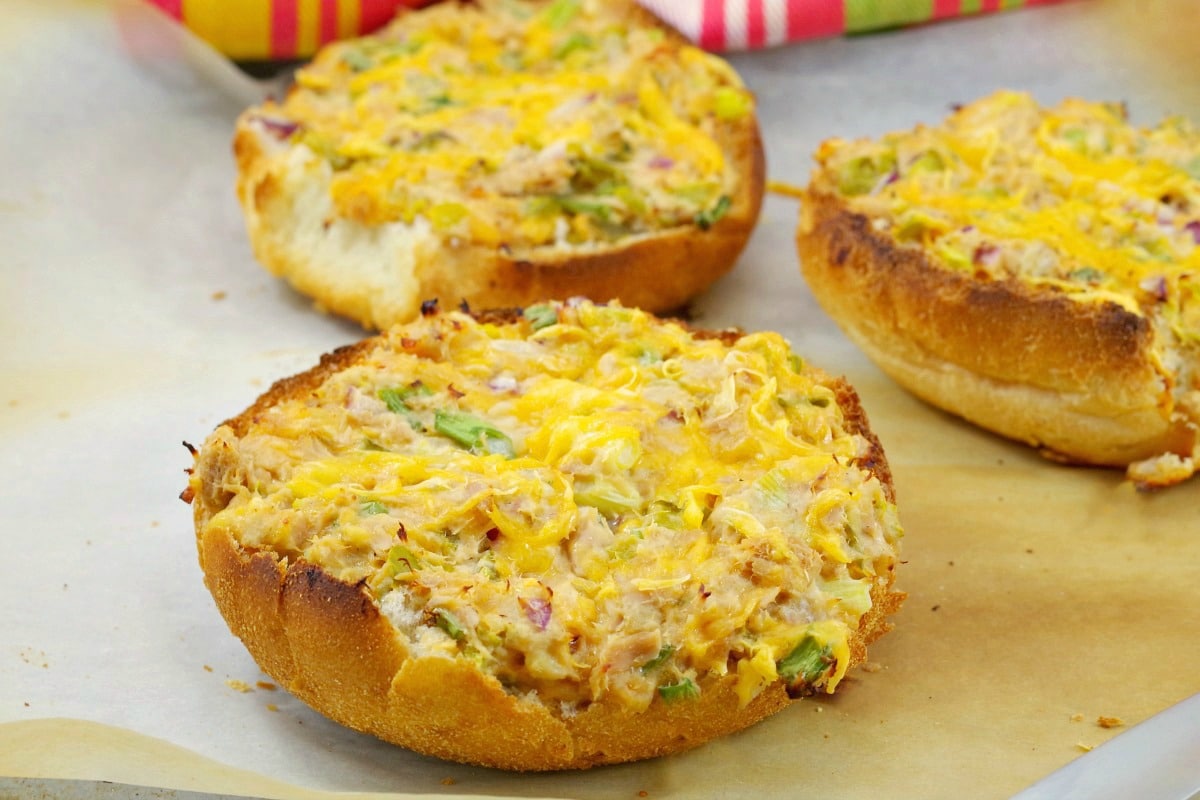 These are a recreation of a tuna melt I had at my husband's aunt's house. It was truly the best tuna melt I had ever had. And I really should have asked Aunt Joan for the recipe, but at the time, I didn't think of it. And now it's too late....
Jump to:
For many years I have thought about trying to replicate this open-faced tuna melt. Since I could tell it had onions, cream cheese, and cheddar cheese in it, I finally created something very close and one that maybe even rivals it.
I had mentioned to Aunt Joan that I'd be working nearby that day, so she had invited me over for lunch. And I'll be honest, I was a bit nervous. I had never actually been alone with her; we always had buffers. I was pretty worried that it would be awkward.
Aunt Joan was my husband's aunt. She and Uncle Harry were the only people we knew when we moved to Calgary 25 years ago. And at first, I really didn't think she liked me. So going over to her house to have lunch alone with her felt a bit weird.
When Aunt Joan first told me that we were having tuna melts, I have to admit that I wasn't exactly excited. Tuna melts were fine, but not something that exactly got the salivary glands revved up. Although I've always liked tuna sandwiches, the only tuna melts I had when I was a kid were simple, open-faced tuna melts; basically, tuna mixed with mayo, with a slice of tomato and some cheese on top of a slice of bread, then melted in the oven.
💭What can you put in tuna instead of mayo?
Cream cheese! When I tried her open face healthy tuna melt with no mayo and cream cheese...Wow! It was unlike any tuna melt I had ever had. But I really should have known how delicious they would be, given what a great cook Aunt Joan was! I mean, this is the same woman that single-handedly turned a life-long turnip hater into a turnip lover with one dish- Turnip N' Apple Casserole. Her food was not only tasty, it was just so darn comforting. And that's exactly what I needed, given I had just moved far from home and my Mom's comfort food (and I wasn't much of a cook myself at the time).
🥘Ingredients needed for Open Face Tuna Melts
Tuna – Drain it well, and chop up the big chunks.
Jalapenos – Gives these tuna melts a welcome kick! But I use tamed jalapenos (you can buy them in the jar) But you control the spice - put as little or as much as you like or skip them all together! ***Note: I used Tamed Jalapenos, as they have a little less heat. You can get them at pretty much any grocery store.
Onion – I use both red and green onion
Pickles - Pickles naturally go well with tuna, so it's a no-brainer that they pair perfectly with tuna melts!. If you don't have pickles, substitute a little dill weed or pickle relish.
"Special sauce" – pickle juice and Worcestershire sauce eliminate the need for lemon juice
Minced Garlic - garlic makes everything better!
Cream cheese – mayonnaise is not necessary. The cream cheese adds a nice tang! You can use fat-free or light to keep the fat content lower or use regular if you prefer.
Buns or Bread – I prefer to use Kaiser buns, but I'll use whatever type of bread slices I have on hand, including white bread, rye bread, whole wheat bread, hamburger buns, homemade bread, or English muffins. 
Cheese (low-fat) – I prefer to use low-fat sharp/old cheddar cheese
🔪Instructions
Preheat oven to 400 degrees F/205 degrees C and line a baking sheet with parchment paper or aluminum foil sprayed with non-stick cooking spray.
Mix all ingredients (except buns) together in a medium bowl.
Slice Kaiser buns in half and top each half with tuna mixture, dividing equally among all 4 buns halves.
Divide ½ cup of garnish cheddar cheese in 4 and sprinkle on top of each half bun, dividing evenly between all 4.
⏲️ Baking time
Bake for 10 minutes, then turn up to broil (500 degrees F/260 degrees C) for 2 minutes or until cheese melts and is bubbly. Alternatively, you could do these in a toaster oven.
🍽 Equipment
You'll need large baking sheets (affiliate link) to make this open-faced sandwich. I like to use parchment paper (affiliate link) for easy cleanup and to avoid sticking or burning on the bottom of the buns.
While I enjoy plain tuna sandwiches, I will take a hot sandwich over a cold one any day! You can read more about my love for hot sandwiches and get my fabulous Mediterranean Monte Cristo Sandwich recipe here (shown)
But there's just something about tuna melts in the oven, with warmed cream cheese, onion, and melty cheese, that makes you feel so cozy. Tuna melts really are the ultimate comfort food!
🔢WW Points
These open face tuna melts are also WW friendly @ 4 WW points.*Note: You can use fat-free cream cheese and/or a lower-point bread or bun to further bring down the WW points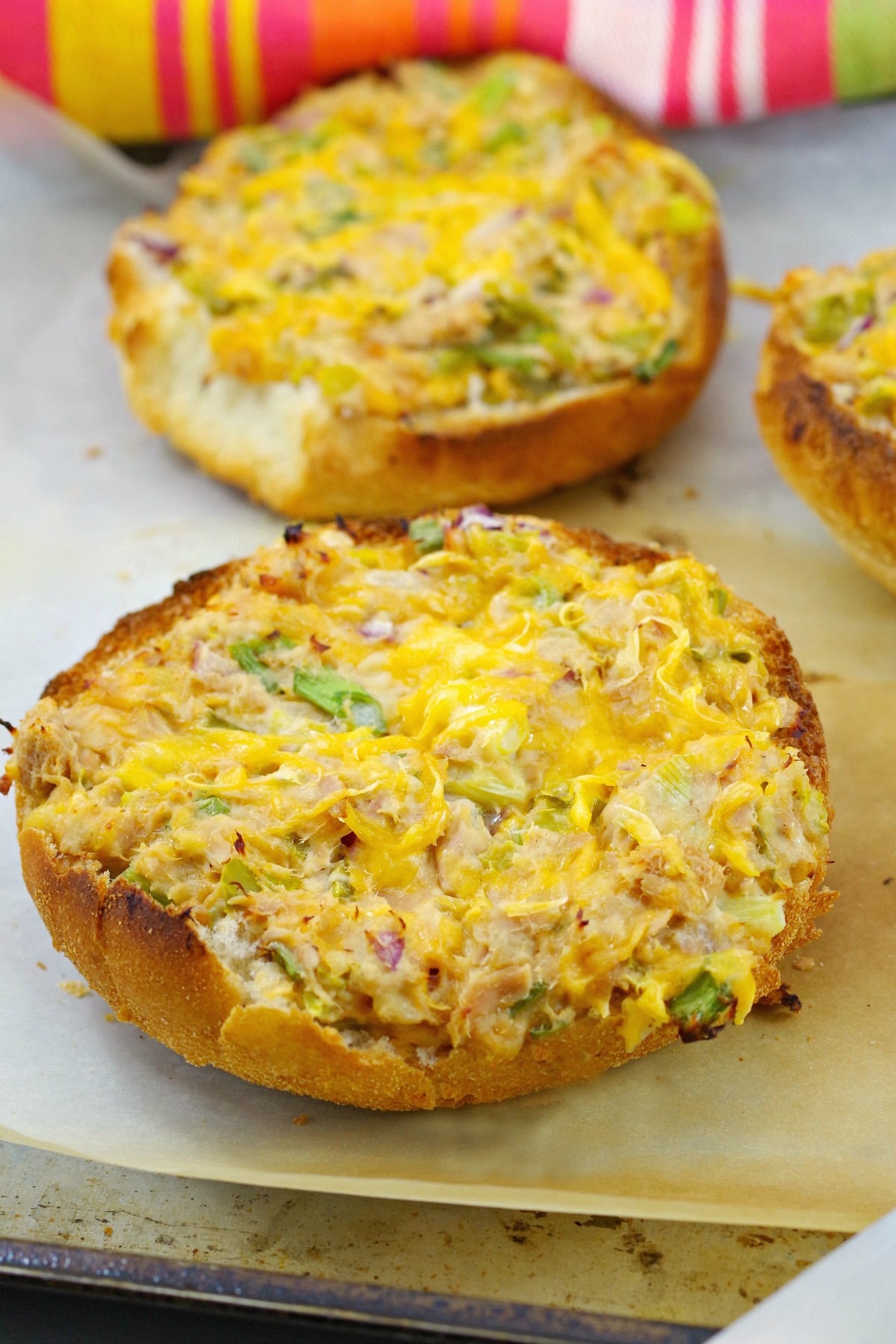 🥫 is Canned Tuna Healthy?
Canned tuna is healthy, but you need to understand the differences between the types of canned tuna. If you are most concerned about mercury content and eat tuna more than a couple of times a month,  then you will likely want to stick with SKIPJACK (CANNED LIGHT TUNA). If getting an OMEGA-3 powerhouse meal is your priority and you don't eat tuna that often, then ALBACORE (CANNED WHITE TUNA) may be a good option for you. 
Tuna Melts are not only an easy and comforting lunch or dinner, but they are also economical and healthy and make for a quick lunch. If you're racing home from work and out the door to soccer, baseball, dance, hockey, or whatever another 30 - 60 minutes, later, they are a great way to get a quick meal. You can even make the mix the night ahead for a super quick dinner! 
And if you're looking for more canned tuna recipes and love tuna melts, then check out my Two Cheese Tuna Mexi Melts (pictured below) for another unique take on Tuna Melts. And my Tuna Burgers (with canned tuna) are always a big eat (even with the biggest tuna haters!)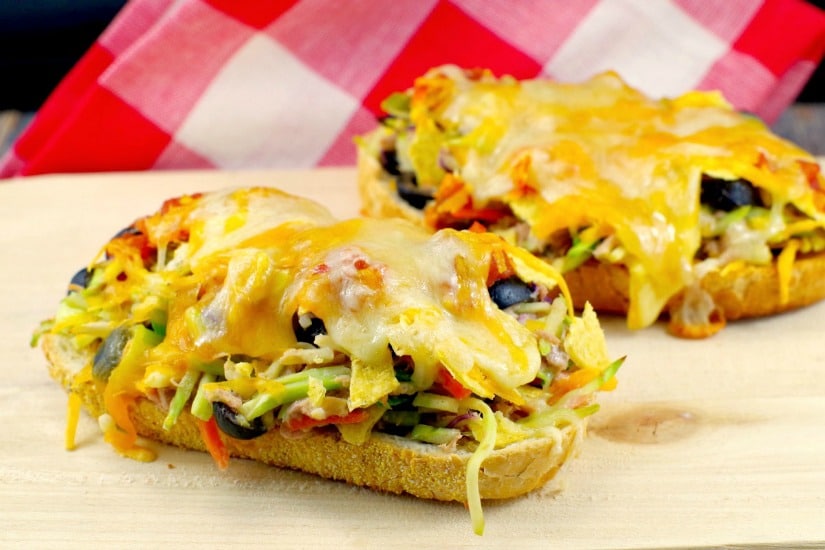 👪 Serving Size
This tuna melt sandwich recipe makes 4 servings, but you can double or triple the recipe by simply clicking on the blue serving number and selecting the number of servings you'd like. The ingredient quantities will automatically adjust.
🥗Side Dishes
This classic tuna melt sandwich goes well with: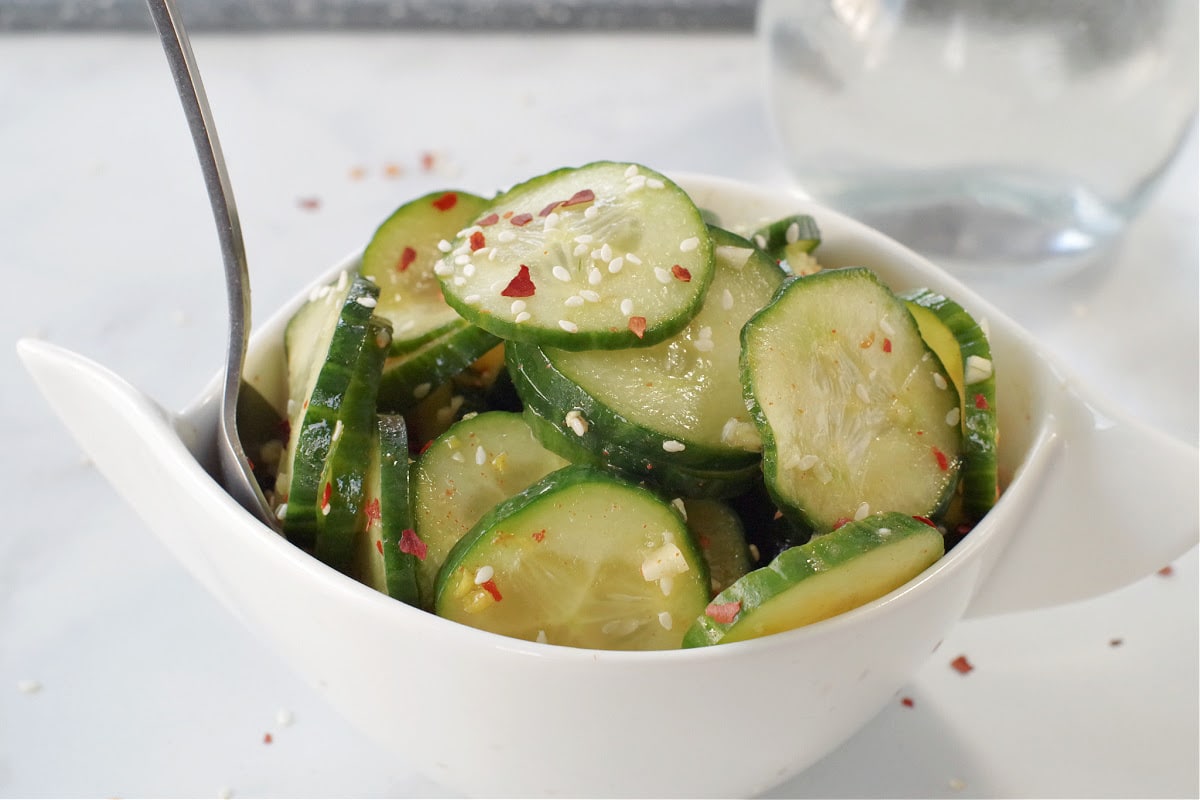 🌡️Storage
Store these open face tuna melts in the fridge for up to 3 days in a sealed container. Although I don't recommend more than 2 days, as tuna tends for get a bit too 'fishy' tasting after a couple of days. The ingredients do not stand up well to freezing.
Reheat: reheat in the microwave for 30-45 seconds.
Flash forward 10+ years later...
That lunch was truly a breakthrough for Aunt Joan and I. After that, we not only comfortably spent time together (even without the boys) we'd even phone each other regularly to make family plans or even just to chat. And it was during one of those phone calls she told me that she finally knew why she had been feeling so unwell- she had been diagnosed with Multiple Myeloma. At first it didn't register, but when I got home and googled it, my heart sank. Cancer. And the prognosis was not good. She was gone in less than a year.
This tuna without mayo recipe was one of the many things I never got to ask Aunt Joan about. I still make a lot of her recipes, because not only are they delicious, they remind me of her and how her food used to bring me so much comfort and at a time when I desperately needed it.
And now that food brings me comfort for a different reason altogether. But of all her recipes that I still make, these tuna melts are the most special because they are what brought us together for lunch, at her little kitchen table, so many years ago, forming an important bond that became such a big part of my life. I miss her dearly and making her food is part of how I remember and honor her.
So if you're looking for a delicious lunch, you'll love this open faced tuna melt! recipe!
⭐ Reviews
Did you make this classic sandwich recipe? Please RATE THE RECIPE below!
Here's what others are saying:
"Was trying to find a recipe for an open-faced tuna melt my mother used to make. Used this one. What a scrumptious delight. Nothing like mom's, she did the mayo, slice of cheese thing. She would have loved this. (Minus the peppers) thank you so much!"⭐⭐⭐⭐⭐
Please SUBSCRIBE (get my FREE E-cookbook) and be sure to FOLLOW ME on FACEBOOK, TWITTER, INSTAGRAM and PINTEREST!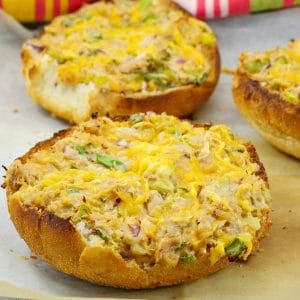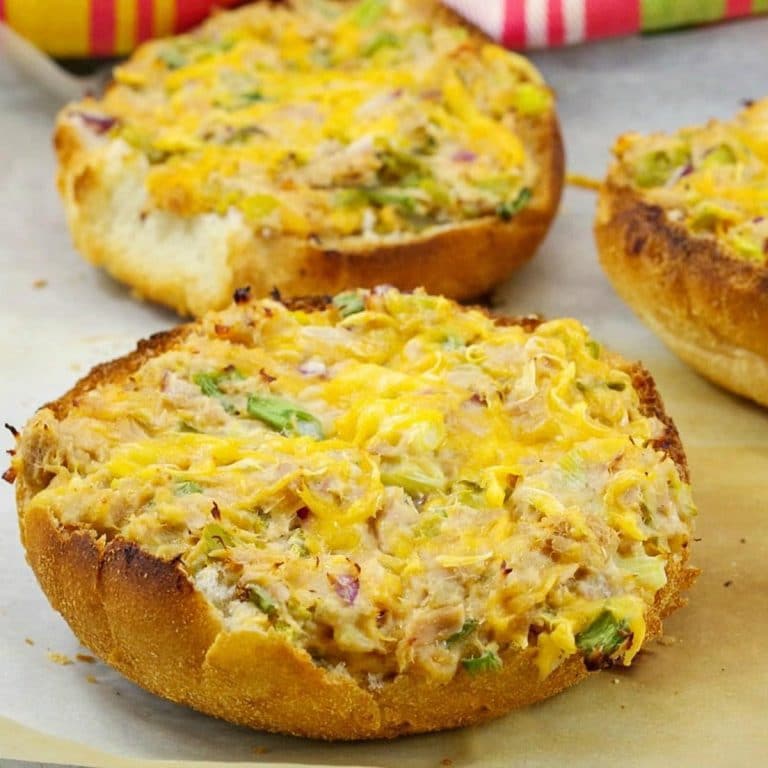 📋 Open Faced Tuna Melt Recipe (no mayo)
These quick and easy Open Faced Tuna Melts are made with cream cheese, no mayo, a little kick from the jalapenos and are the perfect last minute dinner or lunch. You can make them ahead and reheat, so they're also perfect for the lunch bag! They are also Weight Watchers friendly.
Print
Pin
Rate
Equipment
Ingredients
¼

cup

fat free cream cheese

softened

⅔

cup

low-fat (sharp) old cheddar

grated

184

gram

can of tuna, flaked

⅓

cup

green onions

chopped

1

tablespoon

worcestershire sauce

2

teaspoon

pickle juice

1

large

dill pickle, finely chopped

1-2

tablespoon

tamed jalapenos finely chopped

¼

cup

red onion, chopped

¾

teaspoon

minced garlic

2

kaiser buns, split in half
garnish
½

cup

low-fat sharp (old) cheddar cheese

grated

black pepper and salt, as desired
Instructions
Preheat oven to 400 degrees F and line a baking sheet with parchment paper.

Mix all ingredients (except buns) together in medium bowl.

Slice Kaiser buns in half and top each half with tuna mixture, dividing equally among all 4 buns halves.

Divide ½ cup of garnish cheddar cheese in 4 and sprinkle on top of each half bun, dividing evenly between all 4.

Bake for 10 minutes, then turn up to broil (500) for 2 minutes or until cheese is bubbly. Serve warm with raw veggies or soup.
Notes
*Please see post contents for important recipe information and tips!
Nutrition Facts
📋 Open Faced Tuna Melt Recipe (no mayo)
Amount Per Serving (1 tuna melt)
Calories 193
Calories from Fat 54
% Daily Value*
Fat 6g9%
Cholesterol 32mg11%
Sodium 569mg25%
Potassium 234mg7%
Carbohydrates 14g5%
Protein 20g40%
Vitamin A 260IU5%
Vitamin C 2mg2%
Calcium 199mg20%
Iron 2mg11%
* Percent Daily Values are based on a 2000 calorie diet.
Nutrition
Serving:
1
tuna melt
|
Calories:
193
kcal
(10%)
|
Carbohydrates:
14
g
(5%)
|
Protein:
20
g
(40%)
|
Fat:
6
g
(9%)
|
Saturated Fat:
3
g
(19%)
|
Cholesterol:
32
mg
(11%)
|
Sodium:
569
mg
(25%)
|
Potassium:
234
mg
(7%)
|
Fiber:
1
g
(4%)
|
Sugar:
3
g
(3%)
|
Vitamin A:
260
IU
(5%)
|
Vitamin C:
2
mg
(2%)
|
Calcium:
199
mg
(20%)
|
Iron:
2
mg
(11%)
Did you make this recipe?
Please leave a star rating and review below!