I can't believe it's been 3 years since I started this blog! When I first started it, I really wasn't sure I'd like doing it, but here I am 3 years later and still loving it. And there is no recipe more fitting for my 3rd year bloggiversary than this NO BAKE Easy Black Forest Trifle! It's the recipe that inspired my very first blog post.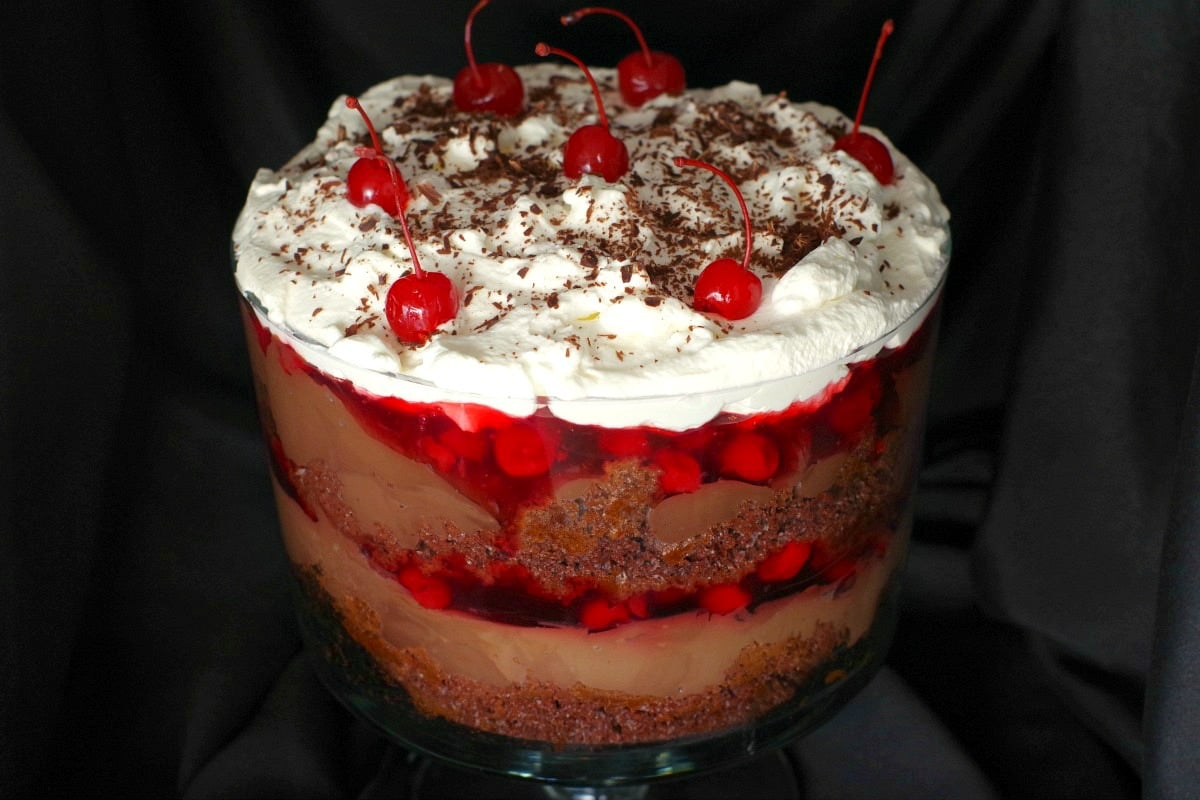 I've learned a lot of things about blogging over the last few years, but the most important things I've learned surprised me because they are not only blogging lessons, but life lessons, as well.
Black Forest Trifle
My very first blog post, in May 2016, was my No Bake Black Forest Tiramisu, which was inspired by THIS Black Forest Trifle recipe. Actually, I can't believe it took me 3 years to post this Black Forest Trifle! But I have too many recipes and too little time...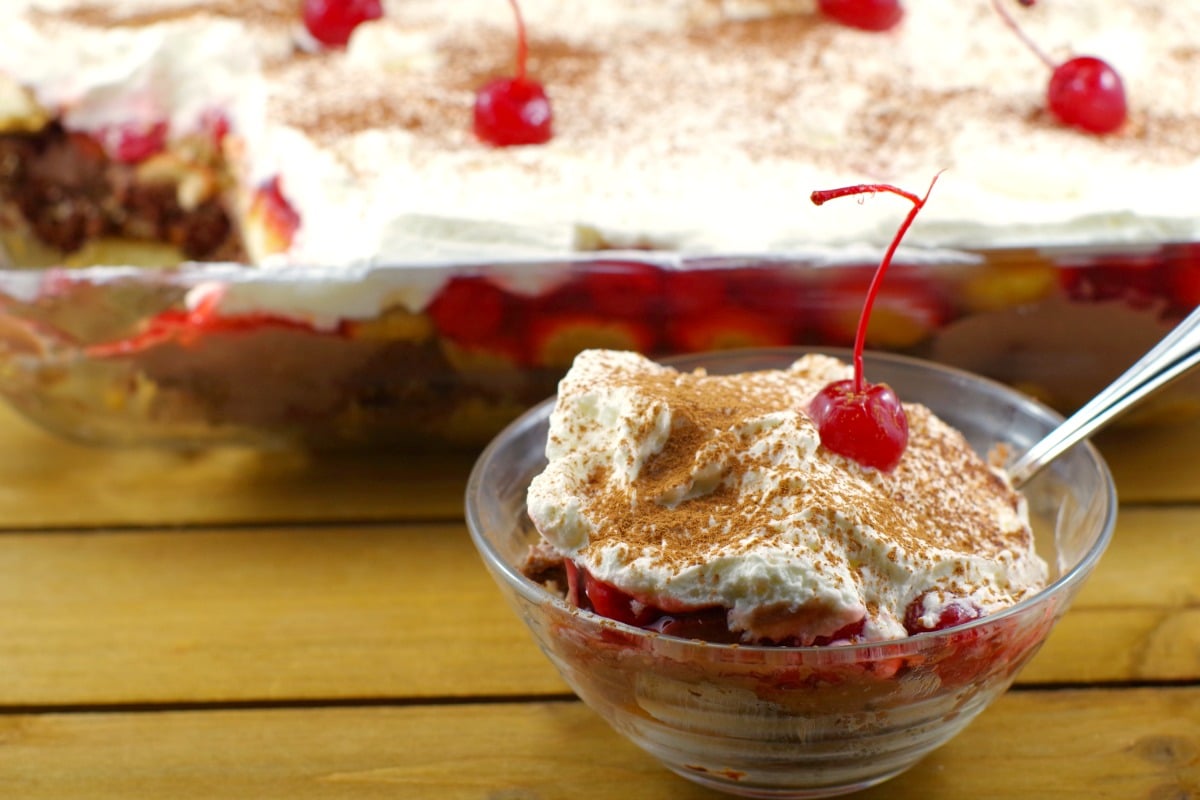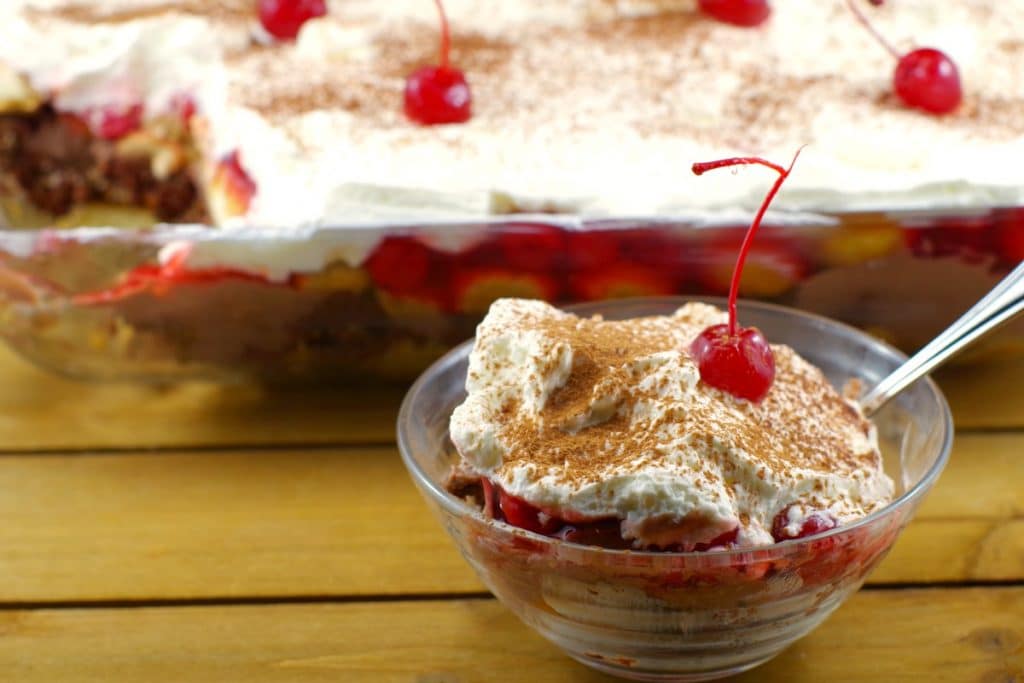 Easy Desserts with Few Ingredients
This recipe is not only a family favorite, it's easy and only has 5 ingredients! I got the recipe from my mom, made a couple little changes and have been making it for many years. There's no baking required so it makes a great last minute dessert for entertaining or to bring along to a potluck. You won't believe how easy it is, especially considering how spectacular it tastes and how pretty it looks!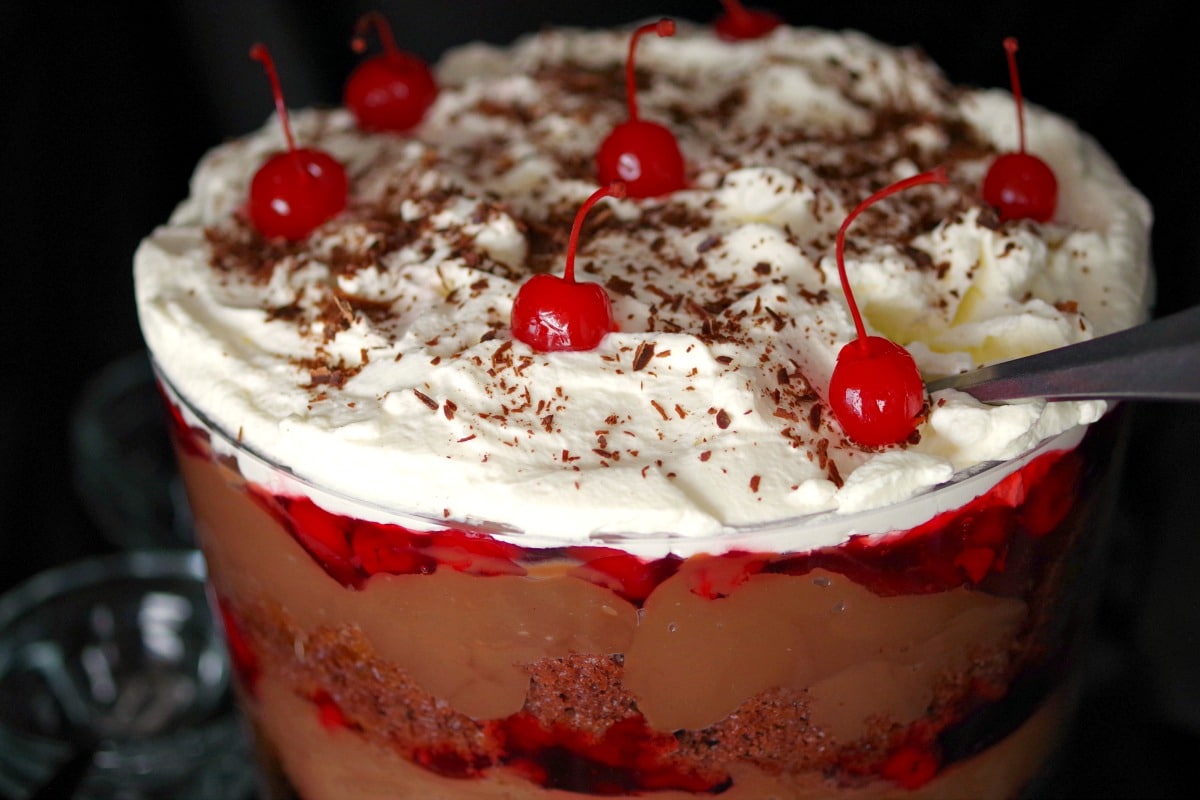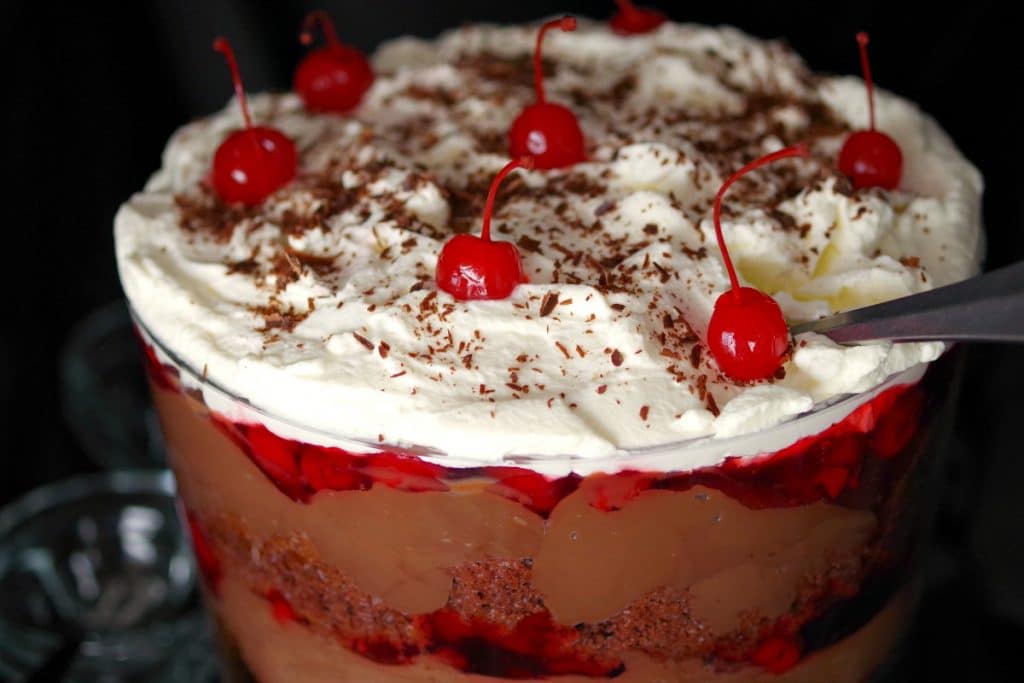 I've spent a lot of my spare time over last 3 years on this blog and learned a lot along the way. There's so much more involved than simply cooking and snapping pictures. I have also learned a great deal about marketing, writing, the back end of a blog, adapting to new trends and technology and especially that the online world is truly the Wild West!
Blogging and Life Lesson #1: It's not fair
When I was a kid and things didn't go my way, I'd complain, 'it's not fair!' and my Dad would always tell me, 'life isn't fair, kid; get used to it." I hated when he said that. I wanted justice; I deserved justice. But unfortunately it doesn't work that way.
And guess what?! Blogging doesn't work that way either. It's not fair. Even though you work harder there will be others that don't and are still more successful and/or simply luckier than you. You could work hard on a recipe for 3 years, another blogger will come along, change one ingredient and post it on their blog. You can't copyright a list of ingredients anyway. And they may even get more hits to their website than you... Then IF you're lucky, they'll give you credit for the original recipe and/or ask permission to use your photos. Other bloggers and scraper sites will simply steal your recipes, pins and photos. The online world is virtually lawless. Like I said, the Wild West.
So, I try to focus on the positive things...THE FOOD!~
Chocolate Trifle Recipes
Even when I used to spend endless hours decorating cakes and making desserts, THIS easy chocolate trifle recipe would be the one I'd get asked for. I guess you just can't go wrong with whipped cream, cherry pie filling, pudding and chocolate cake all together in a bowl. And if I can't find a chocolate loaf cake already baked (it seems harder to find lately) I will quickly whip up a Devils food cake mix - it's my fave kind of chocolate cake! And if I'm feeling really lazy, can't find loaf cakes in the bakery section, I have been known to buy Frozen McCain Deep & Delicious chocolate cakes, scrape off the icing and use that. They work wonderfully in a pinch! Plus, you don't even have to make the pudding - I simply use the prepared chocolate pudding "snack packs." Why do extra work when it's already done for you?
Blogging and Life Lesson #2: Don't compare yourself to others
I know it's human nature, but it's a slippery slope. You see others' stuff constantly and you can't help but play the comparison game. But try to use it for inspiration and resist the urge to beat yourself up because your stuff isn't as good or they are more successful because remember lesson #1: BLOGGING ISN'T FAIR! Plus everyone has their own journey and has to find their own style and voice. If you're just doing what everyone else does, you're probably not going to be noticed... It's highly competitive out there. As your Mom always said, "just be yourself"!
Blogging and Life Lesson #3: Set goals & write them down
You have to set your own goals. How can you possibly measure YOUR success if you have no reference point? Success looks different to everyone. When I first started blogging and told my friend and blogging mentor Sue, from Travel Tales of Life that I wanted to be successful, she replied, "well, what does success look like to you?" I realized I hadn't even thought of that. Success means different things to different people and especially at different stages of the game. That's why it's important to set goals and write them down. It will motivate you to see how far you've come and you get some warm fuzzies in return. My year 1 goals look very different from my year 4 goals!
Blogging and Life Lesson #4: LOVE what you do
Loving what you do is critical! The one thing that remains that same since I started blogging is my passion for it; that has not faltered. Otherwise I wouldn't still be doing it. It's really hard work at times, often discouraging and not easy to fit it in my already busy life. But I do it for me because I love the creative challenge of it. You've heard the saying, 'love what you do and you never have to work a day in your life?' Well, I think that's a bunch of crap! You can love doing something and sometimes it still feels like work, because it is work! And that's part of the intrinsic reward. As humans, we need meaningful work in our lives - it's part of what fulfills us.
Blogging and Life Lesson #5 : Be grateful
Be grateful. I'm grateful for my supportive and understanding husband and kids who help me with everything from recipe testing to photography. I'm grateful for my Mom, who not only reads all my posts to the end, but edits as well. I'm grateful for the chance to share my recipes, create this recipe legacy for my kids and future generations and for having a forum to express myself creatively. But I'm especially grateful to those of you that read my blog, make my recipes and share my stuff.
Thank you!
I'm grateful you're here and part of my blogging journey...
Black Forest Trifle Recipe
So if you're looking for an easy and extremely delicious Black Forest Trifle Recipe, give this one a try!
My Amazon Recommendations (affiliate links)
Print
Easy No Bake Black Forest Trifle
This easy, NO BAKE,  5 ingredient Black Forest Trifle recipe makes a great last minute dessert and is perfect for summer or anytime of the year! It's also a great for feeding a crowd or bringing along to a potluck! 
Ingredients
12

-99g

containers of prepared chocolate pudding

* they come in 4 packs called 'Snack packs' (this is equivalent to 5 cups )

2

-300g

chocolate loaf cake or pound cake

* if you can't find this, you can use a defrosted frozen McCain's deep and delicious cake with the frosting scraped off

2

tbsp

+ 2 tsp kirsch

* optional

2

-540 ml

cans of cherry pie filling

1

-473 ml

container whipping cream

2

tbsp

white granulated sugar
Garnish
½

ounce

shaved chocolate

cocktail cherries (with stems) -optional
Instructions
Break cake into pieces and add half to the bottom

Then add half of the pudding (6 containers)

Mix the kirsch with the cherries, if using.

Add half the cherries on top of the pudding

Cover with saran wrap or Glad Press n' Seal. ***This is completely shelf safe at this point and doesn't need refrigeration.

Before serving (or in advance), beat whipping cream to soft peaks, add the white granulated sugar and then beat to stiff peaks.
Garnish
Shave chocolate, as shown.

Garnish with shaved chocolate

Add maraschino cocktail cherries, if desired.

Refrigerate after adding whipped cream if not serving immediately.
Save
Saved!
This recipe is part of The Country Cook's Weekend Potluck