I have pulled together my best No Bake Potluck Desserts so they are all in one place! These potluck dessert recipes are some of my favorite recipes. I have everything from cheesecake to fruit salad, chocolate desserts, fruity desserts and a few that are healthier, lighter and WW friendly as well.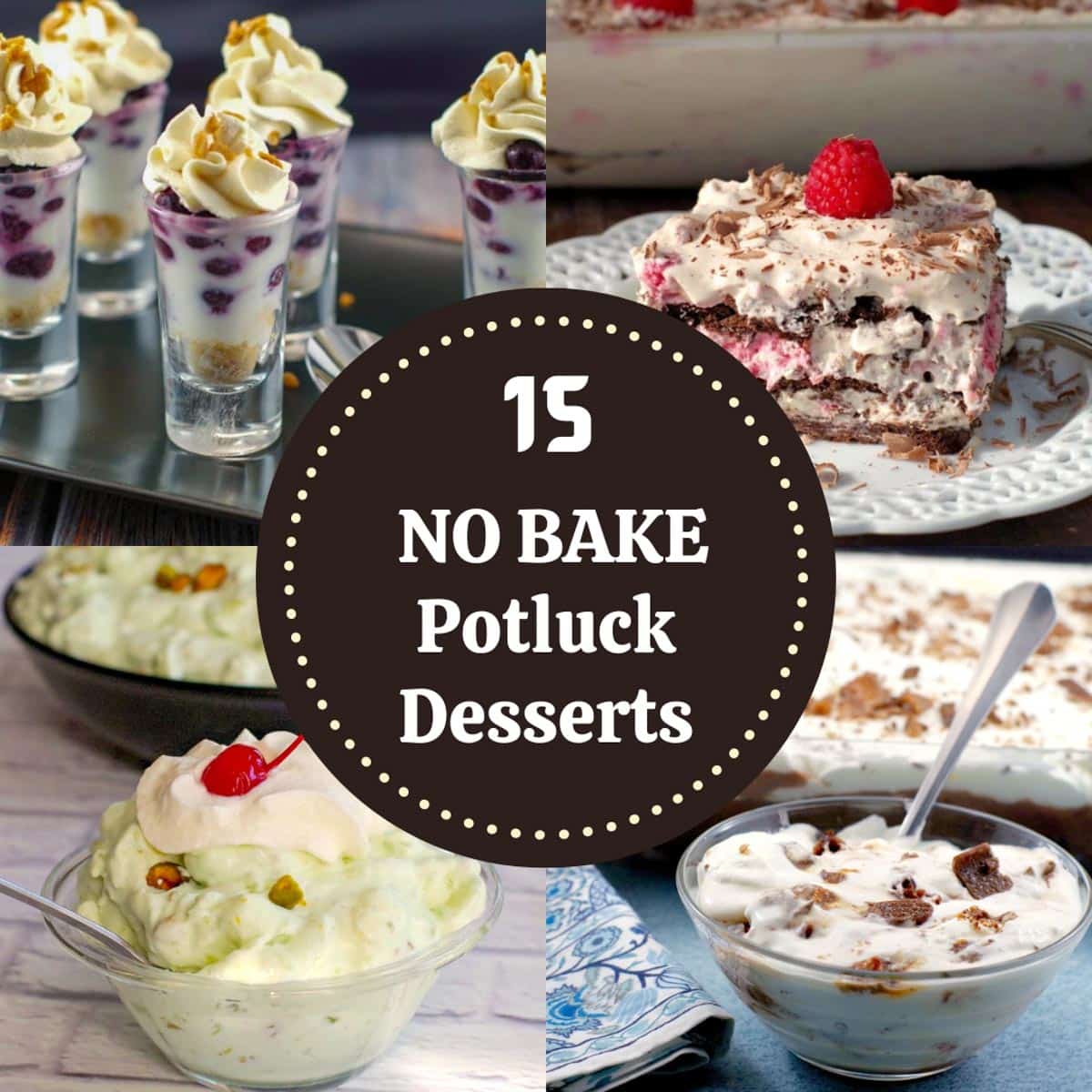 No-Bake potluck desserts are popular any time of the year, but especially when it's a hot summer day and you don't want to bake. The great thing about these easy potluck desserts is that there is no big planning involved; you can make several of them last minute with simple ingredients. If you want a no bake easy dessert for your next potluck, read on!
No Bake Drumstick Dessert
This Drumstick Dessert is an easy way to get your drumstick fix in the form of a no bake delicious dessert! It's great for whipping up last minute and taking along to a potluck, BBQ or summer gathering! It's the ultimate crowd pleaser and tastes exactly like a drumstick!
Check out this recipe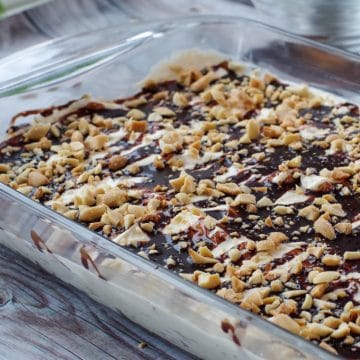 🍒Cherry Cha Cha Recipe
Cherry Cha Cha is an easy no bake dessert made with canned cherry pie filling, Oreo cookie crumbs, whipped cream and marshmallows. It's a great dessert for throwing together last minute and perfect for family gatherings, summer BBQ's or potlucks .
Check out this recipe
Skor Bar Dessert Recipe
This easy NO BAKE Skor Bar Dessert will make your life simple! Layered chocolate cake, pudding, cream cheese, broken Skor bars and whipped cream create a quick and easy no-bake recipe that's the perfect last minute dessert for bringing along to a potluck or any gathering.
Check out this recipe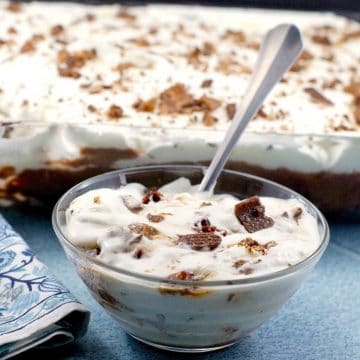 Easy No Bake Black Forest Trife
This easy, NO BAKE,  5 ingredient Black Forest Trifle recipe is my go-to potluck recipe! It makes a great last minute dessert and is perfect for summer or anytime of the year! It's also a great for feeding a crowd or bringing along to a gathering or potluck! 
Check out this recipe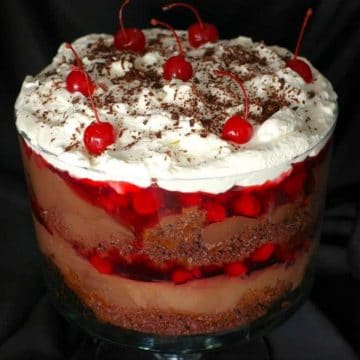 📋 Rhubarb Dessert Recipe (no bake)
This easy, no bake, Rhubarb Dessert has a graham cracker crust and layers of vanilla pudding, whipped cream mixed with marshmallow and a delicious rhubarb filling.
Check out this recipe
📋 Pistachio Fluff Recipe
This Pistachio Fluff recipe, also known as Watergate Salad and Pistachio Delight, is an easy dessert recipe made with pistachio pudding, canned crushed pineapple, marshmallows, nuts and real whipped cream. It's a delicious, easy, light and airy retro dessert that's quick to throw together, making it the perfect last minute dessert!
Check out this recipe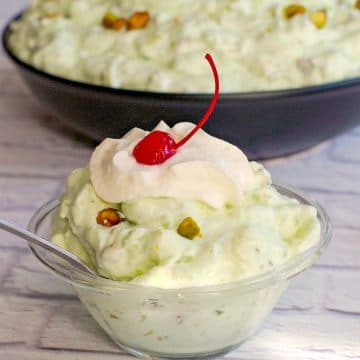 📋 Red Lentil Chocolate Dessert Lasagna Recipe
This No Bake Red Lentil Chocolate Dessert Lasagna is made with red lentils, raspberries, graham crackers, whipped cream and chocolate. Not only is it the best lentil dessert you will ever eat, it's a great healthy dessert recipe option for your next dinner gathering or potluck. Now you can have your dessert and healthy food too!
Check out this recipe
📋 Black Forest Tiramisu Recipe (No Bake)
This No Bake Black Forest Tiramisu is a combination of my family's favorite black forest trifle and tiramisu. It's simple to make with store-bought cake, canned cherries and instant pudding. If you're looking for easy Italian desserts, this is your recipe!
Check out this recipe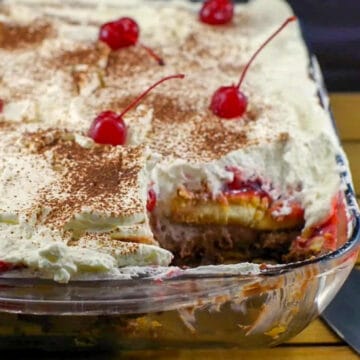 📋Old Fashioned Fruit Salad Recipe (with honey lime dressing)
This Old Fashioned Fruit Salad is easy to make and the crushed pineapple makes it unique, while the honey lime dressing elevates it to a whole other level of deliciousness! This classic fruit salad is made with strawberries, pears, grapes, kiwi, oranges, cantaloupe, with fresh or canned peaches and makes a great side brunch or breakfast fruit salad!
Check out this recipe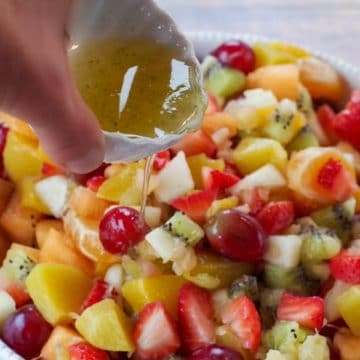 📋 Raspberry Chocolate Dulce de Leche Icebox Cake Recipe
This No Bake Dulce de Leche Chocolate Raspberry Icebox Cake is an easy summer dessert that uses fresh or frozen raspberries and can be thrown together in 15 minutes! Layers of graham cracker with dulce de leche whipped cream, make the summer raspberry cake light and perfect for feeding your family, a crowd or taking along to a potluck!
Check out this recipe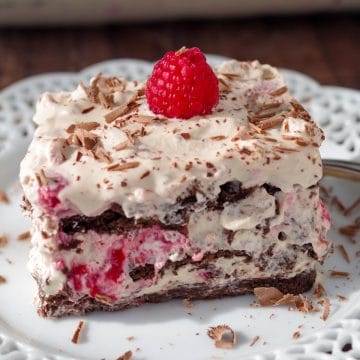 📋 Saskatoon Berry Tiramisu Dessert Shooter Recipe
This mini dessert is deceptively simple, layered Saskatoon berry dessert in a shot glass, with Saskatoon berries, aka Juneberries, poached in coffee and kahlua, combined with marscarpone and white chocolate pudding, lady fingers and maple whipped cream. Although it looks elegant, it's the ultimate easy, quick and fancy tasting dessert shooter. Because sometimes you just want a little dessert. *If you don't have Saskatoon berries you can use fresh blueberries as a substitute
Check out this recipe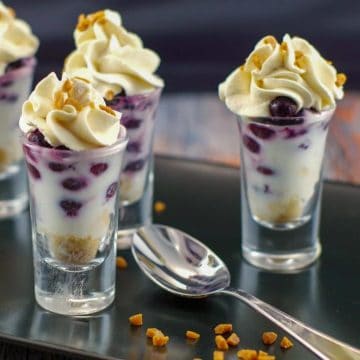 Raspberry Chocolate Weight Watchers Cheesecake Dessert
This Weight Watchers Cheesecake Dessert uses fat-free sour cream, frozen raspberries and white chocolate pudding but tastes exactly like white chocolate raspberry cheesecake! It's no bake so it's perfect for summer and it's a great cheesecake option for those on the WW program! And no one will even suspect it's a Weight Watchers dessert!
Check out this recipe
📋 Strawberry Jello Angel Food Cake Dessert Recipe
This easy, no bake retro Strawberry Angel food cake is made with store bought angel food cake, frozen strawberries, whipped cream and jello. It's very light and refreshing, so it's the perfect dessert for Easter or to accompany any big holiday spring or summer meal. 
Check out this recipe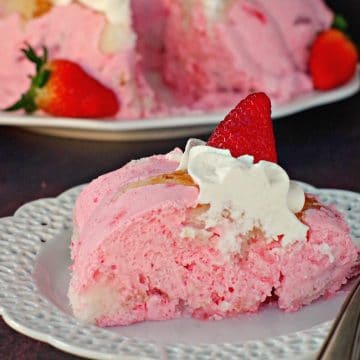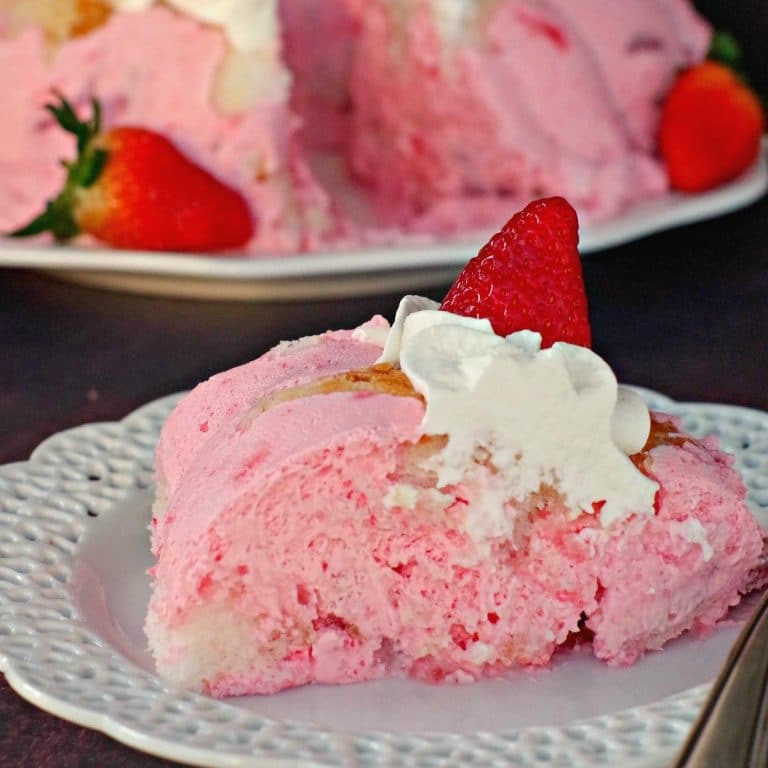 Mini Strawberry Tiramisu Éclairs Recipe
Ready in 20 minutes, these NO BAKE Strawberry Tiramisu Mini Éclairs (Cheater Éclairs) taste just like eclairs but without the baking, making them the ultimate summer snack! They are also a no bake treat and finger food for a last minute potluck dessert or bake sale.
Check out this recipe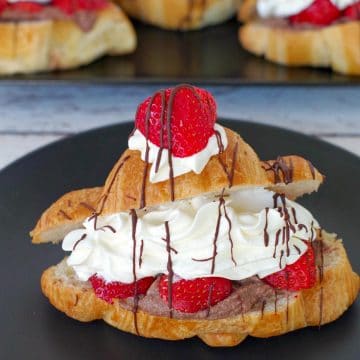 🍓Strawberry Rhubarb Cheesecake Recipe (No Bake)
This NO BAKE Strawberry Rhubarb Cheesecake with white chocolate, is red and white so it's the ideal Canada Day dessert! It's also a lighter cheesecake, boasting a dark chocolate Oreo cookie crust, coupled with a rich, creamy white chocolate and red rhubarb strawberry marble filling. Fennel gives it a unique and subtle hint of licorice. And all of this in an easy dessert that takes 30 minutes, and without even turning on your oven!
Check out this recipe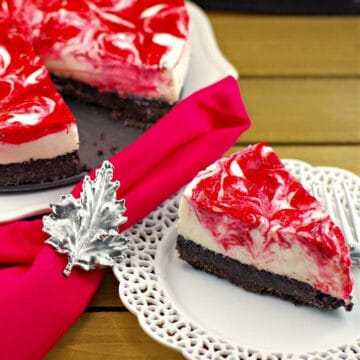 🌡️Storage
Most of these desserts can stay at room temperature for a couple of hours (while everyone is eating) See each recipe for storage directions.
🍽 Equipment
For many of these no bake dessert recipes, a 9X13 pan with a lid is handy (affiliate link)
👪 Serving Size
Each recipe has the servings listed on the recipe card. However, all of my recipes have adjustable servings so you can half, double or triple the recipe by clicking on the blue serving number, then selecting the number of servings you'd like. The ingredient quantities will automatically adjust.
🔢WW Points
A few of these recipes (WW Raspberry Chocolate Cheesecake Dessert, Fruit Salad and Strawberry Rhubarb Cheesecake) are lighter and WW friendly.
So if you're looking for an easy no bake dessert for your next potluck, family gathering, family reunion, you'll love these potluck desserts!
And be sure to check out my lastest No Bake Cream Puff Dessert!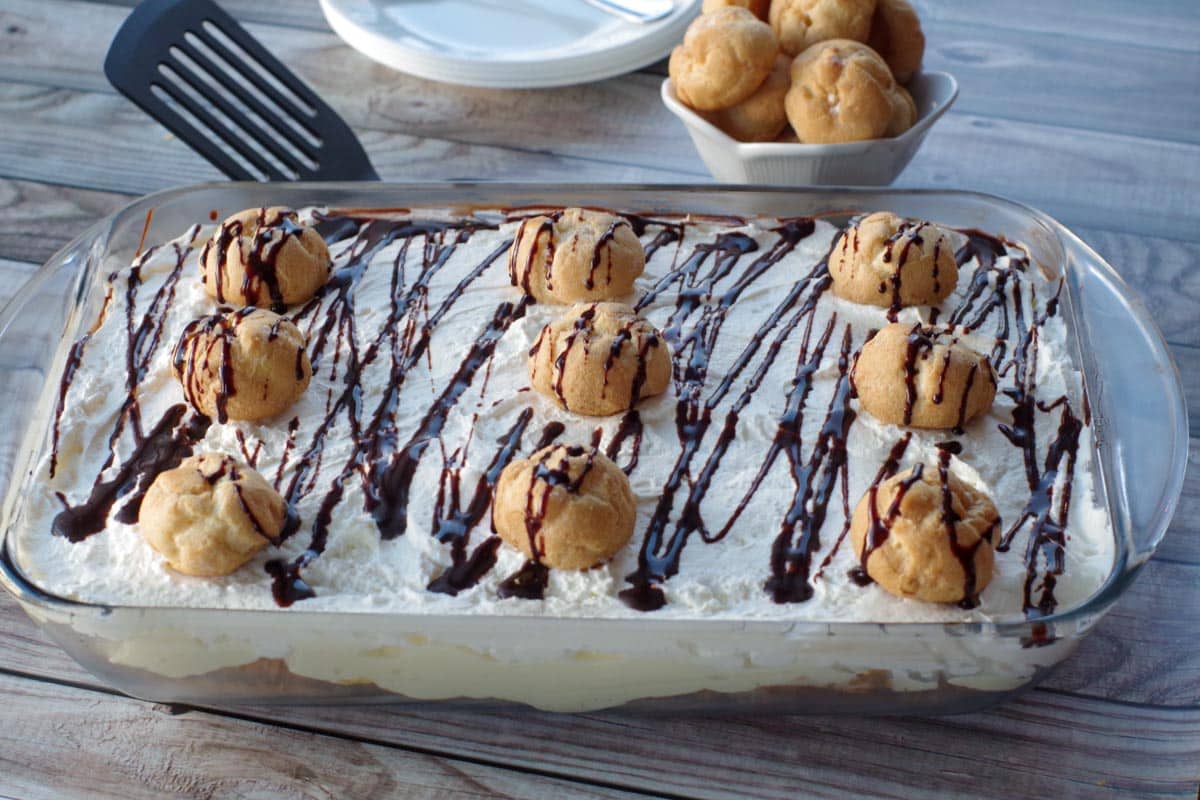 ⭐ Reviews