Bake sales are challenging to bake for because you need volume, you want great sellers, but you also want unique bake sale ideas. When everyone shows up with brownies and chocolate chip cookies, it really doesn't make for a good bake sale. And every bake sale is different-the best selling bake sale items at one sale, may not be at another.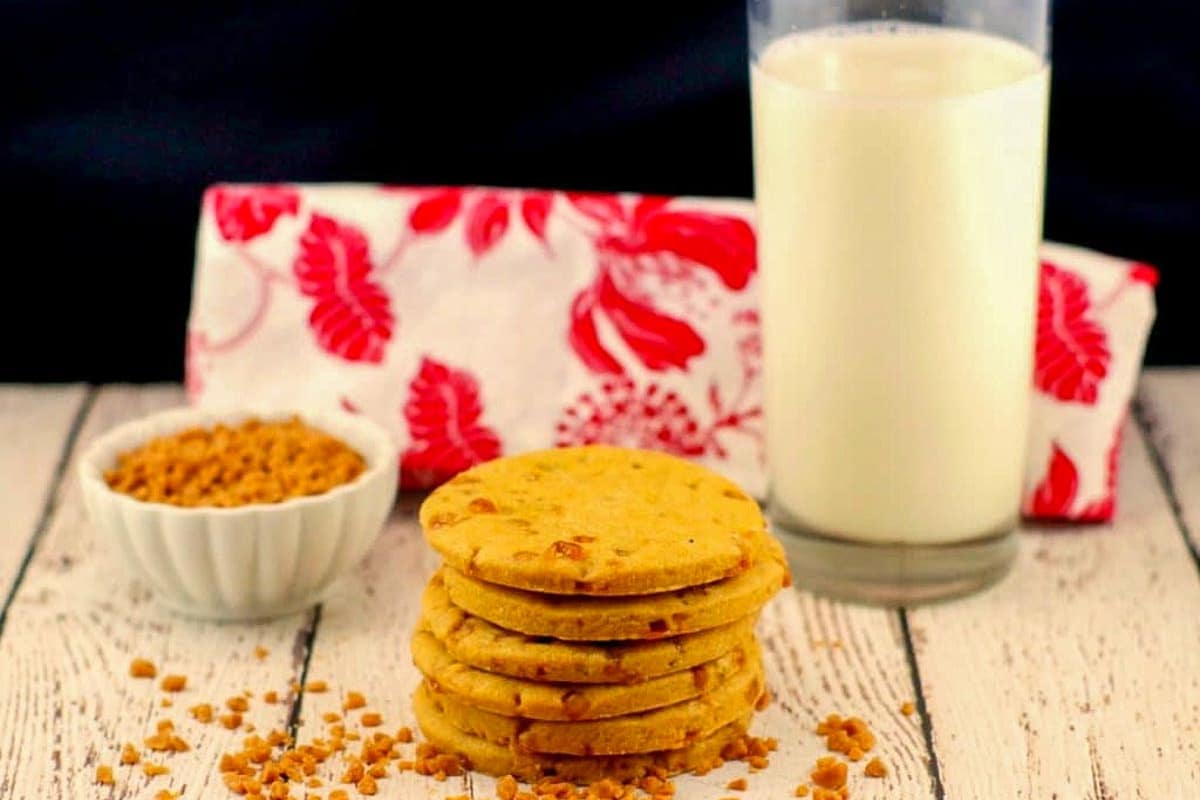 You just have to try different things. I like to create a new recipe for every bake sale - it gives me a chance to get creative and test out new sellers. And cookies are always good bake sale items. So that's why I created these delicious Butterscotch Toffee Cookies. And they were a hit!

Jump to:
When my son was in Grade 4 he heard about the plight of the Pygmy elephants in Asia and wanted to raise money to help save them. He suggested going door to door in the neighbourhood and offering to do chores/yard work to raise some money. Although I loved and admired his spunk, I wasn't a big fan of this idea, given he was only 9 and I really didn't want him wandering the streets alone. Nor did I relish the idea of trailing behind him and doing chores with him. I had my share of incomplete chores to do at home. I tried to think of something that he could be involved in and that I could help with; something I'd actually enjoy. I landed on a bake sale! I loved baking and so did he, so it was the perfect idea, right?
I baked A LOT that first bake sale year. And although my son didn't help much, I really didn't mind. I probably should have made him do more, but I was really enjoying it - it was my first bake sale too! What was even more amazing was the support of the all the parents at the school and in the community. It was a huge success at the school and my son and "his bake sale team" raised over $500 for the elephants. HE WAS ELATED!
🥘 Ingredients
Anise and Fennel in Baking
I have said it more than once - anise (aniseed) doesn't get enough play time in baking. And this butterscotch cookie recipe is an example where this spice, with its subtle hint of licorice, plays so nicely with the butterscotch and toffee in the flavor sandbox. My No Bake Healthy Chocolate Raspberry Lentil Dessert Lasagna is another recipe that celebrates the pairing of anise with sweet flavors. Anise seed, also known as aniseed, is not to be confused with star anise. Although similar in flavor, they are entirely different plants.
But these aren't your typical soft butterscotch cookies - the toffee bits give them a little crunch. And the pudding in the mix makes them oh so creamy- it's a great combo!
For this recipe you'll need:
unsalted butter
brown sugar
eggs
vanilla extract
all-purpose flour
cook and serve butterscotch pudding and pie filling mix (not instant pudding)
baking powder
anise seed
toffee bits (I use Skor Toffee bits)
*see amounts in recipe card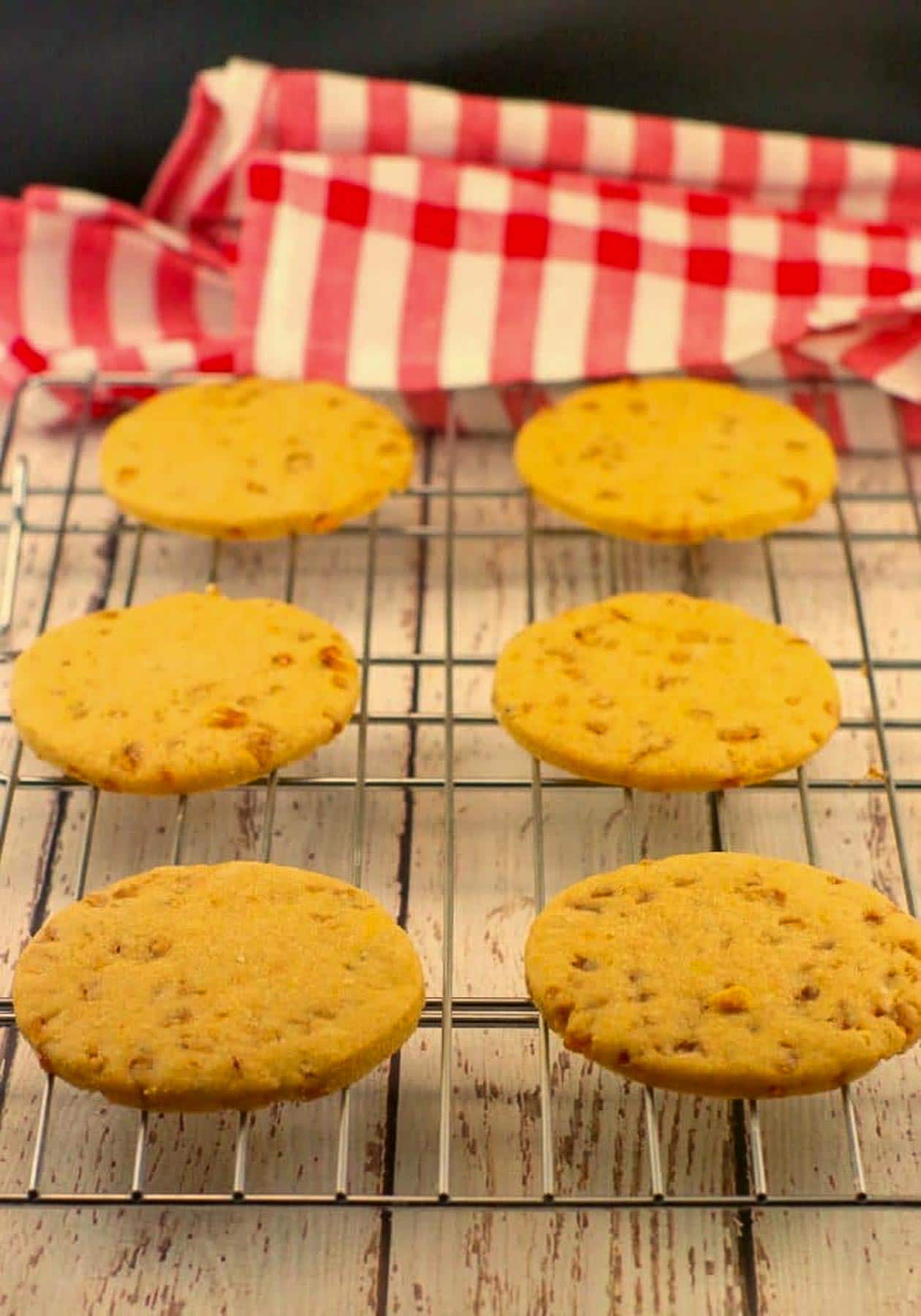 👪 Serving size
This butterscotch cookie recipe makes 18 cookies. You can double or triple the recipe by clicking on the blue serving size, selecting the number of servings you'd like and the ingredient amounts will adjust accordingly.
🌡️Storing
Store these cookies at room temperature, in a sealed container for up to 3-4 days. You can freeze them in a sealed container for up to 4 months.
Then the next year when he was learning about northern Canada in school and the how there were many people in his own country that were faced with over-inflated food prices and not getting enough to eat, he decided to do yet another bake sale to raise money for the Whitehorse Food bank. Again, they raised over $500!
And this was right on the heels of the "Artisan Fair" at school, where he got his own table and sold baking (with some of the money going to charity and some being kept for himself). I had also done a lot of baking for that sale because he had to fill an entire table himself. There were no donations from other parents this time - we had to do ALL the baking.
Then again last year he proposed the idea of a bake sale to the principal at his new school and got the green light. He brought his sister on board as his partner, along with a couple of friends and a lot of student helpers and helped raise over $1200, with the majority of the proceeds going to the Calgary Food bank and a portion going to school programs. The principal loved the idea so much he suggested not one, but TWO bake sales! Read more about that bake sale HERE! In the end, the kids raised over $2000!
Bake Sale Burnout: I have to admit that my heart sank when I heard he'd be doing not one, but TWO, bake sales. Yet, the dread was mixed with shock and guilt. What had happened to me? I loved baking and used to get excited about the prospect of any bake sale. I guess I just had OD'd on them...
Thankfully, at the end of the final bake sale last year, the principal said something very encouraging. He said he thought it would be a good idea if we found something different to do for Clayton's leadership skills the following year.
I WAS ELATED!
No More Bake Sales!? Although I am super proud of the work both my kids have done to raise money for charity through bake sales, as well as the incredible support of the parents, kids and surrounding community, I'm really hoping that there won't be any more bake sales this year. I guess you really can get too much of a good thing.
So, yes, bake sales are great if you don't have to do 5 bake sales within a 2 ½ year span! But IF you are planning one and looking for things to make for a bake sale, then give these Butterscotch Toffee Cookies a go - they are really delicious. And at least you won't be showing up with boring old brownies or chocolate chip cookies. And hopefully one day, after a long break, the spark will return and I will relish the idea of baking for a bake sale again. Because bake sales really are the perfect idea, especially if you want to get kids involved in raising money!
For more great BAKE SALE IDEAS, and bake sale packaging ideas, follow my Bake Sale Ideas Board on Pinterest!
⭐ Reviews
Did you make this recipe? Please RATE THE RECIPE below!
Please SUBSCRIBE (get my FREE E-cookbook) and be sure to FOLLOW ME on FACEBOOK, TWITTER, INSTAGRAM and PINTEREST!

🍪Butterscotch Toffee Cookie Recipe
These butterscotch toffee cookies are a unique bake sale item. The butterscotch pudding and toffee bits give them a creamy crunch, while the aniseed lends a hint of licorice. These are a big seller at school bake sales!
Print
Pin
Rate
Ingredients
1

cup

unsalted butter

softened

¾

cups

packed brown sugar

2

large eggs

1

teaspoon

vanilla extract

2 ¾ 

cups

all-purpose flour   

use 4 Tblsp less if you live in a very dry climate

1

teaspoon

baking powder

1 ½

teaspoon

anise seed (aniseed)

⅔

cups

toffee bits
Instructions
Preheat oven to 350 degrees F. Spray cookies sheets with non- stick cooking spray.  In a large bowl, with an electric mixer, cream the butter and brown sugar until light and fluffy. Beat in the eggs, and then add vanilla

In a separate bowl, combine the flour, pudding/pie filling mix, baking powder and anise.  Gradually add dry mixture to creamed mixture and mix well. Add toffee bits. When you can no longer stir with a spoon, use your hands to mix the remainder of the flour in.

On a lightly floured surface, roll out dough to approximately ⅜ inch thickness. Cut with lightly floured round cookie cutter or the mouth of a large cup (3 inches in diameter). Place cookies on cookie sheet (allow 1 inch spacing).

Bake at 350° for 8- 10 minutes or until firm and the edges of the cookies look golden brown. Loosen cookie with spatula and cool on sheet for 3-5 minutes. Remove to wire racks to cool.
Notes
👪 SERVING SIZE
This recipe makes 18 cookies. You can double or triple the recipe by clicking on the blue serving size, selecting the number of servings you'd like and the ingredient amounts will adjust accordingly.
🌡️STORING
Store these cookies at room temperature, in a sealed container for up to 3-4 days. You can freeze them in a sealed container for up to 4 months.
Nutrition Facts
🍪Butterscotch Toffee Cookie Recipe
Amount Per Serving (1 cookie)
Calories 135
Calories from Fat 90
% Daily Value*
Fat 10g15%
Cholesterol 45mg15%
Sodium 12mg1%
Potassium 44mg1%
Carbohydrates 9g3%
Vitamin A 345IU7%
Calcium 23mg2%
Iron 0.2mg1%
* Percent Daily Values are based on a 2000 calorie diet.
Nutrition
Serving:
1
cookie
|
Calories:
135
kcal
(7%)
|
Carbohydrates:
9
g
(3%)
|
Fat:
10
g
(15%)
|
Saturated Fat:
6
g
(38%)
|
Cholesterol:
45
mg
(15%)
|
Sodium:
12
mg
(1%)
|
Potassium:
44
mg
(1%)
|
Sugar:
9
g
(10%)
|
Vitamin A:
345
IU
(7%)
|
Calcium:
23
mg
(2%)
|
Iron:
0.2
mg
(1%)
Did you make this recipe?
Please leave a star rating and review below!
🥧

Bake Sale Ideas