I had only heard of bread pudding as a kid, but never actually tasted it. When I eventually made it for myself as an adult, I fell in love with it!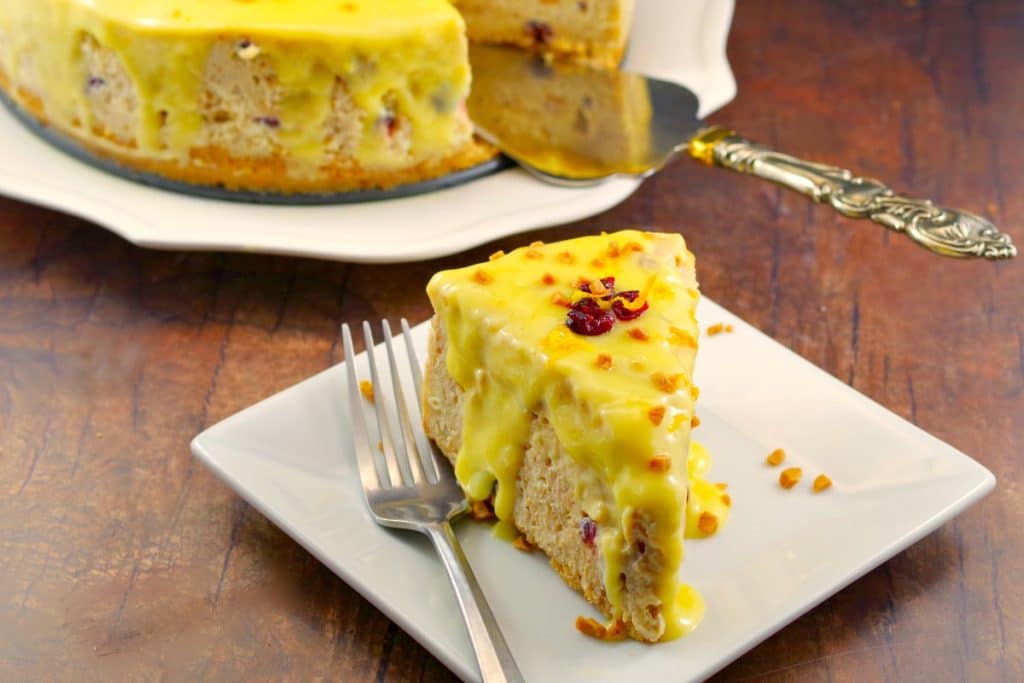 So, I decided to make it into a cheesecake and WOW... This union of tasty cranberry bread pudding, light cream cheese, ricotta cheese and citrus caramel sauce, with an unexpected and welcome toffee crunch, is the definition of delicious, modern comfort food. And this Cranberry Bread Pudding Cheesecake is the perfect holiday cheesecake recipe!
But I wondered why we never had bread pudding growing up?
We weren't much of a dessert family - kudos to my Mom for not setting us up for bad habits. But even when we did have dessert for special occasions and holiday dinners, bread pudding was NEVER on the menu.
Bread Pudding
When I asked my Mom why we never had bread pudding she was surprised that I'd even want it. When she was growing up, it was not a particularly desirable dessert. It was a dessert for using up stale bread; it was what you ate for dessert if you didn't have money. But to me, bread pudding was special, even kind of exotic. Funny how perceptions change from generation to generation.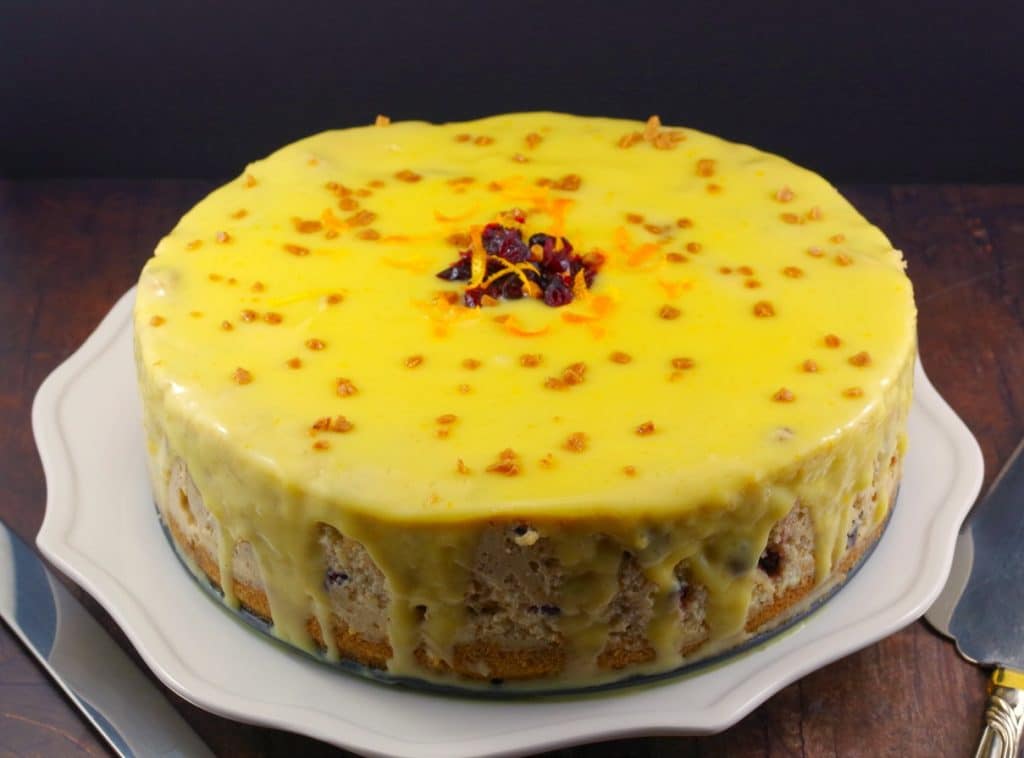 Bread Pudding Recipes
But Mom was right about bread pudding (among lots of other things) - it was known as "poor man's pudding" going all the way back to the 11th century. Yet, although it started out as a frugal dessert, bread pudding recipes are now considered trendy; even showing up on the menu of upscale restaurants! You can read more about the Origin of Bread Pudding HERE.
Christmas Cheesecake
I add cranberries to my bread pudding because cranberries add a welcome tartness to a sweet dish and they always make me think of Christmas. So I added them to my Christmas Cheesecake too! With their bright, red shiny color, they reflect the season so perfectly. Even as early as the 1840's, people were stringing them with popcorn to make festive garlands for the Christmas tree. With their winter availability and the fact they were slow to spoil, cranberries represented one of the few fruits that could be served fresh during the holidays. And although many berries are now available all year round, cranberries still symbolize the holidays, whatever form you serve them in!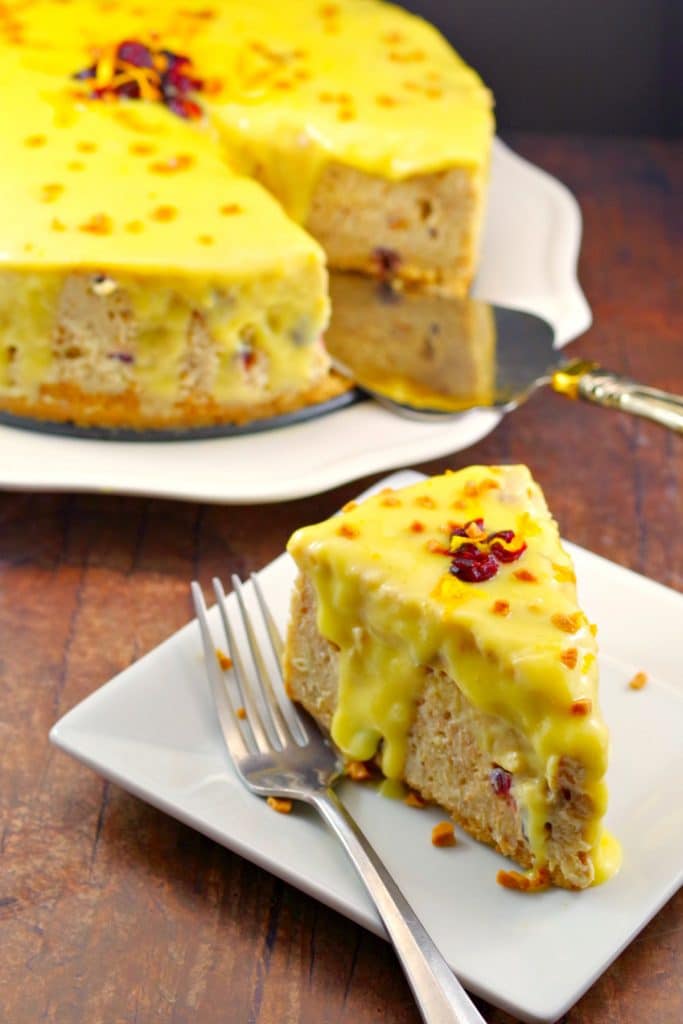 Cranberry Cheesecake
And this Cranberry Cheesecake is the perfect Christmas cheesecake recipe as well as the ultimate bread pudding lover's cheesecake. It makes a great holiday dessert, especially if you're looking for something a little different. My family had it for Thanksgiving this year and it was a great way to change things up a little!
Holiday Cheesecake
So, if you are looking for a cranberry cheesecake recipe and you love bread pudding, this Cranberry Bread Pudding Cheesecake will definitely be your new holiday cheesecake tradition! And be sure to check out my other holiday cheesecake recipes and holiday desserts below the recipe card.
Happy Holidays!
If you like this recipe PIN IT for later!~
My Amazon Recommendations (affiliate links)
Print
Cranberry Bread pudding holiday cheesecake
Have your bread pudding and cheesecake too! This cheesecake is a union of tasty cranberry bread pudding, cream cheese, ricotta cheese, citrus caramel sauce, with an unexpected and welcome toffee crunch. It's a bread pudding lover's cheesecake dream!
Ingredients
Instructions
Heads up: There is an 8 hr setting (refrigeration) time!

Preheat your oven to 375. Spray 9" springform pan with non-stick vegetable spray.
Base:
In a medium bowl, stir together the graham cracker, bread crumbs, granulated sugar, ½ tsp. cinnamon and icing sugar. Mix in the melted butter until the crumbs are evenly moist and clump together slightly. Transfer the mixture to a 9-inch springform pan and press evenly onto the bottom of the pan. Bake until the crust is fragrant - approx. 10 minutes. Let the pan cool on a rack. Lower the oven temperature to 300 degrees F.

In a separate bowl, mix together the milk, condensed milk, ½ tsp. cinnamon, and ½ tsp vanilla. Pour the mixture over the bread and stir until the bread is coated. Let soak 5 minutes. Stir in toffee bits and dried cranberries. Set aside.
Filling:
In a stand mixer fitted with the paddle attachment, beat the cream cheese, ricotta, flour, and a pinch of table salt on medium speed, scraping down the sides of the bowl and the paddle frequently. Beat until very smooth and fluffy- about 5 minutes.

Make sure the cheese has no lumps. Add the granulated sugar and continue beating until well blended and smooth. Add the eggs one at a time, 1 tsp vanilla and 1 tsp cinnamon , beating just until blended.

Fold in the bread mixture and crushed cookies. Bake at 300 degrees F (in water bath- see NOTES OR simply put a pan ⅔ full of hot water UNDER the cheesecake to create moisture in oven) until the center jiggles like Jell-O when nudged- approximately 1 hour.
Topping:
To make the Caramel-Orange Sauce: in a small, heavy saucepan, combine the sugar and orange juice, and orange zest. Cook over medium-high heat about 8 minutes until the sugar turns amber in color.

Remove from heat and quickly stir in the warm cream. Return sauce to stove, whisk in cornstarch and cook for approximately 5-7 additional minutes on medium low, until it thickens to the consistency of gravy. Whisk constantly turn to low at end up to 10 minutes.
Assembly:
When cake has completely cooled (20-30 minutes) pour topping over cheesecake and refrigerate for 8 hrs. or overnight.(*Note: Do not skip this step! It must be refrigerated for 8 hours or cake will have a runny center).
Garnish:
Top with toffee bits, orange zest and cranberries (as shown in photos) and serve.
Notes
*NOTE: *** QUICK DRIED BREAD: To dry out your bread very quickly, bake it in the oven at 300 degrees F for 3 minutes on each side!
**NOTE: if you want to learn how to make a water bath, then watch this video on how to make a water bath for cheesecake! I like her trick of using a bigger pan to protect the cheesecake, but you can also tinfoil.
**NOTE: For mini cheescakes: Use meat pie foil plates (5" X 1 ⅜") and cook the crust and filling for about half the time of the regular cheesecake (checking regularly for doneness).
Nutrition Facts
Cranberry Bread pudding holiday cheesecake
Amount Per Serving
Calories 537
Calories from Fat 216
% Daily Value*
Fat 24g37%
Cholesterol 125mg42%
Sodium 408mg18%
Potassium 280mg8%
Carbohydrates 71g24%
Protein 12g24%
Vitamin A 855IU17%
Vitamin C 10mg12%
Calcium 188mg19%
Iron 2.1mg12%
* Percent Daily Values are based on a 2000 calorie diet.
Nutrition
Calories:
537
kcal
|
Carbohydrates:
71
g
|
Protein:
12
g
|
Fat:
24
g
|
Saturated Fat:
13
g
|
Cholesterol:
125
mg
|
Sodium:
408
mg
|
Potassium:
280
mg
|
Fiber:
3
g
|
Sugar:
44
g
|
Vitamin A:
855
IU
|
Vitamin C:
10
mg
|
Calcium:
188
mg
|
Iron:
2.1
mg
Save
Saved!
More Holiday Desserts!
Grand Marnier Cheesecake with Chocolate Glaze
Skinny Pumpkin Cheesecake with Oreo Cookie Crust
Butter Tart Bundt Cake with Brown Butter & Maple Glaze