Although this Potato No Churn Ice Cream tastes like cookies, it's actually healthy for you! Because if I'm going to eat ice cream, I feel so much better about it if it's actually good for me. And as testimony to how good it tastes, it was a finalist in the 2018 Masterchef At Home Canada Little Potatoes contest!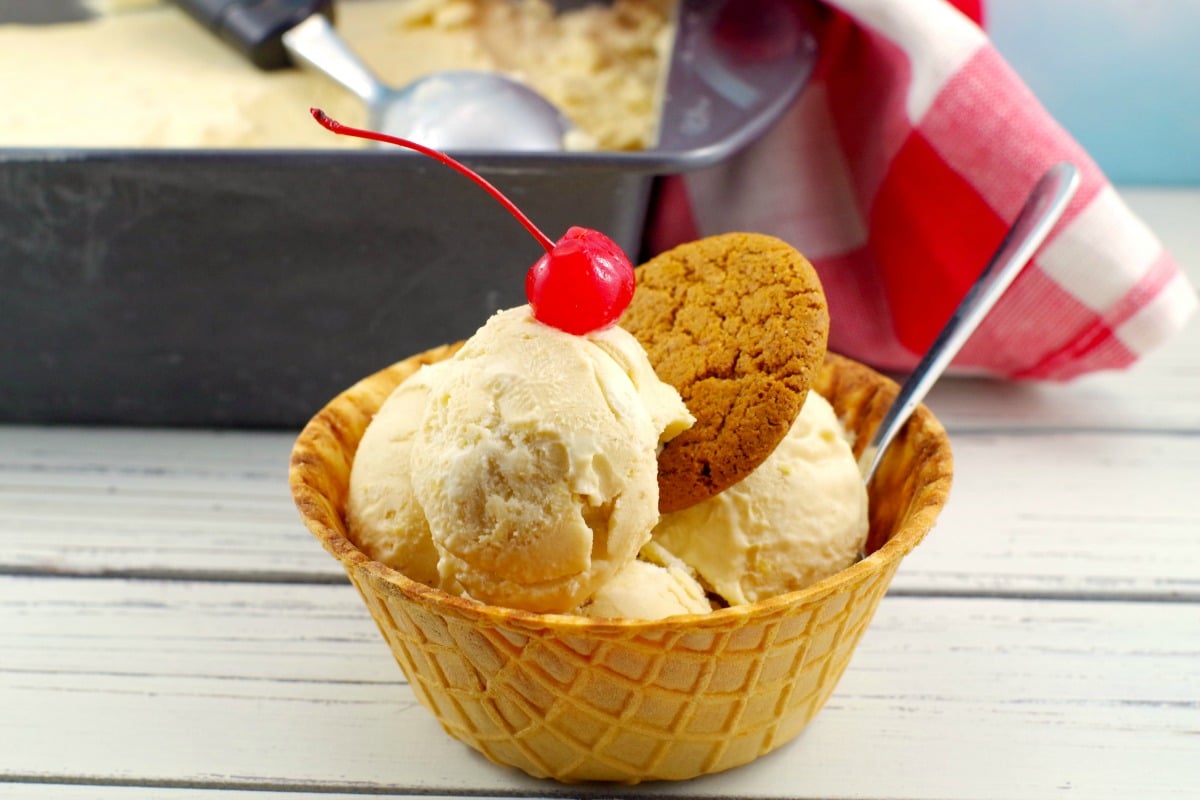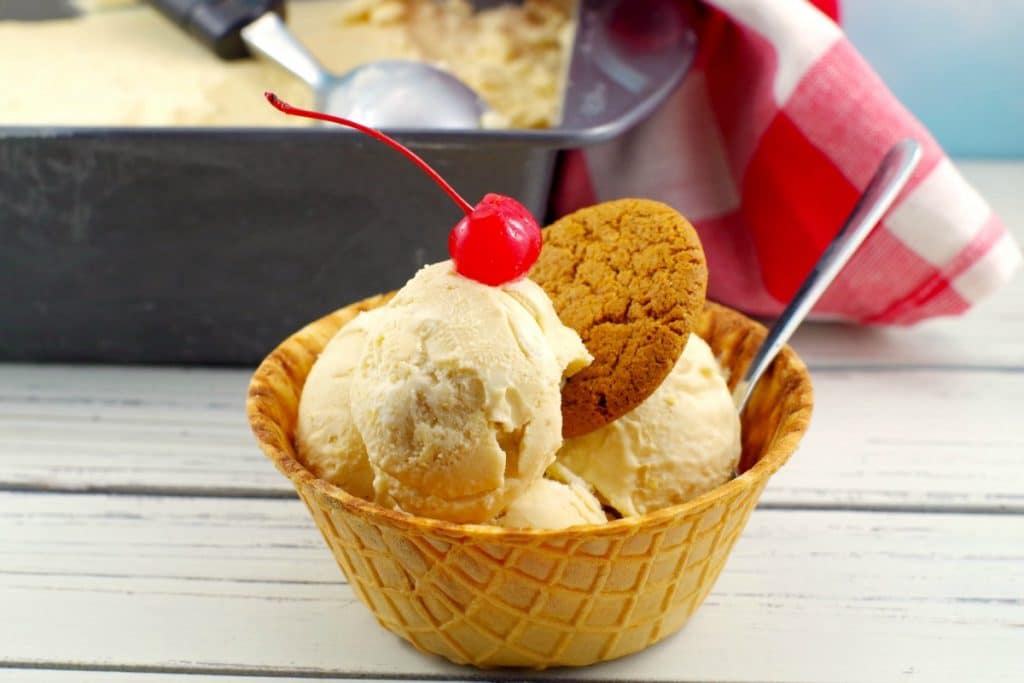 Adding creamer potatoes to your ice cream is the perfect way to give it an extra boost of nutrition because potatoes are super veggie powerhouses, packed with vitamin C, potassium, iron and fibre! But the very best part is that you don't have to peel these little potatoes, making this potato ice cream so much easier to prepare. Personally, I have way too many bad flashbacks of peeling potatoes...
Sadly, potato peeling was a big part of my youth. I'd peel them at home for family dinners and I peeled a lot more of them when we'd go out to my grandparents farm on weekends. But my potato peeling breaking point was the fishing camp I worked at the summer I turned 16.
No Peel Potatoes!
Now-a-days I don't even bother peeling potatoes because eating potato peels is actually healthy for you. However, not everyone enjoys eating potato peels. So, I will make an exception and peel potatoes if I'm feeding them to someone other than my family. But with creamers, it's an entirely different animal -they are meant to be eaten with their peels! You can see why I love these potatoes so much and they are so perfect for making ice cream.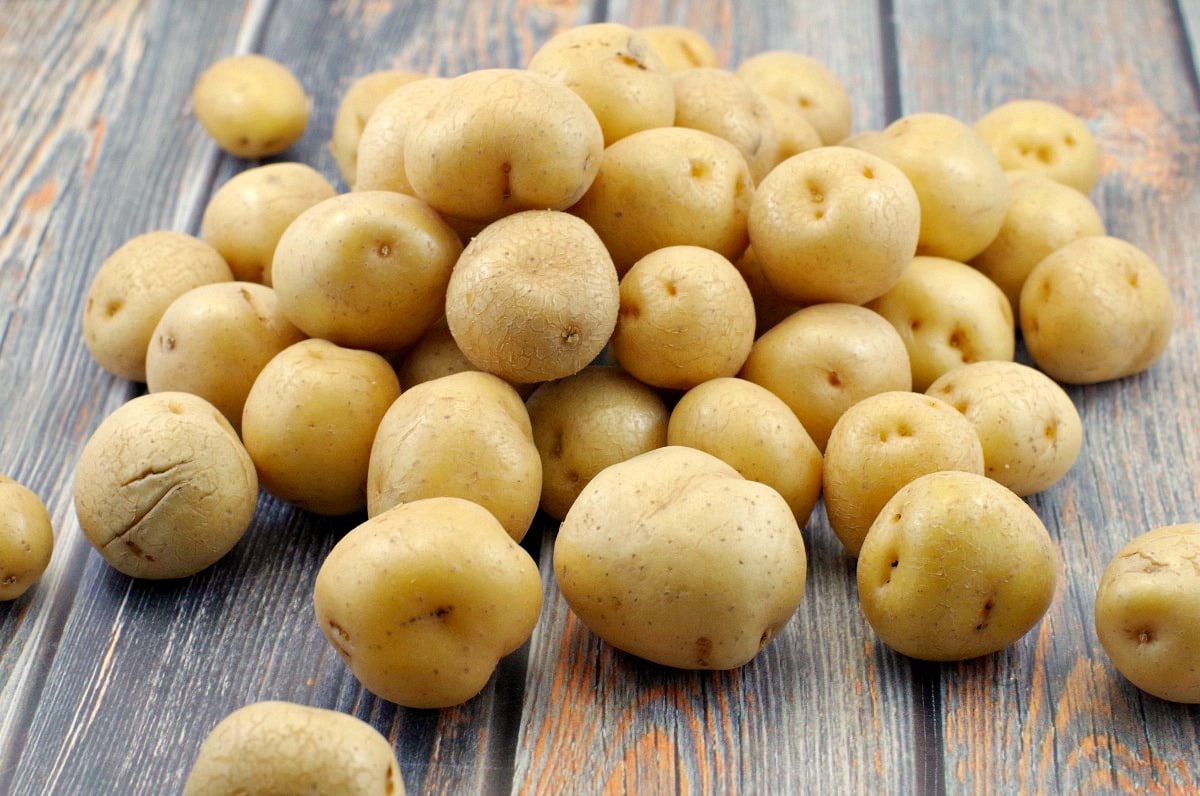 Spending hours peeling many large buckets of potatoes on a daily basis really sucks! And whilst I was peeling those endless buckets of potatoes that summer, it began to feel a lot more like a prison camp than a fishing camp. In fact, it sucked so badly that after that summer job, I swore I'd never peel another potato again.
Homemade Ice Cream
I love making homemade ice cream because you don't have to worry about preservatives. And because it's no churn, you don't even need an ice cream maker for this potato ice cream. And even better, these little creamer potatoes make this homemade ice cream not only nutritious and tasty, but lend a super rich creaminess to it!
Leftover Potatoes
We often have some leftover creamers from dinner (already boiled), so it's even quicker to make this ice cream. And it's the most delicious way I can think of to use up those leftover little potatoes! But if I don't have leftovers, I simply microwave them - it takes only 3 minutes using that method.
Well, I didn't exactly live up to my promise of never peeling another potato in my life. BUT after that fishing camp experience, I have successfully avoided a great deal of potato peeling. I actually don't think I've peeled a potato in at least the last decade of my life. I'd say that's pretty good progress.
And while any other potato ice cream recipe would involve peeling potatoes, this one does not! But the real added bonus is having that boost of nutrition IN my ice cream! And who doesn't want to feel even better about eating ice cream?!
If you're looking for additional veggie dessert recipes to feel better about eating, check these out!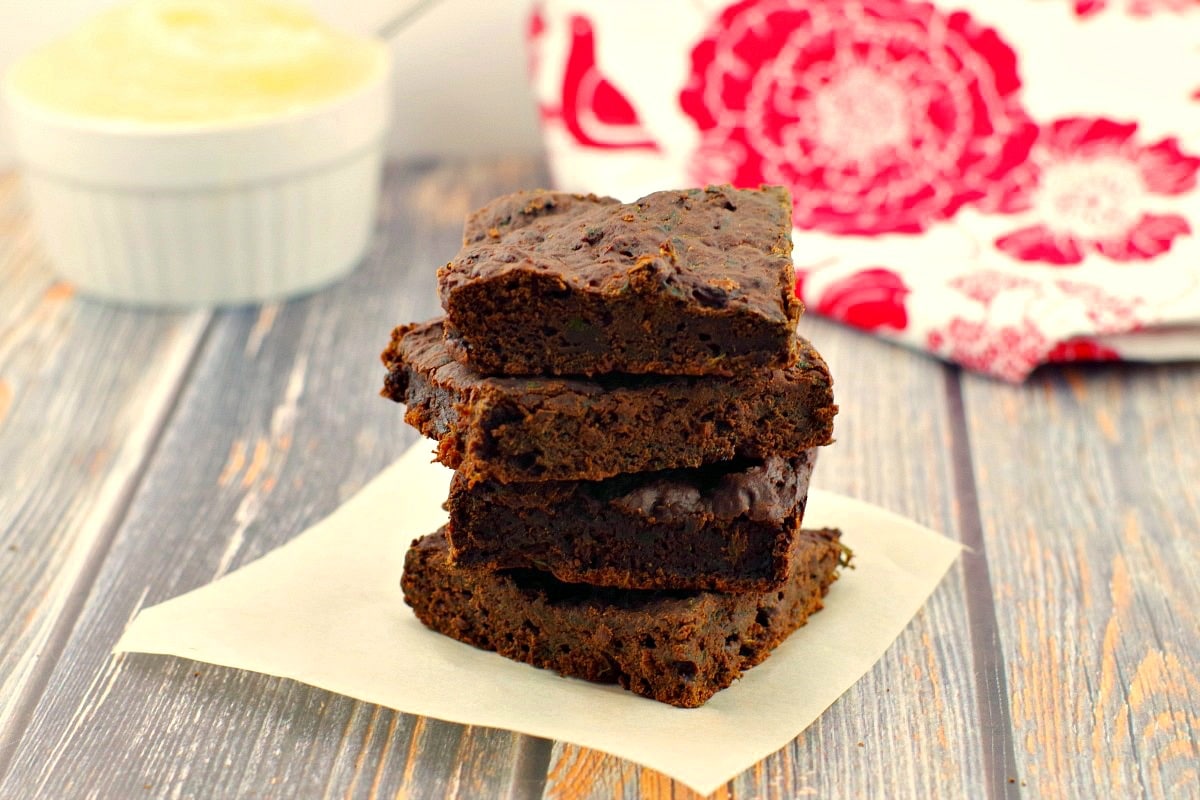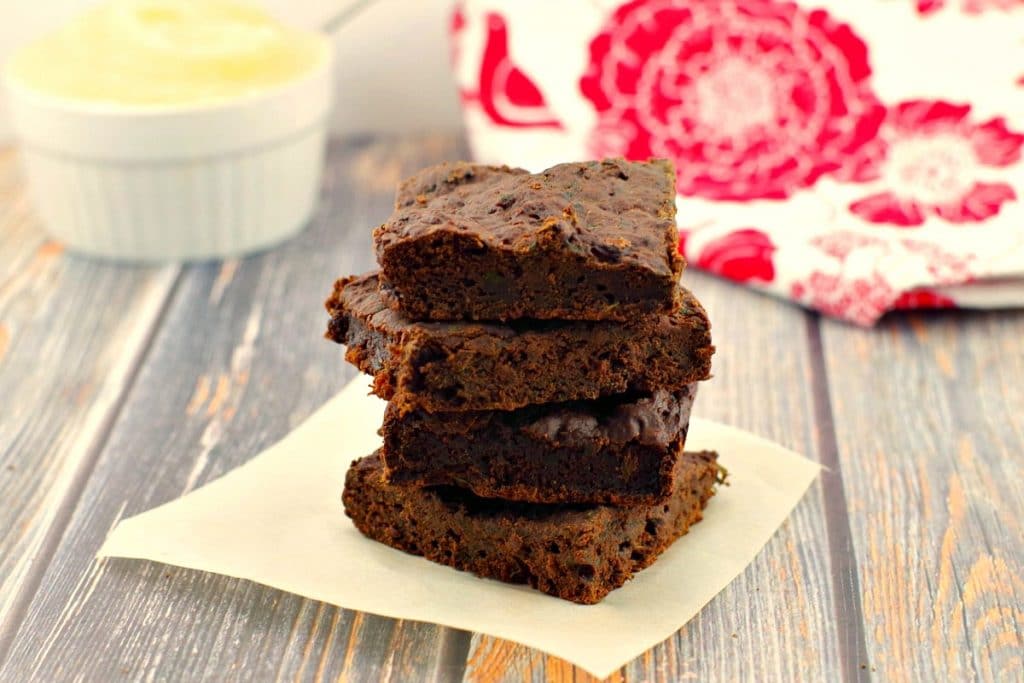 Healthy Red Velvet Cookies with beets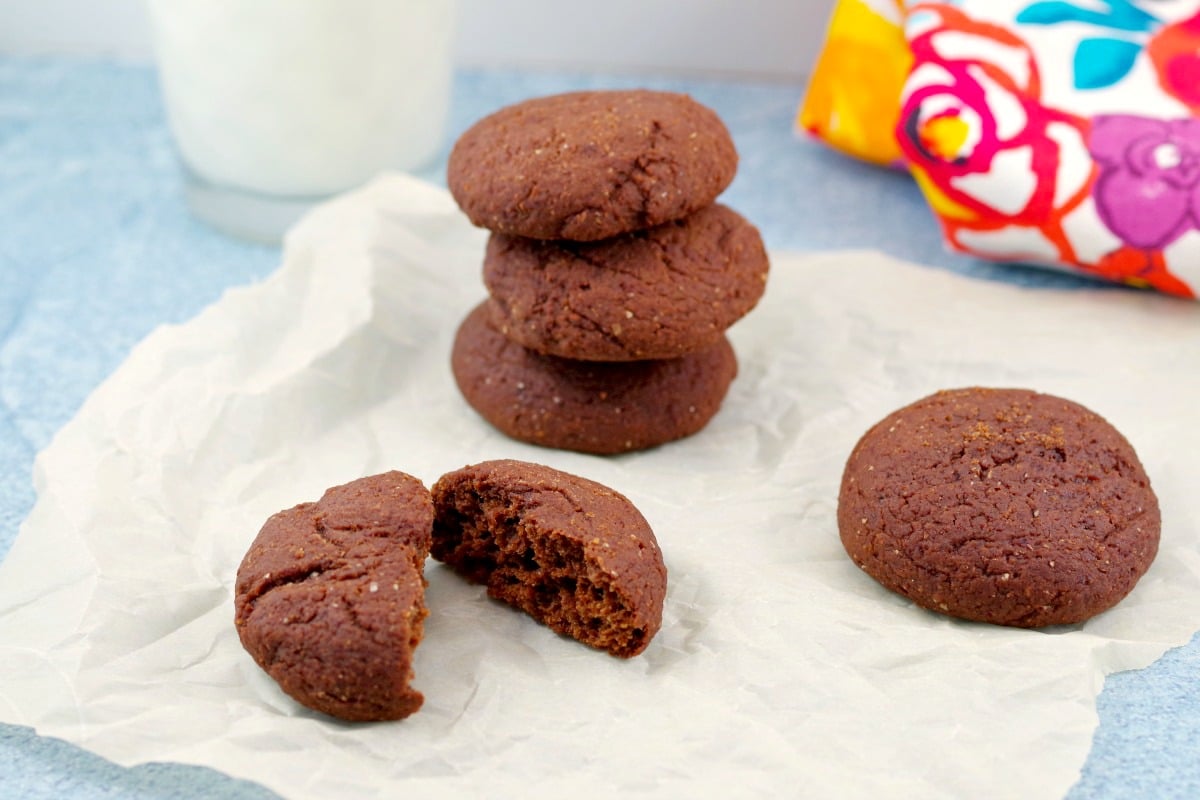 My Amazon Recommendations (affiliate links)
Print
Potato Ice Cream- Cookies N' Creamers No Churn Ice Cream
Although this no churn Potato Ice Cream tastes like cookies, it's actually healthy for you! Adding little potatoes (creamers) to your ice cream is the perfect way to give it an extra boost of nutrition because potatoes are super veggie powerhouses!


Ingredients
Potato Puree :
¾

cup

potato puree - which is a little less than ½ of a 680g bag of Little Potato Creamers (I use Boomer Gold but you could use any type of creamer)**see instructions for puree

1

tsp

whipping cream

I use heavy whipping cream - 36%
Garnish:
Instructions
To Make Potato Puree:
Boil Method: Boil Creamer potatoes for 10- 15 minutes or until a fork can easily go through potatoes. Then drain well and cut in half (*this is the method I use)

*OR

Poke each little potato with a fork and cover with saran wrap.

Microwave Creamer potatoes for three minutes, until a fork can easily go through them.

Puree potatoes with 1 tsp of whipping cream in food processor,until completely smooth (at least 3 minutes) and potato clings together in a ball * It must be completely smooth; like a paste- no lumps! * If you still see little bits of the skin, that's okay.
Ice Cream:
In a separate, medium sized bowl whisk the condensed milk, vanilla and cookie butter together. Then add the potato puree, whisking until completely incorporated and smooth.

In the bowl of a stand mixer (or using a hand held mixer) whip 2 cups whipping cream until stiff peaks form. *

With a spatula, gently fold potato mixture into the whipped cream

Stir just until completely incorporated. * You don't want to over mix, but you need to be sure it's completely mixed in.

Pour mixture into a 9'×5' loaf pan (or you can use another large container with a lid.) Smooth with a spatula and cover tightly with plastic wrap (*I use Glad Press n' Seal)

Place ice cream in freezer and freeze until solid, about 8-12 hours. * I freeze it overnight

Serving:

Remove ice cream from freezer about 10 minutes before serving (this will help it soften just a bit).

Wet an ice cream scoop with hot water (then dry it off) and scoop out ice cream into waffle bowls or cones (or regular bowls, whatever your preference!). This will help make scooping easier!
Garnish:
Garnish with ginger snap cookies and maraschino cherries and serve immediately. Enjoy!
Notes
**NOTES: *Cookie Butter is spread made from ground Speculoos cookies (a European cookie that tastes like mild gingerbread with a hint of caramel). There are different brands of cookie butter, but they generally taste the same. You can find it in almost any grocery store. It's usually near the jam, almond butter and peanut butter, but sometimes it's in the baking or cookie aisle.
Nutrition Facts
Potato Ice Cream- Cookies N' Creamers No Churn Ice Cream
Amount Per Serving
Calories 411
Calories from Fat 270
% Daily Value*
Fat 30g46%
Cholesterol 95mg32%
Sodium 76mg3%
Potassium 243mg7%
Carbohydrates 31g10%
Protein 5g10%
Vitamin A 985IU20%
Vitamin C 4.1mg5%
Calcium 147mg15%
Iron 0.2mg1%
* Percent Daily Values are based on a 2000 calorie diet.
Nutrition
Calories:
411
kcal
|
Carbohydrates:
31
g
|
Protein:
5
g
|
Fat:
30
g
|
Saturated Fat:
17
g
|
Cholesterol:
95
mg
|
Sodium:
76
mg
|
Potassium:
243
mg
|
Fiber:
1
g
|
Sugar:
25
g
|
Vitamin A:
985
IU
|
Vitamin C:
4.1
mg
|
Calcium:
147
mg
|
Iron:
0.2
mg
Save
Saved!
This recipe is part of the Country Cook Weekend Potluck!