I bought my first waffle maker at a garage sale almost 25 years ago, long before Waffle and Chicken Sandwiches were even a thing.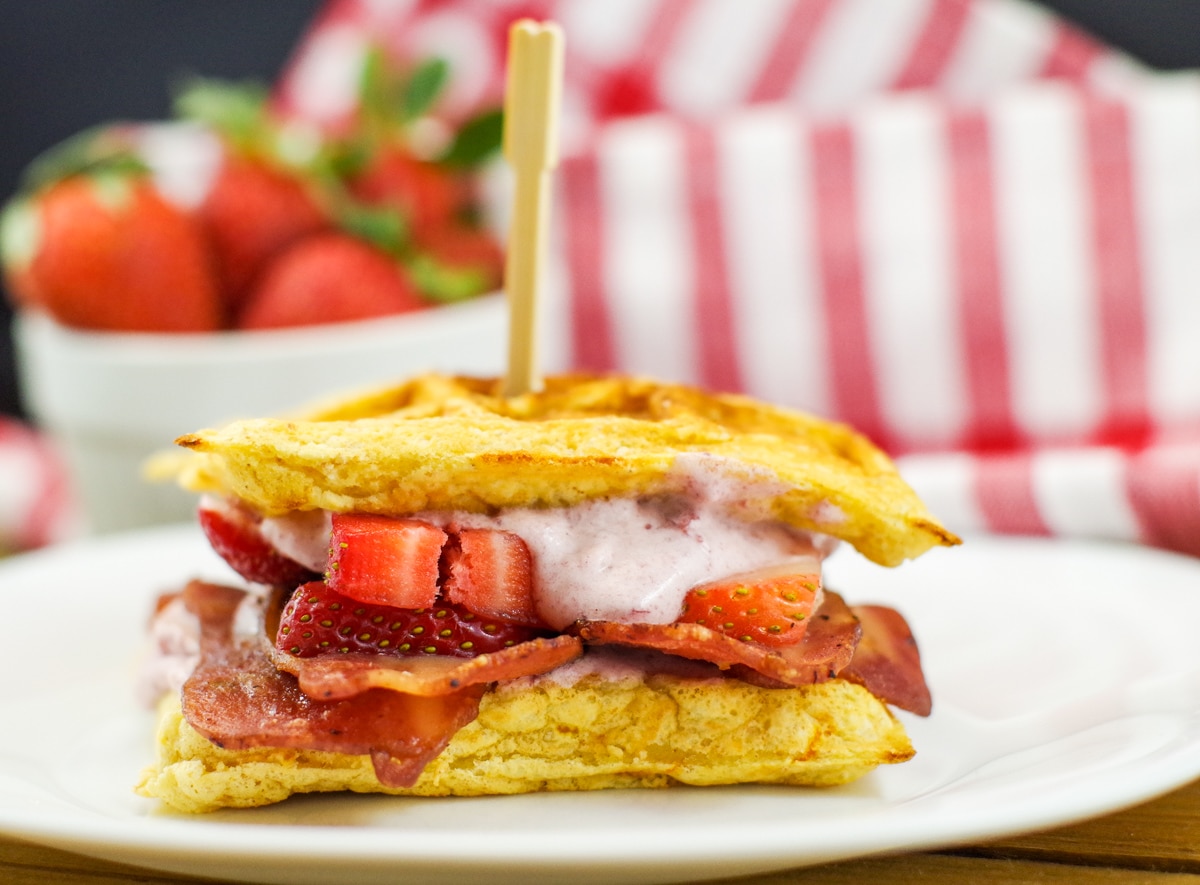 The lady that sold it to me for $5.00 said she had received it as a gift for her own wedding 15 years earlier. I am not sure why that particular exchange stands out in my mind- I've been to a lot of garage sales and bought a lot of stuff over the years. Maybe it's because I still have that little waffle iron!
Jump to:
We eat a lot of homemade waffles and as my family grew from 2 to 4 waffle eaters in that 25 year span, I often fantasized about a shiny new 4 iron waffle maker... When I told my daughter that, she drew me this picture 💓
I used to LOVE going to garage sales, especially in my starving student days. It was partially the thrill of the hunt- never knowing what I would find and the satisfaction of getting a good deal. Plus, I needed a lot of stuff and I needed it cheap. But since I no longer need a lot of stuff. In fact, quite the opposite. So, I had my own garage sale about 3 years ago, hoping to get rid of stuff. It was not fun being on the other side.
In fact, it was 6+ hours of my life I will never get back.
At least the kids had a good time.
Although, I must admit I held a pretty lame garage sale. Actually, it was one that would have really irritated me if I wasted my time going to it back in my garage sale days. I really had no business having one because I just hadn't hoarded enough stuff over the years to justify a decent garage sale. So maybe the torture of holding a garage sale was actually the punishment I deserved for having such a pathetic one?
Anyway...I still don't have a shiny new 4 iron waffle maker. *See my Amazon recommendations in the recipe card
In fact, I made this Chicken and Waffle Sandwich recipe with my trusty old 2 iron waffle maker.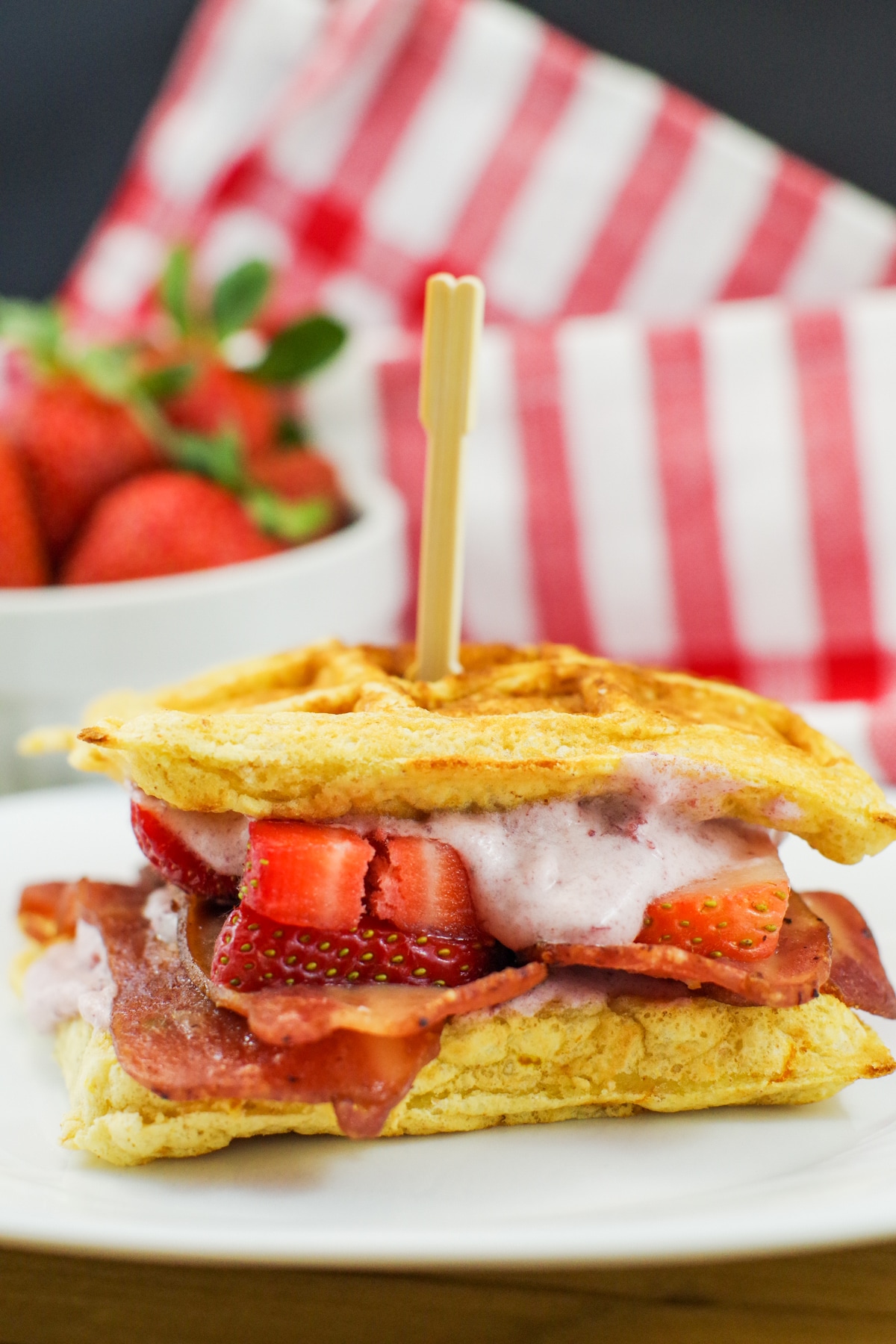 It's beaten up and stained and a chunk of the plastic has broken off. It even looks kinda gross. But it continues to make really fantastic homemade waffles.
Plus, it still made waffles excellent enough to win this contest (Runner up in 2015's Maple Lodge Farms Family Recipe Challenge). But that's also because this is not your typical chicken and waffles recipe. It's a healthier version that uses low-fat chicken breakfast strips and it's both sweet and savory, with a little zip of spice. It can be served as a breakfast, brunch or even dinner. If you are pressed for time, store-bought waffles can be substituted for homemade. It's the perfect breakfast waffle sandwich!
👪Servings and Storing
You can make both the waffles and the chicken bacon in advance. You can refrigerate for a day or two, but if it's going to be longer, I would freeze them, as the waffles stay fresher. If you have leftovers, the sauce, strawberries, chicken and waffles should all be stored in separate containers in the fridge for up to 2 days.
📖 Variations & Substitutions
If you don't have time to make these homemade waffles, then use store-bought waffles
you can use turkey bacon instead of chicken bacon
if you don't like the spicy element and want to mellow it, then skip the chili dip/spread or us less. Of course, if you like it, then add as much as you like!
You can make low-carb by using chaffles instead of waffles
🍓How to hull strawberries
If you're not sure how to hull a strawberry, then check out this video: How to hull a strawberry.
🍽 Equipment
You'll want to use a waffles maker for this recipe and preferably a Belgian waffle maker. However, it will work with a regular waffle maker. Or simply use store-bought waffles.
I guess I could have gone and bought myself a shiny new waffle maker by now. One day I will...For now, why get more stuff that requires getting rid of other stuff? We all know how that went over last time.
If you're looking for healthy waffle recipes, then give this a try. And if you love waffles, you'll love my Belgian Chocolate Waffles recipe!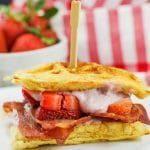 Print
🧇 Strawberry Sunrise Chicken & Waffle Sandwich
This award- winning chicken and waffle sandwich marries healthy chicken strips and strawberries with a bit of chili sauce zip. It can be a breakfast or dinner and is versatile in that you can use store-bought waffles if you are in a hurry.
Ingredients
¾

cup

whole wheat flour

¾  

cup

all-purpose flour

2

teaspoon

baking powder

¼

teaspoon

salt

1

tablespoon

granulated white sugar

1

cup

reduced fat milk

1%

1

medium sized orange - the juice and zest

4

tablespoon

vegetable oil

2

egg yolks

well beaten

2

egg whites

¼

cup

maple syrup

no sugar added
Sandwich Fixin's:
1

375 gram pkg.

Zabiha Halal Breakfast chicken strips -original flavour

*Any chicken or turkey bacon can be substituted

2

cups

hulled and sliced fresh strawberries

1

cup

whipped cream

preferably light

½

cup

Strawberry reduced sugar jam

raspberry or mixed berry can be substituted

2

tablespoon

red chili dip/spread
Instructions
Cook Zabiha Halal Breakfast Chicken strips on stove top until cooked through (about 5 minutes) and lightly browned. Set aside.

In a large mixing bowl, stir flours, baking powder, sugar and salt together.

In a medium sized mixing bowl, combine milk and vegetable oil with beaten egg yolk; stir in maple syrup, orange juice and zest. Add wet ingredients to dry ingredients and stir only until blended.

Beat egg whites until stiff but not dry and fold into batter.

Cook on hot waffle iron until lightly brown. You will have 8 waffles.

Once waffles are cool, lightly toast in toaster until desired crispness.

Mix strawberry jam, whipped cream and chili dip/spread together

Assemble: Spread strawberry jam mixture on the inside of one waffle, top breakfast chicken strips, then with sliced strawberries. Spread the jam mixture on the inside on another waffle. And place on top of sandwich (jam side down) . Repeat for remaining 3 sandwiches.
Notes
**This is very family friendly recipe because you can freeze the left-over waffles (I often just double the recipe), then on a busy weekday morning,  pop them in the toaster to warm them. The same goes for the Breakfast chicken strips. And even eat it on the go (just use a little less of the whipped cream mixture)! Or if you are really pressed for time, use store-bought frozen waffles as a substitute!
🍓How to hull strawberries
If you're not sure how to hull a strawberry, then check out this video: How to hull a strawberry
My Amazon Recommendations (affiliate links)
Nutrition Facts
🧇 Strawberry Sunrise Chicken & Waffle Sandwich
Amount Per Serving (1 sandwich)
Calories 405
Calories from Fat 171
% Daily Value*
Fat 19g29%
Cholesterol 95mg32%
Sodium 199mg9%
Potassium 473mg14%
Carbohydrates 56g19%
Protein 8g16%
Vitamin A 465IU9%
Vitamin C 39.8mg48%
Calcium 181mg18%
Iron 1.8mg10%
* Percent Daily Values are based on a 2000 calorie diet.
Nutrition
Serving:
1
sandwich
|
Calories:
405
kcal
|
Carbohydrates:
56
g
|
Protein:
8
g
|
Fat:
19
g
|
Saturated Fat:
13
g
|
Cholesterol:
95
mg
|
Sodium:
199
mg
|
Potassium:
473
mg
|
Fiber:
3
g
|
Sugar:
27
g
|
Vitamin A:
465
IU
|
Vitamin C:
39.8
mg
|
Calcium:
181
mg
|
Iron:
1.8
mg
Save
Saved!
🍳More Healthy Breakfast Recipes