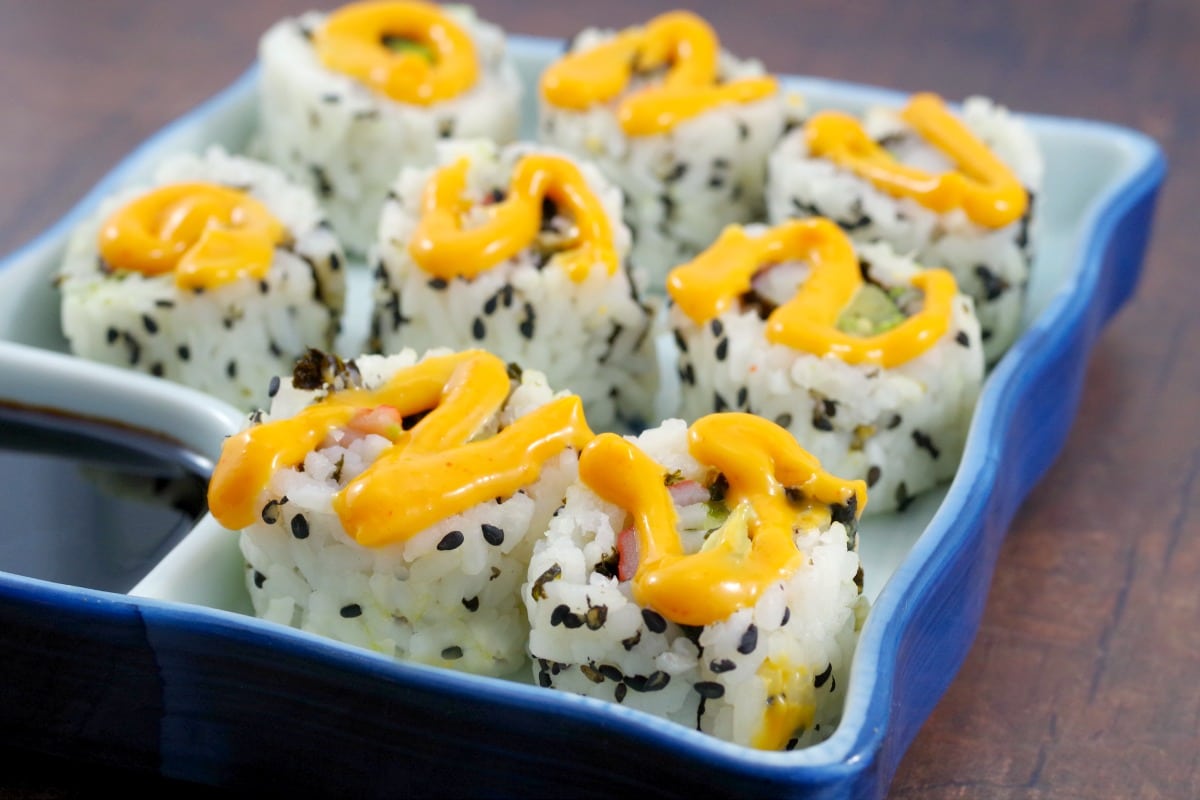 This post contains affiliate links (SEE DISCLOSURE POLICY)
There are probably a zillion recipes for Homemade California rolls (sushi) out there, but I'm posting mine because I think it's awesome and it's not exactly like all the other ones…
Homemade sushi is easier than you think and a lot of fun to make AND eat! And they are only 2 Weight Watchers Freestyle Smart Points (WITH sriracha mayo!) But if you're wondering, "are California rolls actually considered sushi?" then read on…
Homemade California Roll
My daughter and I love to do DIY's together. For those of you over the age of 12, DIY is the acronym for "Do it Yourself." Sometimes it's a craft and sometimes it's a food. We've made a lot of fun stuff together, including all kinds of decorated cookies, cakes, stuffed animals, pillows, terrariums and even a carpet for her locker at school!
Terrariums
Stuffed Pillow
This time she suggested we make our own California Rolls and it didn't take much to convince me…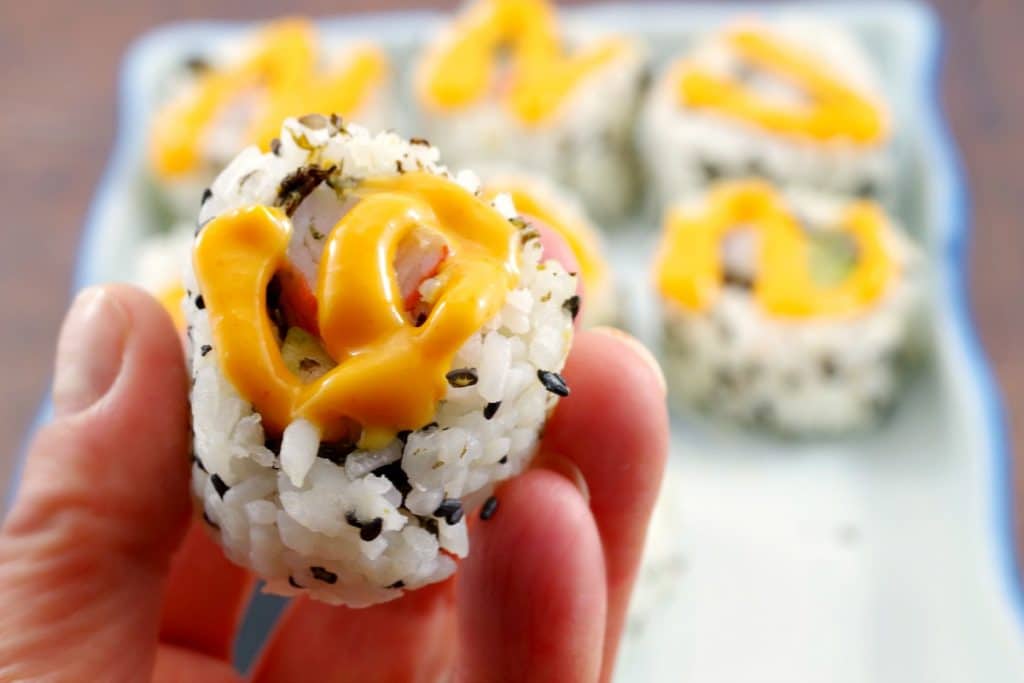 We LOVE sushi/California rolls and buy them regularly at the grocery store. But they are quite expensive and not nearly as fresh tasting as making them yourself. These DIY sushi/California rolls were AMAZING and we had so much fun making them. It was a really great mother/daughter date night!
Is a California Roll Sushi?
If you're wondering whether California Rolls are actually considered sushi, well, it's complicated. Although the official dictionary definition of sushi, defines it as "cold rice dressed with vinegar, formed into any of various shapes and garnished with bits of raw seafood or vegetables," it really depends on how hardcore you are when it comes to sushi. California rolls are an American type of sushi, so technically they are part of the sushi family. But if you see sushi as strictly traditional Japanese, then that changes things. You can read more about that HERE! I'm going to go with these guys being part of the sushi family because I'm Canadian and part of the North American family….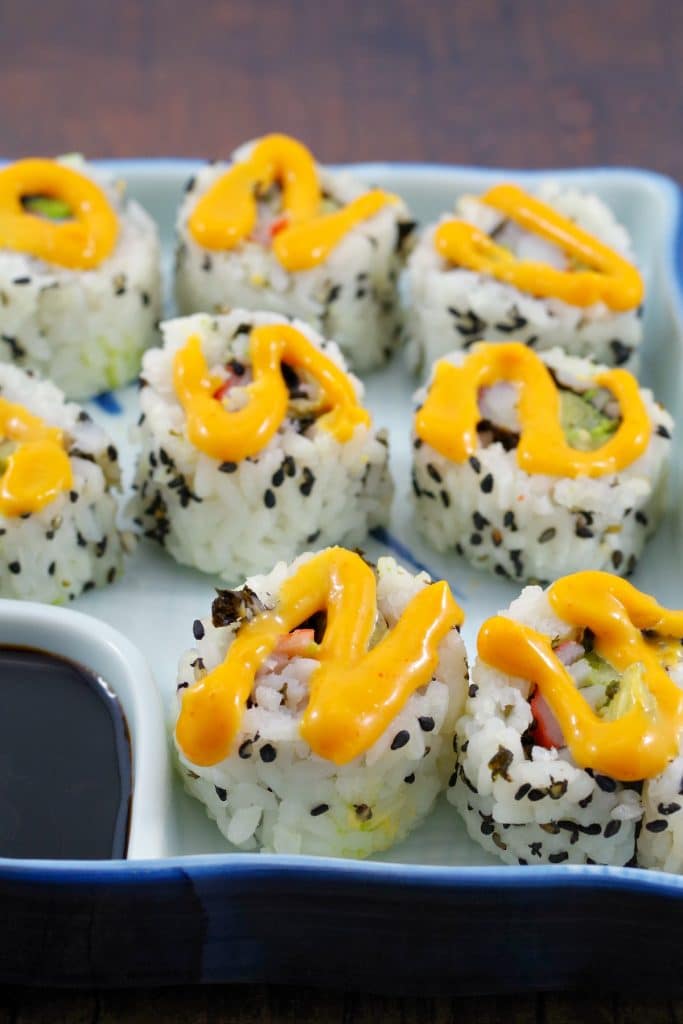 California Roll Nutrition
California rolls are pretty healthy as far as appetizer recipes go, considering they are comprised of veggies, rice, seaweed and seafood (albeit imitation). But you can check out the nutritional analysis in the notes below the recipe for more info!
The great thing about California Rolls is not just that they're healthy, they are "an experience". There are people that actually pay money to take sushi making classes, so why not try it yourself for FREE first? Either way, the result is delicious!
If you're looking for additional Weight Watchers friendly appetizers, then check out my Easy Tortilla Pinwheels @ only 1 WW fsp per pinwheel!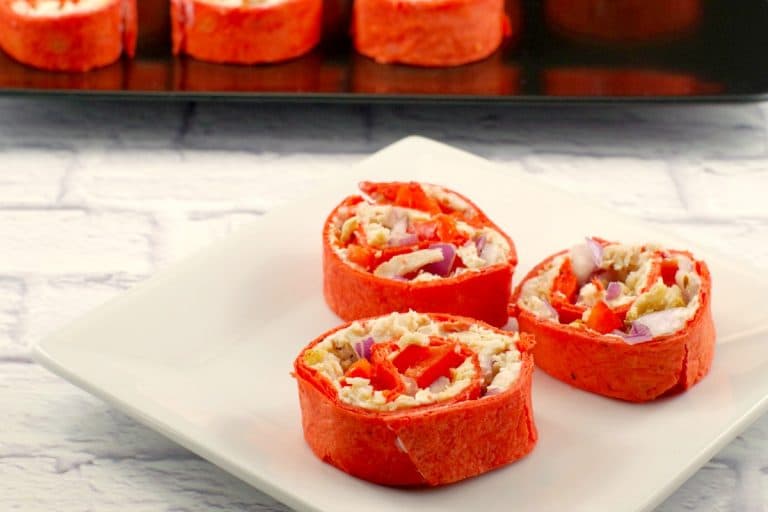 You can use a traditional sushi rolling mat (covered with food safe plastic wrap/saran wrap) for this recipe, but I prefer the modern dishwasher safe rolling mats that are now available. They are easier to clean and in my world, that means everything! I used the Lekue Makisu Silicone Sushi Mat, clear, and thought it was great!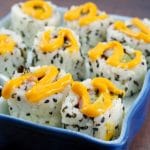 Print
Homemade California Rolls (Sushi)
This simple, healthy and delicious Homemade California Rolls (sushi) appetizer recipe with cucumber, imitation crab, avocado, Nori seaweed, rice and black sesame and sriracha mayonnaise is fun and easy to make and is only 2 Weight Watchers freestyle smart points per roll (with mayo)!
Ingredients
1

cucumber, sliced into thin sticks

2

avocados, thinly sliced

1/2

-16 oz pkg

crab meat (leg style)sliced in half, lengthwise

4

sheets

Nori seaweed sheets, cut in half, lengthwise

about 1/2 of a 21 g bag
Instructions
Sushi Rice:
Place the rice and 2 cups of water into a medium saucepan and place over high heat. Bring to a boil, uncovered. Once it begins to boil, reduce the heat to the lowest setting and cover. Cook for 15 minutes. Remove from the heat and let stand, covered, for 10 minutes.

Combine the rice vinegar, sugar and salt in a small bowl and heat in the microwave on high for 30 to 45 seconds. Transfer the rice into a large wooden or glass mixing bowl and add the vinegar mixture. Fold thoroughly to combine and coat each grain of rice with the mixture. Allow to cool to room temperature before using.
California Rolls:
Cut Nori seaweed sheets in half, and place on a sushi rolling mat. Add 2/3 cups rice spreading evenly, pressing down onto seaweed so that it sticks.

Sprinkle on some black sesame seeds (about a tsp), then flip it over. * Don't worry it will flip over very easily and the rice will stick!

Add the crab leg, cucumber and avocado.

Start to roll with the end closest to you, as shown in VIDEO ( in NOTES)

Once tightly rolled, cut evenly into pieces and serve!
Garnish:
Add Sriracha mayo as desired.
Notes
Nutrition Facts
Homemade California Rolls (Sushi)
Amount Per Serving
Calories 61
Calories from Fat 9
% Daily Value*
Fat 1g2%
Sodium 35mg2%
Potassium 73mg2%
Carbohydrates 10g3%
Protein 1g2%
Vitamin A 20IU0%
Vitamin C 1.4mg2%
Calcium 4mg0%
Iron 0.6mg3%
* Percent Daily Values are based on a 2000 calorie diet.
Nutrition
Calories:
61
kcal
|
Carbohydrates:
10
g
|
Protein:
1
g
|
Fat:
1
g
|
Sodium:
35
mg
|
Potassium:
73
mg
|
Fiber:
1
g
|
Vitamin A:
20
IU
|
Vitamin C:
1.4
mg
|
Calcium:
4
mg
|
Iron:
0.6
mg