Earth Day is coming and instead of the typical green and blue globe shaped treat, I wanted to make something that was a little different and really fun to make with kids! These Jello Worms and dirt are perfect!
I am a cake decorator and I guess you could say that making things look realistic has always been my thing. But as a food blogger, making things look yummy is also my thing. So these jelly worms completely go against my grain as a food blogger because of how realistic (and gross, I'm told) they look. But fortunately, they are also super delicious -trust me!
Jump to:
In fact, my husband thought they looked so gross he didn't even want to eat them. My kids, however, had no problem polishing them off because they thought they looked so cool!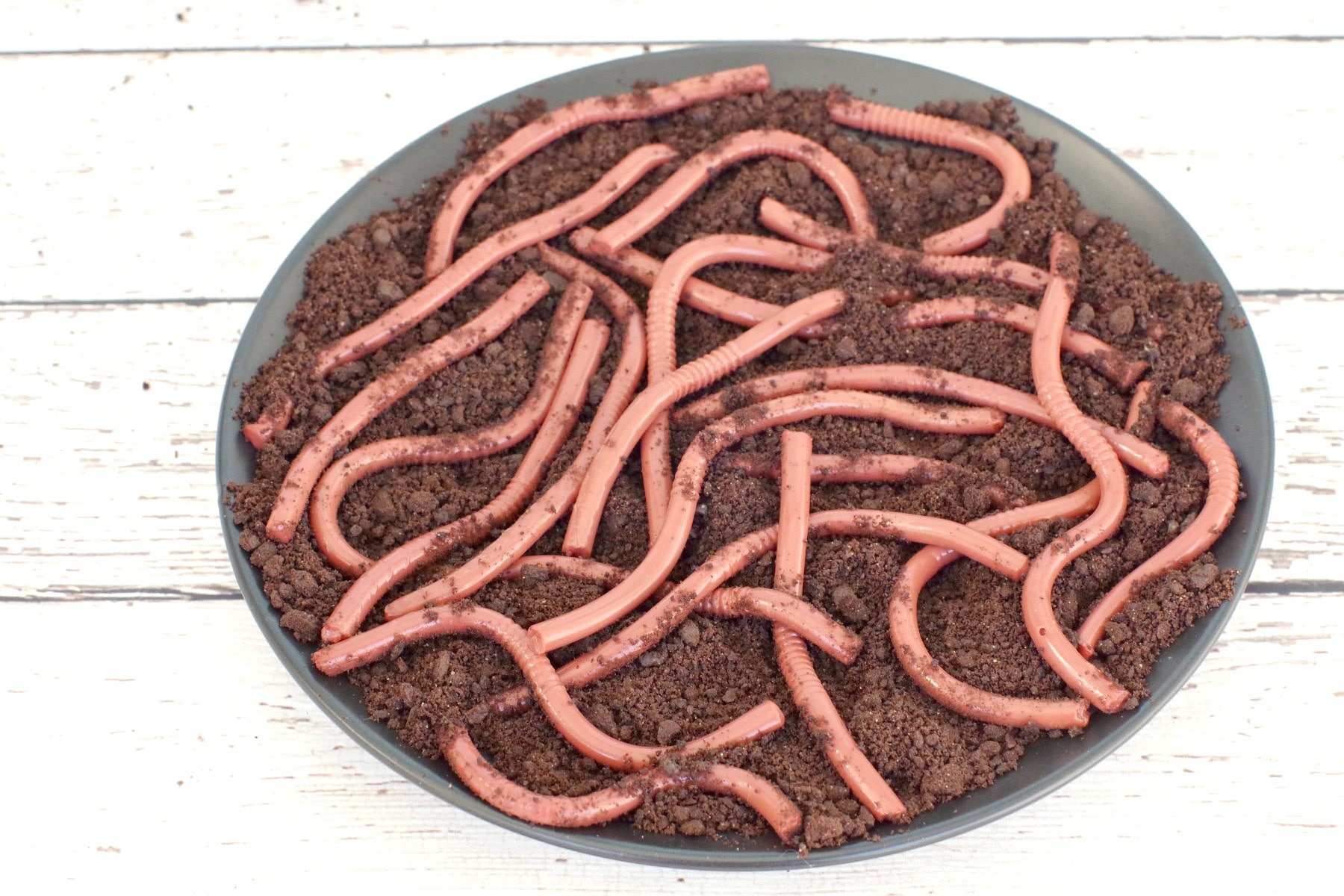 🥘 Ingredients
Right now most us are stuck at home, with many of us trying to entertain kids. A project like this is the perfect way to celebrate earth day and keep the kids occupied. My kids LOVED making and eating this earth day recipe. But the squeezing of these edible worms out of the straws is the most fun and satisfying part! They take some time to set (overnight at minimum) but they are totally worth the wait! It's not like we're going anywhere right now anyway, right? And the dirt cups in the planter is also a super easy dessert to make with store bought cake, instant pudding, Oreo cookie crumbs and topped with mint leaves.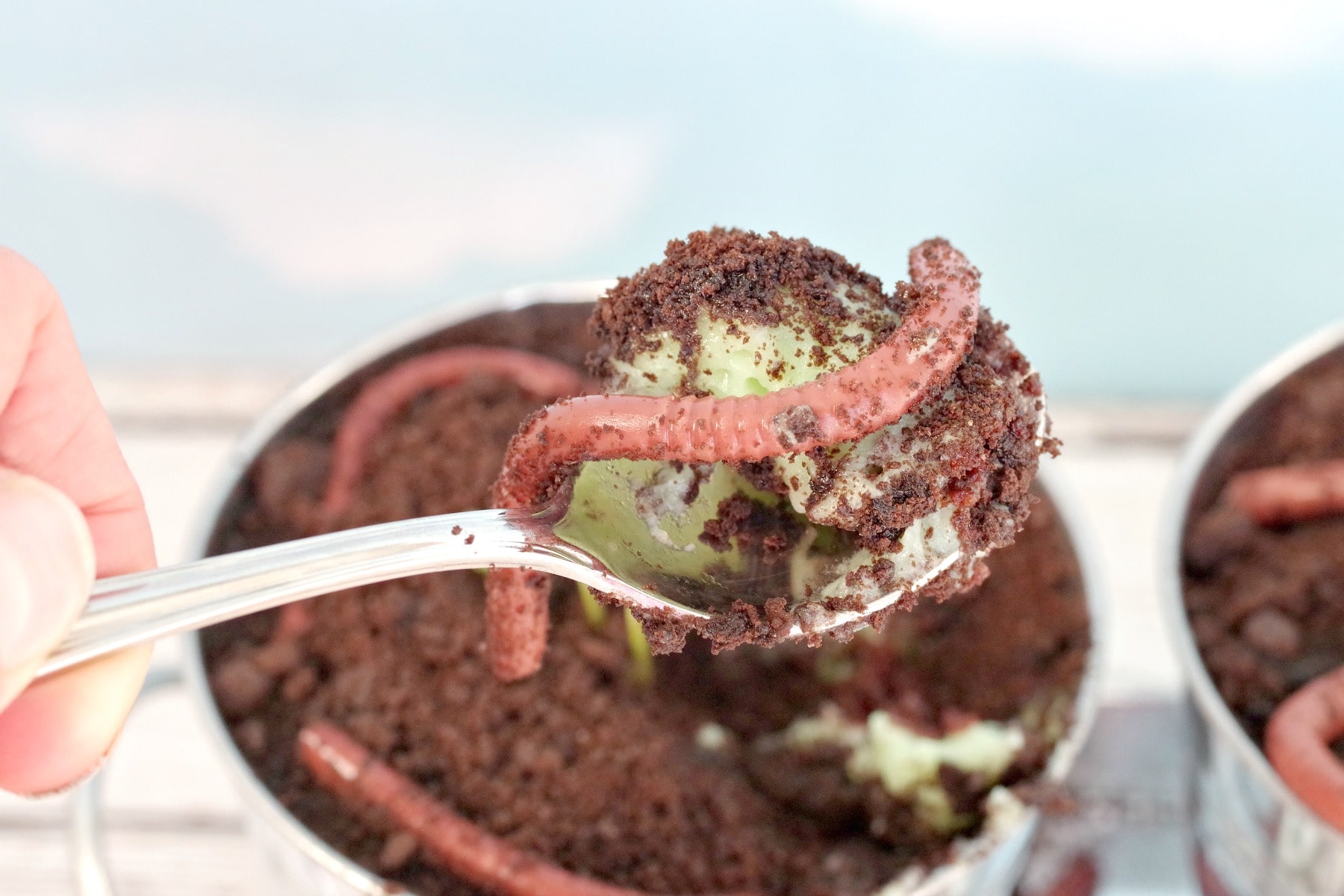 💭What is Earth Day?
Earth day is the largest secular observance in the world. Celebrated annually on April 22, Earth day is the day on which events are held worldwide to demonstrate support for environmental protection. It was first celebrated in 1970, and is now coordinated globally by the Earth Day Network, and celebrated in more than 192 countries each year. This April 22, 2020 marks the 50th anniversary of Earth day!
💭History of Earth Day
In 1970 the United States celebrated the first Earth day, which was spurred by Senator Gaylord in response to 1969's devastating oil spill in California. More than 20 million people around the U.S. gathered together holding rallies, demonstrations and participating in activities to promote a clean and safe living environment. They also pushed for new legislation to protect the Earth on all levels of government. Then in 1990, the concept went global, paving the way for future projects like the 1992 United Nations Earth Summit. What began as a day of environment preservation in the U.S . is now a large-scale push for clean habitat around the world! You can read more HERE and HERE.
🔪 Instructions
This was my second time making jello worms, but this time I made sure to capture the process (see step by step directions in the recipe card and videos). I made them for a Halloween Dessert a couple of years ago and thought, at the time, they'd make a really cool spring dessert too!
And since earth worms were really fitting for Earth Day, I made them into a treat. And I think they turned out even better this time! Don't be afraid to play with the color by adding more green food coloring (I use Wilton icing coloring) and adding more whipping cream (liquid) to get the color right, as they will still set.
These jelly worms really do taste delicious, if you can get past being grossed out about eating them. They also go really well with the cake, pudding and cookie crumb dessert I serve them with. I even added a little whipped cream to top them off! So, if you're looking for a fun project for earth day with the kids, then make these jelly worms!
And here's another earth day idea- Flower Pot Cupcakes!

📋 Worms and Dirt Cup Recipe
These realistic Jello worms and dirt are the perfect Earth Day recipe and fun project to make with kids! Serve them with an easy dirt cup made of cake, pudding, Oreo cookie crumbs and a mint sprig for the most realistic looking dirt and worms recipe ever!
Print
Pin
Rate
Ingredients
Jello worms
1

-85 g

package raspberry gelatin powder

½

28g

envelope unflavored gelatin

(14 grams)

1.5

cups

boiling water

⅓

cup

whipping cream

* the liquid (NOT whipped) * you may need a little more

3-6

-drops leaf green food coloring add until desired color appears

* I use Wilton icing coloring
Supplies
tall slender 4 cup container same height as extended straws

* I use a drinking glass
Dirt Cup
99

g

-pkg of pistachio dessert

* or any flavor of pudding

300

g

-chocolate pound or loaf cake store bought or homemade

* or use a McCain's chocolate cake with the icing scraped off

1 ½

cup

Oreo cookie crumbs

approximately

6

sprigs

mint
Instructions
HEADS UP: There is an 8 hour chilling time with this recipe!
Jello Worms
In a medium bowl, combine gelatin and raspberry jello powders.

Add boiling water; stir until gelatins completely dissolves. Chill jello mixture until lukewarm in fridge, about 20 minutes.

Meanwhile, gently pull the flexible part of the straws to extend to full length.

Wrap together with elastic and cover bottom of the straws with saran wrap/food safe wrap and then cover with masking tape.

Then cover masking tape with more saran wrap and wrap with another elastic. Place in tall glass (so it's a tight fit)

Blend cream and food coloring with the lukewarm gelatin mixture.

Add food coloring until you reach desired color

Pour jello into straw filled container, filling straws. (SEE VIDEO: Jello worms being poured into straws in NOTES)

Keep filling until all of it is gone. Some will go down sides of straws into the bottom of the glass, so don't worry, as long as the straws get filled up. *This is the very best way to do this!

Chill filled straws until gelatin is firm, at least 8 hours. You can cover the tops of the straws with plastic wrap and chill up to 2 days.

Pull straws from container and remove saran wrap and tape. Pull straws apart; run hot tap water on the sides of the straws for about 2 seconds, over 3 to 4 straws at a time (ensuring to keep water away from the inside). * You don't need longer than 2-3 seconds!

Starting at the empty ends, push worms from straws by gently pushing them out of the straw. (See VIDEO in NOTES for demonstration on how to push worms out of straws.)

Lay worms on parchment paper-lined baking sheets. Then chill for 20 minutes and serve.
Dirt Cup
Make pistachio pudding as per package directions

Add cake to bottom of mini planter, pot or whatever dish you are using, dividing cake by number of servings you have.

Then top with pudding, dividing between all 6 cups (or depending on how many you make)

Then top with Oreo cookie crumbs, covering pudding and dividing between all 6 cups (or depending on how many you make)

Dig a little hole in the middle and plant the 'mint'.
Did you make this recipe?
Please leave a star rating and review below!