A flood of memories is unleashed and euphoria washes over me. My heart swells. I am utterly amazed at how a simple melody can strike so deep a chord, instantly transporting me back to a time and place of unequivocal freedom and bliss!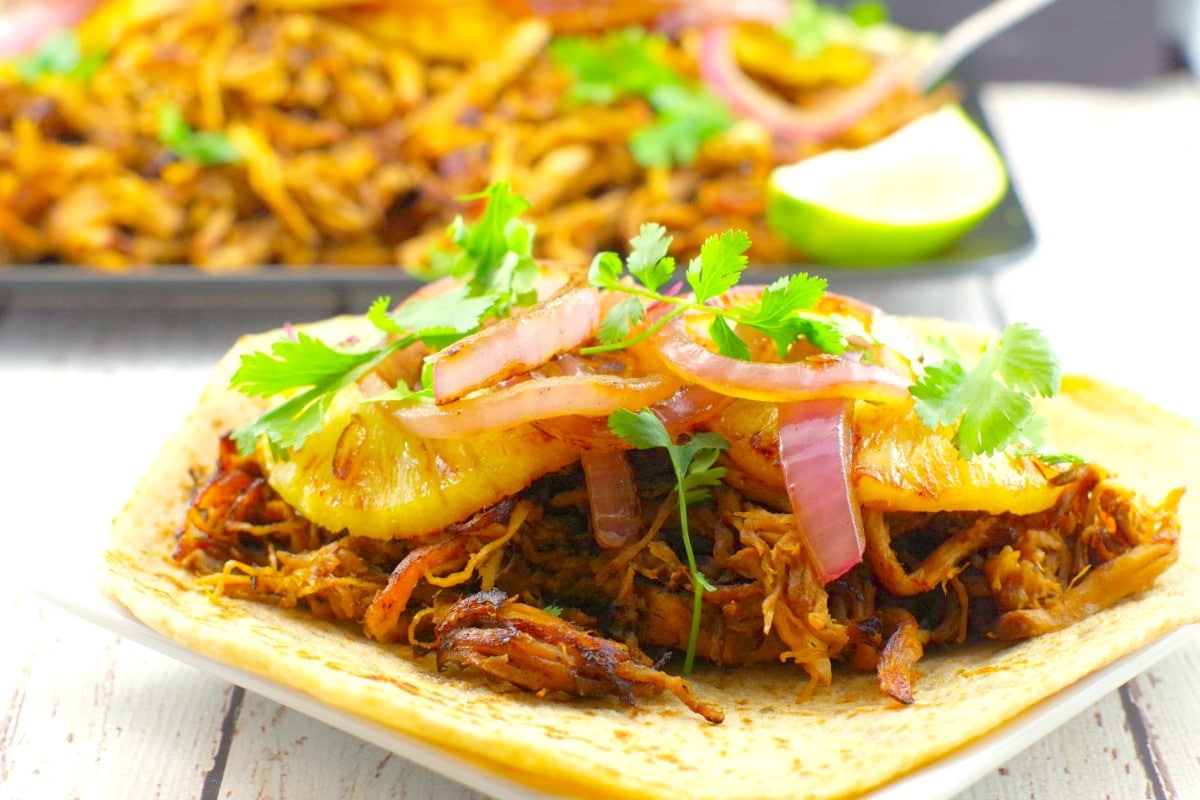 This post is sponsored by the Wild Mountain Music Festival (SEE DISCLOSURE POLICY)
And when I hear the song "Life is a Highway" by Tom Cochrane, all of a sudden I'm there; sailing down that highway, on our glorious family road trip, the one where we drove all the way from Calgary, Alberta down to Sorocco, New Mexico.
And then I think of the food. And again, I'm overcome with nostalgia. Because short of music, food is the one thing that possesses that power. And for me, it's the authentic New Mexican food experience we had on that magical road trip that gets me every time. So naturally this is the food that comes to mind when I think of music festival food. Tacos and pulled pork. Mmmmm...And with Pork Carnitas (Mexican pulled pork), you get the best of both of these worlds.
If there's one thing I know for sure, this Healthy & Gluten-Free Slow Cooker Mexican Carnitas recipe, with a spicy chipotle BBQ sauce, grilled pineapple, red onion and cilantro, will have you longing for music festivals and music festival food!
Slow Cooker Pork Carnitas
But festival food choices can be limiting and often greasy and unhealthy. That's why The Wild Mountain Music Festival strives to ensure that there is a diversity of food choices for everyone, with alternative choices on each menu; such as fresh fruit, vegetarian, vegan or gluten-free items.
To celebrate The Wild Mountain Music Festival I have created a festival food that is healthy and can be enjoyed by everyone, even those that have Celiac disease or are gluten sensitive. And if you aren't gluten-sensitive, you won't even notice it's gluten-free! It's also kid-friendly, as you can control the spice. Not only is this recipe healthy and gluten-free, this Slow Cooker Pork Carnitas recipe can be made at home, in the middle of the summer using the slow cooker, (because who wants to be heating up the house in the summer?) transporting you right back to that music festival gone by....
Music is powerful
But if you want to be transported to a time and place of bliss and freedom, just head on over to The Wild Mountain Music Festival this July!
Set in the picturesque Alberta Northern Rockies, outside of the town of Hinton, Alberta, with stunning views Jasper National Park's Rocky Mountains, you'll find a line up of musicians that has something for everyone (young and old), from Tom Cochrane, to Fred Penner. And there are many other acts that will quickly become festival favourites!
The Wild Mountain Music Festival is July 13, 14, 15 2018 and you can BUY TICKETS HERE !
And if you want to bring the kidlets along, they've got you covered! Unlike some other music festivals, The Wild Mountain Music Festival has a unique family atmosphere. There is a kids' area for crafts and drop-in programming; ideal for enjoying the sights and sounds of the festival.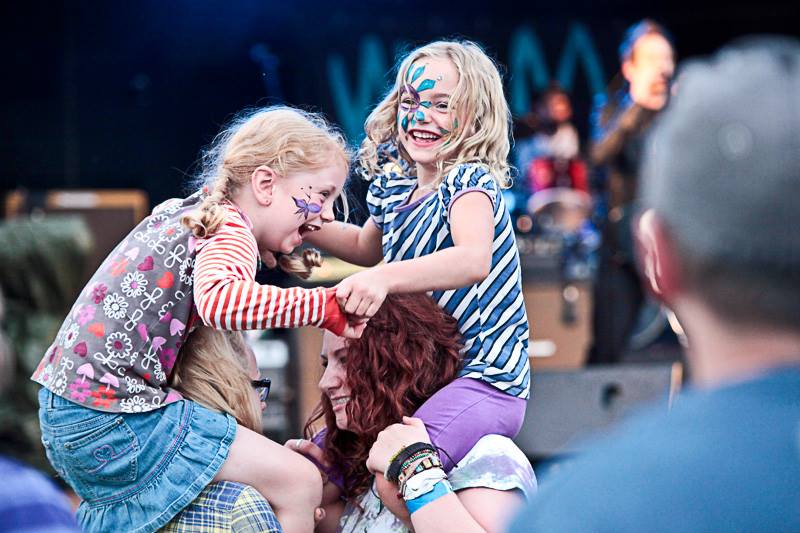 For more information about The Wild Mountain Music Festival CLICK HERE!
Pork Carnitas vs. Pulled Pork
If you're wondering what the difference is between pulled pork and pork carnitas, well, it's all in the frying. Authentic pork carnitas are fried after they are cooked (unlike pulled pork), creating that distinctive crispiness. Frying it up only takes a few minutes but it will make a HUGE difference in your authentic Mexican food experience ! This recipe is the ultimate way to experience authentic Mexican festival food at home.
Mexican Pork Carnitas Recipes
If you are looking for slow cooker pork shoulder recipes and want a healthy festival food you can make in your own home, then these Crispy Slow Cooker Mexican Pork Carnitas are your answer!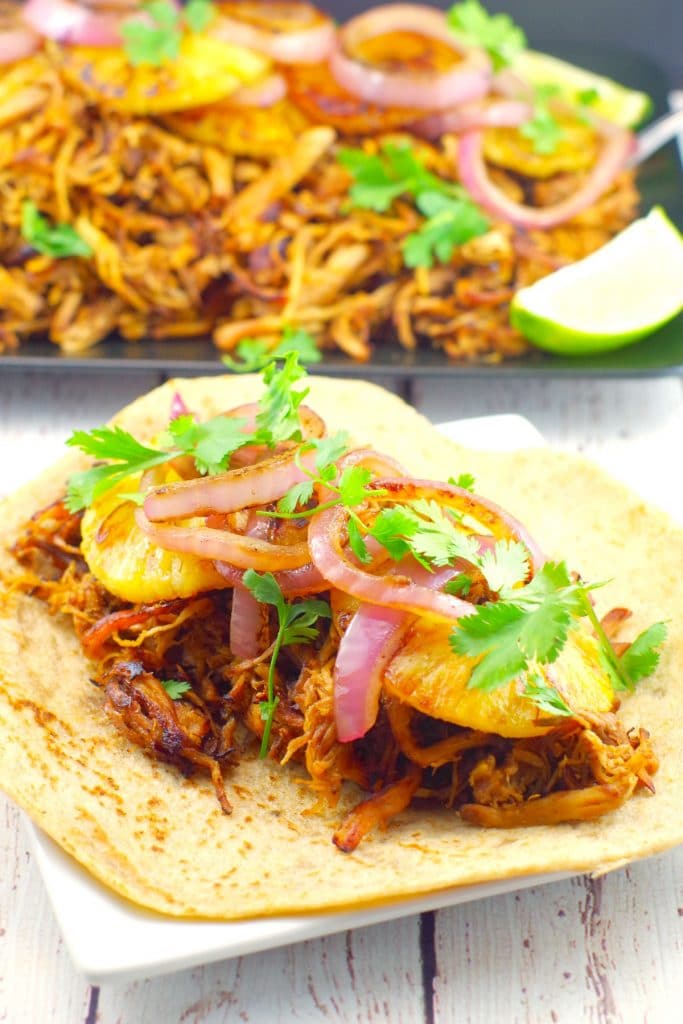 And if you LOVE authentic Mexican food, try my Authentic New Mexican Chile Con Queso
I have been compensated monetarily for this post, but all opinions are my own.
My Amazon Recommendations (affiliate links)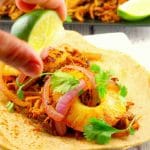 Print
Healthy Slow Cooker BBQ Pork Carnitas (gluten-free)
These Authentic Slow Cooker Crispy Pork Carnitas are not only healthier than your typical carnitas, they are gluten-free! If you love pulled pork, you'll love carnitas (the Mexican version of Pulled Pork)! Loaded with grilled pineapple, red onion and cilantro, are a spicy, fresh and delicious! This Pork Carnitas recipe is healthy, make-at-home festival food at its finest! 11 Weight Watchers Freestyle Smart points per serving,
Ingredients
2

kg

(4 lb) pork shoulder

pork butt, skinless, boneless (5lb/2.5kg bone in

½

- 212ml

can of gluten-free chipotle pepper in adobo sauce

*Roland's and La Costena brands are gluten-free and can be ordered from Amazon (if you can't find it in stores)

½

tsp

gluten-free cumin powder

1

tsp

garlic

chopped (or use jarred minced garlic)

lime (the juice from 1 lime)

1

cup

gluten-free BBQ Sauce

* I used Amazing Dad's BBQ sauce- found it at Superstore

1

cup

pineapple, diced

* if using can, drain liquid
Filling
8

pineapple rings

half inch thick, if using canned (drained and patted dry) or fresh

1

red onion

peeled and cut into rings

2

tbsp

fresh cilantro

chopped

1 to 2

tbsp

olive oil

8 6

gluten-free tortillas

warm, if desired
Instructions
Combine chipotle with adobo sauce, cumin, garlic, lime juice and the pineapple cubes (diced pineapple) in a blender. Blend until smooth - about 30 seconds. Mix with the BBQ sauce.

Spray slow cooker/crockpot with non-stick cooking spray and place the pork in a slow cooker and pour the sauce over the meat.

Slow Cook on low for 10 hours or on high for 6 hours. * I use low, as I prefer the results of a really long, slow cook.

Remove pork from slow cooker and let cool slightly. Remove any fat or bone (you will also be removing a little when you shred the pork, but most of it just falls off during the cooking process. Then shred using two forks. If you have never shredded pork before, SEE VIDEO IN RECIPE NOTES FOR INSTRUCTIONS!

Skim any visible fat off the top , then drain sauce from slow cooker through a sieve and set aside. Discard the remnants.
To Crisp:
Heat 1 tbsp of oil in a large non stick pan or well seasoned skillet over high heat. * You will need at least 2 frying pans to spread it out evenly - don't overcrowd the pan.

Mix 2 tbsp of the sauce to pork and mix until combined.

In the pan, drizzle over some sauce from the slow cooker and freshly squeezed lime or a little pineapple juice (about a tbsp).

Wait until the juices evaporate and the bottom side is golden brown and crusty. Turn and just briefly sear the other side - you don't want to make it brown all over because then it's too crispy, need tender juicy bits.


Remove pork from skillet and add in at least 2 more tbsp's of the sauce. If you like it really spicy, add more.

*You can discard any remaining sauce or use it for whatever you like.
Topping/filling:
Meanwhile, coat the onion and pineapple rings with olive oil and grill in frying pan and set aside.

Divide the meat evenly between the tortillas and add add the grilled pineapple and onion (whole or chopped) and chopped cilantro on top. Serve immediately.
Notes
VIDEO:  How to pull pork * I shred mine a little more than he does in this video
Nutrition Facts
Healthy Slow Cooker BBQ Pork Carnitas (gluten-free)
Amount Per Serving
Calories 362
Calories from Fat 117
% Daily Value*
Fat 13g20%
Cholesterol 81mg27%
Sodium 553mg24%
Potassium 598mg17%
Carbohydrates 33g11%
Protein 26g52%
Vitamin A 100IU2%
Vitamin C 6.8mg8%
Calcium 62mg6%
Iron 2.7mg15%
* Percent Daily Values are based on a 2000 calorie diet.
** Please note: the recipe is calculated assuming that all the sauce is consumed in 8 servings. I only use a small portion of the sauce and discard the remaining, so the calorie and fat content is great reduced. However, it's nearly impossible for my nutrition calculator to get an accurate calculation of this.
Nutrition
Calories:
362
kcal
|
Carbohydrates:
33
g
|
Protein:
26
g
|
Fat:
13
g
|
Saturated Fat:
3
g
|
Cholesterol:
81
mg
|
Sodium:
553
mg
|
Potassium:
598
mg
|
Fiber:
1
g
|
Sugar:
18
g
|
Vitamin A:
100
IU
|
Vitamin C:
6.8
mg
|
Calcium:
62
mg
|
Iron:
2.7
mg
Save
Saved!
This recipe is part of the Country Cook's Weekend Potluck