I always wondered if there is some kind of invisible force field that radiates from the perimeters of canteens and vending machines, unbeknownst to parents, sucking children in; similar to the vacuum-type force that suctions earthlings up into hovering UFO's in all those alien movies.

That force seems to cast some sort of spell over kids, convincing them that paying for stale muffins, granola bars, potato chips and the like, with the calories, sugar and fat equivalent of a 4 course meal, is an excellent idea. Is this perhaps the reason why my kids can't pass by a canteen or vending machine without begging, pleading and/or melting down over said items? The canteen at the school where my kids take dance class, is particularly problematic...
It's problematic mostly because it's a constant temptation; it's open when we arrive AND during break every single week.
So one night a few years back, while my daughter was dancing, my son was overtaken by that force and his desire for a stale fat bomb of a blueberry muffin, so much so that I almost gave in. But instead, I promised him that I'd make something even better when we go home.
Blueberry Cornbread
Although I wasn't particularly keen on baking when we got home at 9:00 pm on a Thursday night after dancing, a promise is a promise. And since he wanted a blueberry muffin so badly and he also loved cornbread muffins, I decided that blueberry cornbread would be perfect!
WOW. Neither of us had ever had blueberry cornbread before and we were in complete agreement that it was outstanding! And I've been making that very blueberry cornbread ever since.
Until recently...
Hello Weight Watchers Cornbread!
When I went to make my beloved blueberry cornbread and I calculated that there were 9 weight watchers freestyle smart points per piece, I literally started to weep 🙁 I really wanted it but wasn't willing to part with 9 smart points in order to have it.
So.... I dried my tears, put on my big girl panties and got to work!
Healthy Blueberry Bread
I have cut this Healthy Blueberry bread nearly in half and brought this Healthy & Light Blueberry Cornbread down to 5 Weight Watchers smart points (blue plan) which I consider to be a pretty big success.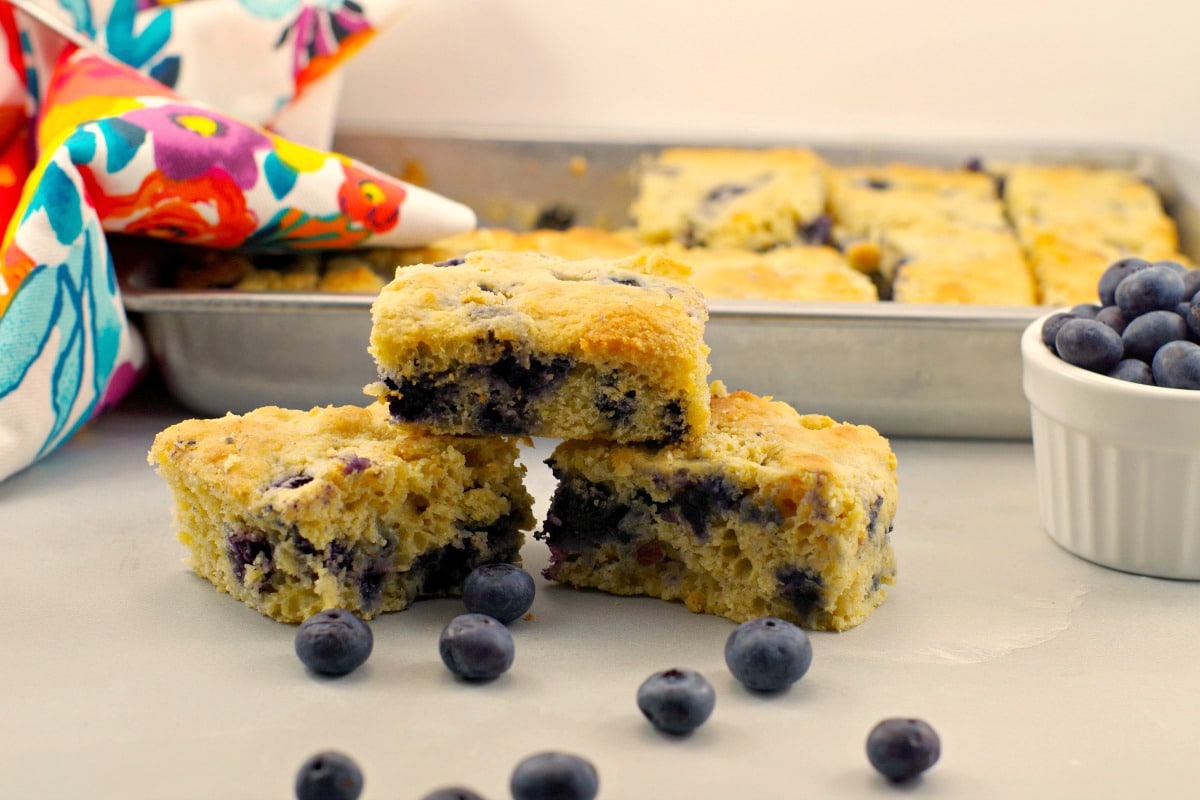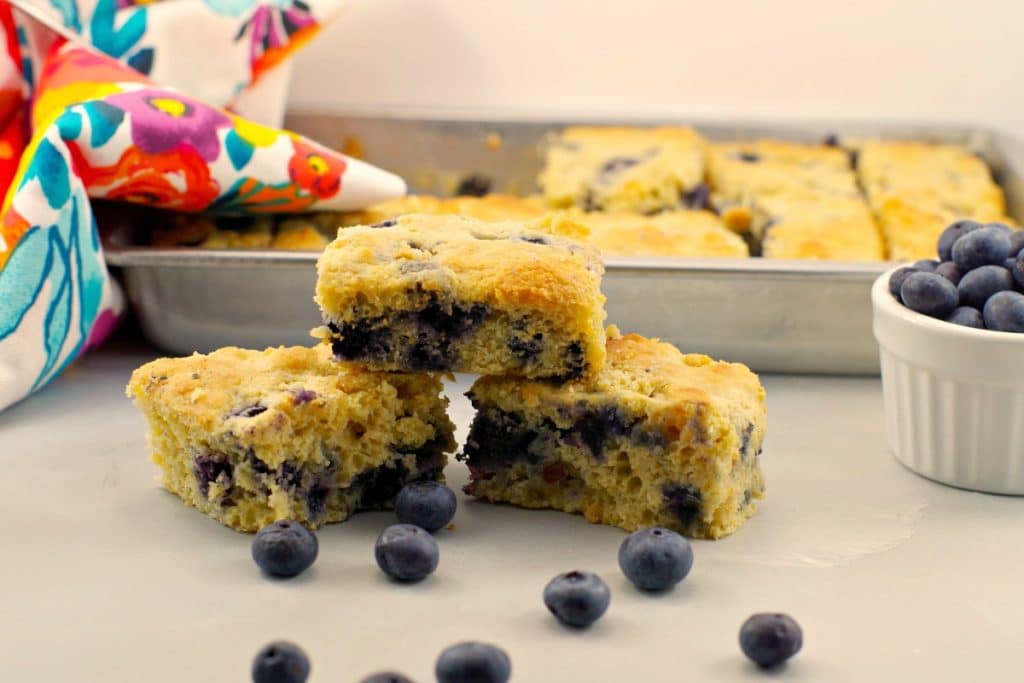 Better than the original Cornbread!
When I let my kids try this, I didn't tell them it was lighter, better for them or healthier cornbread and they actually said that they liked it better than the other (full fat) recipe!
YASS!
And I managed to keep the taste and texture intact in this healthy cornbread with applesauce. Applesauce can be a great substitute for fat in baking, but it can also give baked goods a chewy texture, so you need to be careful. This blueberry buttermilk cornbread is made with a lighter version of buttermilk (adding vinegar to low-fat milk). Buttermilk helps keep baking moist, with a tender crumb, that balances the applesauce.
Now, I have been baking, creating recipes and lightening recipes for many years, but when I actually looked at the difference in calories and fat by just eliminating the oil and changing it to applesauce, it's mind-blowing:
Calories & Fat in Apple Sauce vs Oil:
| | ½ cup Unsweetened Applesauce | ½ cup Vegetable Oil |
| --- | --- | --- |
| Fat | .06 g | 109 g |
| Calories | 53 | 964 |
However, it's the cornmeal that is the biggest culprit when it comes to calories and you obviously can't replace that! So, I worked with what I could.
But what surprised me the most in all of this was not that this healthy blueberry cornbread tasted outstanding and that my kids like this lighter cornbread recipe version better than the original, but that very few people are searching for healthier and lighter versions of cornbread online!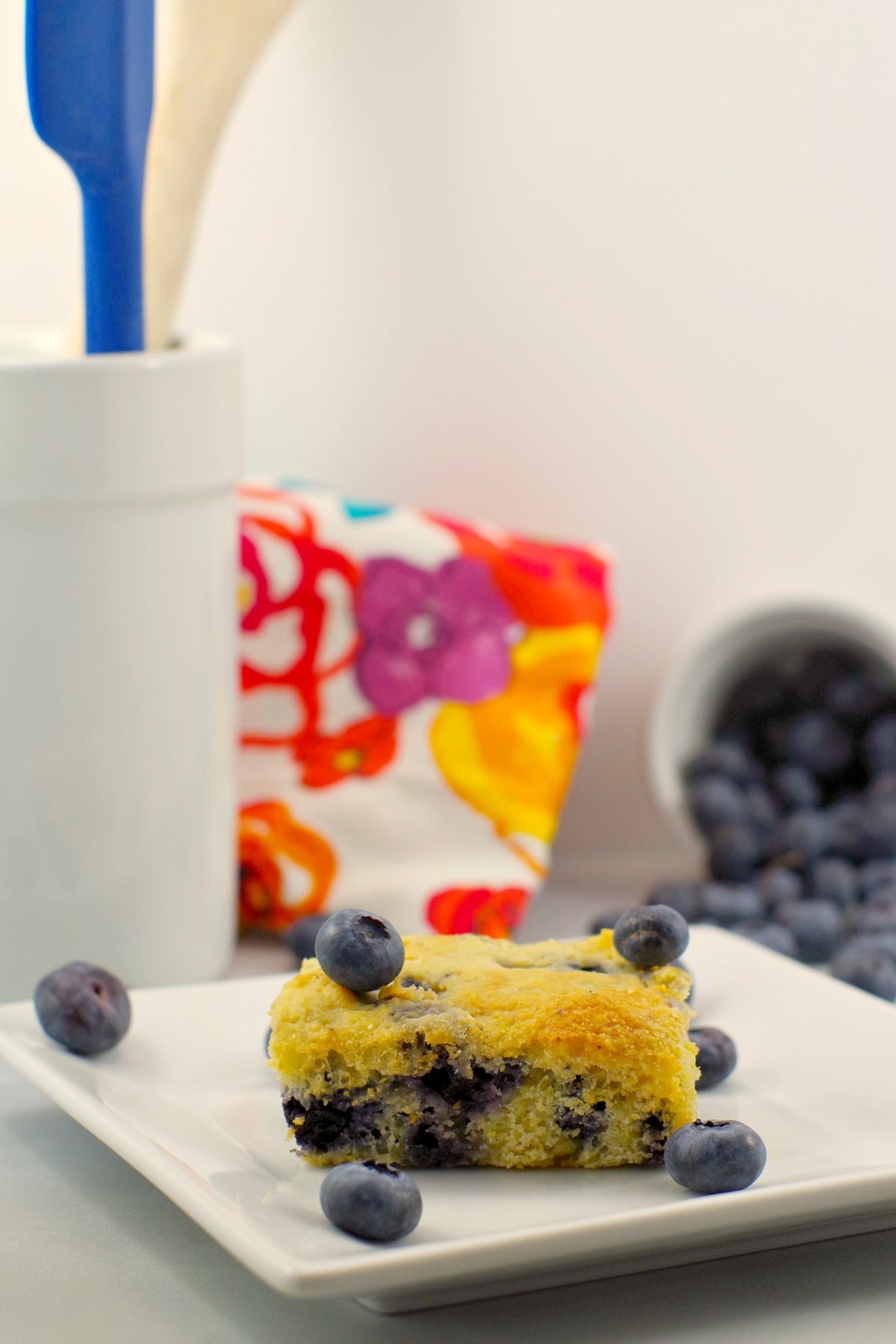 As a food blogger, I use a couple of strategies to identify what search terms are used in searches (in relation to what I want to post) in order to make my post more search engine optimized (SEO) and search friendly.
When I discovered that hardly anyone was searching "light cornbread" or "low-fat cornbread" I was a bit baffled. There were some searches for 'weight watchers cornbread' and 'healthy cornbread'; hence the name of my recipe. But I guess there are many cornbread recipe seekers out there that that don't care- they are willing to indulge in the full fat version. But me, no siree....I want the best of both worlds. I'm not willing to part with all those points for ONE piece of cornbread!
But the good news story here is that you don't have to give up taste, along with calories and fat with this Healthy Cornbread! You can have it all 🙂
And if you like healthy bread recipes, then give my Healthy Carrot Bread a try!
Anyway, I really do believe there is some kind of force that radiates from canteens and vending machines, drawing children into the vortex, messing with their minds. What else could possibly explain the attraction? And if you believe in conspiracy theories, maybe it is actually is alien driven. Either way, when it comes to keeping your kids away from crappy canteen and vending machine food, the struggle is real. Fortunately, this Healthy Blueberry Cornbread can help.
Enjoy!
My Amazon Recommendations (affiliate links)


Print
Healthy and Light Blueberry Cornbread Recipe
This Healthy Blueberry Cornbread just became weight watchers friendly cornbread, in this lightened up version of this delicious classic. Made with applesauce, it's only 5 smart points and better than the original (and that's according to my kids!) Great for a lunch box or for a morning snack/breakfast or dessert!
Instructions
Preheat oven to 375 degrees F and spray an 8-inch square baking pan or a cake pan with non- stick cooking spray.

Mix vinegar with milk and set aside.

Toss blueberries with 1 tsp of flour and set aside.

Combine flour, cornmeal, sugar, baking powder, and salt in a large bowl. Stir with a whisk to evenly combine ingredients.

In a medium bowl, combine egg, milk with vinegar, applesauce, and vanilla extract. Whisk well.

Add wet ingredients to dry and mix just until dry ingredients are moistened. Gently fold in blueberries. Pour batter into prepared pan and bake for 30-35 minutes or until a cake tester or toothpick inserted in the center comes out clean.
Notes
Nutrition Facts
Healthy and Light Blueberry Cornbread Recipe
Amount Per Serving
Calories 133
Calories from Fat 9
% Daily Value*
Fat 1g2%
Cholesterol 14mg5%
Sodium 62mg3%
Potassium 207mg6%
Carbohydrates 27g9%
Protein 3g6%
Vitamin A 55IU1%
Vitamin C 1.9mg2%
Calcium 68mg7%
Iron 1.1mg6%
* Percent Daily Values are based on a 2000 calorie diet.
Nutrition
Calories:
133
kcal
|
Carbohydrates:
27
g
|
Protein:
3
g
|
Fat:
1
g
|
Cholesterol:
14
mg
|
Sodium:
62
mg
|
Potassium:
207
mg
|
Fiber:
2
g
|
Sugar:
8
g
|
Vitamin A:
55
IU
|
Vitamin C:
1.9
mg
|
Calcium:
68
mg
|
Iron:
1.1
mg
Save
Saved!