Karen's popcorn was the big buzz around the office that first Christmas I worked in Transition Services. Apparently she'd be bringing it in to share with everyone that week, as she only made it once a year, during the holidays. Yet, while everyone was raving about it, all I could think was, "It's popcorn- how's good could it be?" And even when Karen rounded my cubicle, spilling a generous sampling of her savory popcorn onto a napkin and chirped, 'just try it- you'll love it!" I felt only indifference.

But I did what any reasonable person would do if munchies were placed on their desk- I munched. And I thought that Harvest Savory Popcorn was actually quite interesting and unique tasting and like no popcorn I'd ever had before. In fact, it was good. However, I continued about my day and didn't think much more of it. But then a strange thing happened in the days to come.
Jump to:
That delicious tangy, lemony, garlicky, hickory, dilly savoury popcorn seasoning haunted me and I couldn't get that damn popcorn out of my head! It was like it had some kind of spell over me. Seriously, it was weird. And then I became obsessed (as I often do with food) and I needed to have more of that popcorn in my life!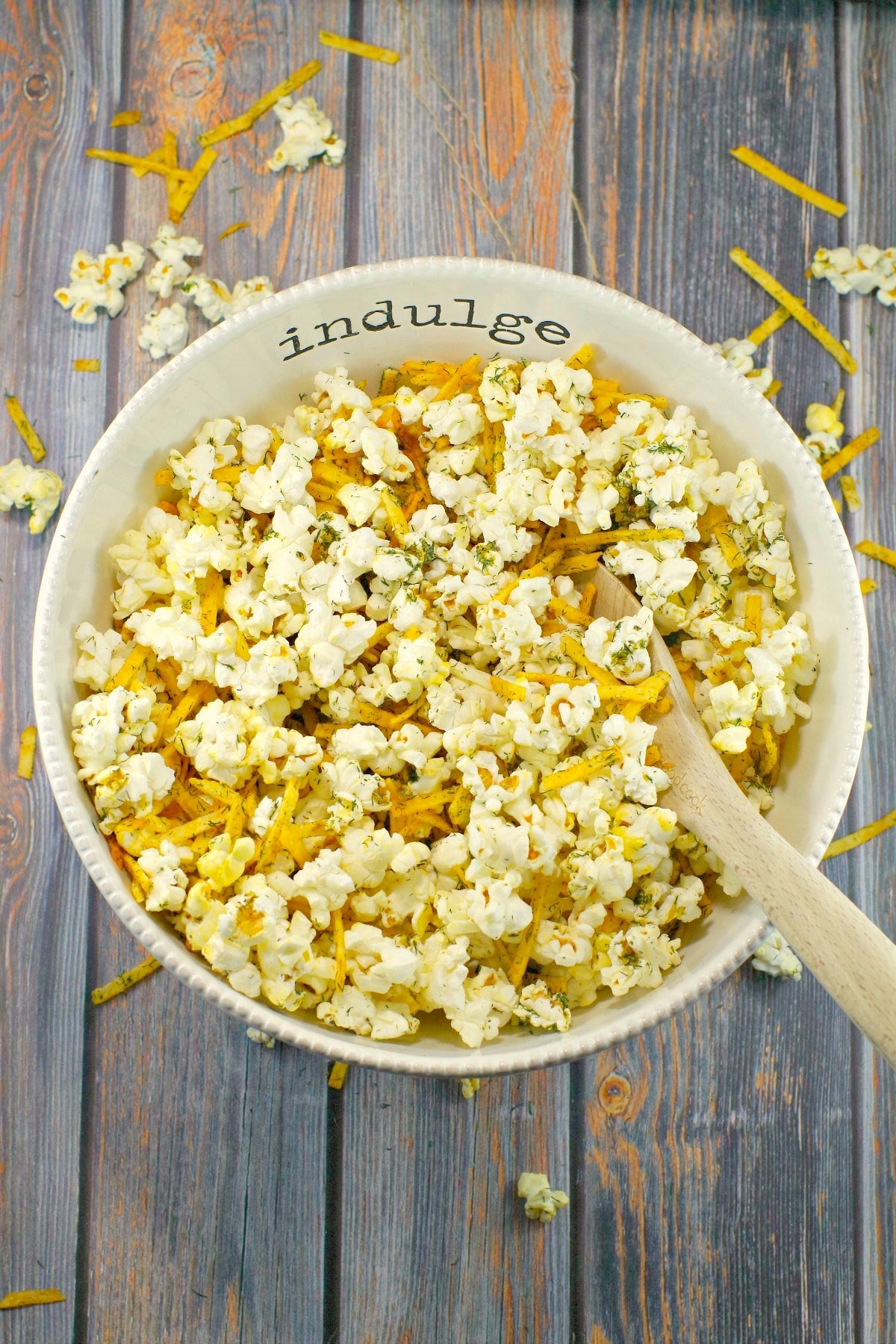 So I asked Karen for the recipe.
But when I got the recipe and looked at the steps involved and the time it took to make, I thought, "yeah right." No wonder she only made it once a year. I wouldn't be doing that. There was baking and turning involved. Not for me. Not for popcorn. But I was torn; I really needed to eat this popcorn again. So I decided I had to try to shortcut it.
Survival of the Shortest
I love shortcut recipes and in my world it's called SURVIVAL. There are very few time-consuming recipes in my life these days that survive unless they can be shortened. Every little bit I can shave off cooking time makes a huge difference. My Shortcut Borscht is a great example of just how delicious quick, shortcut homemade food can be; it's done in 30 minutes!
🔪 Instructions
So for this recipe, the first thing I did was shorten it by using microwave popcorn instead of air popping it. You could air pop it if you want, as I know there's a lot of concern over microwave popcorn these days, but I haven't owned an air popper in years. And then instead of baking it in the oven with the butter and Worcestershire, I just melted the butter in the microwave and added in the Worcestershire into the butter and sprinkled it on. There is no baking or turning in this recipe. You simply mix the topping together in a bowl and pour it over the popcorn.
🥘 Ingredients
In my house this savory popcorn flavoring recipe is now known as "Mommy's Special Popcorn" because I've been making it for years now; since the kids since were little. My kids love it and it's a movie night tradition. And since it isn't just plain old microwave popcorn and has other stuff in it, it's considered special....

For me, it's an indulgence. Hickory sticks are pretty much the same as eating potato chips, but in stick form and with hickory flavoring. I love the little guys, but they are not exactly low calorie or weight watchers friendly. But with this popcorn, I can enjoy some of them sprinkled throughout my light (smart popcorn) and get my fix. And it's still not nearly as bad as eating potato chips straight up! I also leave out the nuts from the original recipe because they really aren't necessary and only add extra calories.
Hickory sticks are a pretty Canadian thing, so I'm not sure how easy it is to find them outside of Canada. However, you can order Hickory Sticks HERE (affiliate link) through Amazon and believe me, if you've never had them, you need to try them!
For this recipe, you'll need:
microwave popcorn *you can use air popped popcorn
Hickory sticks *you can substitute Shoestring Potato Sticks
dill
Worcestershire sauce
lemon pepper
onion powder
garlic powder
butter, melted * you can substitute vegan margarine to make it dairy-free
So, if you want to know what to put on popcorn besides butter or you are looking for a creative popcorn flavoring recipe, this quick and easy Harvest Popcorn recipe is perfect!
I only worked at that job in Transition Services a couple of years and I managed to get some really great recipes during my stint there. But by far, this Savory Harvest Popcorn was the best! And the shortcut version is just as delicious and because, let's be real, there are much better ways to spend your time than baking and turning popcorn. So if you're looking for savory popcorn recipes, then give this a try!
If you are looking for unique snacks, give my Vegan and Gluten-free Parsnip Chips a try!
👪 Serving size
This savoury popcorn serves 8, but you can double the recipe for a bigger group (or if you just want more :)) by clicking on the blue servings number in the recipe card. Simply select the number of servings you'd like and ingredient amounts will adjust accordingly.
⭐ Reviews
Did you make this recipe? Please RATE THE RECIPE below!
Please SUBSCRIBE (get my FREE E-cookbook) and be sure to FOLLOW ME on FACEBOOK, TWITTER, INSTAGRAM and PINTEREST!

🍿Shortcut Harvest Popcorn Recipe
This Shortcut Harvest Savory Popcorn is a creative and unique savory popcorn seasoning recipe made with microwave popcorn, hickory sticks, dill, lemon pepper, garlic powder, onion powder, butter and Worcestershire sauce. 
Print
Pin
Rate
Instructions
Pop popcorn, as per package instructions, then add hickory sticks.

Melt butter in microwave for about 30-45 seconds (covered to avoid splattering), then mix worcestershire with butter.

Add a little bit of the butter, then sprinkle on half of each of the spices and mix. Then add the remainder of the butter and spices and mix.
Notes
👪 Serving size
This savoury popcorn serves 8, but you can double the recipe for a bigger group (or if you just want more :)) by clicking on the blue servings number in the recipe card. Simply select the number of servings you'd like and ingredient amounts will adjust accordingly.
NOTE: ** you can add more or less spices to your liking, as well as butter (although the butter will affect the calorie count)
My Amazon Recommendations (affiliate links)
Nutrition Facts
🍿Shortcut Harvest Popcorn Recipe
Amount Per Serving
Calories 143
Calories from Fat 90
% Daily Value*
Fat 10g15%
Cholesterol 7mg2%
Sodium 143mg6%
Potassium 360mg10%
Carbohydrates 11g4%
Protein 1g2%
Vitamin A 90IU2%
Vitamin C 4.1mg5%
Calcium 7mg1%
Iron 0.4mg2%
* Percent Daily Values are based on a 2000 calorie diet.
Nutrition
Calories:
143
kcal
(7%)
|
Carbohydrates:
11
g
(4%)
|
Protein:
1
g
(2%)
|
Fat:
10
g
(15%)
|
Saturated Fat:
2
g
(13%)
|
Cholesterol:
7
mg
(2%)
|
Sodium:
143
mg
(6%)
|
Potassium:
360
mg
(10%)
|
Vitamin A:
90
IU
(2%)
|
Vitamin C:
4.1
mg
(5%)
|
Calcium:
7
mg
(1%)
|
Iron:
0.4
mg
(2%)
Did you make this recipe?
Please leave a star rating and review below!
📋More Snack Recipes