"Warm." "Waaarmer" .... "Cold." "Warm." "Colder".... "HOT!" It was a ritual we went through every Easter as kids, as we hunted our living room for chocolate. Although, I'll admit that it started to feel a bit ridiculous as a 20-something. I love holiday traditions and the chocolate Easter egg hunt is one of them.

In fact, I loved it so much that when my husband (then boyfriend) and I started cohabitating, I wanted to keep the tradition alive. So, I hid chocolate for him every Easter morning, made him hunt for it and sort of forced him to do the same for me. Eventually he suggested that instead of hunting for the chocolates, we just give each other the chocolates. Handing each other huge bags of chocolate worked for a while....
But eating that much chocolate becomes problematic as you get older. And since the entire point of Easter is that you get some chocolate, I needed to find other chocolate Easter treat ideas. Hello 3 Ingredient S'more Easter Bunny Burrows!
Easter Treats
These easy S'more Easter treats are the perfect easy and quick Easter treat idea that you don't have to hunt your living room for. Because another problem with getting older is that you forget things, like, for instance, where you hid the chocolate Easter eggs.
No Bake Easter Dessert
All you need is 3 ingredients and an edible marker and these easy Easter treats will take you no time at all (15 minutes)! So, if you are looking for no bake Easter dessert ideas, Easter potluck ideas or Easter treat ideas for kids, or Easter food crafts for kids, these are perfect. Older kids can easily do this food craft.
This recipe calls for using an edible marker to draw the marks on the bunny paws so you don't have to fuss with fondant, like so many bunny burrow recipes require.
As a cake and cookie decorator, I have done a lot of decorating with edible markers over the years and these Americolor Food Writers are, by far, my favorite ones! They have a fine end that makes for precise decorating, you don't have to press hard with them, they have a nice color and they don't dry out quickly like some other brands do.
Forgotten Easter Treats
When we finally had kids the real fun began and I was back in the business of hiding eggs! But after a few of years of not being able to remember where I hid all the chocolate, I started to write down the hiding spots. I probably should have started that many years earlier because when we moved out of our first apartment, where our original Easter egg hunts began, I found a number of hidden and forgotten eggs.
My kids are getting older now and soon they will be too old for Easter egg hunts. And when that happens, I will gladly hand them bags of chocolate, as it will save me writing down where I hid it. Because I'm sure I'll find long forgotten chocolate eggs when we eventually move out of this house. Although this S'more Easter bunny burrow is perfect for kids, if you are at that age where eating tons of Easter chocolate is problematic (I'd say 25 and over), you may want to give this dessert a try!
Easy Easter Desserts
And if you are looking for other fun and easy Easter desserts you don't have to hunt your living room for, check out my NO Bake Easter Cream Egg Icebox Cake. It's the perfect Easter dessert because it's quick, easy and you get to use up your leftover Easter Cream eggs (or even buy more, which is just as good!)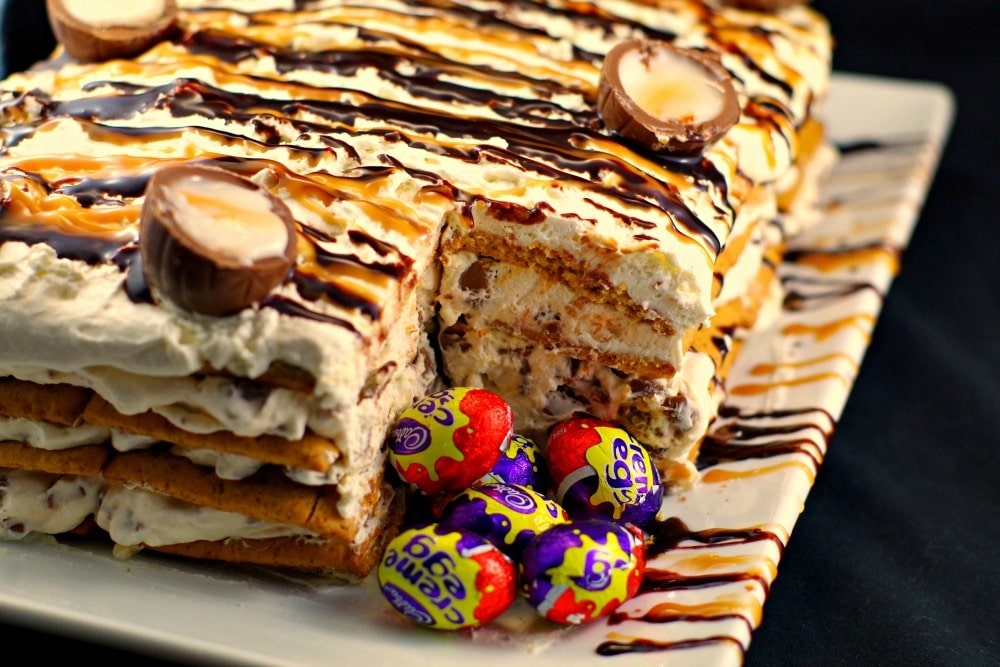 Print
3 Ingredient S'More Bunny Burrows
An easy no bake Easter treat for kids and adults alike! These 3 ingredient S'more Easter Bunny Burrows are the perfect Easter treat. Made with prepared snack pack pudding, marshmallows and chocolate graham wafers (or oreo cookies crumbs) they are a snap to throw together and make a great Easter craft for kids! Whether you bring them to an Easter potluck or whip them up for a treat at home, they are quick, easy and delicious!


Instructions
Add (approximately) 99 g container of chocolate pudding to a 200 ml (7 oz) plastic cups * you may only be able to find 92 g containers - as along as it's approximately the same amount

Then add about 3-4 mini marshmallows. Add a layer of crushed chocolate graham crackers (¼ cup). Then add another container of pudding and add a few more mini marshmallows, pushing them down into the cup so you can see them against the sides. Top with more crush chocolate graham crackers (¼ cup).
Assemble bunny butt:
Take a large marshmallow and roll it between your palms to make it as round as possible.

Take a mini marshmallow and cut into it from all sides, making tiny cuts, with clean/new scissors (I use a small pair of scissors I only use for food). ***SEE VIDEO IN NOTES

Stick the bunny tail onto the large marshmallow with a dab of water, as shown.

Flatten 2 mini marshmallows with your thumb

Trim the corners off and try to make it as round as possible, but it doesn't have to be perfect - you can cover any uneven edges with graham crumb or oreo'dirt'.

With your pink edible marker, draw a pink circle in the middle of the mini marshmallow, then draw 3 pink dots underneath, as shown.

Place the bunny butt in the middle of the cup and add the paws as shown in the photo. Repeat for remaining bunny burrows.
Notes
* Crush graham crackers in your food processor
VIDEO:
Nutrition Facts
3 Ingredient S'More Bunny Burrows
Amount Per Serving
Calories 288
Calories from Fat 63
% Daily Value*
Fat 7g11%
Cholesterol 1mg0%
Sodium 452mg20%
Potassium 117mg3%
Carbohydrates 52g17%
Protein 3g6%
Calcium 17mg2%
Iron 2.3mg13%
* Percent Daily Values are based on a 2000 calorie diet.
Nutrition
Calories:
288
kcal
|
Carbohydrates:
52
g
|
Protein:
3
g
|
Fat:
7
g
|
Saturated Fat:
2
g
|
Cholesterol:
1
mg
|
Sodium:
452
mg
|
Potassium:
117
mg
|
Fiber:
1
g
|
Sugar:
23
g
|
Calcium:
17
mg
|
Iron:
2.3
mg
Save
Saved!
This recipe is part of:
The Country Cook's Weekend Potluck
AND
Tasty Tuesdays Link-up Party at Creative K Kids