You either love them or you hate them. If you love green peppers, you will love this Stuffed Green Pepper Casserole (@ 6 WW points per serving on the blue plan).
But if you don't, you likely aren't reading this post anyway. However, if it's your kid(s) that hate them, there is hope.
Most kids don't inherently like green peppers because they are kind of bitter and really are an acquired taste. Getting kids to like or even accept particular foods takes a lot of effort; long, hard years of making them "try" things they instinctively recoil at (like onions). According to the National Centre for Infants, Toddlers and families, children may need to be offered a new food up to as many as 10-15 times before they will eat it. That's a lot of time investment.
Green pepper casserole
It took me 7 long years to get my kids to even consider eating onions, but it was worth every minute because I no longer have to listen to the whining and complaining when I cook with them. My strategy was simple – put onions in everything and make the kids pick them out. Laziness will eventually prevail; that is human nature.
I really dislike those little baby corns that come in salads, but I'll often just eat them anyway because I am lazy and it's easier than picking them out. And if laziness doesn't prevail, then you know you have a die-hard hater on your hands and at least you can respect that. After all those years of offering green peppers, my daughter now loves them. My son doesn't feel the green pepper love yet, but at least he will grudgingly eat them. He's too lazy to pick them out.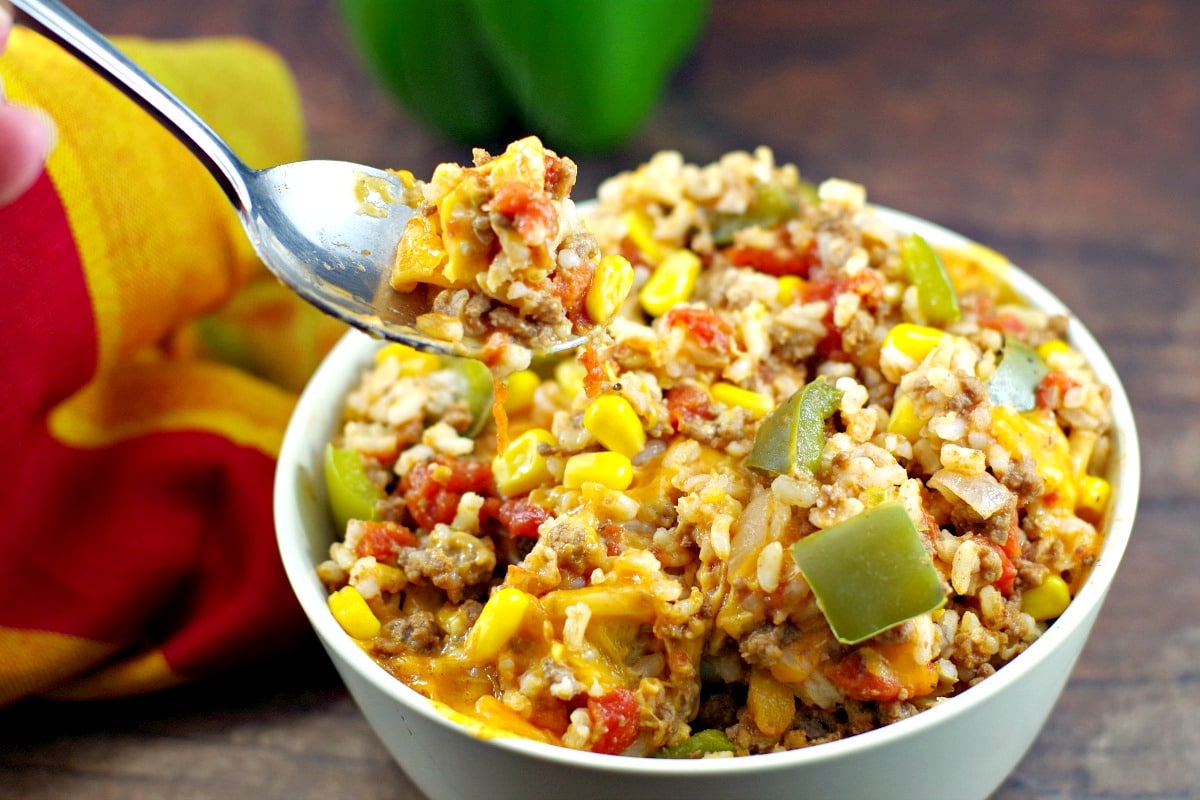 Unstuffed Pepper Casserole
Melted cheese helps!
Melted cheese helps. But then, doesn't melted cheese help everything? Melted cheese is like the chocolate of the savory world- it makes everything better. I use low-fat melted cheese in this Unstuffed Pepper Casserole, which reduces the fat and calories and makes no difference in taste. And that is only one of this healthy stuffed pepper casserole's many redeeming qualities! Just the fact that it's a casserole is yet another. I used to spend an inordinate amount of time individually stuffing green peppers when I could have been chopping them up and throwing them in a casserole – what was I thinking?! This "Unstuffed" Green Pepper Casserole is also made with instant rice, which makes it so much faster to prepare.
Weight Watchers Stuffed Pepper Casserole
So, if you are in the market for a delicious and healthy casserole that's also Weight Watchers friendly that can be made ahead and frozen for a quick weeknight meal, then you should try this Weight Watchers Stuffed Pepper Casserole. It's so good that it can even turn a hardcore hater into a green pepper fan!
Do you love my cheerful orange casserole dish in the photos?
It's actually a DUTCH OVEN. In fact, it's my very first dutch oven! Now I'm wondering where it's been all my life only wishing I had bought one years ago. I love that dutch ovens brown food on the sides when you are cooking on the stove top and then go straight to the oven. They are made of cast iron, then coated, so they also retain heat really well. They are heavy and last forever. BUT if you buy a color coated one (and why wouldn't you?!) just make sure you are very careful with it – the color can chip off pretty easily. You can learn more about the joys of dutch ovens HERE!
If you are looking for a dutch oven, here are my Amazon recommendations (affiliate links)
You may also like this Weight Watchers Casserole: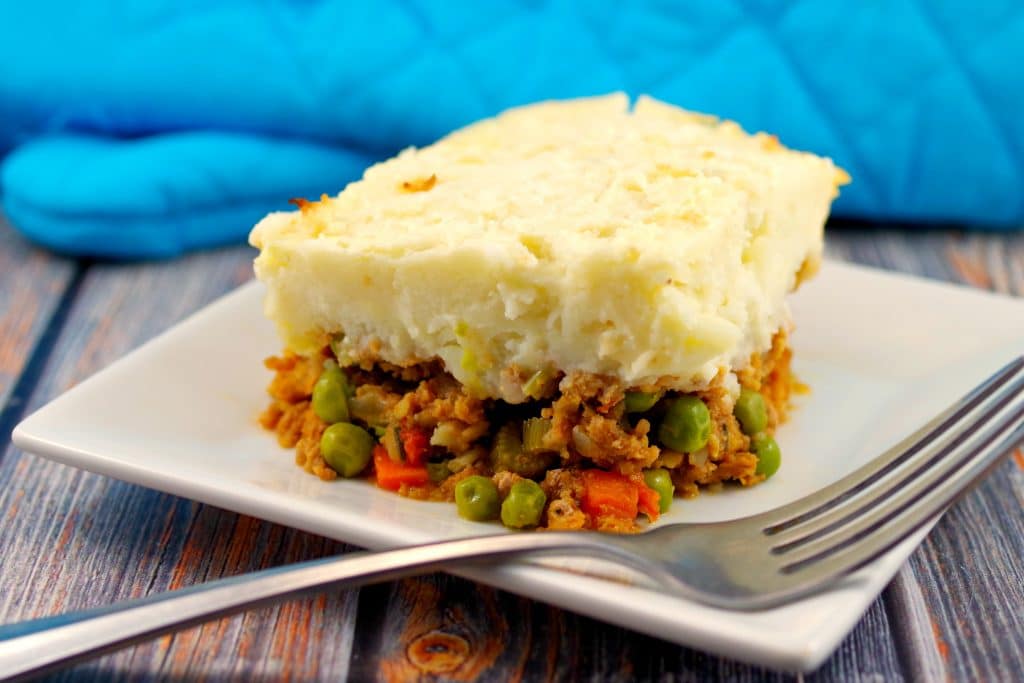 Print
Stuffed Green Pepper Casserole
This simple and delicious healthy and gluten-free Stuffed green pepper casserole, made with instant rice and lean ground beef is smothered in gooey melted cheese (low-fat), is easy to make and requires no stuffing! It can be made ahead and frozen for a quick weeknight meal. 6 WW points per serving on the blue plan.
Ingredients
4

cups

cooked instant brown rice

* I use Minute Rice

1

-lb

extra lean ground beef

3-4

large green peppers

, diced

½

cup

diced onion

1

-29 oz can

diced tomatoes

, drained

1

-14 oz can

corn

, drained

1

cup

ketchup

1

-10 oz can

mushrooms

½

tsp

minced garlic

2

cups

low-fat shredded cheddar sharp cheese

*
Instructions
Brown ground beef and onion in a large stock pot or dutch oven, then drain. You could also use a frying pan.

Boil chopped green peppers in water until soft (10-15 minutes). Drain. You could also cook them for about 5 minutes in the microwave. Cook rice in separate pot. * I use brown minute rice to make it quicker

Mix cooked rice, green pepper, ground beef and remaining ingredients (except cheese) together in stock pot, dutch oven or oven safe casserole dish.

Top with shredded cheese.Bake at 350 for 12-15 minutes or until cheese is melted.

Then turn it up to 500 degrees F and broil for 1-2 minutes until cheese is lightly brown and bubbly. Serve hot.
Notes
Nutrition Facts
Stuffed Green Pepper Casserole
Amount Per Serving
Calories 226
Calories from Fat 36
% Daily Value*
Fat 4g6%
Cholesterol 32mg11%
Sodium 388mg17%
Potassium 383mg11%
Carbohydrates 27g9%
Protein 17g34%
Vitamin A 300IU6%
Vitamin C 30.3mg37%
Calcium 115mg12%
Iron 1.8mg10%
* Percent Daily Values are based on a 2000 calorie diet.
Nutrition
Calories:
226
kcal
|
Carbohydrates:
27
g
|
Protein:
17
g
|
Fat:
4
g
|
Saturated Fat:
2
g
|
Cholesterol:
32
mg
|
Sodium:
388
mg
|
Potassium:
383
mg
|
Fiber:
2
g
|
Sugar:
6
g
|
Vitamin A:
300
IU
|
Vitamin C:
30.3
mg
|
Calcium:
115
mg
|
Iron:
1.8
mg
This recipe is part of the Country Cook's Weekend Potluck!