It was 1975 and the year my Mom got a hockey puck for Mother's Day. If only the internet existed back then, Mom could have had This Cupcake flower pot filled with pudding and oreo cookies for Mother's Day instead.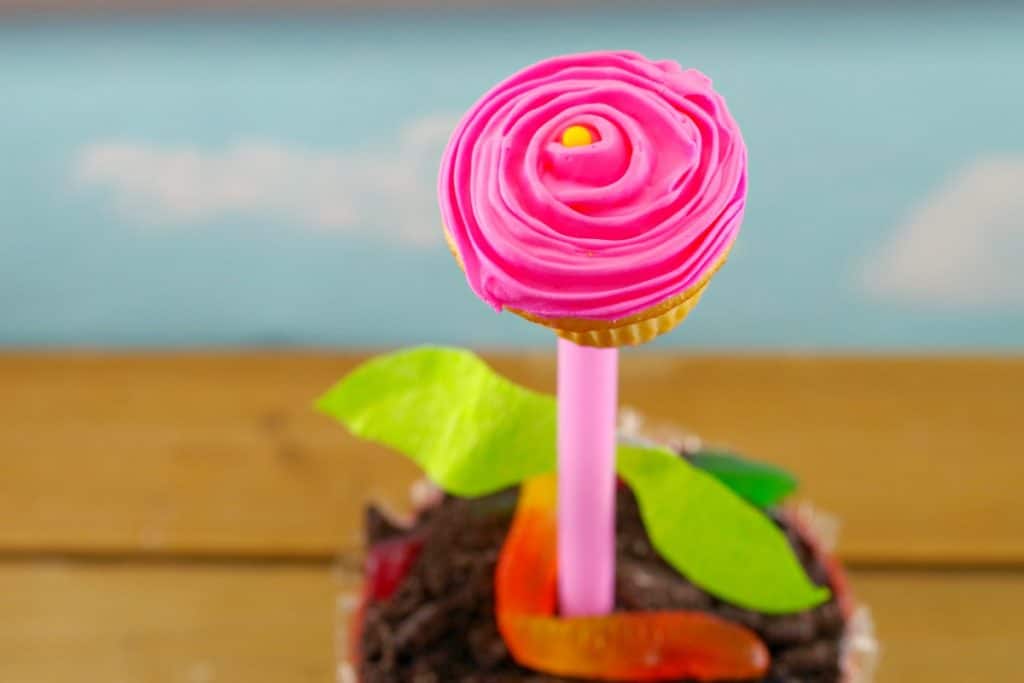 Fortunately for you, the internet exists and YOU can have this! If you are looking for easy Mother's Day gift ideas DIY that kids will have a blast making, slip this under Dad's pillow. Believe me, simply hinting is too subtle. However, if you are a Dad reading this, you'll want to print this out and make these for Mom with your kids. Trust me, these Cupcake flower pots are the perfect easy Mother's Day gifts that older kids can do on their own and little kids can do with Dad's help.
Although I thought Mom gave a stellar performance, feigning her excitement and appreciation for the hockey puck that year, I thought it was a little over the top, especially considering it was a used hockey puck.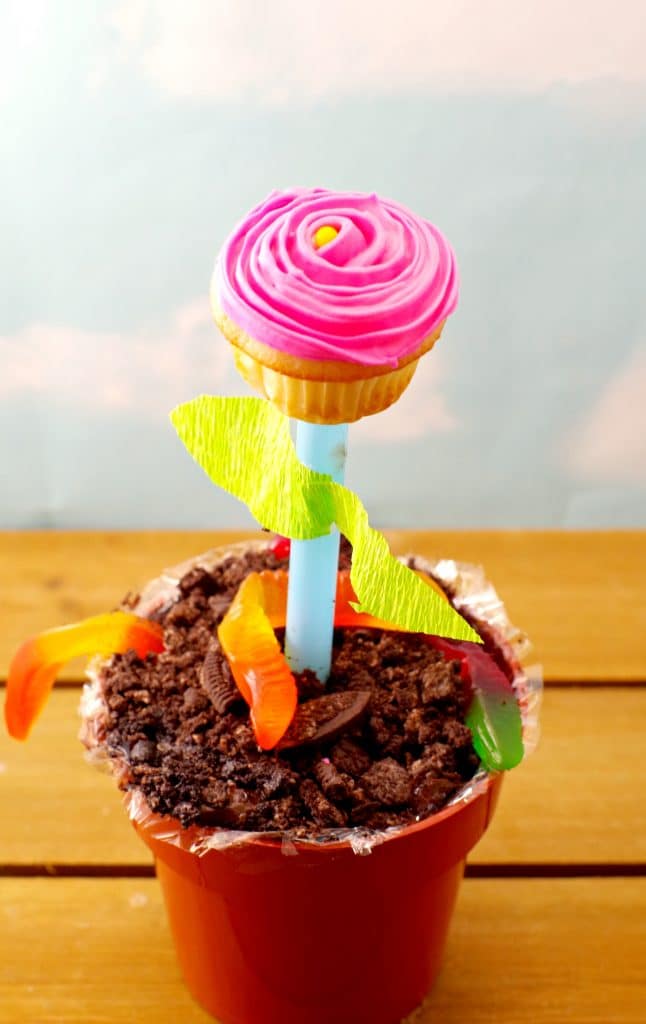 Little did I know, her reaction was indeed genuine, and sincere. And that when you become a mother, things change. And some things are just not as important as they once were; like gifts.
Meaningful Mother's Day Gifts
It's hard to explain this to someone who doesn't have kids. It's hard to explain a lot of things about having kids to someone who doesn't have them. Like how getting a used hockey puck was probably one of the most meaningful gifts mom ever received. And I had zero understanding of that myself, until I became a mother too.
My little brother Danny, the giver of this priceless hockey puck, was about 4 years old at the time and just discovering the concept of giving. He would wrap up pretty much anything he cherished and altruistically share it with those that he loved. My kids did the same thing at that tender age and I remember it with such heartfelt nostalgia. It's such a special time in a child's development; where they begin to think beyond themselves. And as a parent, it's an incredible and beautiful thing to witness unfolding. I'm forever grateful to have had that experience. If you know me, you'll know I was told I couldn't have kids at all, so I am, as I said, forever grateful....
Flower Pot Cupcakes: An edible spring craft:
And because I am lucky enough to be a Mom, I get to do baking, cooking and crafts with my daughter's Girl Guides group~! We did these DIY cupcake flowers as an edible spring craft and they loved it! My daughter is 10 and she made the cupcake flower in all these photos - she did an amazing job and I'm so proud of her!
And if memory serves me correctly, I believe we all got a used hockey puck for Christmas the year my brother was 4. But obviously, it didn't hold the same meaning for me as it did for Mom. But that would have been hard for her to explain, especially to a kid.
Happy Mother's Day!
Print
Cupcake Flower Pots : An edibly DIY Mother's Day gift
These Cupcake Flower Pots are an edible DIY Mother's Day Gift that kids can make! They also make a great spring craft. This tutorial and recipe uses a simple mini vanilla cupcake, store-bought icing and pre-made pudding and cookies, with the result being a beautiful gift for Mom or DIY craft treat for the kids!
Servings
15
cupcake flower pots
Ingredients
Super Easy White Mini Cupcakes:
1

cup

all-purpose flour

½

cup

white granulated sugar

½

tablespoon

baking powder

dash of

salt

½

cup

milk

¼

cup

canola oil

1

egg

½

teaspoon

vanilla extract
Icing:
4

12 ounce

containers of whipped vanilla icing

I use Betty Crocker whipped vanilla

½

teaspoon

rose or pink icing color

* amount you add will vary, depending on color you want to achieve

1

1.8 ounce

container yellow jumbo nonpareils
Flower pot "dirt"
45

3.25 ounce

chocolate pudding snack pack containers

*This ingredient link is just to show you, but Walmart carries the full chocolate packages of 12

5

19.1

family packages of oreo cookies

(10 cookies each)
Supplies:
1

roll

green crepe paper/streamers

1

bottle tacky clear glue

( some kind of strong, clear glue)

15

milkshake straws

(or other thick straws)

2

1M tip

kids can share

1

package

disposable pastry bags

1

package

saran wrap

15

large

ziplock freezer bags

3

rolling pins

1

package of mini cupcake liners

15

plastic flower pots

1

mini cupcake/muffin pan
Instructions
Make the Cupcakes:
With the rack in the middle position, preheat oven to 180 °C (350 °F). Line mini muffin/cupcake tin with mini muffin/cupcake liners.

In a large bowl, combine the flour, sugar, baking powder, and salt. Add the remaining ingredients and combine using a whisk or an electric mixer until the batter is smooth. Pour the batter into mini muffin/cupcake tin, filling to ¾ full only.

Bake the cupcakes or about 13- 15 minutes or until a cake tester or toothpick inserted in the centre of the cake comes out clean.

While the cupcakes are baking, begin to prepare the rest of the craft.

When cupcakes are done, let the cupcakes cool on a wire rack.
Flower pot 'dirt':
Line a plastic flower pot with saran wrap.

Pour 3 chocolate snack pack puddings inside.

Add 10 oreo cookies (per flower pot) to a large ziplock bag and close the bag. Then crush into small chunks with a rolling pin. It is best to do this step on the floor.

Pour the crushed oreos on top of the pudding.
Stem:
Cut 2 leaf shapes out of the crepe paper. We just did this free-hand, as it's pretty simple.

Glue leaves onto straw with tacky glue (or a strong clear glue).

Place straw (stem) into flower pot.
Ice cupcake:
Color the icing (if desired). I used a pink icing color. Then fit pastry bag with IM or 2D tip and ice in circular motion, beginning in the middle of the cupcake and moving towards the outer edges, turning the cupcake as you pipe.

You will have additional cupcakes, but some may break, not go on correctly etc... And it's nice to have extra cupcakes for the kids to eat!

See VIDEO INSTRUCTIONS IN NOTES on how to ice a cupcake if you're not sure how to ice a cupcake with a IM tip. *** USE THE ROSE SWIRL

Place the candy decoration in the middle of the rose
Assembly:
Cut a hole into bottom of the middle of the cupcake with a sharp knife. Make sure that it's not too big- you can always make it a little bigger if it doesn't go on the first time, but you can't make it smaller. 

Place cupcake on top of straw.

Trim excess saran wrap from edges of pot.

Add gummy worms. You are done!
Notes
NOTE: Video: HOW TO ICE A CUPCAKE ** USE THE ROSE SWIRL
This recipe makes 15 so it can be made with a group of kids. However, it can be easily reduced to make with a couple of kids.
If you want to use a homemade icing, this Whipped Cream Buttercream Frosting is the perfect choice!
Nutrition
Calories:
771
kcal
|
Carbohydrates:
124
g
|
Protein:
10
g
|
Fat:
28
g
|
Saturated Fat:
8
g
|
Cholesterol:
11
mg
|
Sodium:
616
mg
|
Potassium:
330
mg
|
Fiber:
3
g
|
Sugar:
71
g
|
Vitamin A:
30
IU
|
Calcium:
56
mg
|
Iron:
10.9
mg
Save
Saved!
This post is part of Tasty Tuesdays Link-up Party Blogghetti
&