I am a caviar girl on a bologna budget and fresh water fish is not always a viable option. So... looking to trim the food budget, I reluctantly bought a very large $10.00 bag of frozen sole at Superstore (to try it) and made these easy and healthy fish tacos with slaw.

I don't like that 'fishy taste' that often accompanies salt water fish, so I tried this food hack, where you soak the fish milk to remove the fishy taste and it worked! So if you want to get rid of that 'fishy' taste you get from salt water fish and save money, use frozen fish and defrost fillets in MILK. Yes, this really works! I didn't even think I would like fish tacos, much less LOVE them. Because of this little food hack, now I do!

Easy Fish Tacos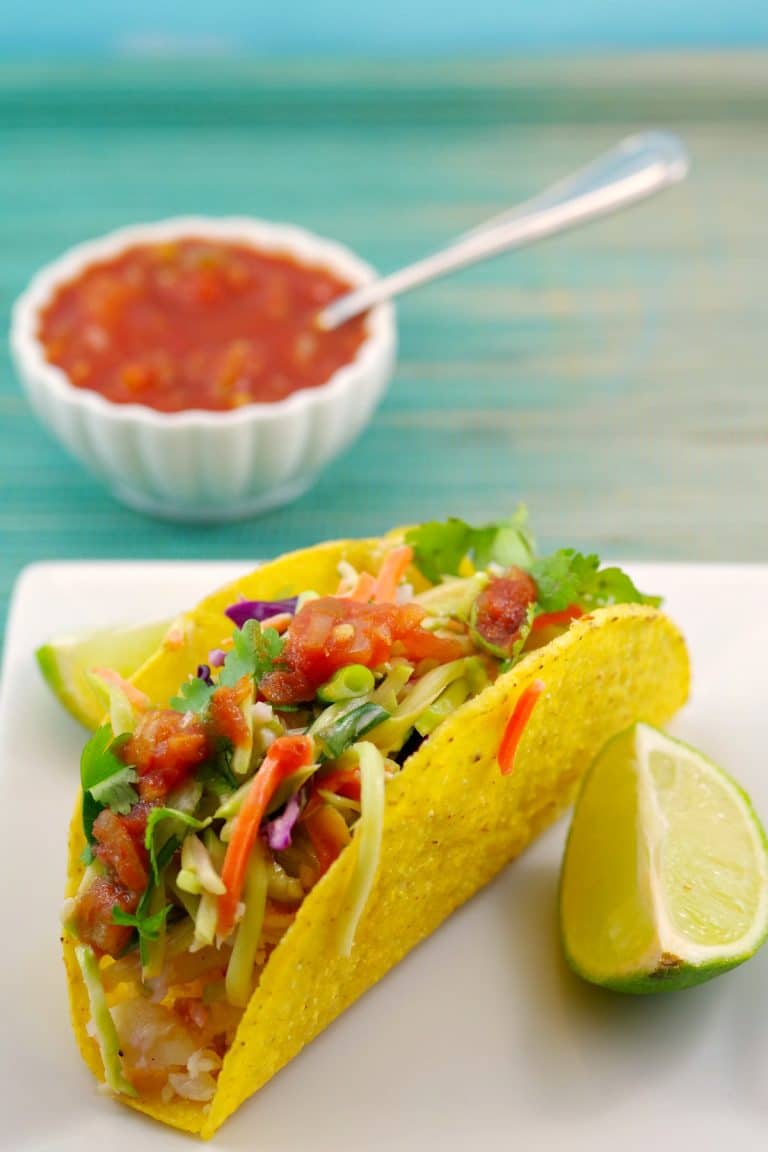 You don't need to use expensive fresh fish to make amazing and easy fish tacos. And I mean AMAZING - we ate this recipe for fish tacos for dinner 3X this week~!
Never having been a fan of sole or any salt water fish for that matter, I had little hope that I would ever actually enjoy eating salt water fish, much less frozen salt water fish. In fact, I envisioned choking it down (likely with some wine) and consoling myself with the notion that perhaps I could lose a few pounds during this money-saving journey.
How to remove fishy taste from salt water fish: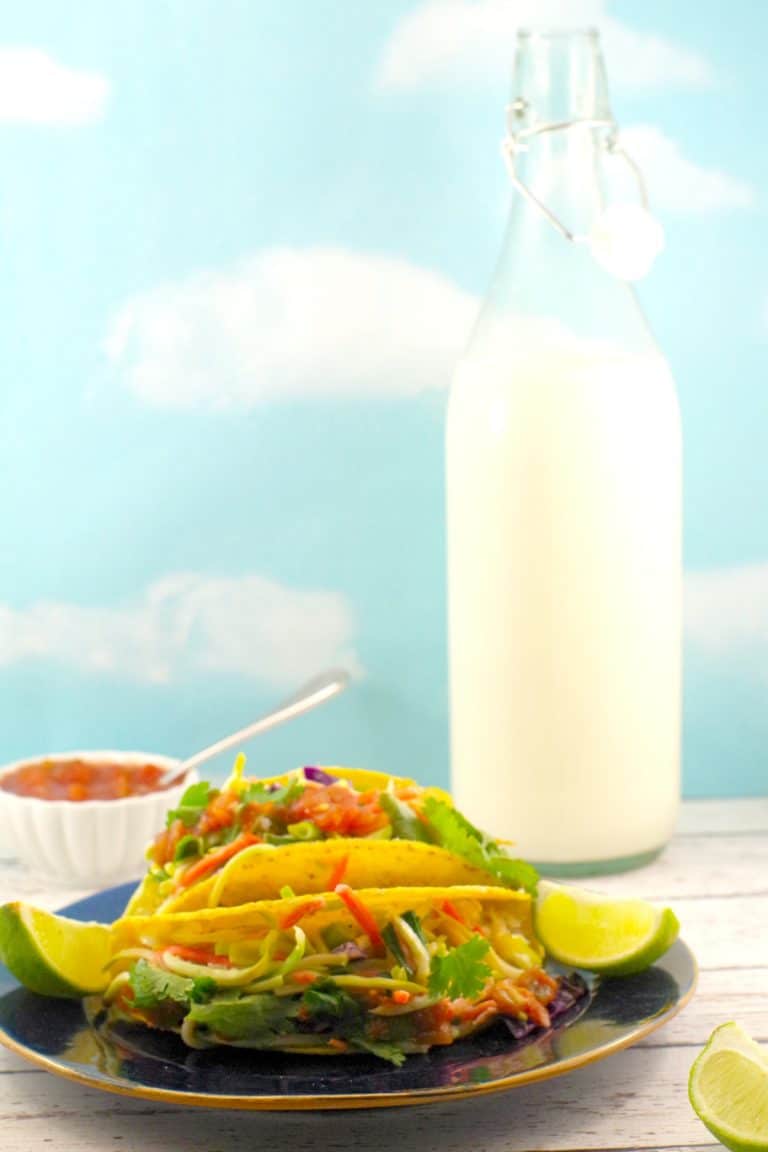 I really can't say that, even for a minute, I thought this little food hack would actually work. Because, if this worked, then why hadn't I heard of this years ago??! Or wait a minute....
MAYBE THERE ARE PEOPLE OUT THERE WHO ACTUALLY LIKE THAT FISHY TASTE?
I found that hard to fathom. But it could be true. Yet, there must be millions of others just like me who hate that fishy fish taste? I guess I just assumed nothing could be done so I really never made an effort to search for a solution and simply avoided salt water fish. But after giving up on fishy fish forever, I am now back in the salt water fish game!
Healthy Fish Tacos
So, if you want to eat a healthy, delicious easy dinner recipe, while saving money on food, then give this recipe for healthy fish tacos and milk trick a try!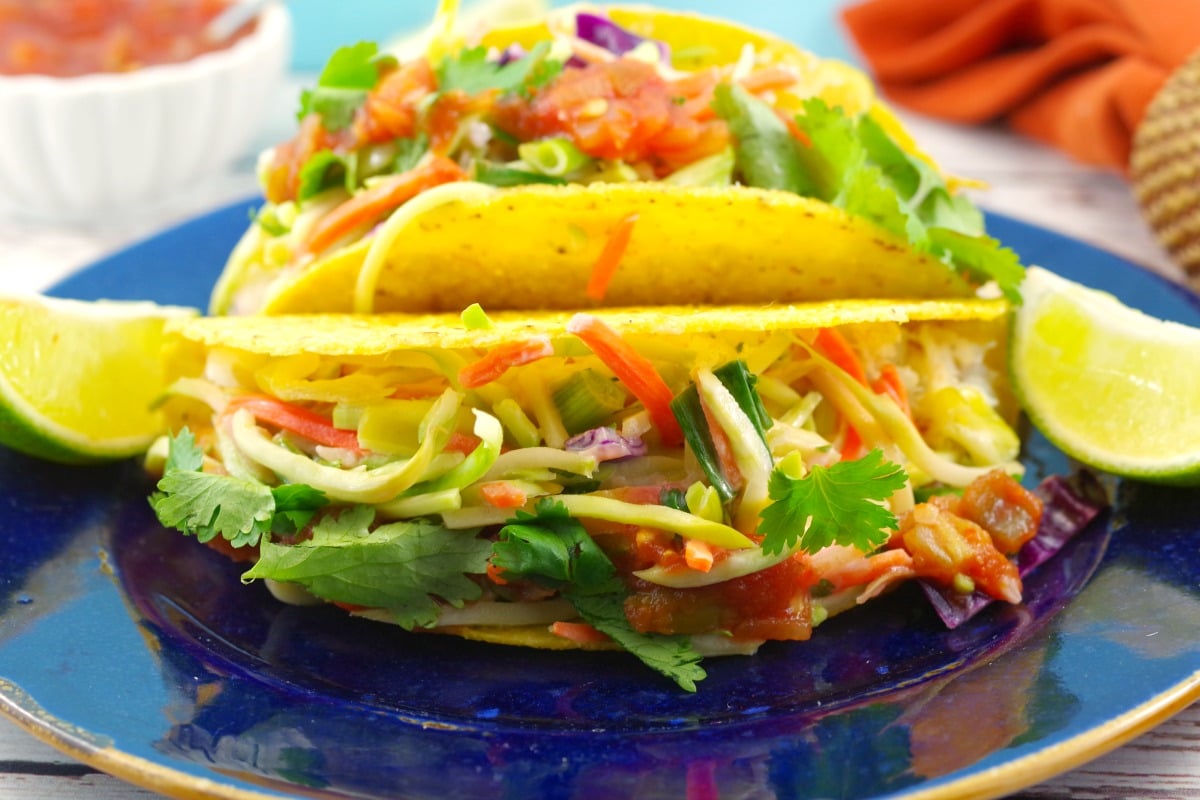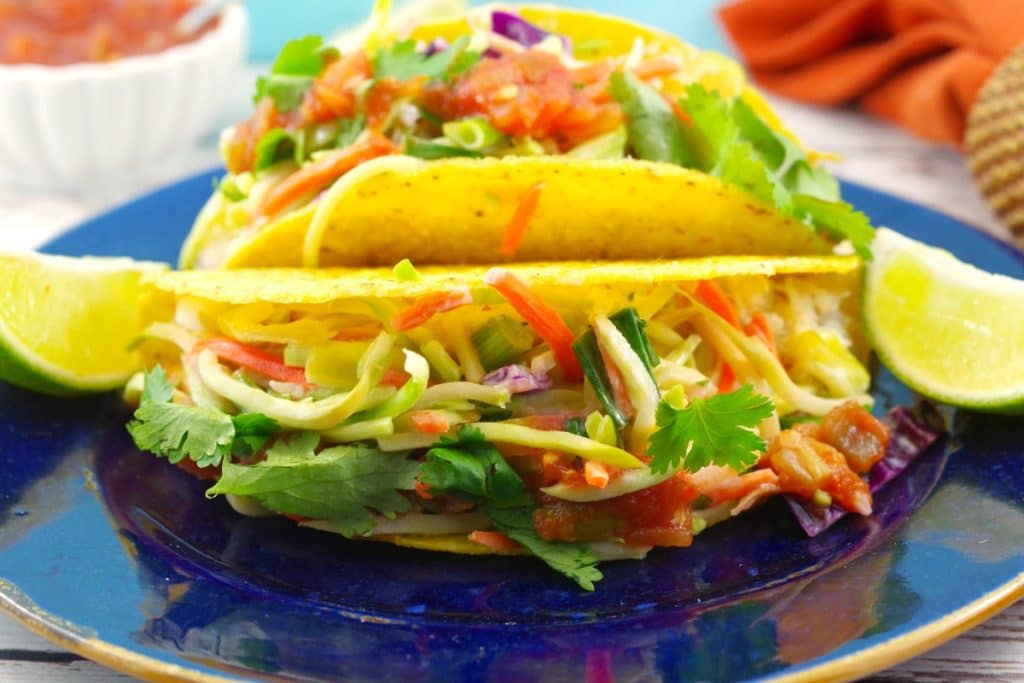 If you like this recipe, you may like my Two Cheese Tuna Mexi Melts: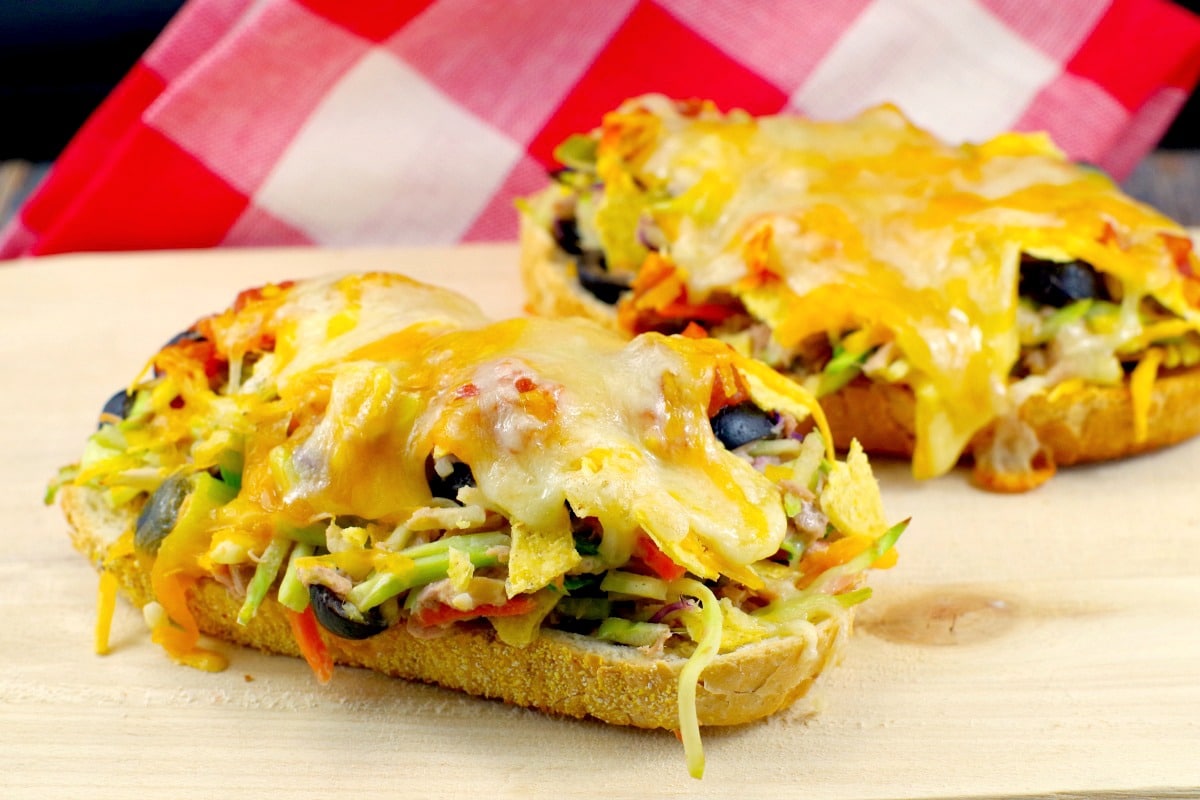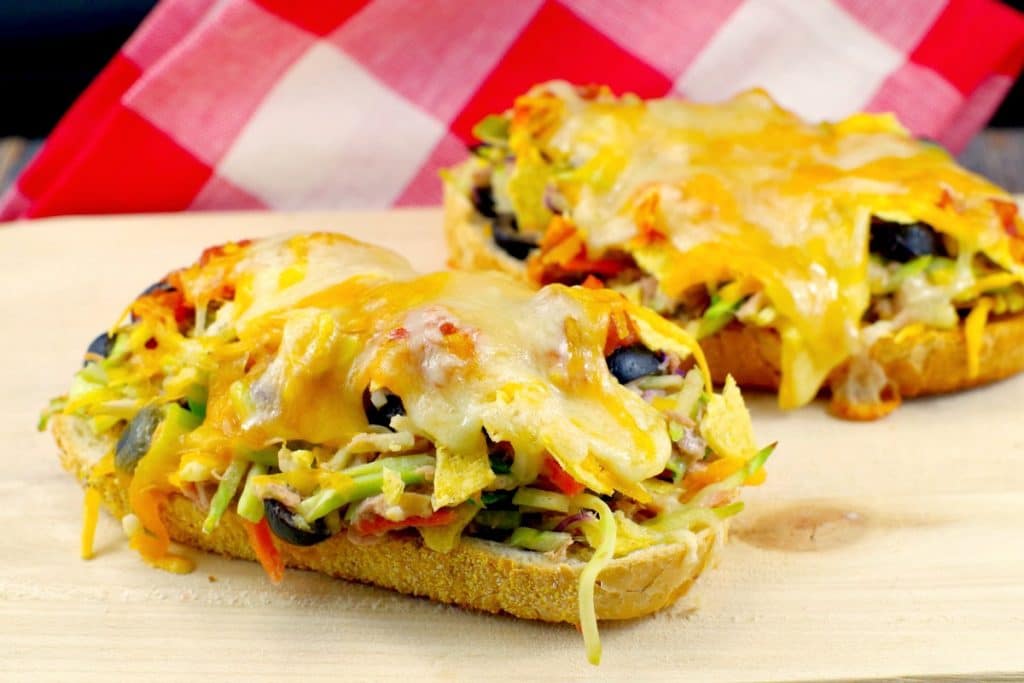 Print
Easy & Healthy Fish Tacos Recipe
This easy, healthy fish taco recipe uses milk to eliminate that fishy taste from sole and other saltwater fish.  Non -fishy salt water fish, paired with a fish taco slaw, fresh lime, cilantro and salsa, is the perfect healthy and weight watchers friendly meal @ 4 WW blue points per serving ! Fresh and delicious, it also saves you money by using inexpensive frozen fish. 
Ingredients
For the fish:
3-4

cups

of milk

for soaking/defrosting

½

tsp

salt

¼

tsp

freshly ground pepper

¼

tsp

cajun seasoning

1 ½

pounds

sole or other salt water fish
Garnish
cilantro leaves to garnish

lime wedges to garnish

Salsa to garnish
Instructions
Defrost the fish pieces in a shallow pan (bottom of a broiler pan or large cake pan or roaster for 1-1.5 hrs) covered in milk (I used 2% milk) and flip halfway through the defrosting if the milk isn't completely covering the fish. I defrosted it on the counter, but you could put it in the fridge. You could do this overnight in the fridge, as well.

Once fish is fully defrosted (which should only take 1-1.5 hrs) on the counter, prepare the fish: Drain the milk, then pat the fish dry with paper towels (you will need quite a few).

Heat non- stick pan to medium-high and fry fish, sprinkling salt, pepper and cajun seasoning. Cook until there is some browning on bottom, then reduce to medium-low, Break apart as you cook and cook until flaky (about 10 - 15 minutes)

To prepare the slaw, place the coleslaw in a bowl and sprinkle with ¼ teaspoon of salt. Whisk together the minced garlic, lime juice, agave and mayonnaise and add to coleslaw. Pour over the broccoli mix and toss to combine. Mix in tamed jalapenos or peperoncini.

Meanwhile, soften the tortilla shells (if using hard), by placing them in the microwave for 5-10 seconds.

Serve the fish on a platter with the tortillas, slaw, cilantro, avocado, lime, and salsa on the side ( or in separate bowls), letting each diner assemble his or her own tacos.
Notes
Add 1.5 hrs for defrosting fish
 

Nutrition Facts

Easy & Healthy Fish Tacos Recipe

Amount Per Serving

Calories 168

Calories from Fat 63

% Daily Value*

Fat 7g11%

Cholesterol 39mg13%

Sodium 567mg25%

Potassium 214mg6%

Carbohydrates 13g4%

Protein 12g24%

Vitamin A 150IU3%

Vitamin C 8.9mg11%

Calcium 40mg4%

Iron 0.6mg3%

* Percent Daily Values are based on a 2000 calorie diet.

 
Nutrition
Calories:
168
kcal
|
Carbohydrates:
13
g
|
Protein:
12
g
|
Fat:
7
g
|
Saturated Fat:
1
g
|
Cholesterol:
39
mg
|
Sodium:
567
mg
|
Potassium:
214
mg
|
Fiber:
1
g
|
Sugar:
1
g
|
Vitamin A:
150
IU
|
Vitamin C:
8.9
mg
|
Calcium:
40
mg
|
Iron:
0.6
mg
Save
Saved!