As soon as I tasted this Pico de Gallo Salsa, I knew I had to have it again! It tasted so fresh and delicious, but it was the cilantro that stole my heart... I hadn't had a lot of exposure to cilantro at that point in my life and I was smitten.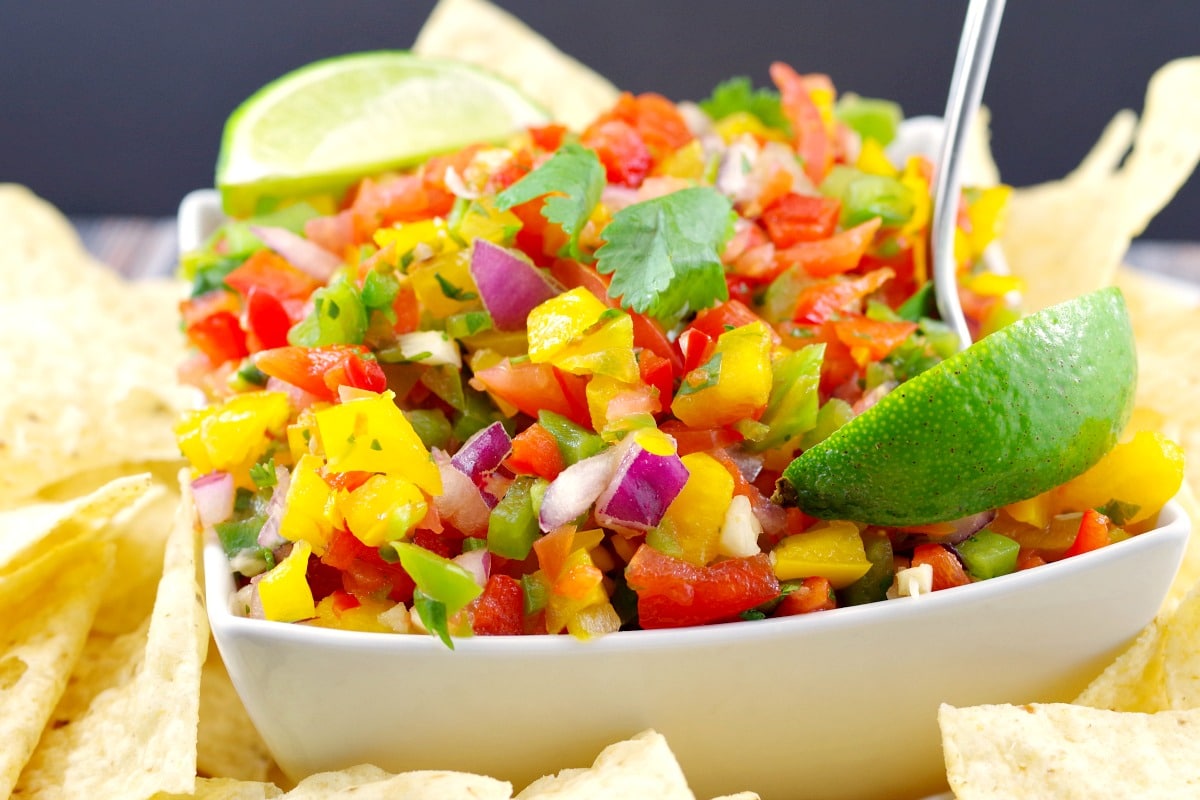 This salsa is not only fresh and delicious, it's 0 (ZERO) WW points on the blue plan!
Jump to:
People who hate cilantro say it tastes like soap or metal or something equally awful. To me it tasted like well, heaven... fresh morning rain and all the yumminess and freshness that exists in this strange and beautiful world! And for years I did not even know that cilantro haters existed. And when I found out they did, I could not, for the life of me, even begin to understand how anyone could hate cilantro! Until one day when I actually caught a glimpse of what they were tasting...
💭Why you love or hate cilantro?
Apparently genetics are the reason some people love or hate cilantro. You can read more about cilantro love and hate here. But I have also read that you can learn to like it or at least not feel repulsion for it. Yet I never imagined the opposite; that you could grow to dislike it. After my experience, I was afraid that I'd done that to myself.
I don't even remember who gave me this glorious Fresh Salsa recipe, but it was served with nacho chips at a soccer wrap -up party I went to several years ago. I asked for the recipe but sadly, when I got home, I discovered that it was a barely legible scribbled list of ingredients, with no amounts (what do you expect at a party, right?) So, I did what any food obsessed person would do- I got to work trying on finding the perfect ratios for the perfect pico de gallo recipe! By the way, besides cilantro, 3 kinds of peppers are the secret to this delicious dip!
It doesn't take long to make your own and it's sooo worth it! I use this Homemade Pico de Gallo on anything I'd use regular salsa on. I put it on my eggs, fish tacos, chicken quesadillas , on nachos or for just dipping plain nachos chips. And it's ZERO Weight Watchers freestyle points. So why not treat yourself on weigh day (after you've weighed of course) and load up some nachos with it, with extra salsa for dipping! I load my nachos with light (low-fat) cheddar cheese, black olives, green onions, jalapenos and lots of this pico de gallo, served with sour cream and guacamole on the side!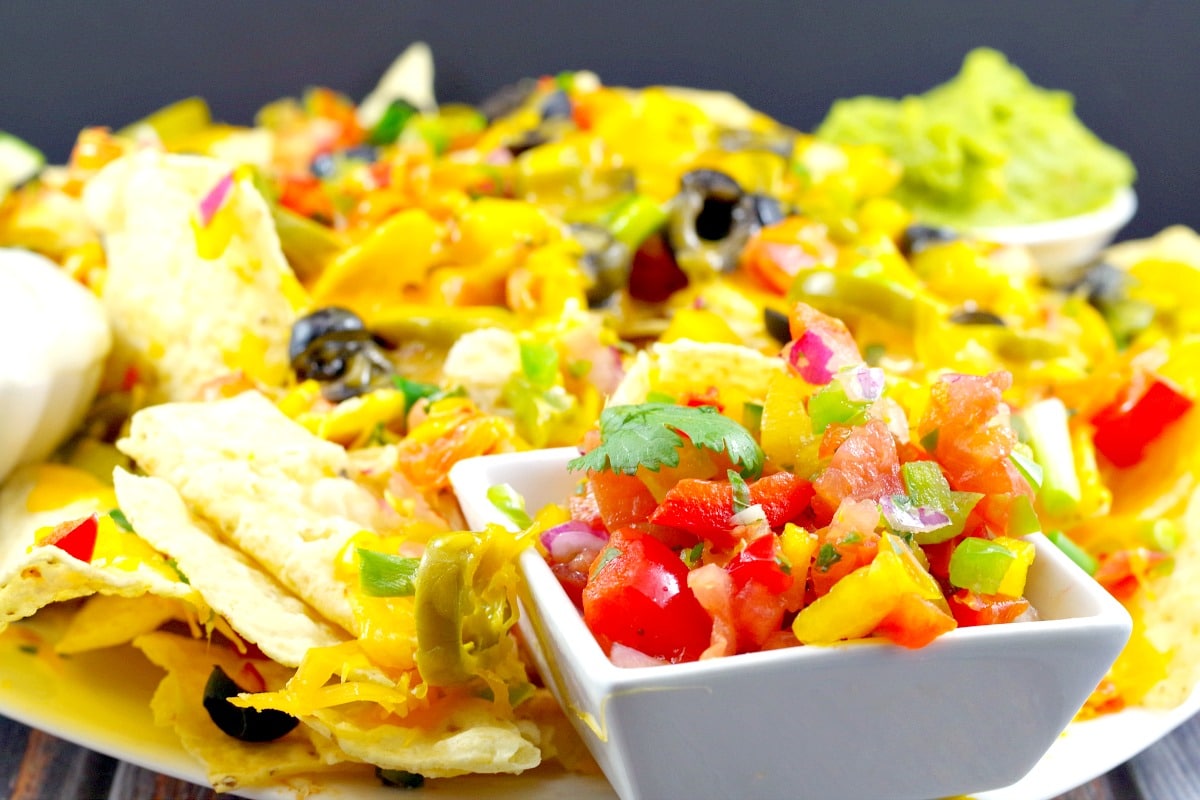 💭Pico de Gallo vs. Salsa
Pico de gallo, also known as salsa fresca, is actually a type of salsa, but it's a fresh, uncooked mixture of chopped tomatoes and onions, cilantro, fresh chiles, lime juice, and salt. Although the ingredients for salsa and pico de gallo can be nearly identical, what sets them apart is their texture and whether the ingredients are cooked or uncooked.
Salsa means "sauce" in Spanish and it refers to cooked or fresh sauce mixtures. Some salsa recipes use the diced ingredients, while others are more of a saucy/ purée consistency. And some salsas are cooked, which gives them a more savory tomato flavor that differs from the always-fresh pico de gallo. Although, there are many varieties, including fruit salsa, salsa verde and variations that include corn and beans.
While traditional salsa has a thinner consistency with more liquid, pico de gallo has a chunky texture. Many salsas are cooked, emphasizing the tomato flavor that isn't present in pico de gallo. You can read even more about the differences HERE! Hence the reason I call this recipe Pico de Gallo Salsa!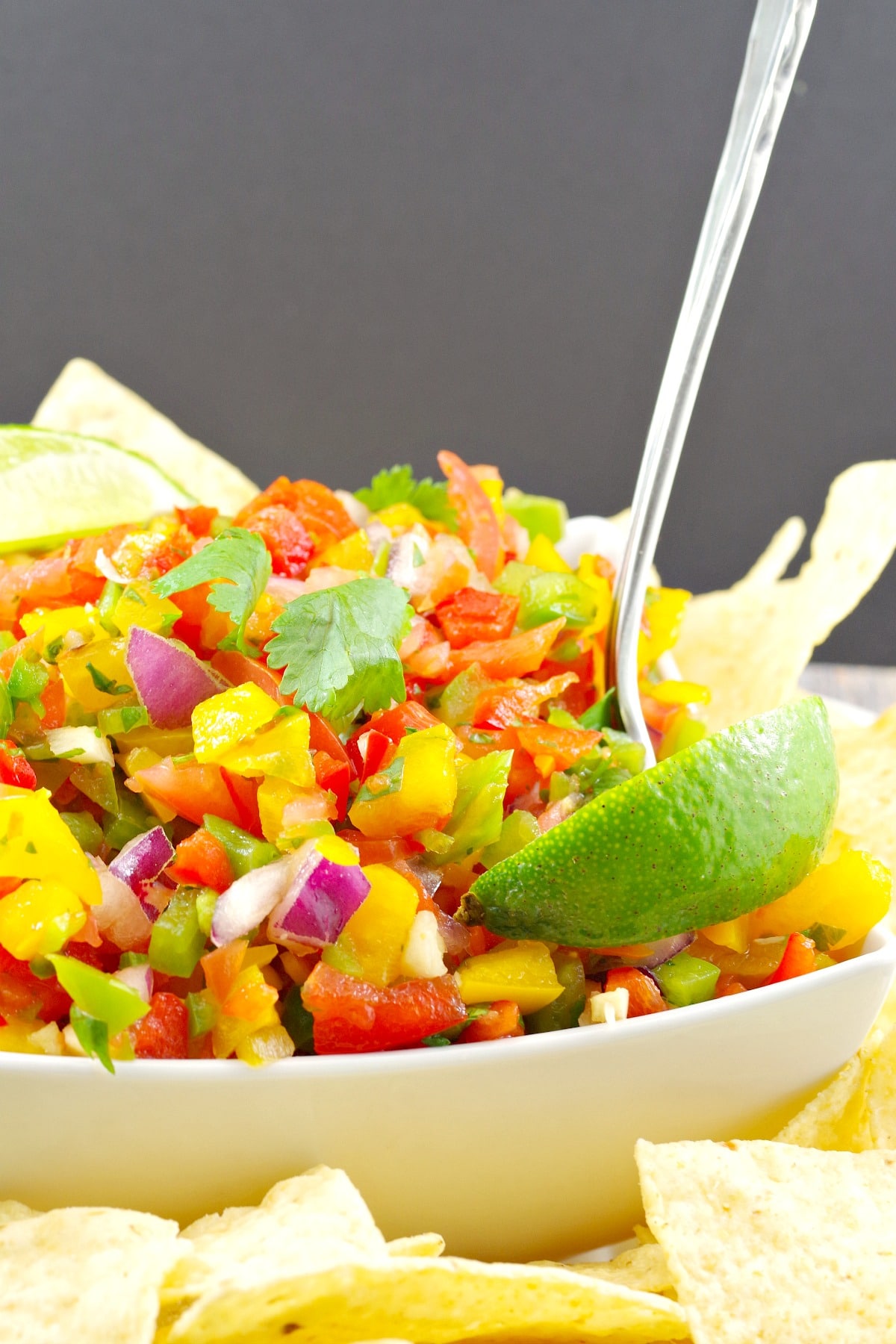 I LOVE Cilantro!
And I want to keep on loving it! What I have learned is that more is not always better- especially when it comes to cilantro. My son and husband like cilantro, but always said I went a little bit too crazy with it, to the point where it often overpowers my recipes. And I didn't understand how anyone would have a problem with that until one day I did...
I have read articles that claim you can grow to like cilantro (although the one I linked to here doesn't support that notion.) But I've never read anywhere that you can grow to dislike cilantro. But I actually had a scare when I had too much of it and I got a shot of that "soapy" taste the haters were always referring too. And it was not good!
I guess 'too much of a good thing' is actually a saying for a reason. And since I'm not prepared to take any chances and don't want to ruin a good thing, I've been a lot more moderate with cilantro since that experience. How often is something this good for you so heavenly tasting? I prefer to keep it that way. I always want to love my beloved cilantro.
Lesson learned.
What about you? Do you LOVE or HATE cilantro?
⭐ REVIEWS
Print
📋 Pico de Gallo Salsa Recipe
This healthy Pico de Gallo Salsa Recipe or Salsa Fresca is chock-full of fresh, chunky, diced tomatoes, red onions, peppers and cilantro, with just the right amount of spice! It's also ZERO  (0) Weight Watchers freestyle smart points!
Ingredients
½

jalapeno, chopped

juice of

2

limes

½

red onion, chopped

4

tomatoes (roma), chopped

2

tablespoon

fresh cilantro finely chopped

1

small

red pepper, chopped

* or ½ of a large pepper

1

small

yellow pepper, chopped

* or ½ of a large pepper

1

small

green pepper, chopped

* or ½ of a large pepper

½

teaspoon

salt

3-4

cloves

garlic, minced
Instructions
Mix all ingredients together in bowl.
Notes
*NOTE: if you have never chopped fresh jalapenos before, I recommend wearing food safe gloves. Either way, be very careful and don't touch your mouth,  nose or eyes (they will burn) during the preparation process (try not to touch the inside of the pepper). If your hands begin to sting, soak them in milk. 
My Amazon Recommendations (affiliate links)
Nutrition Facts
📋 Pico de Gallo Salsa Recipe
Amount Per Serving
Calories 16
% Daily Value*
Sodium 148mg6%
Potassium 132mg4%
Carbohydrates 3g1%
Vitamin A 550IU11%
Vitamin C 35.3mg43%
Calcium 7mg1%
Iron 0.2mg1%
* Percent Daily Values are based on a 2000 calorie diet.
Nutrition
Calories:
16
kcal
|
Carbohydrates:
3
g
|
Sodium:
148
mg
|
Potassium:
132
mg
|
Sugar:
1
g
|
Vitamin A:
550
IU
|
Vitamin C:
35.3
mg
|
Calcium:
7
mg
|
Iron:
0.2
mg
Save
Saved!
🍲More Zero (0) Point WW Recipes!
Everything Bagel Cloud Bread Recipe
Sugar-free Pure Fruit Popsicles