I love that my kids are learning to cook at school because they bring home lots of easy and delicious recipes that they now make for ME,  including THIS easy Healthy Butter Chicken!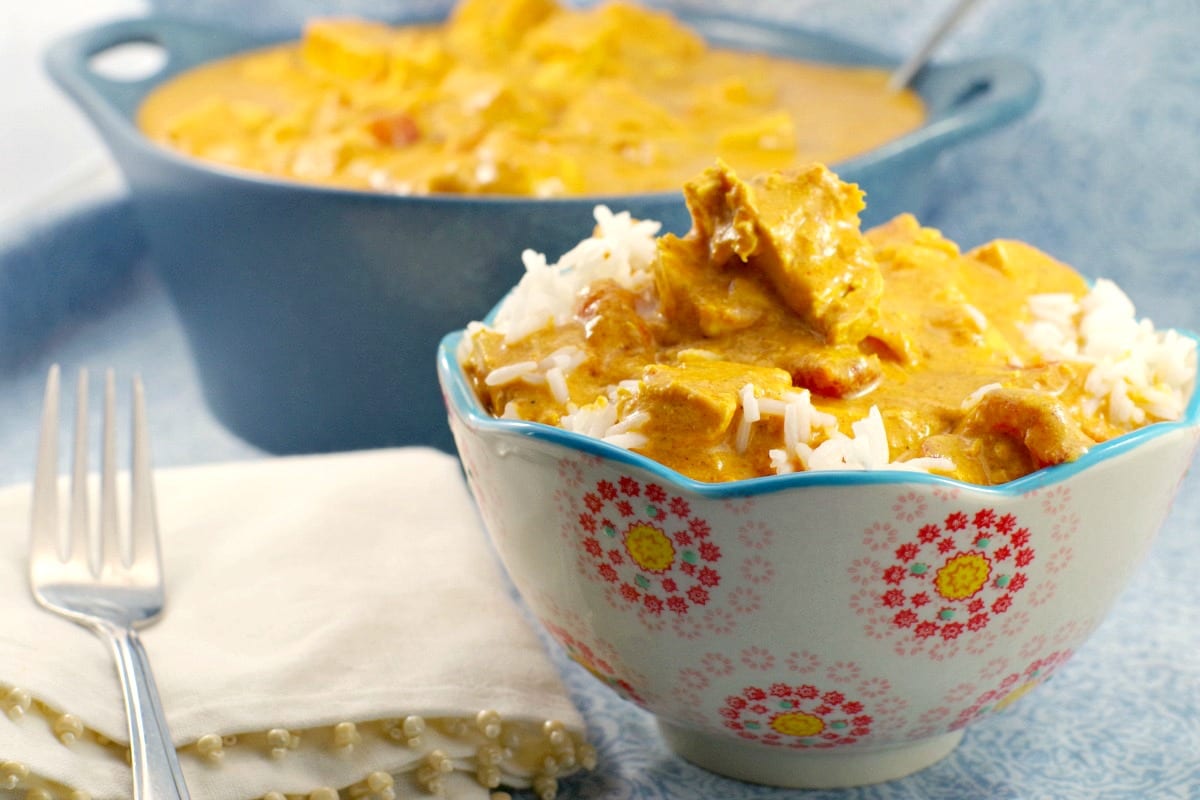 I had never been the biggest fan of butter chicken, but this recipe was a game changer! I was able to make it Weight Watchers friendly! But not every recipe they've brought home has been such a success.....
Jump to:
🥘 Ingredients
However, when I plugged the original recipe into my WW calculator and saw that it had 40 grams of fat and was 20 WW fsp points, I understood why it was sooo good; FAT MADE IT GOOD.
So.... I made it my mission to make it into a delicious Healthy Butter Chicken that was Weight Watchers friendly and brought it down to 5 WW points on the blue plan!! And this Easy & Healthy Butter Chicken recipe with Greek yogurt does not disappoint. However, I knew it was a true success when my kids said they liked my Weight Watchers butter chicken better than the original fattening version! Whipping cream has a sweet taste, so I've compensated for that by using a little sweetened condensed milk. For this recipe, you'll need:
Chicken breast (or leftover rotisserie chicken)
olive oil
garlic, minced
tomato paste
crushed or diced canned tomatoes
Paprika
Ground cumin
tumeric
Salt
Garam masala
Ground corinader
cayenne
water
non-fat Greek yogurt
sweetened condensed milk
I love to serve this recipe with jasmine rice because jasmine rice has a subtle floral aroma and a soft, sticky texture when cooked. It makes your house smell amazing! Jasmine rice is originally from Thailand and is commonly used in Southeast Asian cooking and is a longer grain variety of rice. You can also serve this butter chicken with basmati rice. Even though jasmine and basmati rice are often used interchangeably, there are some differences. One of the differences is that jasmine rice grains are shorter and thicker than basmati rice. You can read more about jasmine rice HERE.
🥗 Side dishes
Here are some WW friendly side dishes to go with this healthy butter chicken:
garden salad
mixed frozen veggies (sprinkled with Everything bagel seasoning)
When my son had been bringing home recipes from school for a few years and making them with my close supervision, one day I decided to give him a bit more freedom in the kitchen and backed off a bit. He seemed to like not being micromanaged. But when it came time to taste the cookies he made, he carefully watched my reaction as I took that first bite, yearning for my "expert baker" (as he calls me) approval. And as those cookie morsels met my taste buds in that very first split second, I really wasn't sure what to do...
Being a parent is hard. And every parent's very real struggle is balancing being supportive with honesty, helping them to learn, grow, and navigate disappointment, while keeping their confidence intact and not inadvertently crushing their little spirits. Because honestly, you can never really predict how they'll react. And just then you think you have them figured out, they go and change. And then they are teenagers....
So, as my son sat there waiting for my 'expert baker' cookie endorsement, I managed to muster a "Mmmm... can I see the recipe?"
Then I got him to taste it and asked if that was how it was supposed to taste (as they made it in school). He concurred that it was a bit too salty and we soon discovered that he had doubled the salt by not reading the instructions carefully enough. Although he was clearly disappointed, luckily he is pretty easy-going, even as a teenager, and took it as a lesson learned. And fortunately, many subsequent successful recipes, like this healthy butter chicken, served to boost his culinary confidence!
💭 Top tip
When you whisk in the Greek yogurt and condensed milk, you need to reduce heat to low, whisking constantly and only until it's until warm again. Then you immediately remove it from the heat. If you don't do this, it's more likely to separate.
📖 Variations
WW friendlier: When I'm trying to really keep my WW points down, I'll use Cauliflower Rice (and skip the oil in this recipe).
Rice: You can use any type of rice with this recipe, but jasmine rice is most flavorful.
Spice: This recipe is quite spicy, so if it's too spicy, simply reduce spice amounts
🌡️Storage
The chicken can be stored with the sauce in the fridge for 2-3 days. If you make rice to go with this recipe, keep the rice stored in a separate container in the fridge. I simply reheat it in the microwave.
This recipe freezes well for up to 3 months.
👪 SERVING SIZE
This recipe serves 4. But trust me, you're going to want to double or triple it - it's really that good and so are leftovers! I always double it for the 4 of us. You can also cut this recipe in half (if you only need 1 or 2 servings) by adjusting the serving size on the recipe card. Just click on the serving size (it's highlighted in blue) and select the number of servings you'd like.
🦺FOOD SAFETY
Cook chicken to a minimum temperature of 165 °F (74 °C) . Temperature is the very best way to check for doneness. I use this instant read thermometer- (affiliate link) it's great for everything food related!
Do not use the same utensils on cooked food, that previously touched the raw meat
Wash hands after touching raw meat
Don't leave food sitting out at room temperature for extended periods
Never leave cooking food unattended
See more guidelines at USDA.gov.
I love that my kids are learning to cook with others, in addition to me. I think it takes a village to raise a cook. Whether it's the Foods Teacher at school, their Dad, their Grandma or Aunties, cooking with others gives them a different perspective, which expands their culinary horizons. But like I said, my favorite part is that they can cook and that means not only will they be able to survive without me one day, in the meantime, they cook for me!
So, if you're looking for a healthy butter chicken recipe, that's also WW friendly, you'll love this one!
🐓Weight Watchers Chicken recipes
If you are looking for additional Weight Watchers friendly recipes give my Baked Hoisin Chicken a try!
And these Cornish Hens with Rosemary Wine Sauce are only 2 WW blue plan points per ½ a hen. And yes, Cornish game hens are chickens (just little ones!)
⭐ Reviews
Here's what others are saying about this recipe:
"I just made this for tonight's dinner:)) Easy Peasy recipe. It smells and looks delicious. No more buying store bought Butter chicken sauce in a jar!"⭐⭐⭐⭐⭐