I have to confess that I've never been the best cook when it comes to fried chicken. I can't seem to get the coating perfectly browned and get the chicken cooked through at the same time. But I love breaded pan fried chicken and can't live without it! So, many years ago, I decided I needed to do it differently...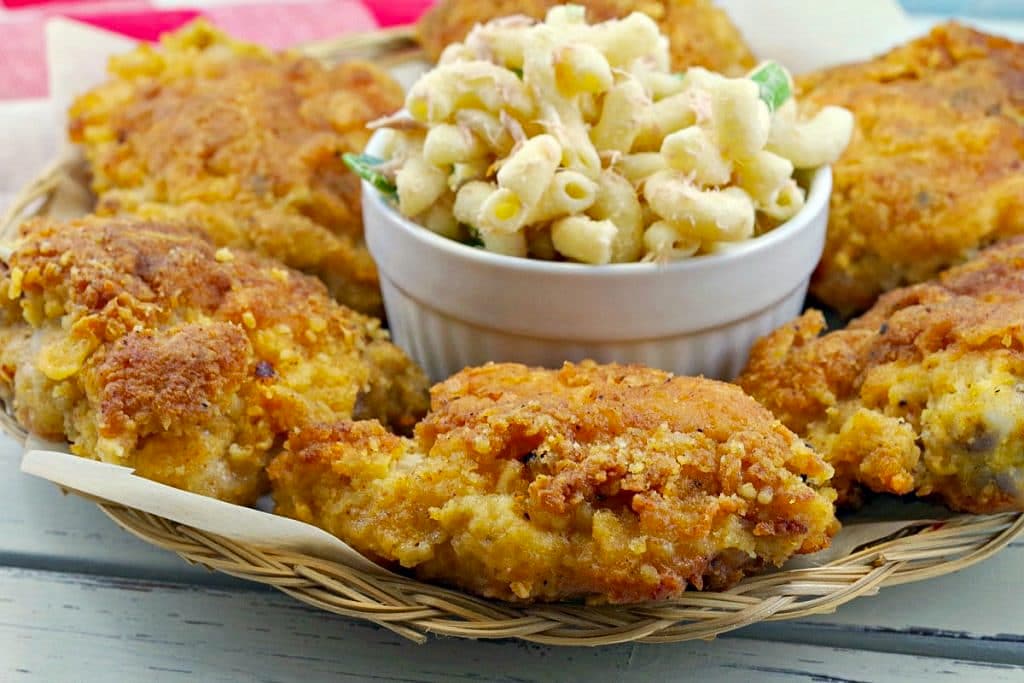 Full Confession: for years I've used the microwave for the last half of the job on my Skillet Fried Chicken. I use the skillet to get my chicken crispy on the outside, but then I use the microwave to cook the inside. I guess it's because I'm also just a little impatient and relatively lazy.
Jump to:
While it may feel like culinary blasphemy to some, it sure makes the job quick and no one knows any different. And it's been my little secret... until now. But it's a good secret to share, right? I wanted everyone to know that even if you have the same issue as me, you can still make awesome fried chicken that's as delicious as if it were cooked in the skillet the entire time!
🥘 Ingredients
This recipe is my go-to stovetop fried chicken recipe and I've spent years perfecting it. And in my quest to create the best fried chicken, I've followed the advice of several different cooks. Some cooks told me to coat it in butter and egg to get the breading to stick to the chicken and some said egg and milk work best. And while they were both tasty and worked relatively well, they were still a little too fattening for my liking (especially the butter version). So, on a whim I tried using fat-free liquid egg replacement and WOW. It seriously works like a charm!
Hey, just because I eat fried chicken doesn't mean that I don't care about calories! Not only are they low-fat, the taste of these liquid eggs as a coating is simply amazing - a total flavor enhancer! I use either cheese & chive or garden vegetable flavor.
For this recipe, in addition to liquid egg replacement, you'll also need:
chicken thighs
vegetable cooking oil
fine bread crumbs
all-purpose flour
salt
parmesan cheese
garlic powder
pepper
Cajun seasoning
💭 Top tip: Fried Chicken Breading Secret
I have also learned that the secret to the crunchy, tasty breading is the perfect ratio of flour, fine bread crumbs, salt, spices and parmesan cheese. Yes, parmesan cheese - it really boosts the flavor. And I have nailed it! Oh and I actually used to use legs for this recipe, but when I tried using chicken thighs instead, it was life altering. It's sooo much easier and less messy to cook and eat! And you can easily grab these little guys in one hand.
These pan fried chicken thighs make an excellent picnic chicken or a great addition to your lunchbox because it's not greasy, it's portable and easy to eat. And eating in your vehicle may not exactly be a picnic, but eating lunch in my vehicle between meetings is pretty standard for me, so PORTABLE is a necessary lunchbox requirement. And it's also great lunch to send to school with the kids. They love having these leftovers in their lunchbox!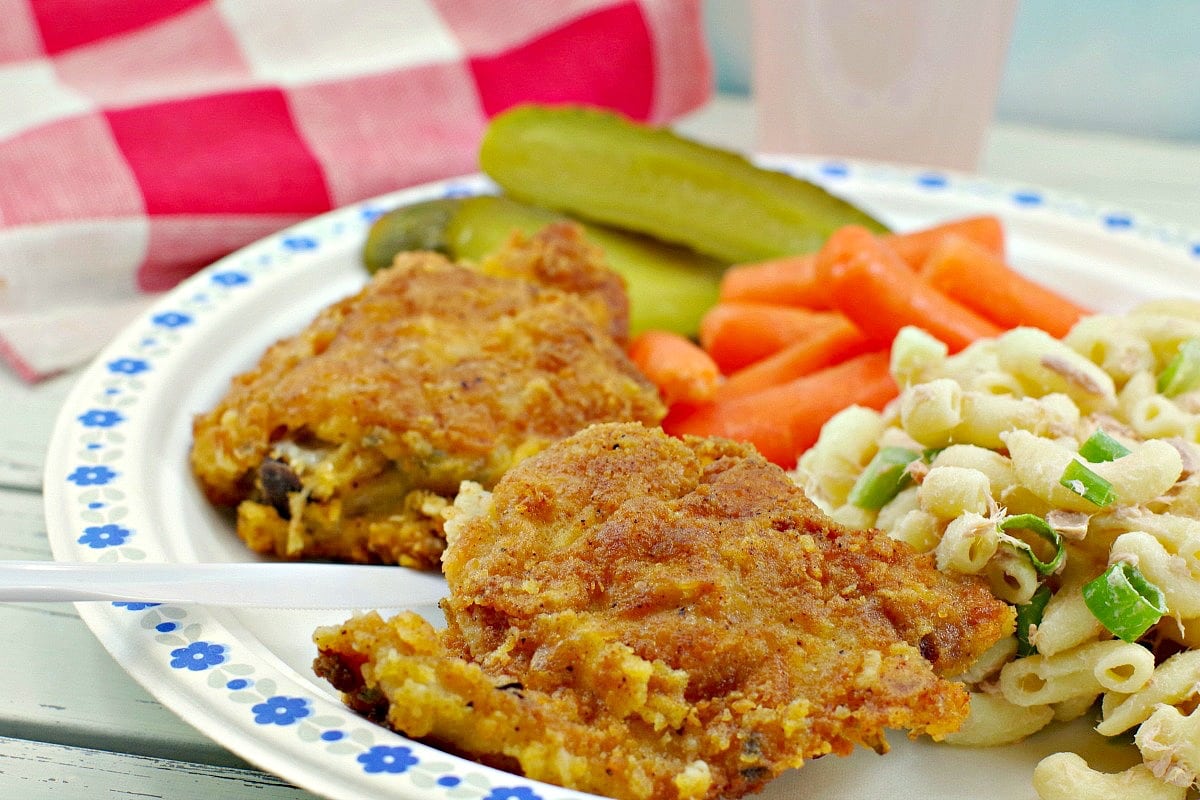 🌡️Storage & Reheating
Storing: Once cooled, leftover fried chicken can be stored in an airtight container or ziplock bag for 3-4 days. Eat cold or reheat in the microwave for about 1-2 minutes.
Freezing: Cool chicken completely and store in an airtight container or freezer bag. For best quality, use within 3-4 months of freezing. Thaw overnight in the fridge and reheat in microwave (or reheat from frozen, if needed).
This skillet fried chicken is not only easy to make, has a healthier, unique coating and it's super quick (with my shortcut method.) Eat them hot or cold, these fried chicken thighs also make a great picnic chicken and are perfect for the lunch bag!
🥗 Side dishes
So if you also struggle with getting the inside of your chicken, as well as the outside, cooked to perfection or just want to do it faster, then give this shortcut skillet fried chicken a try. And if the skillet method and time are not issues for you, then go ahead and cook it the entire time in the skillet! It's still the best fried chicken coating/breading ever!
This post is part of The Country Cook Weekend Potluck!