Whenever I taste something really delicious, I will go to great lengths to hunt down the cook and get that recipe. I have spent way more time than I care to admit roaming the back hallways in hotels, conference centres and restaurants, trying to track down the maker of whatever deliciousness I was served.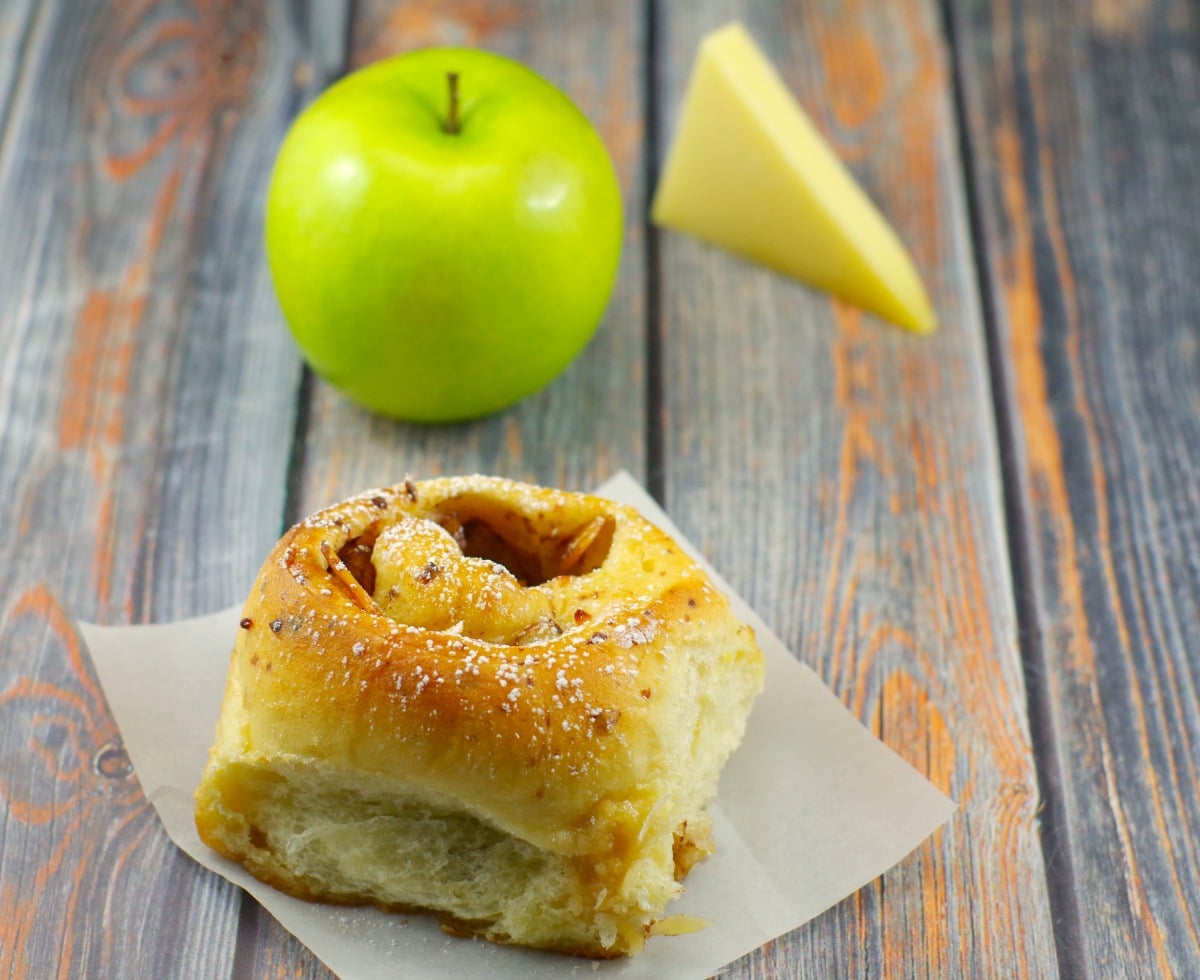 But you'd be surprised at how many cooks won't share their recipe, special ingredient or cooking tip when I do finally track them down. Obviously I think that's ridiculous because sharing recipes is what I do. But that's because it's born out of a personal philosophy that good food is meant to be shared. And I created this forum to do just that!
Fortunately, the special ingredient in this recipe was graciously shared by a cook that subscribes to the same philosophy as I do. So I have incorporated it, along with the glorious medley of apple pie and creamy gruyère cheese into these award-winning easy Apple Pie Cinnamon Rolls (Winner of Safeway's Destination Cheese Champions 2012).
Apple Pie Cinnamon Rolls
These Apple Pie Cinnamon Rolls are the ultimate breakfast or brunch potluck idea because these scrumptious, sticky bread machine cinnamon buns can be made ahead and frozen until you need them. *There is a no bread maker/bread machine option as well (see recipe notes)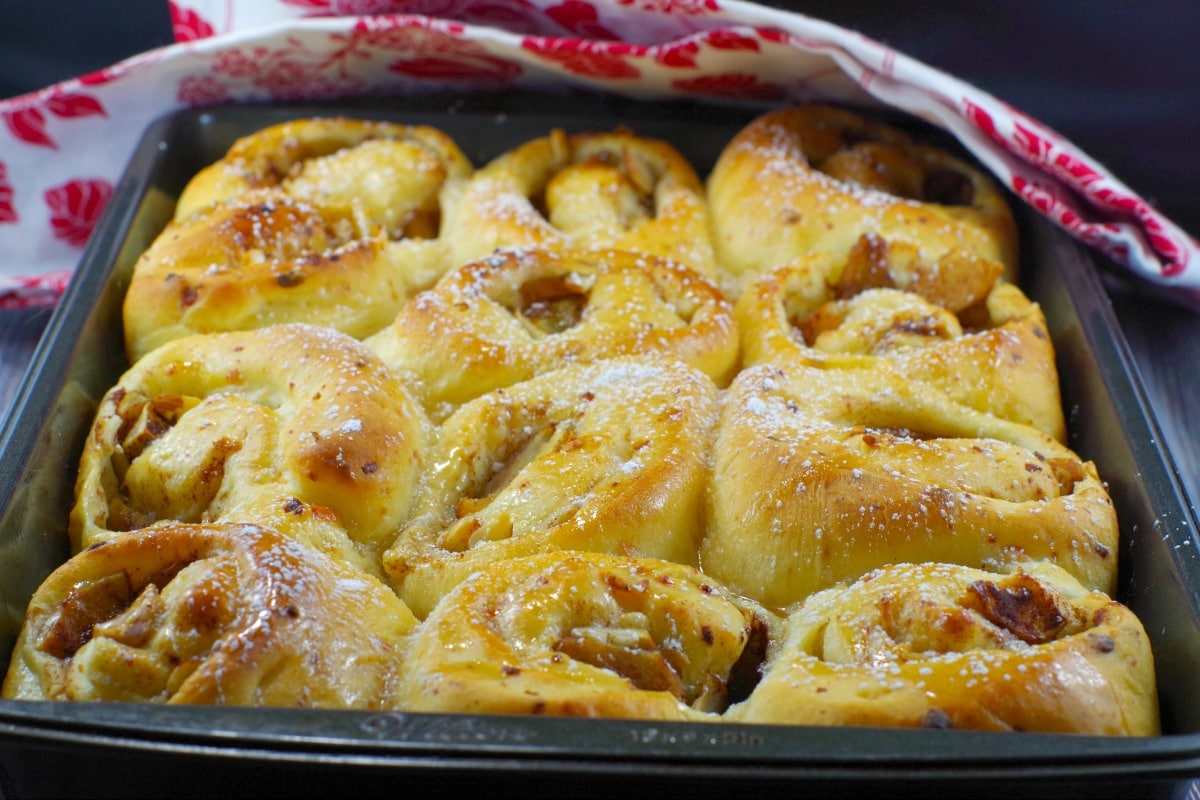 Recipe Sharing
But sometimes it's not about whether the cook wants to share the recipe or not. About 5 years ago, I was eating a brunch at Fort Steele, near Kimberley, British Columbia (it's one of those heritage towns, where you can go look around at how things supposedly were in the olden days and eat old-fashioned baked goods in their bakery etc..; similar to Heritage Park in Calgary) and I tried a dessert that was one of the most scrumptious chocolate cakes I've ever had in my life! I just had to have the recipe…
Imaging that this cake took hours to cook in their old-timey wood-fired brick oven, I dragged my reluctant family from building to building to hunt down the source of that dreamy dessert, only to discover in the end that it was one of the items the fort ordered from Sysco. Talk about disappointing. Now there was no hope that I'd ever be able to replicate it. Now I'm all about cooking from scratch, but I was willing to make an exception in this case. But then I found out that I couldn't even buy it because Sysco doesn't sell to the public! Sadly, even when I find the source, not all my food expeditions end in success.
Bread Machine Cinnamon Rolls
However, I was lucky enough to be able to replicate the deliciousness in the cinnamon buns that I discovered when I worked out of Spruce Lodge, because the cook was kind enough to share this tip with me – add lemon zest to the cinnamon roll dough. Wow-what a difference that little addition makes! Then I throw it all in the bread maker and the result is a delicious and easy homemade bread machine cinnamon buns. I am all for skipping the hard labor when it comes to making any kind of dough. *But if you don't have a bread machine, don't fret. When Safeway published my recipe, they used a refrigerated French bread dough to make the recipe quicker (** see recipe notes)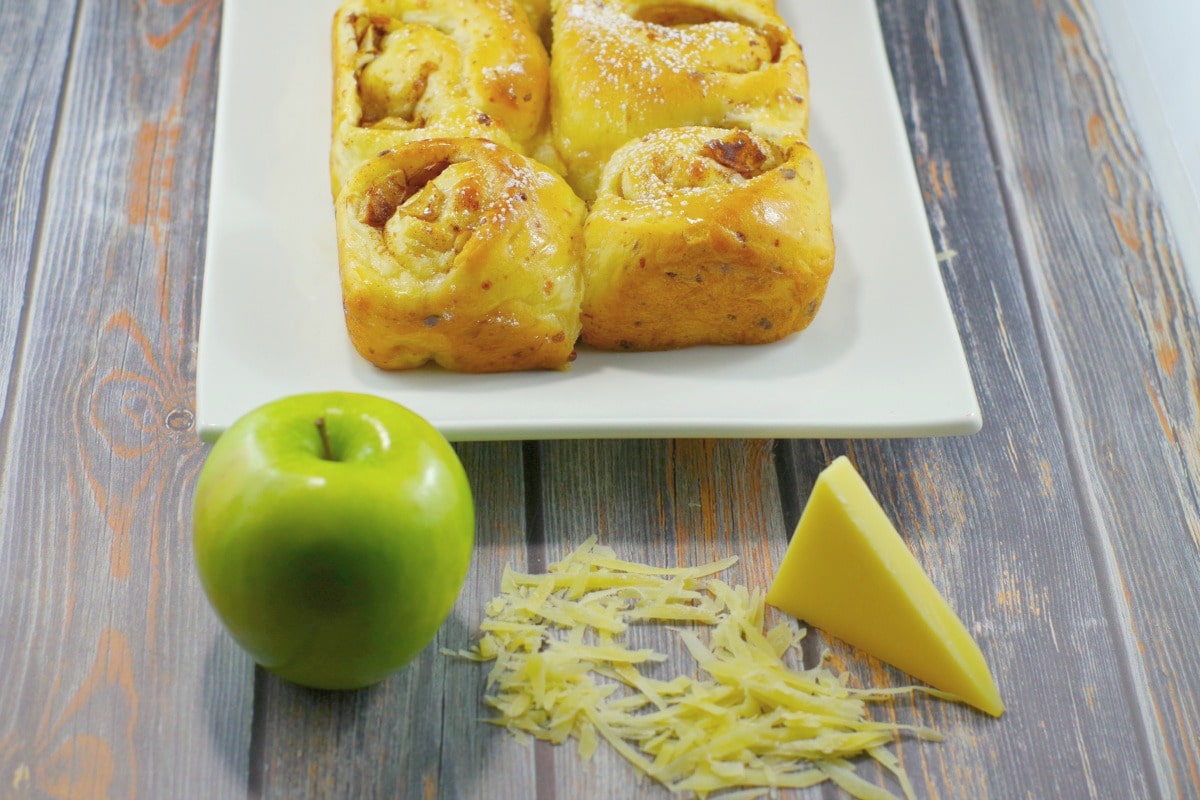 If you are looking for unique ideas for a breakfast potluck, then this is your cinnamon bun recipe! It's a little more sophisticated than your typical cinnamon roll and well, cheese, apple pie and cinnamon rolls were just meant to be together.
I had someone contact me through this blog because she saw an image of my Butter Tart cookies online and couldn't find the recipe. I had no idea how it even got online because I hadn't even published the recipe and it was still in draft form. I was a bit concerned about this, so I contacted my IT guy. Apparently goggle mapped the photo because I had named it and didn't have something set up on my blog to prevent my draft photos from being mapped (who knew) and so it came up in her search . Now this recipe still some needed work (it looked pretty hideous as you can see), but I knew it tasted great and she really wanted it. So I gave it to her anyway.
Original photo of Butter tart Cookies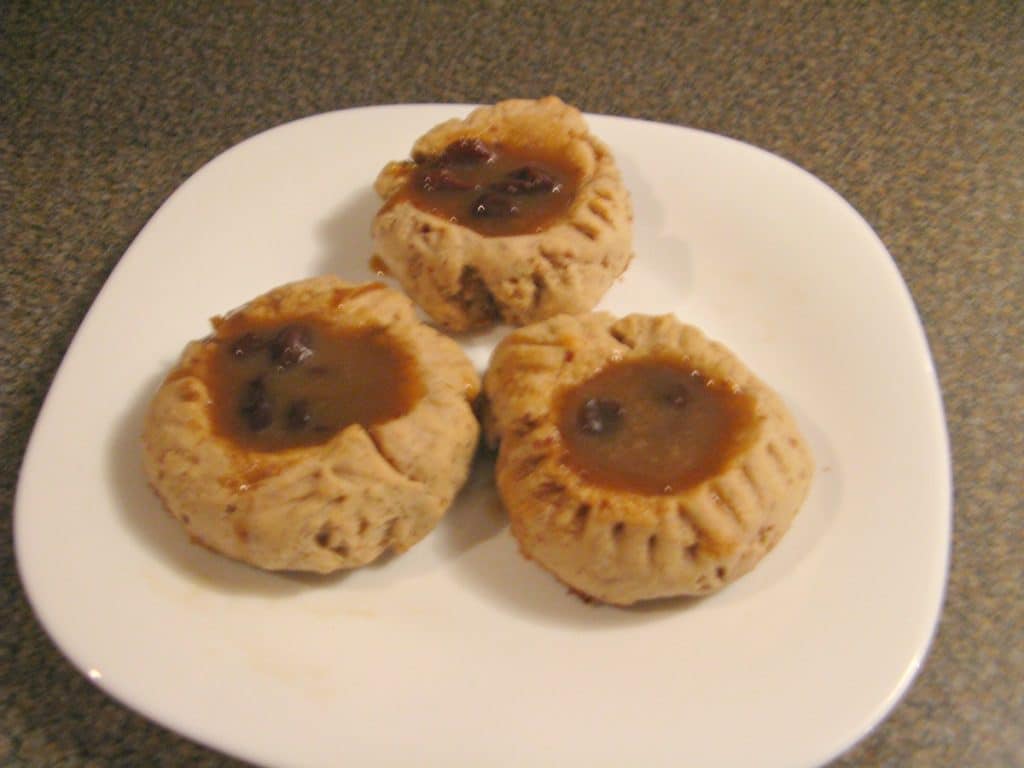 Thankfully, I finally perfected the recipe:
New photo of Butter tart Cookies
In my food travels I have acquired a lot of great recipes and cooking tips by simply asking. Luckily, the cooks that are willing to share far outnumber the ones that won't. So, I will continue to pay it forward by sharing my recipes, because good tasting food is meant to be shared, even if is it ugly!
If you are looking for other easy, make-ahead brunch or breakfast potluck ideas, give these a try:

Print
Bread Machine Gruyère Apple Pie Cinnamon Buns with Vanilla Mocha Glaze:
These award-winning Gruyère Apple Pie Cinnamon Rolls are made in your bread machine, then baked to perfection in your oven and smothered in vanilla mocha glaze. Apple pie and cinnamon bun are just meant for each other! These can be made ahead and frozen and are an excellent brunch potluck idea or bake sale item. *See NO bread maker/bread machine option as well.
Ingredients
Breadmaker Dough (1 lb):
6

oz

Half and half cream

2

tbsp

water

1

egg

large

3

tbsp

butter

1

tsp

lemon zest

2 ¼

cups

white flour

2

tbsp

sugar

½

tsp

salt

½

cup

Swiss Gruyere cheese

grated

2

tsp

bread maker yeast
Filling:
3

tbsp

whipped cream

3

tbsp

brown sugar

¼

cup

sliced almonds

1

tsp

ground cinnamon

2

tbsp

butter

softened

1

cup

green apples

peeled, cored and thinly sliced (about 2 apples)

¼

cup

water
Instructions
Dough (for 1 lb. bread machine):
Mix all ingredients in bread maker in order given. Ensure to add salt along one side of the bread pan and sugar along the opposite side. Dig a little well in the centre and add yeast last (don't let it touch anything). Select dough cycle. When dough is complete(about 1 hr and 20 mins), remove to a lightly floured surface. Knead enough to make it easy to handle (if necessary). If too elastic, let rest for 10 more minutes.

Preheat oven to 350 degrees F. Spray a 9X13 baking pan with non-stick cooking spray.
Filling:
Meanwhile, mix filling: Thinly slices apples and pour ¼ cup water over them. Cook apples in microwave for approximately 3 minutes until soft. Drain water. Toss with brown sugar, almonds and cinnamon.


Roll dough into a 12X18 rectangle. Spread softened butter over dough. Top with apple mixture and spread evenly across butter. Spread whipped cream evenly on top of apple mixture. Beginning at long end, roll up tightly as a jelly roll. Pinch seam to seal. With sharp knife, cut into 8 equal slices. Pace cut side up in a greased 9X13 inch baking pan.

Cover dough with clean tea towel and let rise in a warm draft-free place until almost doubled in size (30 minutes)

Bake rolls at 350 degrees F for 25-30 minutes or until done.
Glaze:
Mix whipping cream and strong coffee together. Add vanilla and whipping cream mixture to sifted powdered sugar. When buns are done, drizzle glaze over warm rolls. Serve warm or cold.

Sprinkle with a little powdered/icing sugar, if desired.
Notes
Nutrition Facts
Bread Machine Gruyère Apple Pie Cinnamon Buns with Vanilla Mocha Glaze:
Amount Per Serving
Calories 125
Calories from Fat 45
% Daily Value*
Fat 5g8%
Cholesterol 26mg9%
Sodium 113mg5%
Potassium 62mg2%
Carbohydrates 16g5%
Protein 3g6%
Vitamin A 135IU3%
Vitamin C 1.2mg1%
Calcium 83mg8%
Iron 0.2mg1%
* Percent Daily Values are based on a 2000 calorie diet.
***If you don't have a bread machine, these cinnamon buns are still possible! When Safeway published my recipe, they used a refrigerated french bread instead of this breadmaker dough to make it quicker. I am unable to find that type of bread at Canada Safeway, but if you live in the US, you may have some luck!
Here's their short-cut version: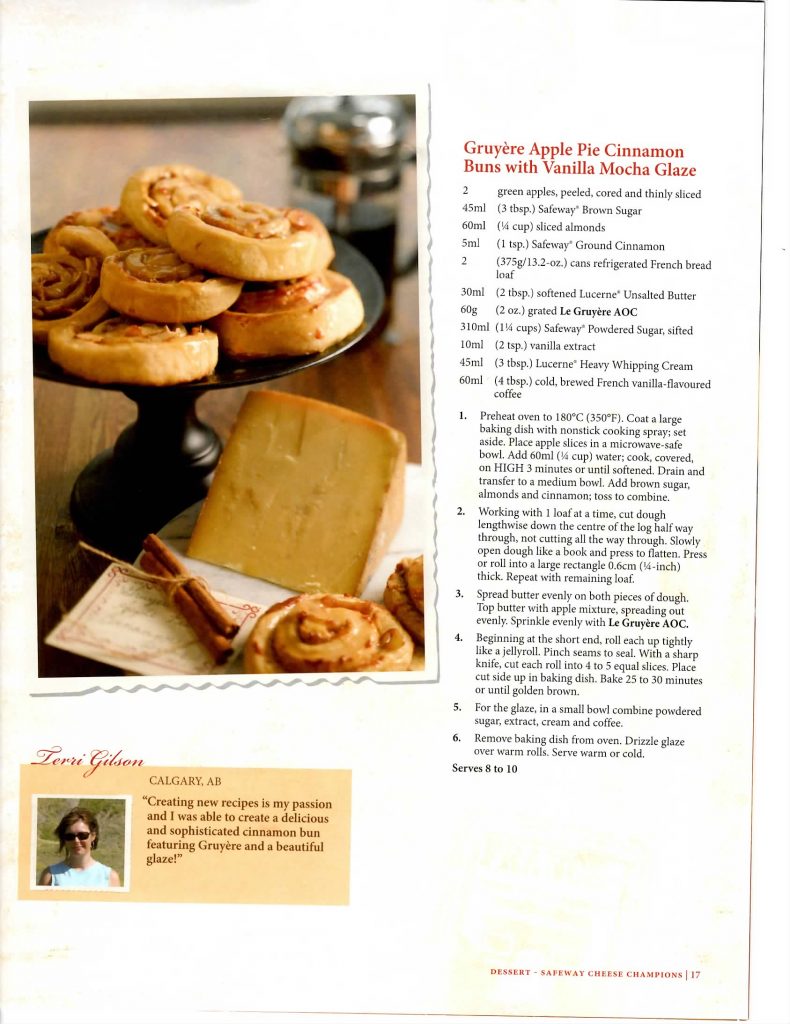 Nutrition
Calories:
125
kcal
|
Carbohydrates:
16
g
|
Protein:
3
g
|
Fat:
5
g
|
Saturated Fat:
2
g
|
Cholesterol:
26
mg
|
Sodium:
113
mg
|
Potassium:
62
mg
|
Fiber:
1
g
|
Sugar:
14
g
|
Vitamin A:
135
IU
|
Vitamin C:
1.2
mg
|
Calcium:
83
mg
|
Iron:
0.2
mg