I learned to barbecue out of pure necessity. I was hungry, wanted barbecue and no one was around to do it for me.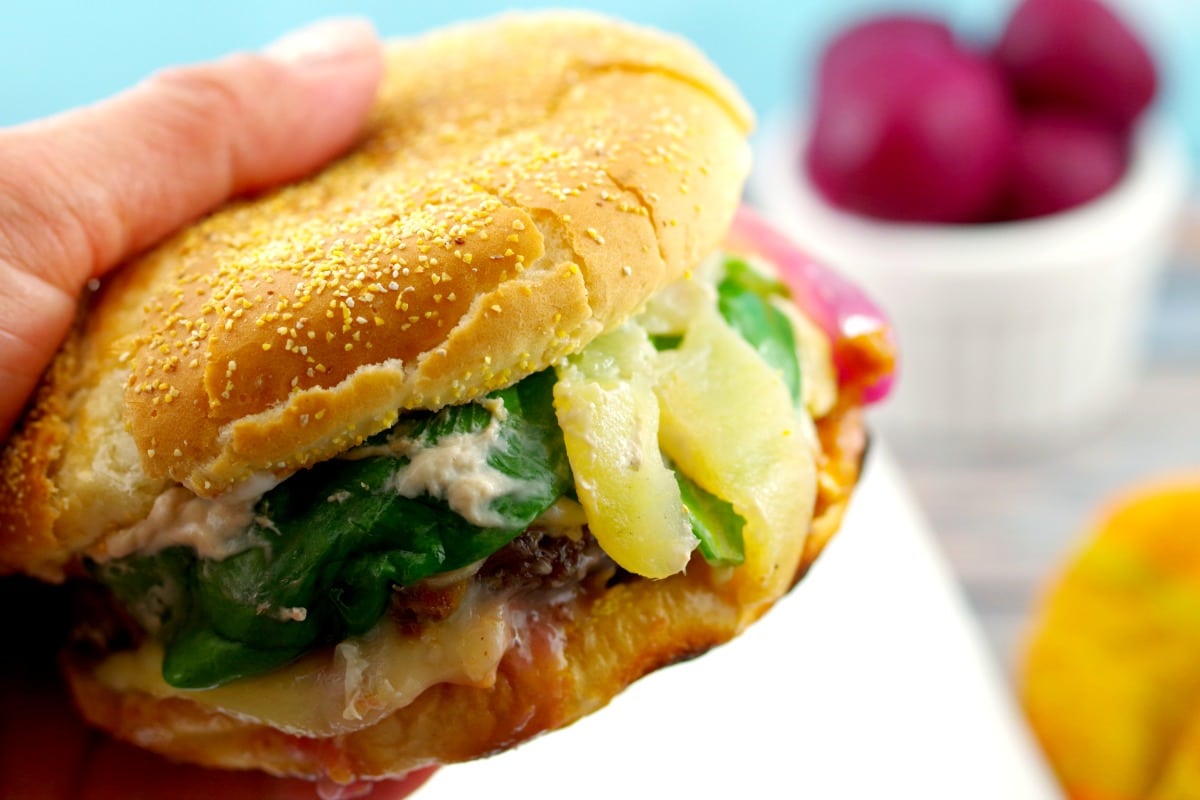 For the majority of my life, someone else always did the barbecuing. If it wasn't my dad, it was my husband, my father in law, my brother or whomever. I really didn't care who did it as long as there was barbecued food around.
That's why I was really surprised when this Gourmet Sirloin Burger (with beets) recipe won 1st place in the D'Italiano Grill Master competition (2012). Even after I learned to barbecue, I definitely never considered myself a grill master.
Sirloin Burger with beets
And it's perfect for Father's day! I would describe this burger as "Wild West meets Uptown. " It's a sirloin burger with beets, a tangy cranberry orange aioli, peanut butter BBQ sauce, creamy brie cheese, roasted apples and onions on a grilled bun. There are lots of flavors going on and they do some incredible team work when it comes to bringing you an outstanding gourmet burger taste experience!
What's the difference between ground sirloin and ground beef:
Ground sirloin is leaner than ground beef and also on the pricier side. It contains a lot less fat (10 -14% fat , compared to regular ground beef that is 25-30% fat) and comes from the midsection of the animal. Although it's the lightest ground beef option, it can cook up a bit dry, hence the reason I added the beets. Beets really moisten the meat in a healthy way. You can read more about it the different types of ground beef and how they compare HERE (Everything you need to know about ground beef)
Now it's finally summer in Cowtown and you know how I feel about turning on my oven this time of year? I try to avoid it at all costs. Therefore, I have barbecue on the brain. I tend to barbecue quite a bit during the warm weather, but not the least bit expertly.
Grilled sirloin burger
So there you have it; you don't have to be a grill master to make this grilled burger. But this gourmet burger will sure make you feel like one! If you are looking to up your burger game, make the ultimate burger recipe and add some pizzazz, give this one a try. You won't be disappointed!
BBQ Brushes:
If you've heard anything about the danger of BBQ wire-bristle brushes, you may want to look at investing in a different kind of brush. It's been in the news for the last couple of years and apparently, there have been 9 reported incidents of injury from these brushes. The strange thing was, that even after all the reports, I went on a hunt last summer and couldn't find a proper replacement for a wire brush anywhere and several stores were still selling only wire brushes!
Thankfully, after years of safety warnings and reports of injuries from wire-bristle brushes used to clean barbecue grills, Health Canada has begun a risk assessment that could potentially stop the sale of the brushes. You can Read this Health Canada report for more information.
I was very happy to have finally find a proper replacement!


If you are looking for more great summer BBQ recipes, check these out!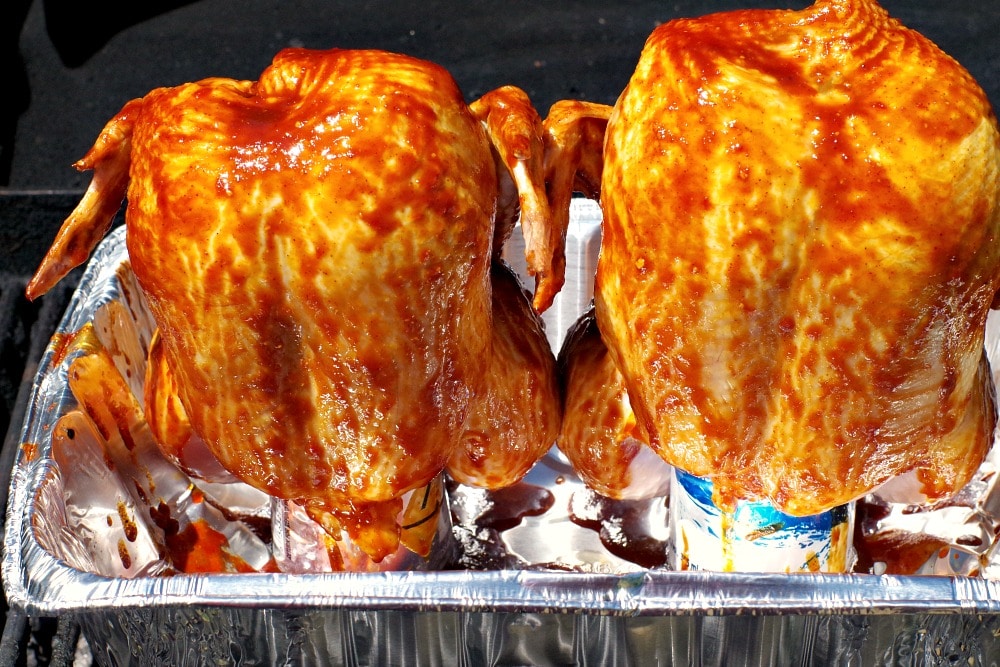 And if you like perogies…. you'll love this BBQ side salad!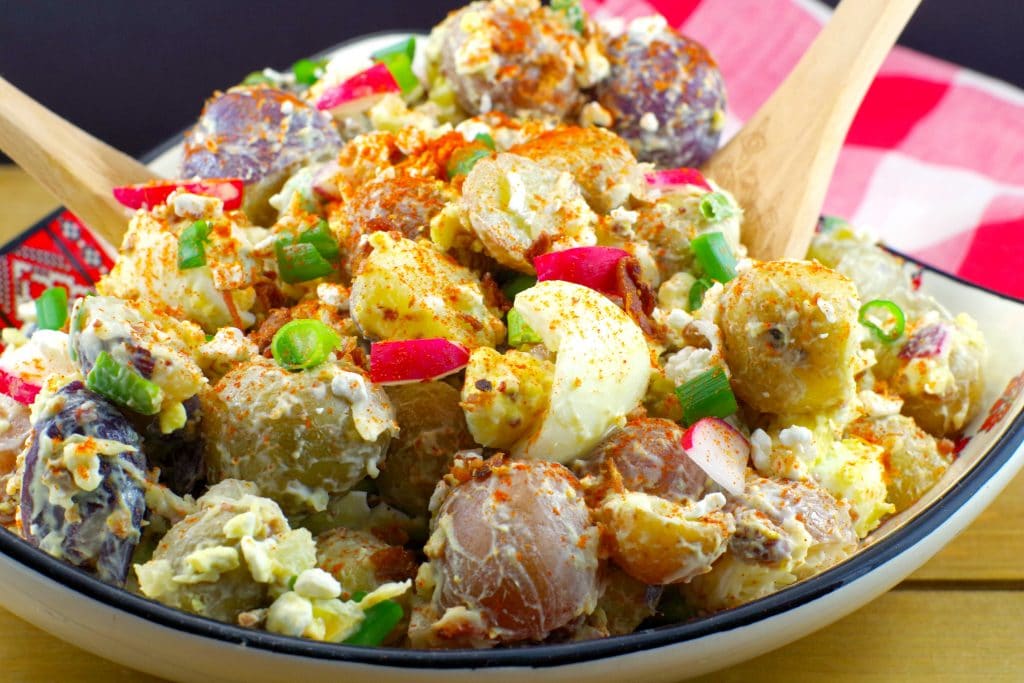 And don't forget dessert! You don't even have to turn on the stove!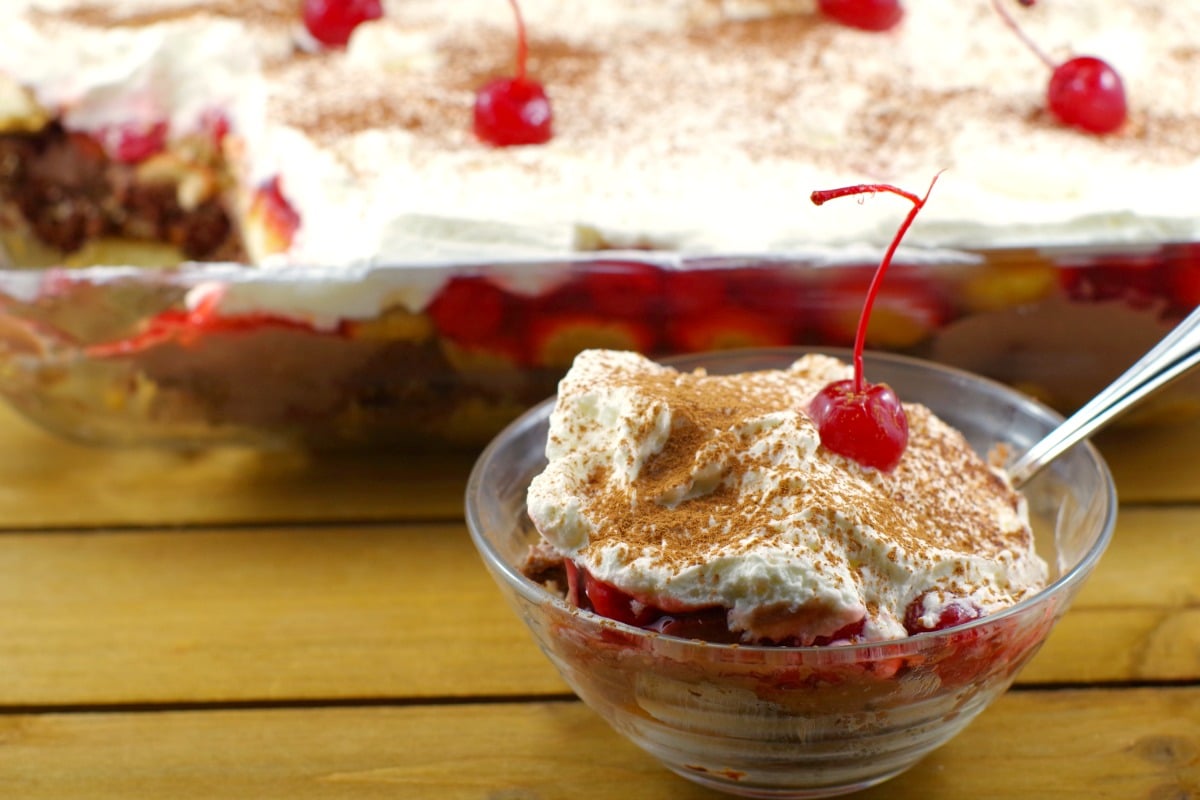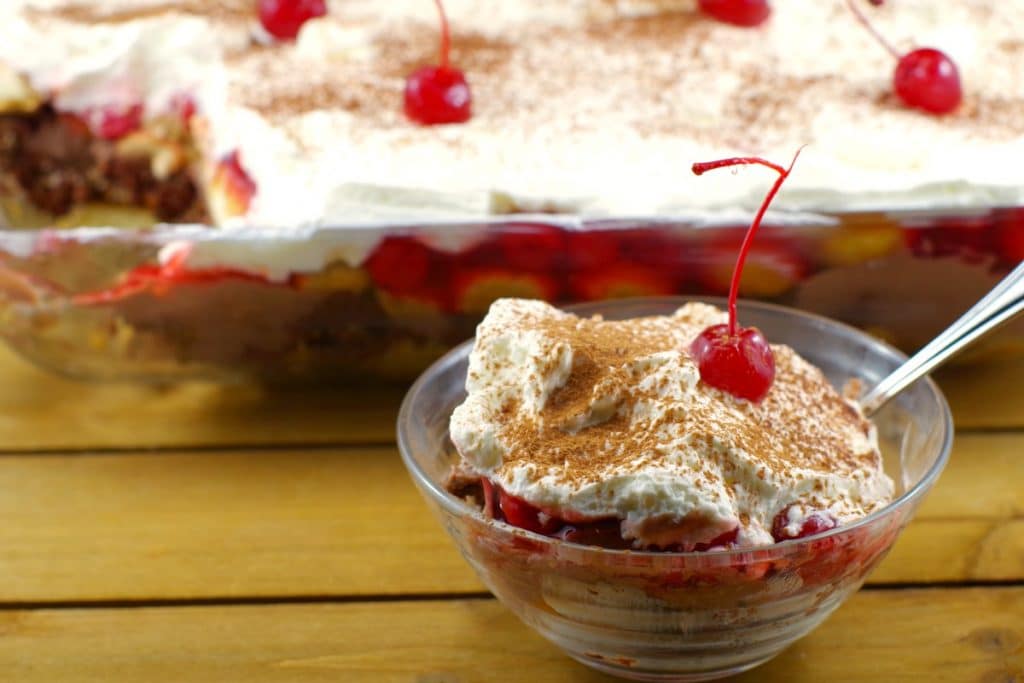 Print
Gourmet Sirloin Burger (with beets) - "The Cowtown Cosmo Burger"
Wild West goes Uptown! This gourmet sirloin burger is made with beets, cranberry orange aoili, peanut butter BBQ sauce, creamy brie cheese, roasted apples and onions on grilled buns.
Ingredients
Instructions
Burger:
Preheat grill to 500 degrees F. Spray with non- stick spray

Mix sirloin, egg, bread crumbs and chopped beets together. Form 6 patties.

Spray a large square  of (approximately 10" X 10") of aluminum foil with non-stick cooking spray. Peel and slice apples into quarters then thinly slice. Cut onions into circles, then halves. Wrap up into a packet by placing apples and onions in the middle and then fold edges over to make a square and seal off the sides.
BBQ sauce:
mix all ingredients together and top burgers with ½ of the sauce. Grill burgers for 10 -15 minutes (with barbecue lid down) , then turn over. Top burgers with remaining sauce and cook for 10 – 15 minutes.

Meanwhile, while burgers are cooking, roast apple/onion mixture in packets on grill (back of grill where there is less heat) for approximately 20 minutes.

Turn off grill, add  Brie cheese and cover until melted (about 1 minute), then grill buns for 2- 3 minutes or until grill marks are to your liking.
To assemble:
Mix cosmo cranberry aoili ingredients together and spread 2 tsps on bottom of grilled bun. Add burger, spinach, then ¼ cup roasted apple/red onion mixture. Mix balsamic vinegar and greek yogurt together and put a dollap (about 2 tsp ) on top of apple/onions. Add top of bun. Serve immediately and enjoy!
Nutrition
Calories:
721
kcal
|
Carbohydrates:
53
g
|
Protein:
41
g
|
Fat:
38
g
|
Saturated Fat:
12
g
|
Cholesterol:
143
mg
|
Sodium:
782
mg
|
Potassium:
938
mg
|
Fiber:
4
g
|
Sugar:
26
g
|
Vitamin A:
665
IU
|
Vitamin C:
12.6
mg
|
Calcium:
147
mg
|
Iron:
6
mg