I don't think I've ever met a brownie I didn't like. But what I don't like is all the calories, fat and sugar! So I love to find ways to cut those down, without sacrificing taste.

And I have totally succeeded with this recipe! I was blown away by how delicious these Healthy Applesauce & Spinach Brownies are, at only 3 Weight Watchers points on the blue plan per brownie! And they are fairly substantial sized brownies too. Being on Weight Watchers does not mean giving up chocolate. Anyway, I really don't think I could follow a weight loss program that didn't allow me to eat chocolate. That's simply unrealistic, not to mention cruel.
Healthy Chocolate Brownies
I have always struggled to find tasty, healthy and weight watchers friendly chocolate desserts. And I had a really tough time finding an easy healthy chocolate brownies recipe that met all those requirements, that is, until I created this recipe! These brownies are so good, you won't even believe they are low-fat and healthy too.
Hidden Veggies:
I'm also huge fan of veggies in my dessert. It just makes me feel like I'm eating something healthier and actually getting some vitamins with my chocolate. And therefore I feel less guilty. I tried spinach brownies years ago and was pleasantly surprised. My kids also love these brownies too, even after they found out there was spinach in them. But when they were smaller, I would hide veggies in my brownies. Although there are those that believe you shouldn't trick your kids into eating vegetables by 'hiding' them in food, I am all for hiding veggies in food!
"Whatever it takes", is my motto. I've heard the argument that you need to teach kids to get used to eating veggies, straight up, right from the start. And although I always tried to get them to eat veggies in their original state, a little bit of extra healthy stuff hidden in dessert never hurt anyone! Plus, slipping extra veggies into my baking or sauces and soups (where it was appropriate) is something I've always done, long before I even had kids. I see it as a bonus.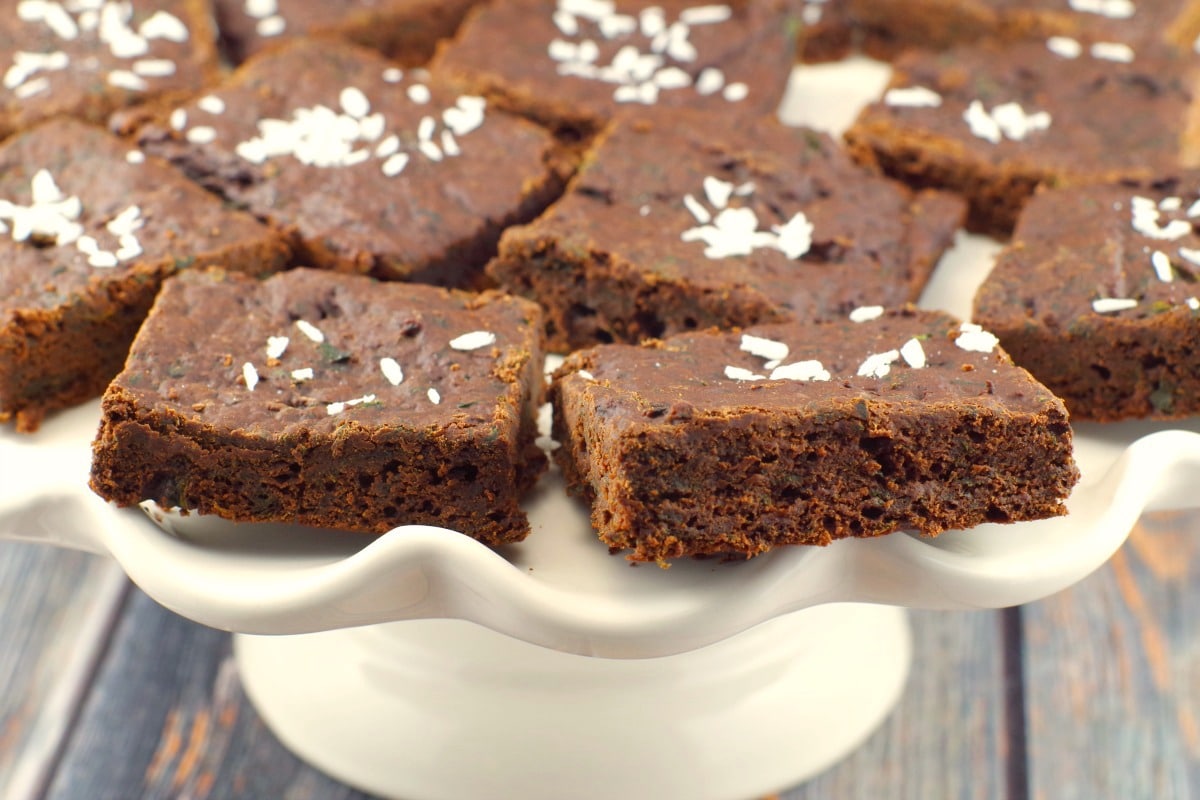 I believe vegetables definitely have a place in desserts! This delicious Healthy Tropical Green Chocolate Chip Cookies Recipe is also made with spinach and another example of a delicious sweet with made with veggies. It's so tasty won the Old Farmer's Almanac Spinach contest in 2017.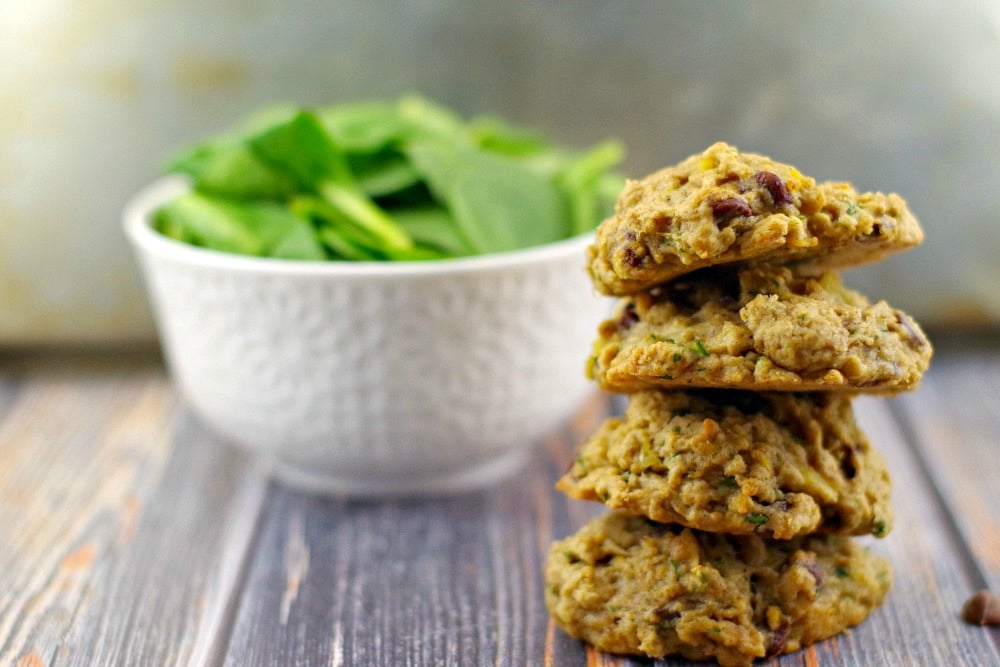 Spinach in baking
Jessica Seinfeld's book, "Deceptively Delicious" came out when my kids were little. She included a lot of really great recipes with vegetable purees, including a spinach brownie recipe. But she advocated that you have a routine and devote a great deal of time each week to steaming, pureeing and freezing vegetables. I don't have that kind of time on my hands, so I make them as needed. In this recipe I used the microwave to quickly steam the spinach, then pureed it.
This Healthy Applesauce & Spinach Brownie recipe is the hybrid of Jessica Seinfeld's spinach brownies, another low-fat brownie that I got out of newspaper almost 30 years ago, and a 3rd spinach brownie recipe that I got from I don't know where, mixed in with a dash of my own creativity!
Weight Watchers Brownies
Some of the fat in these Weight Watchers friendly low-fat brownies is replaced with unsweetened applesauce. And although applesauce is a great replacement for fat (butter, oil etc) in baking, you need to be careful with it, as it can give your baked goods a chewy texture. But not these guys - these Weight Watchers Brownies are the perfect texture!
So, if you are looking for low-fat, low-calorie and healthy brownie recipe that won't blow all your WW points, then give these a try. They also make a great lunchbox snack or dessert for you and the kids!

Have you ever hidden veggies in your food?
Print
Healthy Applesauce & Spinach Brownies
These Healthy Applesauce and Spinach brownies are low-fat and weight watchers friendly, at only 3 WW points on the blue plan per brownie. 
Instructions
Preheat oven to 350 degrees F. Coat a 9X13 baking pan with non-stick cooking spray.
Spinach puree:
Mix spinach with water and microwave for 2 minutes. Then blend in food processor until smooth. Drain off excess water.

In a medium bowl stir together flour, cocoa, salt and baking powder. Set aside.

Melt chocolate in a double boiler OR in microwave at 50% power for about 1 minute and 30 seconds or until chocolate is melted. * I prefer to use the microwave, as it's faster

Add the spinach puree, applesauce, oil and vanilla and whisk until creamy.

Whisk in egg whites, then brown sugar.  Then add dry ingredients to wet ingredients and mix until blended. Add melted chocolate and stir until completely incorporated.

Pour the batter in a prepared pan (9X13) and bake for 35-40  minutes or until cake tester comes out clean.  Cool completely. * These brownies must be cooled completely before serving to avoid tasting the spinach.
Garnish (optional):
You can sprinkle a little unsweetened coconut on these brownies for a bit of contrast.
Notes
*NOTE: It's important to cool these brownies completely or they may have an odd taste from the spinach
**NOTE: These come out as 3 points when I create them in the WW app, but higher when you use the nutritional calculator on here.
My Amazon Recommendations (affiliate links)
Nutrition Facts
Healthy Applesauce & Spinach Brownies
Amount Per Serving (1 brownie)
Calories 135
Calories from Fat 36
% Daily Value*
Fat 4g6%
Cholesterol 1mg0%
Sodium 53mg2%
Potassium 150mg4%
Carbohydrates 25g8%
Protein 3g6%
Vitamin A 135IU3%
Vitamin C 1mg1%
Calcium 28mg3%
Iron 1mg6%
* Percent Daily Values are based on a 2000 calorie diet.
Nutrition
Serving:
1
brownie
|
Calories:
135
kcal
|
Carbohydrates:
25
g
|
Protein:
3
g
|
Fat:
4
g
|
Saturated Fat:
3
g
|
Cholesterol:
1
mg
|
Sodium:
53
mg
|
Potassium:
150
mg
|
Fiber:
2
g
|
Sugar:
16
g
|
Vitamin A:
135
IU
|
Vitamin C:
1
mg
|
Calcium:
28
mg
|
Iron:
1
mg
Save
Saved!