I'm a meat girl and always have been. But even so, meatloaf can be a little hard to get excited about. And although meatloaf is a fantastic easy and quick weeknight dinner, it's often taken for granted. I think meatloaf is akin to Bran muffins in the sense that good one is hard to find. But when you do find the one, it can be life altering (well, as far as dinner goes, anyway). And trust me, this Old fashioned Dairy AND gluten-free meatloaf is definitely the one! It's also Weight Watchers friendly at 6 WW points on the blue plan.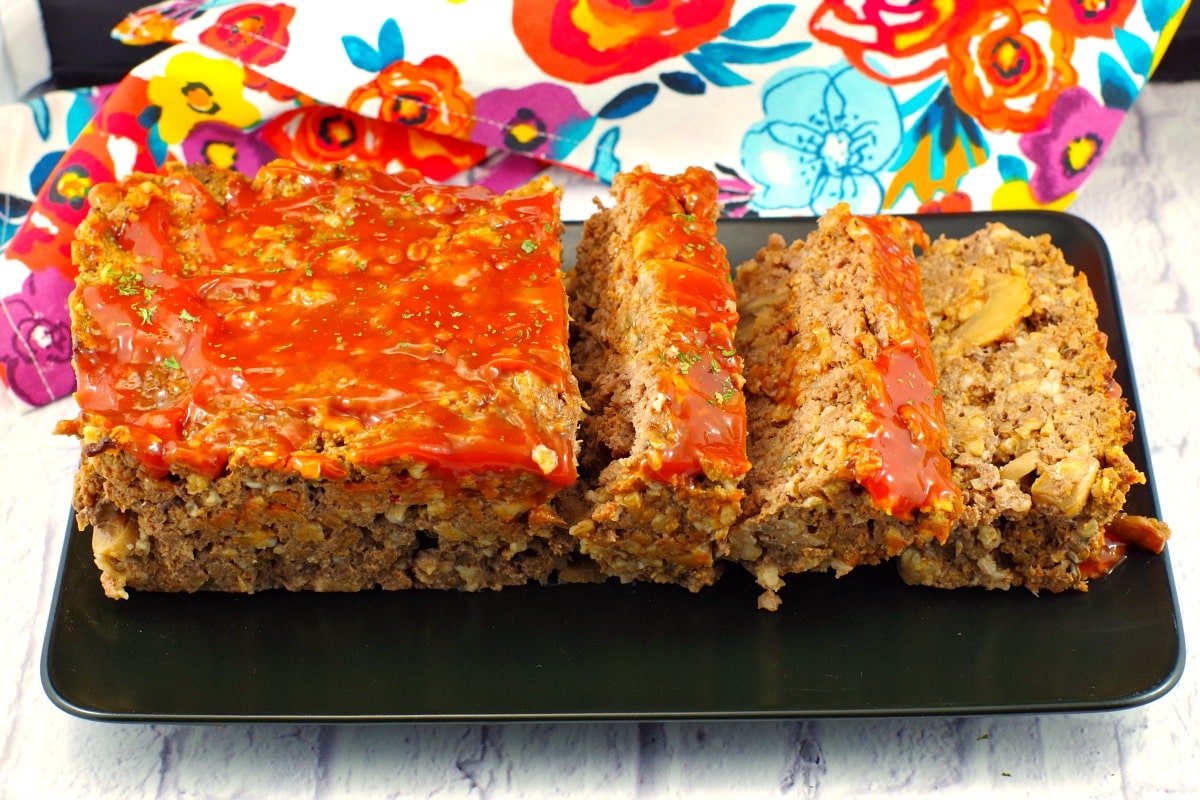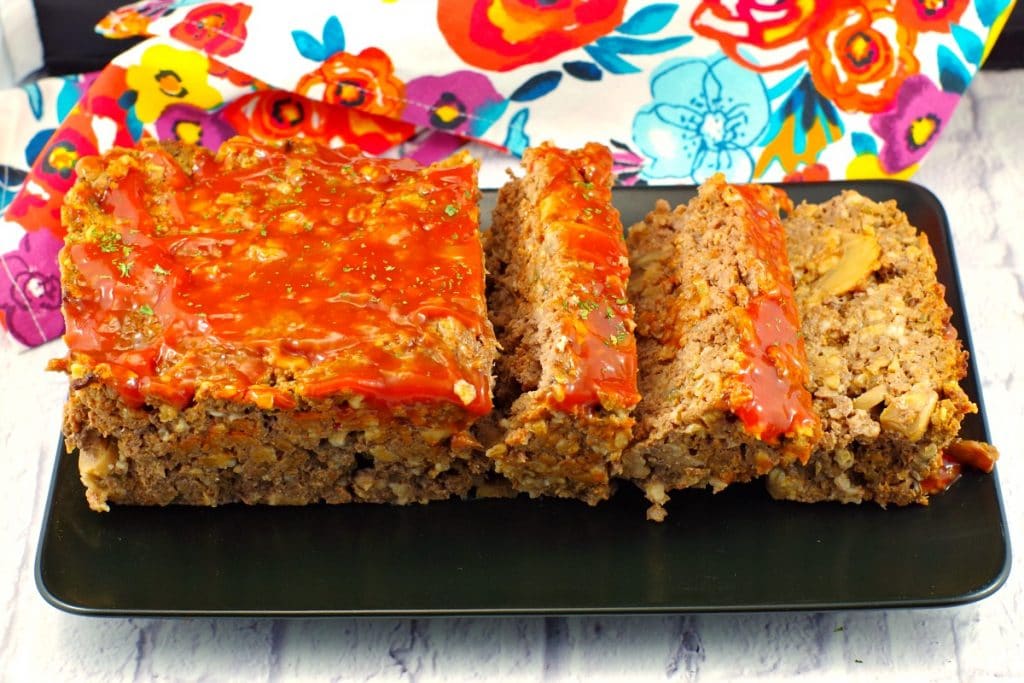 And while I'm a meat girl through and through, I'm not hard core. I regularly enjoy vegetarian and vegan meals. Although I have to confess - I have never ever considered switching to a vegetarian or vegan lifestyle. I like my meat and wouldn't want to give it up. But sometimes I feel a little guilty about that, especially when I'm forced to think about it. I remember the day that my son realized meat actually came from an animal. He was about 6 years old.
Jump to:
I was driving and he was in the back seat of the van, we were chatting and somehow it came up in the conversation. And in his typical, adorable, processing of new information, little boy voice, he said,
"What?! Wait a minute...Are you saying that the chicken we eat is actually from a chicken?! Like the animal?"
Then he started to make further connections: "So where does beef come from?" he said. "Cow," I replied . "And pork chops comes from pigs, as does bacon. "
His little face crumpled. He's a sensitive, sweet soul and this obviously really hit him hard. He immediately started to go down the 'how does it die? And does someone kill it?' path. I could hear the horror in his voice and at the time, I was not prepared to go anywhere near there. It was bad enough being the bearer of the initial bad news. And he was so visibly upset that in trying to soften the blow of this new discovery, I blurted out, "but don't worry -the animals are really sick and old."
Yep. Apparently we like to eat sick, old meat at our house....
Hey, at the time, it seemed like a good answer, as it always appeared to comfort my kids when an older person passed away. You would say they had a good, long life and they were very old and sick and the kids would sigh, and say, "oh, okay then, " and be able to process it, deal with it and move on.
This explanation appeared to have garnered the same effect. You could trace the wave of relief as it washed over his little face. "Oh, okay then," he said, "If it's sick and old..."
I guess if I had to go hunting for my own meat then things would be different. I'm sure there's a lot of people that feel that way. But since I don't....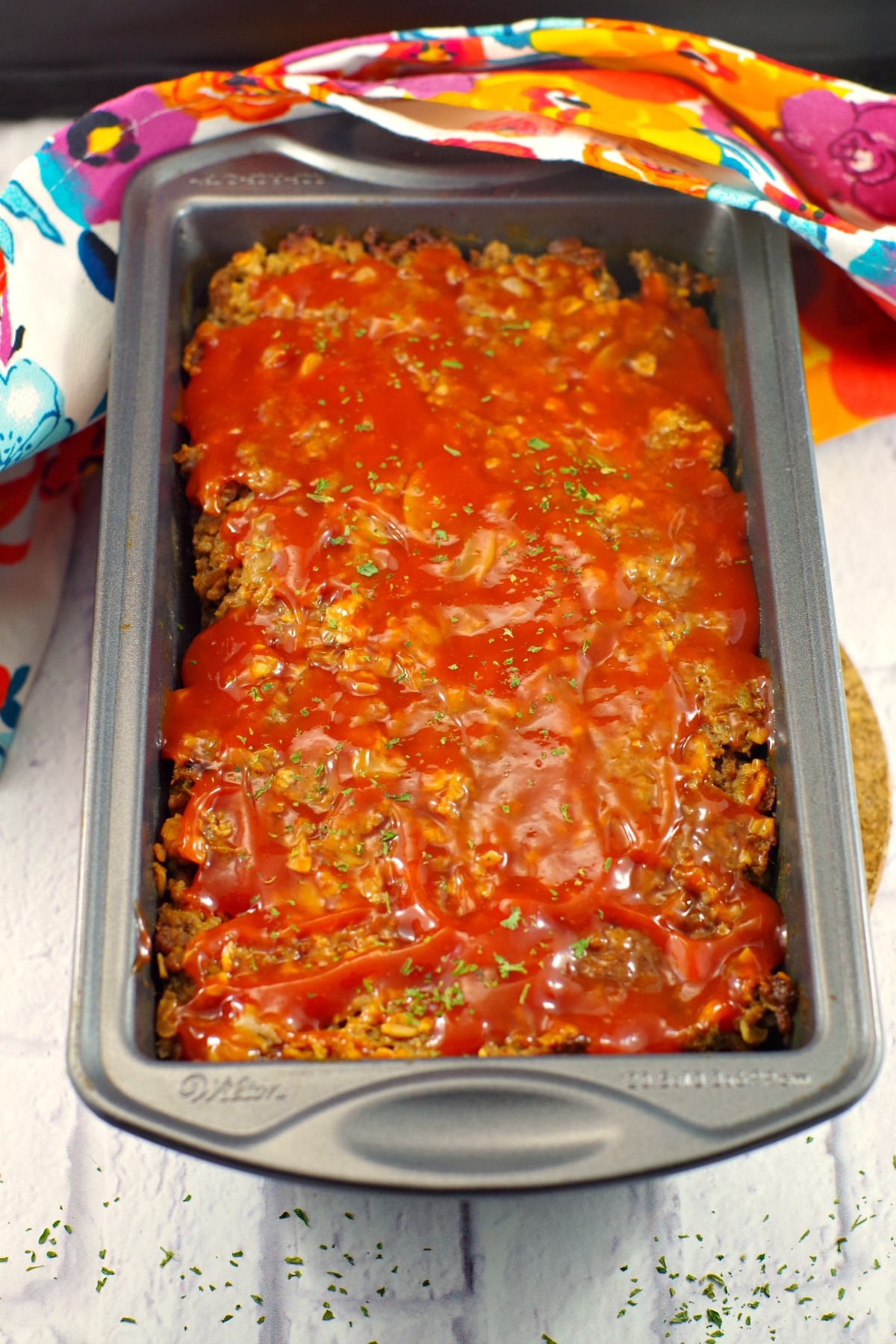 💭Where does meatloaf come from
There are many articles out there that talk about the history of meatloaf, so I'm not going to get into that. But if you want to learn more, check out Wikipedia. MY Old fashioned meatloaf comes from my Mom, of course , like most meatloaf does. Well, the base recipe anyway. I've made some changes, including making it a dairy-free and gluten-free meatloaf. It's also an old recipe that she got the recipe out of the Five Roses Cookbook, which was originally published in 1913. It was my very first cookbook and I still use it all the time, as it houses many of my 'go to' recipes. You can see it's been well loved.
🌡️Make-Ahead and Freeze
Like I said, although meatloaf is a great make-ahead freezer weeknight dinner, it is easy to take for granted. However, I stopped taking this recipe for granted when I tried some other, not-so-good meatloaves. Like bad bran muffins, there are a lot of bad meatloaves out there. But this one is moist and flavorful with just the right balance of tomato. This traditional meatloaf is also the one I grew up on, yet it's still one of my favorite comfort foods. And for those with allergies or aversions, it's gluten-free and dairy free so it contains no milk or bread. You can throw it together in 10 minutes and either freeze it to cook at a later date (right in the loaf pan) or cook ahead and then freeze.
🥘 Ingredients: Meatloaf without eggs and milk
Yes! You can make meatloaf without eggs or milk because the oats, along with the condiments, serve as the binder (the eggs aren't necessary). For this recipe, you will need:
extra lean ground beef
gluten free ketchup
gluten-free chili sauce
gluten free relish
dry ground mushroom
gluten free quick oats
canned mushrooms
onion
📖 Variations
If you don't feel like chopping onion, you can substitute 1 tablespoon dried/dehydrated onion
🥗 Side dishes
If you're not sure what to serve with this meatloaf, mashed potatoes are always a great choice! Here are some additional gluten-free side dish ideas to go with meatloaf:
Meatloaf comes from Mom. Let's just leave it at that.
My son is now 12 and although I'm sure he's figured out the rest of the meat story by now, for a year or so after that conversation, he'd often seek meat reassurance at the dinner table with statements like, "Oh, we're having cow for dinner? But it was really sick and old, right?"
Right.....
This could become a little awkward, especially when we had guests. At that point I'd be wishing I had not taken that particular fork in the meat conversation path. But as a parent, it's natural to try to protect our children from the cold, hard, cruel realities of the world. As adults, we can just choose not the think about them.
In the end, I'm just grateful that I don't have to hunt for my own meatloaf.
So, if you're looking for a really great gluten free meatloaf that's also dairy-free, then give this one a try - you won't be disappointed
Print
📋 Old Fashioned Dairy free and Gluten-free Meatloaf Recipe
This classic meatloaf recipe is made without eggs, milk or bread crumbs. It is dairy-free, gluten-free,  easy and can be made ahead and frozen for a quick weeknight meal. It's also Weight Watchers friendly @ 6 WW points on the blue plan!
Instructions
Preheat oven to 350 degrees F and spray a 9X5X3 loaf pan with non-stick spray.

Mix ground beef, ketchup, chilli sauce, relish, dry mustard, oatmeal, onion and mushrooms together in a large bowl.

Press into a loaf pan with a spatula.

* You'll need to pack it down so the meatloaf will stick together!

Bake for 1 hour at 350 degrees F.

Garnish with additional ketchup and sprinkle on parsley.
Notes
📖 Variations
If you don't feel like chopping onion, you can substitute 1 tablespoon dried/dehydrated onion
My Amazon Recommendations (affiliate links)
⭐ REVIEWS
Here's what others are saying:
"I've been searching for a gluten-free meatloaf for my daughter. This is just delicious. The chili sauce adds a great flavor to the meat. A winner!"⭐⭐⭐⭐⭐
Nutrition Facts
📋 Old Fashioned Dairy free and Gluten-free Meatloaf Recipe
Amount Per Serving
Calories 219
Calories from Fat 54
% Daily Value*
Fat 6g9%
Cholesterol 70mg23%
Sodium 328mg14%
Potassium 587mg17%
Carbohydrates 13g4%
Protein 26g52%
Vitamin A 75IU2%
Vitamin C 2.4mg3%
Calcium 18mg2%
Iron 3.2mg18%
* Percent Daily Values are based on a 2000 calorie diet.
Nutrition
Calories:
219
kcal
|
Carbohydrates:
13
g
|
Protein:
26
g
|
Fat:
6
g
|
Saturated Fat:
2
g
|
Cholesterol:
70
mg
|
Sodium:
328
mg
|
Potassium:
587
mg
|
Fiber:
1
g
|
Sugar:
8
g
|
Vitamin A:
75
IU
|
Vitamin C:
2.4
mg
|
Calcium:
18
mg
|
Iron:
3.2
mg
Save
Saved!
🍲More gluten-free weeknight dinners!