It's that point in your life, when you're in pure survival mode; you fantasize about sleeping through the night, sleeping in, relaxing bubble baths and that day when your kids will finally puke in the toilet and even make their own sandwiches.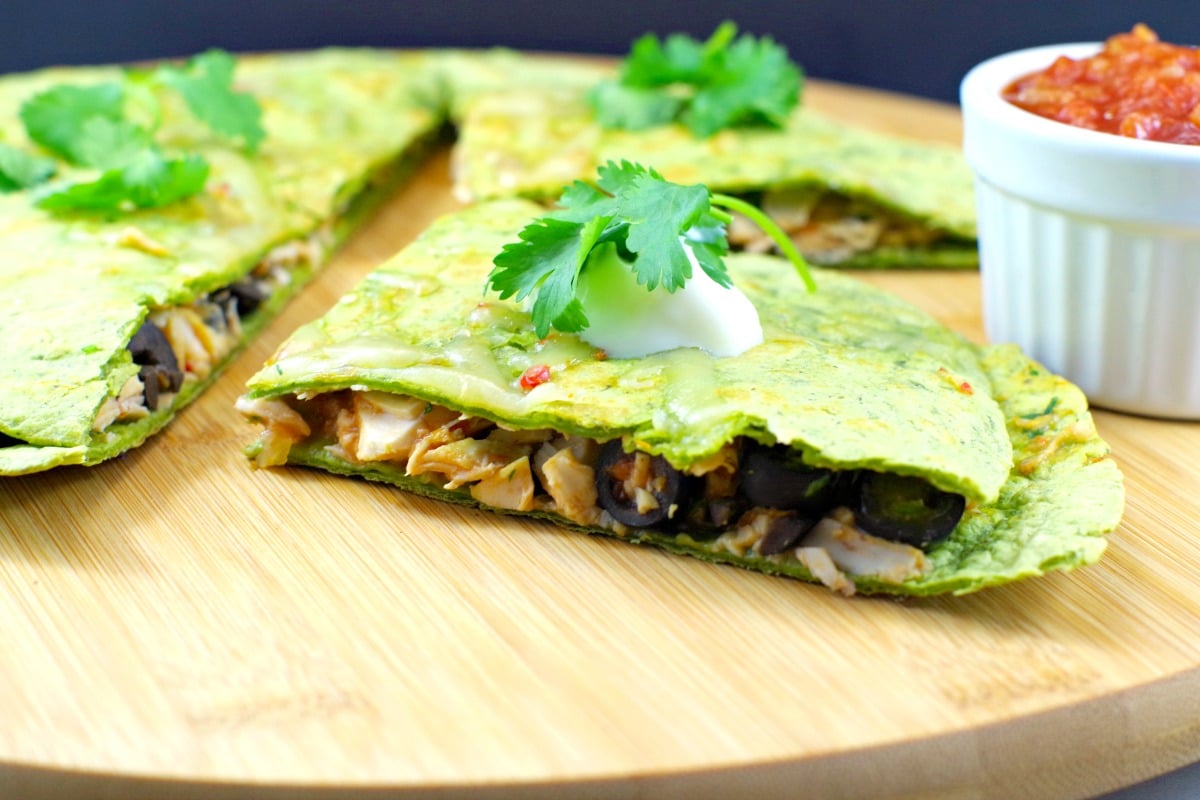 It was at this time and purely out of necessity, that I created van picnics, along with quick meals like these Easy Chicken Quesadillas using leftover rotisserie chicken. Necessity was my navigator in those early days. It is the mother of invention, after all. And as a mother, you're so immersed in it, you have no idea how much you'll miss it until it's gone.
Van picnics were simply a way of making something that wasn't necessarily desirable – eating grocery store food, off paper plates, in the back of a van, while driving to evening activities, just a little more "fun". Everyone loves picnics, right?
Van picnics consisted of food I quickly grabbed at the grocery store, between work and racing across town to pick up the kids at daycare:
rotisserie chicken
potato wedges
veggies and dip
sushi
fruit for dessert
And since I'd be half-starved myself by this time, I'd dip into a little on the way to pick up the kids at daycare cause I'd be far too busy feeding them and driving to get myself fed once they were back in my loving care. After I buckled them snugly in their seats, filled their plates, handed them back a paper plate of food, we were off – to dance or whatever activity was on deck that night!
And of course, at the time, they were little and they didn't eat very much… so…. what to do with all that leftover rotisserie chicken?
Make chicken quesadillas, of course~!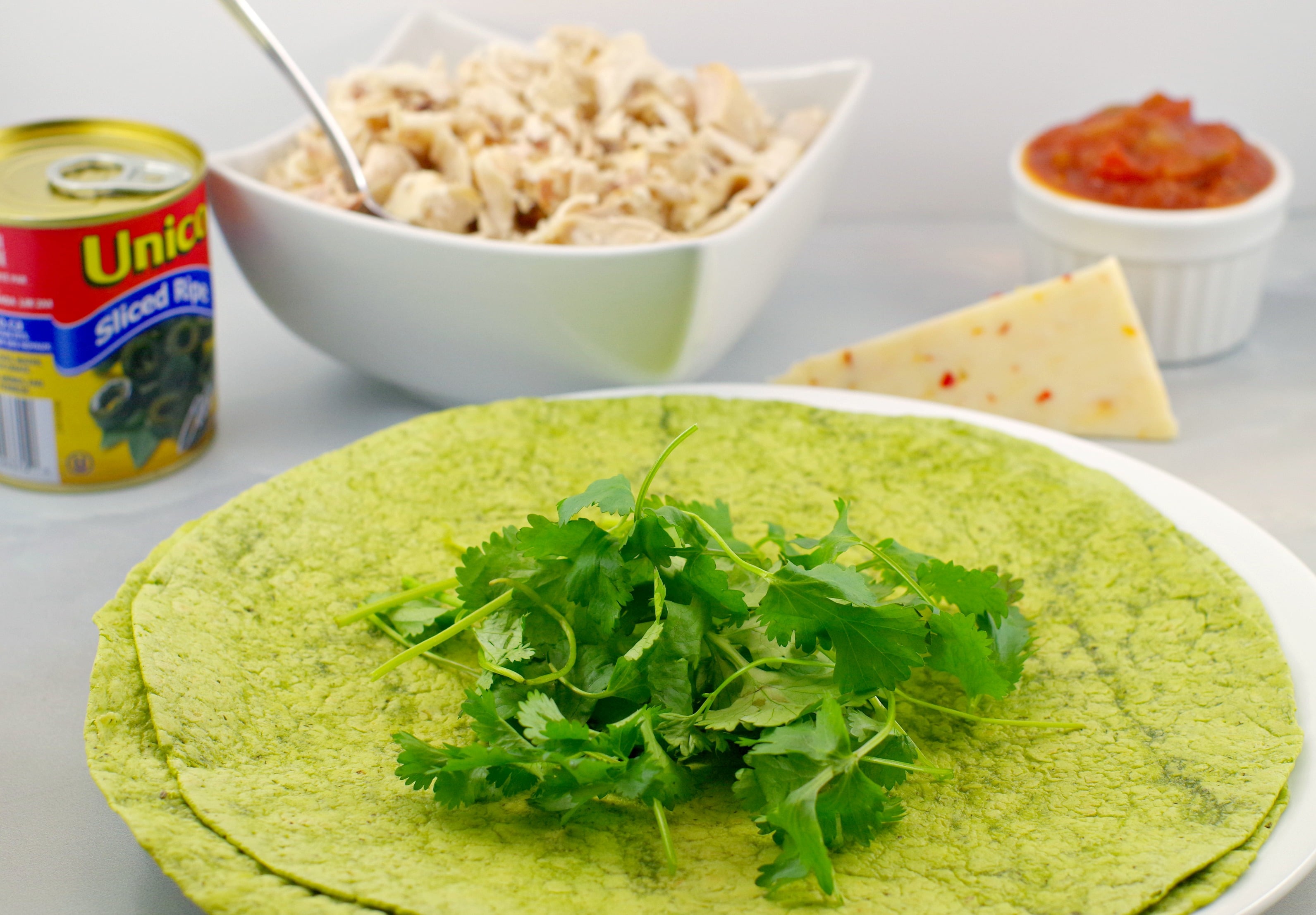 Best Chicken Quesadillas Recipe
This was always one of my absolute favorite things about van picnics – the leftovers. This is an easy, kid-friendly, 20 minute meal that uses up chicken leftovers. You can make it when you get home from work or make ahead and freeze. You only need a few ingredients and a few minutes. And no matter what age your kids are or how busy you are, a delicious and quick easy meal is always a blessing.
What goes well with chicken quesadillas?
I often see this question asked online, so I'm going to answer it. I like to serve quesadillas with a garden salad or fresh veggies (baby carrots or sliced cucumbers.) Like the meal itself, these options are quick and easy and I prefer to keep it light. If you really wanted a side, you could serve it with some 5 minute brown rice as well. And we always garnish our quesadillas with a dollop of sour cream and a little additional salsa and fresh cilantro.
I'm sure that there are many other easy chicken quesadilla recipes out there that are similar to this. But for me, I love this one because it has all my favorite ingredients in it (black olives, rotisserie chicken, cheese and fresh cilantro.) The quesadilla seasoning is simply salsa and some spicy cheese. And you don't need much of it.
Mexican Chicken quesadillas
If you're looking for leftover rotisserie chicken recipes, these Mexican Chicken quesadillas are the best!
Now that my kids are older, many of their activities start later in the evening. And since I'm not racing from work at one end of the city to the other and picking them up at daycare, like I was in those early days of child rearing, I have a wee bit more time to play with.
These days they even come home from school on their own, puke in the toilet and can even make their own sandwiches. I also get to sleep through the night, sleep in on weekends and have bubble baths; all the things I fantasized about in the midst of our van picnic days. I guess you'd think that I was living the dream now ? Well, the dream I had when they were small anyway.
But with bigger kids come bigger problems….
And although those days were tough and van picnics were a major juggling act on their own between balancing paper plates, someone crying, someone spilling something, someone having to go to the bathroom and a dance shoe missing, all while I was utterly exhausted from lack of sleep and stressed from work, I often ache for the simplicity of our van picnic days…
My mom always said:
"The days are long but the years are short."
I now truly understand the meaning of that. My son recently reminded me that in 4 months, I'll officially have a teenager on my hands. Yikes. These days I'm no less busy, but it's different.
There are very few leftovers these days, but I still buy those rotisserie chickens from the grocery store on my way home, not only for the chicken quesadillas but for the van picnic memories.
And as a I dip into a little of that rotisserie chicken as I'm driving, just as I did picking them up from daycare all those years ago, I can taste the simplicity of those early days, and almost see my 6-year-old son and 4-year-old daughter innocently peering back at me from their car seats, while I savor the chicken and the memories and forget about bigger kid problems… for just a little while.
Although, I do have to admit, I wouldn't trade sleeping through the night and sleeping in on weekends for all the van picnics in the world. I guess sleep just trumps simplicity and pretty much everything and anything else when you're a parent!
If you like quick Mexican food, the try my Two Cheese Tuna Mexi Melts: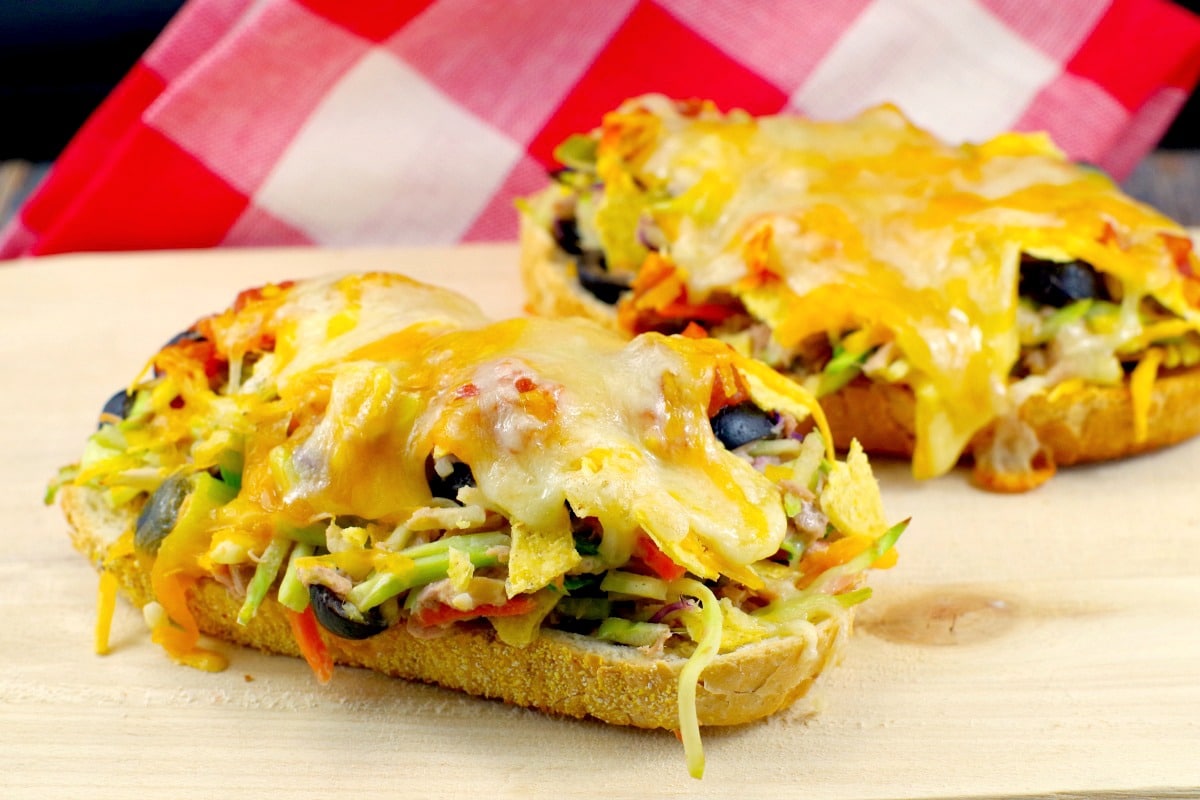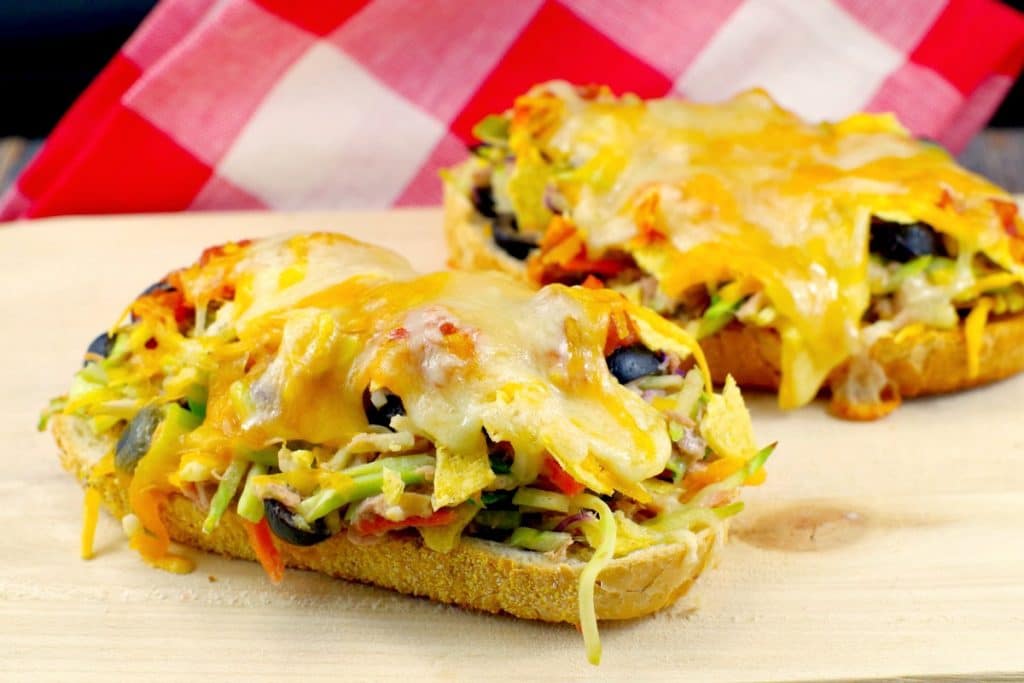 And my Mediterranean Breakfast Burritos: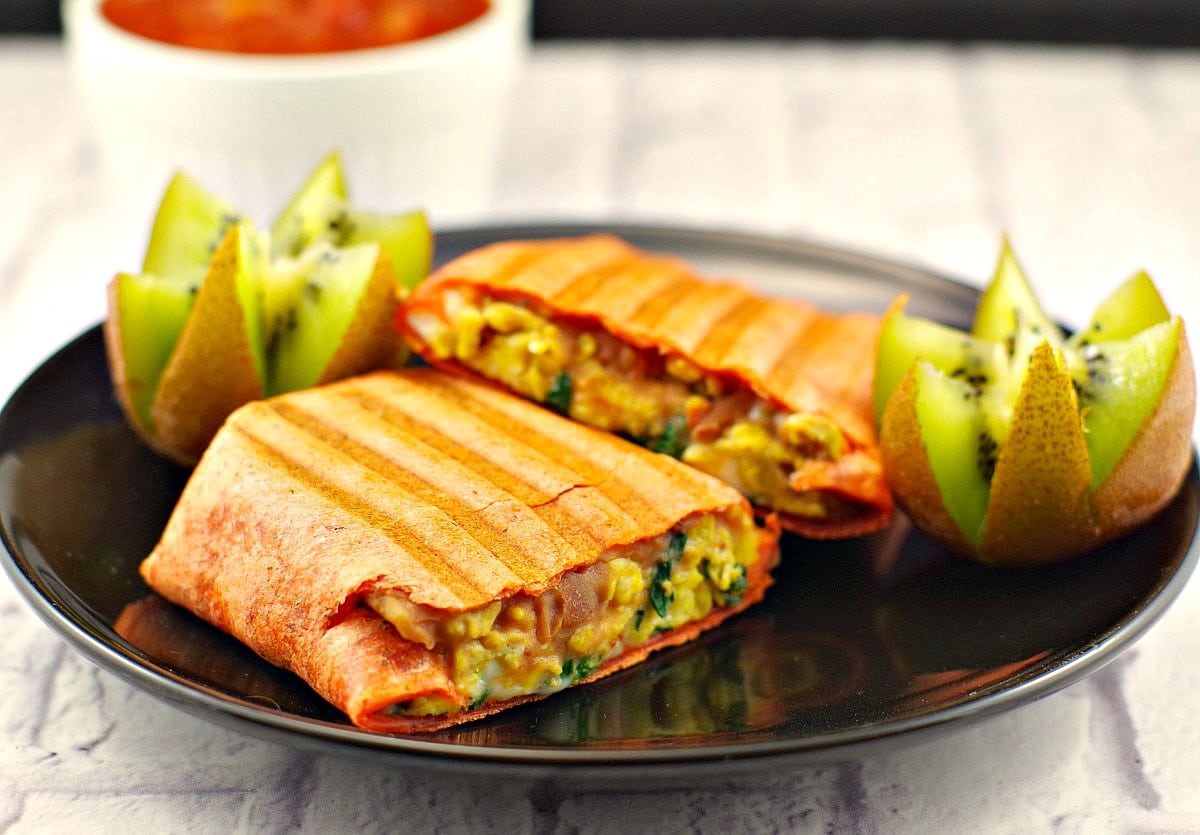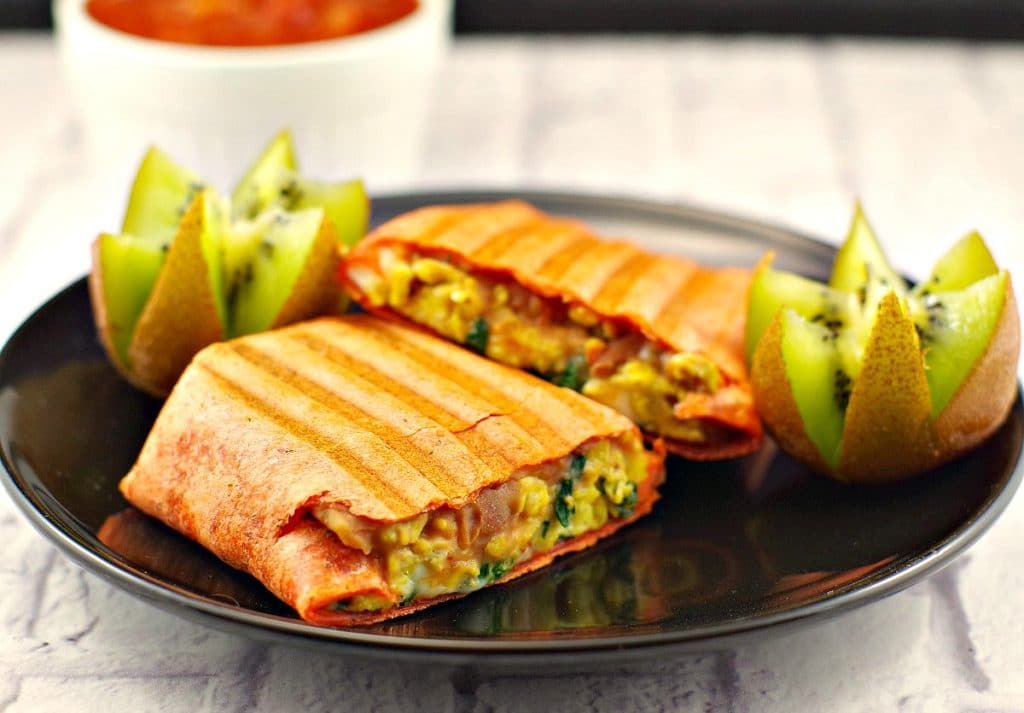 Print
Easy Quesadillas (with leftover rotisserie chicken)
Make these Easy Mexican Chicken Quesadillas with leftover rotisserie chicken (or home cooked chicken). This is an easy 20 minute dinner you can make when you get home to work. I also make it ahead and freeze it (or leftovers) as it freezes really well! * These can be gluten-free if you use a gluten-free tortilla wrap. (6 WW smart points on the blue plan)
Ingredients
2

cups

leftover rotisserie chicken, chopped

* you can also use cooked chicken breasts

200

ml

can sliced black olives

2/3

cup

salsa

1

cup

spicy habanero or jack jalapeno pepper cheese

** or use low-fat medium cheddar cheese

3

tbsp

fresh cilantro, chopped

* I use 3 but if you like a little less cilantro, use 2

6

10 inch

tortillas

* I like to use colourful ones - these are spinach, pesto and garlic. If you use the brand in the ingredient link, they are gluten-free
Garnish (optional):
sour cream

cilantro sprigs
Instructions
Mix all ingredients together in a medium mixing bowl, reserving 1/4 cup of the cheese.

Heat 2 - 12 inch frying pan to medium on stove and spray with non-stick cooking spray.

Lightly brown one side of tortilla then flip. Add filling to one tortilla and take the other one from the pan (browned side down) and put it on top. Reduce to medium- low, cover and cook with lid for a few minutes (3 minutes approximately) then gently flip.

* if a little filling falls out, don't worry, just put it back in. Sprinkle 1/3 of the remaining cheese on top and put the lid back on and cook for another 2 minutes.

Repeat for other quesadillas. You can use another frying pan if you have it to make it faster/more efficient. Cut into 4 pieces, garnish (optional) and serve.
Notes
*These can be gluten-free if you use a gluten-free tortilla (see ingredient link) 
Nutrition Facts
Easy Quesadillas (with leftover rotisserie chicken)
Amount Per Serving (1 slice)
Calories 203
Calories from Fat 81
% Daily Value*
Fat 9g14%
Cholesterol 29mg10%
Sodium 711mg31%
Potassium 125mg4%
Carbohydrates 20g7%
Protein 12g24%
Vitamin A 268IU5%
Vitamin C 1mg1%
Calcium 161mg16%
Iron 2mg11%
* Percent Daily Values are based on a 2000 calorie diet.
Nutrition
Serving:
1
slice
|
Calories:
203
kcal
|
Carbohydrates:
20
g
|
Protein:
12
g
|
Fat:
9
g
|
Saturated Fat:
3
g
|
Cholesterol:
29
mg
|
Sodium:
711
mg
|
Potassium:
125
mg
|
Fiber:
2
g
|
Sugar:
2
g
|
Vitamin A:
268
IU
|
Vitamin C:
1
mg
|
Calcium:
161
mg
|
Iron:
2
mg
This recipe is part of The Country Cook's Weekend Potluck