Sometimes I am just blown away by science. Like for instance, it still blows my mind that we humans have actually managed to get huge hunks of metal to fly through the air! And every time I fly in a plane, I am in complete awe of this. I know it's just basic physics, but it still amazes me.

And I have to admit that I was even a little amazed that my little chocolate cookie witch hats stayed afloat in this Melting Witch Halloween Punch! After all, it's punch.
I know ice cream, or sherbert in this case, floats on soda, but I've made far too many assumptions about food science and structure as a young and inexperienced cake decorator to get too cocky. But I was curious about the science behind this - why does ice cream float on soda?
Halloween punch
I just can't seem to get enough of the melting witch theme this Halloween! I recently made a delicious Melting Witch Chocolate Halloween Bark; it's such a fun theme that I had to run with it and create at least one more recipe before Halloween!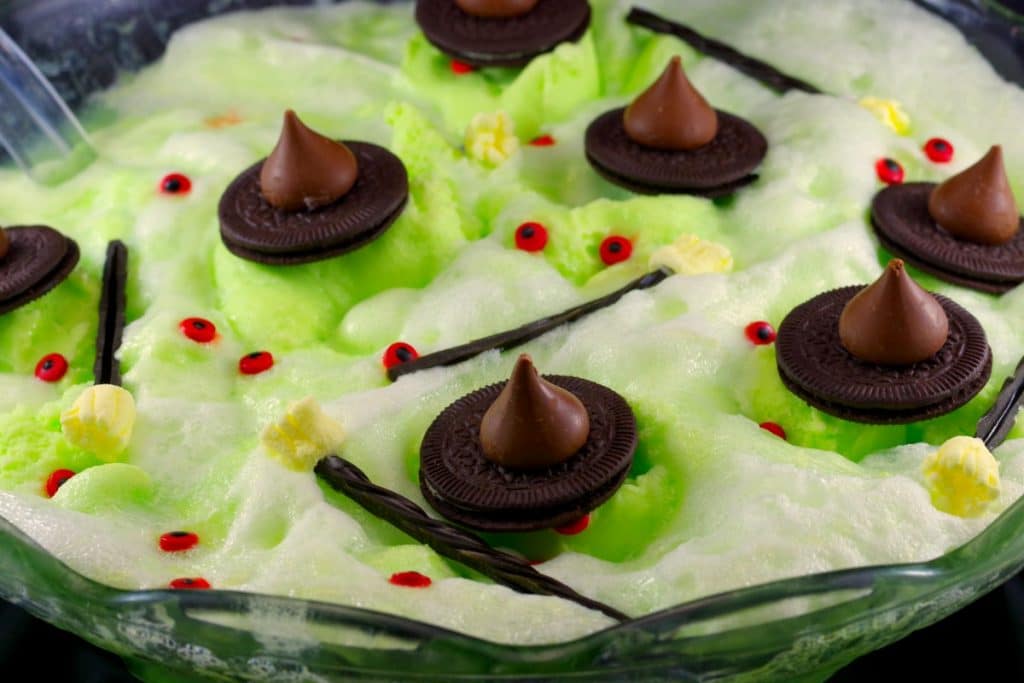 Why ice cream floats on soda
The reason that ice cream floats on soda has to do with density. You can read more about that HERE. I was simply thrilled that my little witch hats didn't sink. In the past I have made many assumptions, even ones with the laws physics on my side, and I was still left sorely disappointed. My first gingerbread house was a good example. You can read more about that HERE. And then there was the time I tried to make an edible support system for a cake (I was a bit obsessed with everything being edible at the time). But however crazy it was, it should have worked.
Green Non Alcoholic Punch
I made this green non alcoholic punch for my daughter's Guides Halloween party this year and it was a hit! However, transporting it to the party was challenging. I had to drive VERY slow. So, if the party is not at your house, I recommend you assemble the punch AT the party. I did not have that option, given I had to test it, then photograph it.
Halloween Punch for kids
So, if you are looking for the ideal Halloween punch for kids, this recipe is what kids' dreams are made of: ice cream, limade, soda pop, candy, marshmallows, chocolate and cookies! It doesn't get much kid friendlier than that. And it's perfect for a witch themed or Halloween party.

Witch Punch
This witch punch is a spooky, fun and green Halloween punch (non-alcoholic) that's fun for kids! And in retrospect, I guess I should have been confident that if my fellow humans can get metal to fly through the air, I can certainly get chocolate cookie witch hats to float on punch. But after my past experiences, I take nothing anything for granted when it comes to food and science.
Happy Halloween!
Print
Melting Witch Halloween Punch (non- alcoholic)
This green non-alcoholic Halloween Punch is the perfect Halloween potluck or witch themed party recipe, especially for kids! It has key lime Sherbert, soda pop, chocolate cookie witch hats, marshmallow licorice brooms and candy eyes. It's a kid's dream come true!
Ingredients
Instructions
Witch hats:
With icing "Glue" Hershey kisses to the top of cookies. Set aside
Witch brooms:
Cut licorice in half, then in half again (lengthwise) to make it thinner.

Cut marshmallows into broom ends by using small scissors (reserved for food only) or a knife, and making small snips into one end of the marshmallow.

With icing "Glue" licorice to marshmallow (uncut end) with a dab of royal icing. Set aside.

In a punch bowl, add sparkling water, soda (sprite or 7-up) frozen concentrated limonade and 1 container (946 ml) of key lime sherbert. Mix.

Add scoops of sherbert to the punch (so it floats on top). Use about ½ a 946 ml container.

Place witch hats and brooms on mounds of sherbert, then add candy eyes. Serve immediately.
Notes
My Amazon Recommendations (affiliate links)
Nutrition Facts
Melting Witch Halloween Punch (non- alcoholic)
Amount Per Serving
Calories 51
Calories from Fat 18
% Daily Value*
Fat 2g3%
Sodium 37mg2%
Potassium 15mg0%
Carbohydrates 7g2%
Calcium 7mg1%
Iron 0.6mg3%
* Percent Daily Values are based on a 2000 calorie diet.
Nutrition
Calories:
51
kcal
|
Carbohydrates:
7
g
|
Fat:
2
g
|
Sodium:
37
mg
|
Potassium:
15
mg
|
Sugar:
5
g
|
Calcium:
7
mg
|
Iron:
0.6
mg
Save
Saved!
More Halloween Recipes!
Halloween Jack o'latern Bucket Cupcakes
Halloween Phantom Pierogi Pizza Pockets
No Bake (Inside out) Boston Cream Moon Pie
Salted Toffee Halloween Caramel Apples
Melting Witch Halloween Chocolate Bark
Witches Brew Spumoni Trifle (with jello worms)
This recipe is part of The Country Cook Weekend Potluck!