Rhubarb season is here and I'm even more excited than ever because I started growing my very own rhubarb this year! And one of the things I love to make with rhubarb is compote. Rhubarb Compote is easy to make and goes so well with many things like yogurt, ice cream, oatmeal, toast, pancakes, waffles, oatmeal, parfaits and much more!
There are a lot of recipes for rhubarb compote out there, but my recipe is unique because it's made with orange and cinnamon. I've been making it this way for years and this is the way I remember my Baba making it. But why is it a brownish color, you're wondering? You're probably used to seeing pink rhubarb recipes. Well, read on to find out....
Rhubarb
I totally love rhubarb and grew up with it in abundance in Manitoba. It was everywhere; in my yard, all my friends' yards, Baba's yard, my Grandma's farm, in ditches, fields etc.. It grew just about anywhere. Heck you could even mow it down (like the haters often did) and it would come back with a vengeance (YAY rhubarb!) As kids, for a snack, we'd snap the rhubarb at the stem, hose it off and dip it in sugar. Yum! And not only do I still do that, I've got my kids hooked on it too!
This is my first rhubarb plant that came up this year (thanks to my lovely friend and colleague Nowel for giving it to me) ! I wish I had started growing this years ago....Oh and also thanks to my other lovely friend, Nadya, for supplying me with rhubarb for years before this!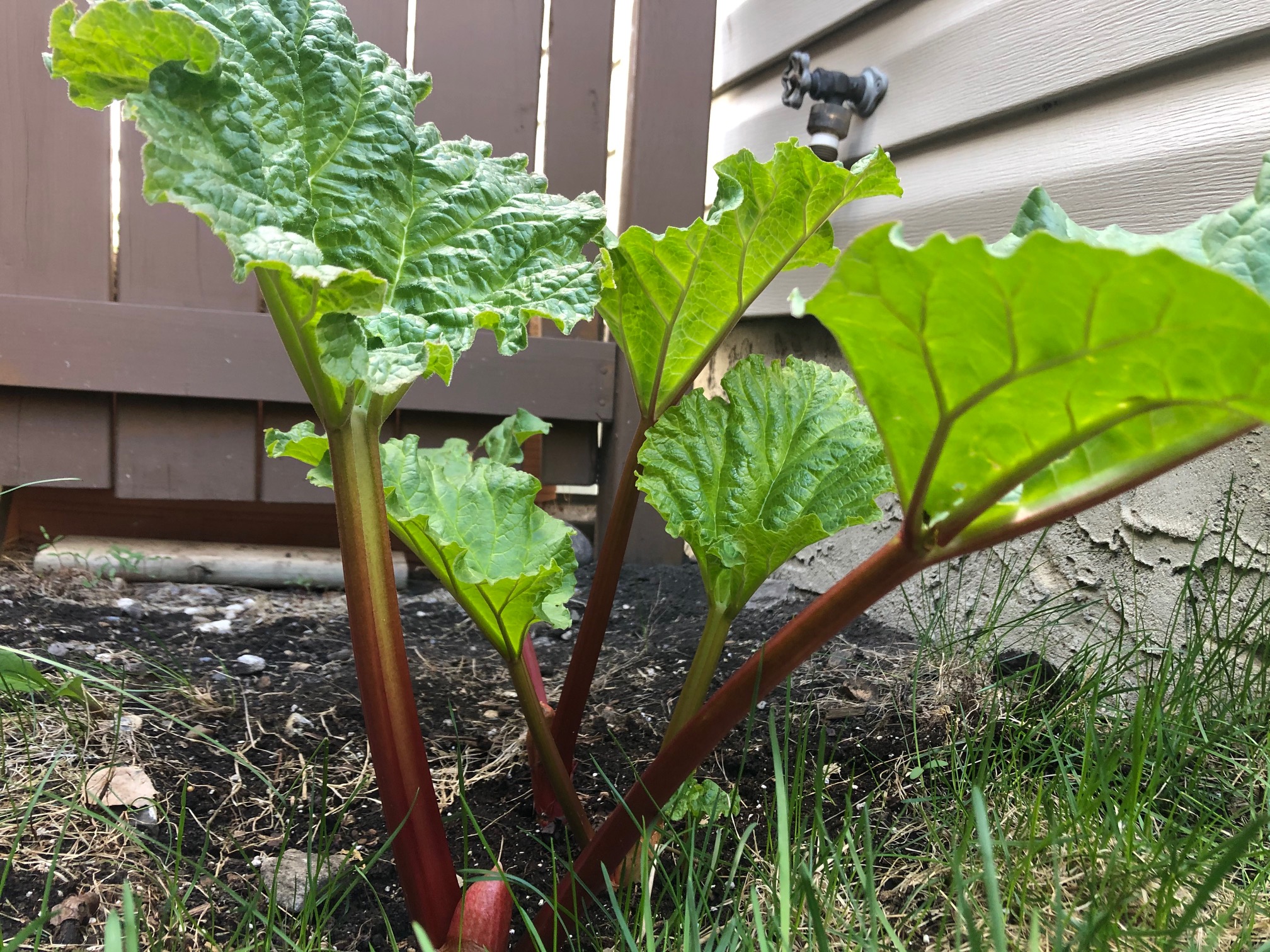 Rhubarb is a vegetable?
Rhubarb is actually a vegetable but it's most commonly sweetened and served as a fruit. And interestingly enough, according to this Huffington Post article, it's legally a fruit. It 1947 it was declared a fruit in a New York court because it's most often cooked as one in the United States (and because it was a way to save businesses who imported rhubarb from spending additional money on taxes). You can read more about that HERE.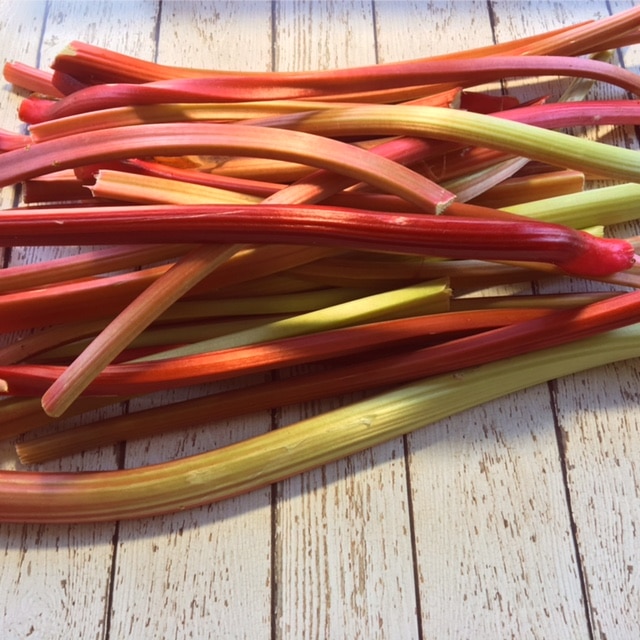 Recipes with Rhubarb Compote
Rhubarb fool and Rhubarb Cakes are probably the most common recipes with rhubarb compote. But as I mentioned, it's a great topping on oatmeal, pancakes, Greek yogurt, frozen yogurt, trifle, pavlova and many more dishes! Some people enjoy rhubarb compote on grilled meats like pork. Personally, I just love it on Greek yogurt!
Rhubarb Compote Recipe
However, because I did not have my own fresh rhubarb yet, I made this rhubarb compote recipe with rhubarb I'd received from my friend, Nadya. And it had actually been in my freezer from last spring. You can easily freeze fresh rhubarb, but just be sure to wash it and chop it up first. I freeze it in a freezer bag. Then put it over a sieve to drain off the excess moisture as it thaws. And although it gets a little soggy when defrosted, if you're just making compote or baking with it, it doesn't really matter.
Why is my cooked rhubarb brown?
First of all I want to say that I believe in keeping it real, especially as far as food goes, so I didn't add food coloring or strawberries or strawberry jello, as people often do, to give my rhubarb a pink hue. The reason cooked rhubarb turns brown mostly has to do with the variety and the way it's cooked. The Strawberry rhubarb variety will look pinker when cooked but it's not a common variety and harder to find (where I live anyway). Roasting rhubarb can also help rhubarb preserve a pinker color. So if you are looking for the pink color, I recommend you roast it. Your cookware can also affect the color of your cooked rhubarb. Because rhubarb is acidic, if you cook it in a metal pan like copper, aluminum, the rhubarb will turn brown. But in most cases, it's simply the variety and stove top cooking method that causes it to turn a brownish color. The taste is still amazing and that's what matters most, right?!
Can I freeze Rhubarb Compote?
Yes you can freeze rhubarb compote as well as fresh rhubarb! I froze this rhubarb compote in the photos because I wasn't ready to take pictures of it at the time I made it. I froze it in an airtight container, but you could also use a freezer bag. And it will last a few months in the freezer and taste as fresh and delicious as ever!
So, if you're looking for a Rhubarb Compote Recipe that's a little different than the typical, give this one a go. And if you love rhubarb, why not try my No Bake Rhubarb Cheesecake too (Confession: this one does contain strawberries and food coloring because I was going for a real red and white Canada Day look)
My Amazon Recommendations (affiliate links)
PIN IT FOR LATER!
Print
Rhubarb Compote Recipe
This Rhubarb Compote Recipe is quick and delicious with unique blend of orange and cinnamon flavors. It can be eaten alone or on yogurt, ice cream, pancakes, waffles, oatmeal and parfaits!
Ingredients
3

cups

rhubarb, chopped

¾

cups

white granulated sugar

1

teaspoon

cinnamon

1

teaspoon

lemon juice

from concentrate

1

teaspoon

orange zest

1

tablespoon

freshly squeezed orange juice

1

teaspoon

pure vanilla extract
Instructions
Combine all ingredients in medium saucepan, except vanilla extract.

Bring to a simmer over medium-high heat.

Reduce heat to a gentle simmer and cook until the rhubarb begins to break down, about 15 minutes.

Remove from heat, add vanilla and stir.
Notes
*NOTE: Makes about 2 cups - serving is 2 tablespoon
3 WW points on the blue plan
Nutrition Facts
Rhubarb Compote Recipe
Amount Per Serving (2 tablespoon)
Calories 43
Calories from Fat 9
% Daily Value*
Fat 1g2%
Sodium 1mg0%
Potassium 66mg2%
Carbohydrates 11g4%
Protein 1g2%
Vitamin A 23IU0%
Vitamin C 3mg4%
Calcium 21mg2%
Iron 1mg6%
* Percent Daily Values are based on a 2000 calorie diet.
Nutrition
Serving:
2
tablespoon
|
Calories:
43
kcal
|
Carbohydrates:
11
g
|
Protein:
1
g
|
Fat:
1
g
|
Saturated Fat:
1
g
|
Sodium:
1
mg
|
Potassium:
66
mg
|
Fiber:
1
g
|
Sugar:
10
g
|
Vitamin A:
23
IU
|
Vitamin C:
3
mg
|
Calcium:
21
mg
|
Iron:
1
mg
Save
Saved!
More Toppings and Sauces!
Saskatoon Berry Filling and Sauce