Grandma Mary made the best Cottage cheese and potato perogies around! Whenever we left Winnipeg at Christmas, she'd send us home with dozens. And when she was coming to visit Calgary, we'd anxiously await our perogies, which she'd dole out by the pie plate full. Frozen perogies layered between sheets of wax paper in aluminum pie plates, wrapped up in newspapers; that's the way Mary packaged them. She always said they kept best that way. They were, by far, the best authentic perogies ever!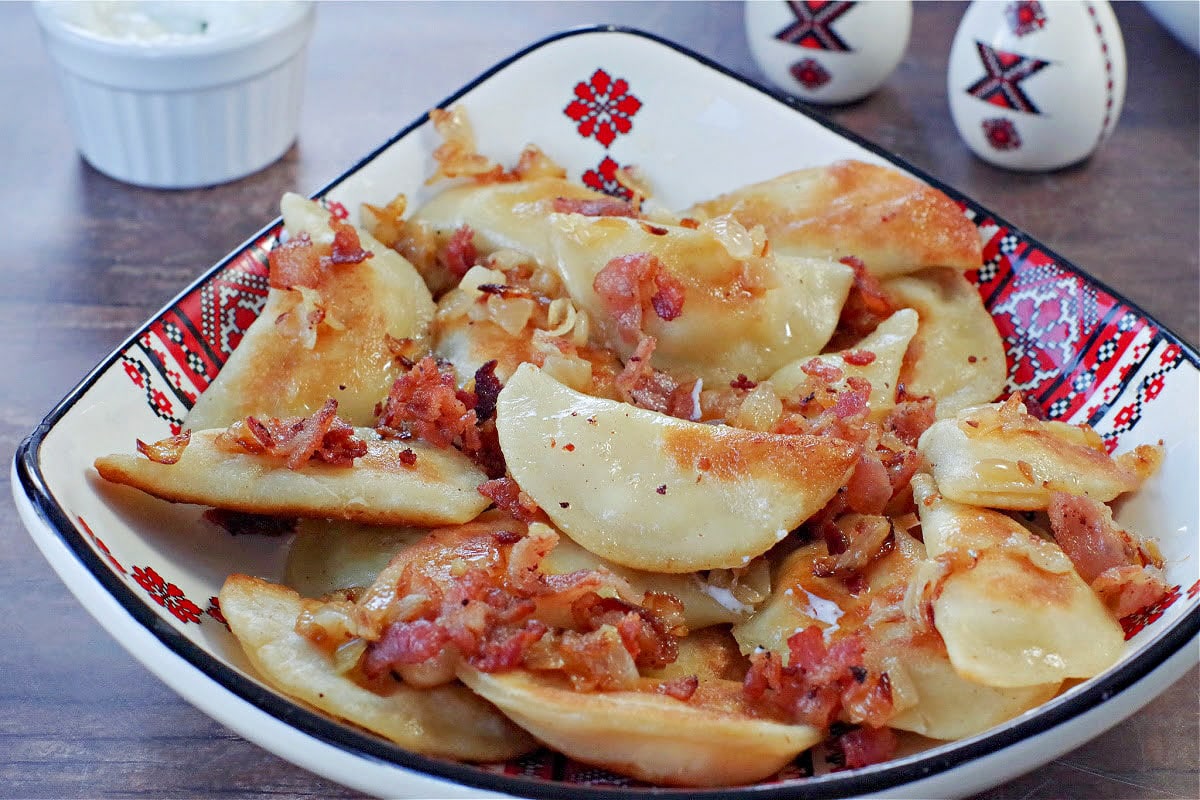 Mary passed away nearly 15 years ago and we miss her dearly. But she lives on through her perogies. And we were lucky enough to not only be blessed with this recipe, but to have the opportunity to watch the master perogy maker at work and record her technique.
Jump to:
I grew up on perogies and I still love them; they are pure comfort food! Every Sunday when we went to Baba's, there'd always be perogies, along with Borscht , Cabbage Rolls with kubassa and something sweet with poppy seed (you'll want to try my Lemon Poppy Seed Torte with Raspberry Curd Filling & White Chocolate Whipped Cream Frosting!) But sadly, I never got my Baba's perogy recipe, or any of her recipes for that matter. I was only 12 when I lost her.
On the eve of what would have been our Malanka, our dance school's Ukrainian New Year's celebration (cancelled due to covid this year), I am remembering and missing the people, the music, the dancing and the perogies, while drowning my sorrows in homemade perogies. This is a photo of me at Malanka 2020. Good times!~
However, I am so very grateful to have Grandma Mary's perogy recipe and honored to be able to share it. Mary was my husband's Grandma and it was a pleasure to have known her and shared so many years with her. She was a strong, wise, kind, generous and beautiful soul.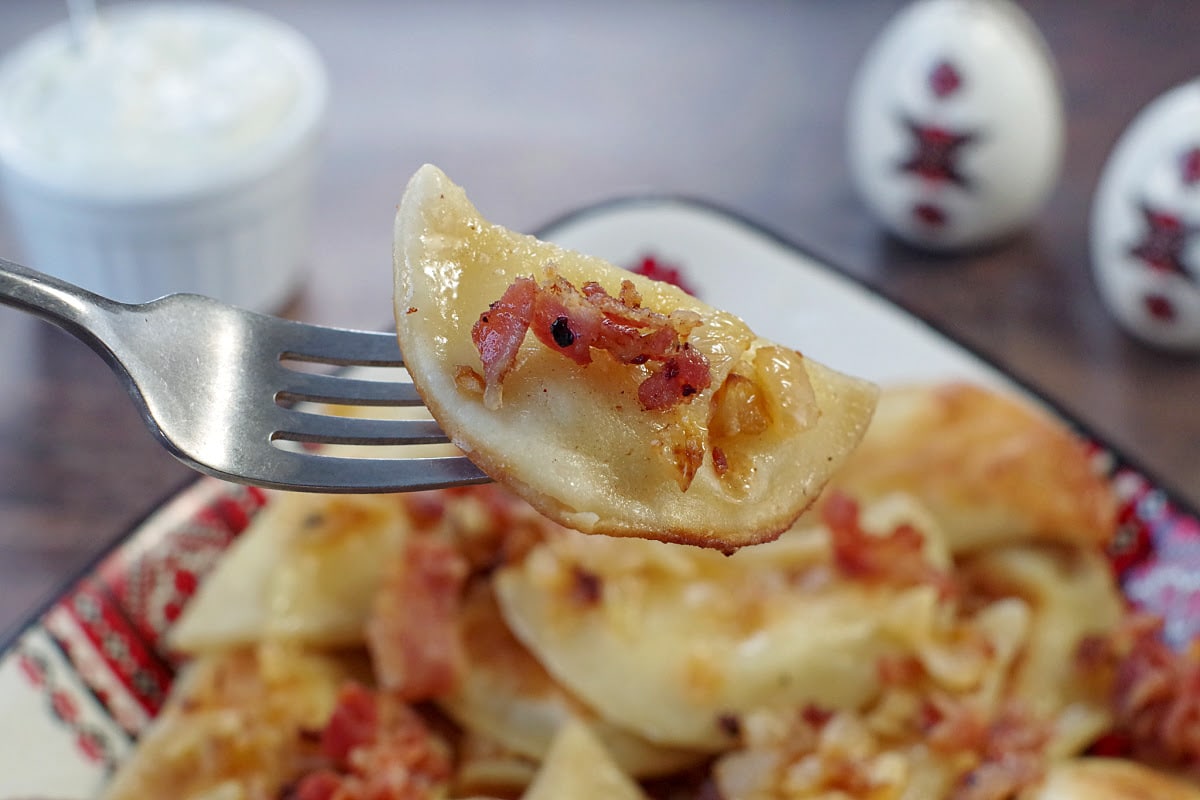 For countless years, every Saturday, she would toil away making hundreds of perogies that she so graciously shared with her family, friends and neighbors. And anyone who was lucky enough to be a recipient of a loaded pie plate wrapped in newspaper, was not only filled with gratitude, but left wanting for more. Even when she was in her 90's and had a harder time getting around, she'd perch on the stool in her kitchen and make dozens of perogies. You could tell it was important to her, as it was to all of of us.
🥘🥔 🧀 Ingredients
These are true authentic and traditional Ukrainian perogies! Ukrainian food is actually pretty plain, simple and economical. These pierogies are made with simple ingredients like potato, dry cottage cheese, with a simple dough, then boiled, fried in real butter and smothered in fried bacon and onions.
I grew up on potato and cheese pierogies, but my Baba's perogies were either cheddar and potato or sauerkraut. I had never even heard of dry cottage cheese pierogies until I met my husband and his Grandma's perogies. And I fell in love with them! The dry curd cottage cheese gives these perogies an interesting and unique texture; different from the typical potato and cheese pierogi.
For this recipe, you'll need:
flour
salt
butter
milk
potatoes
dry cottage cheese
pepper
onions- optional
bacon - optional
*see recipe card for quantities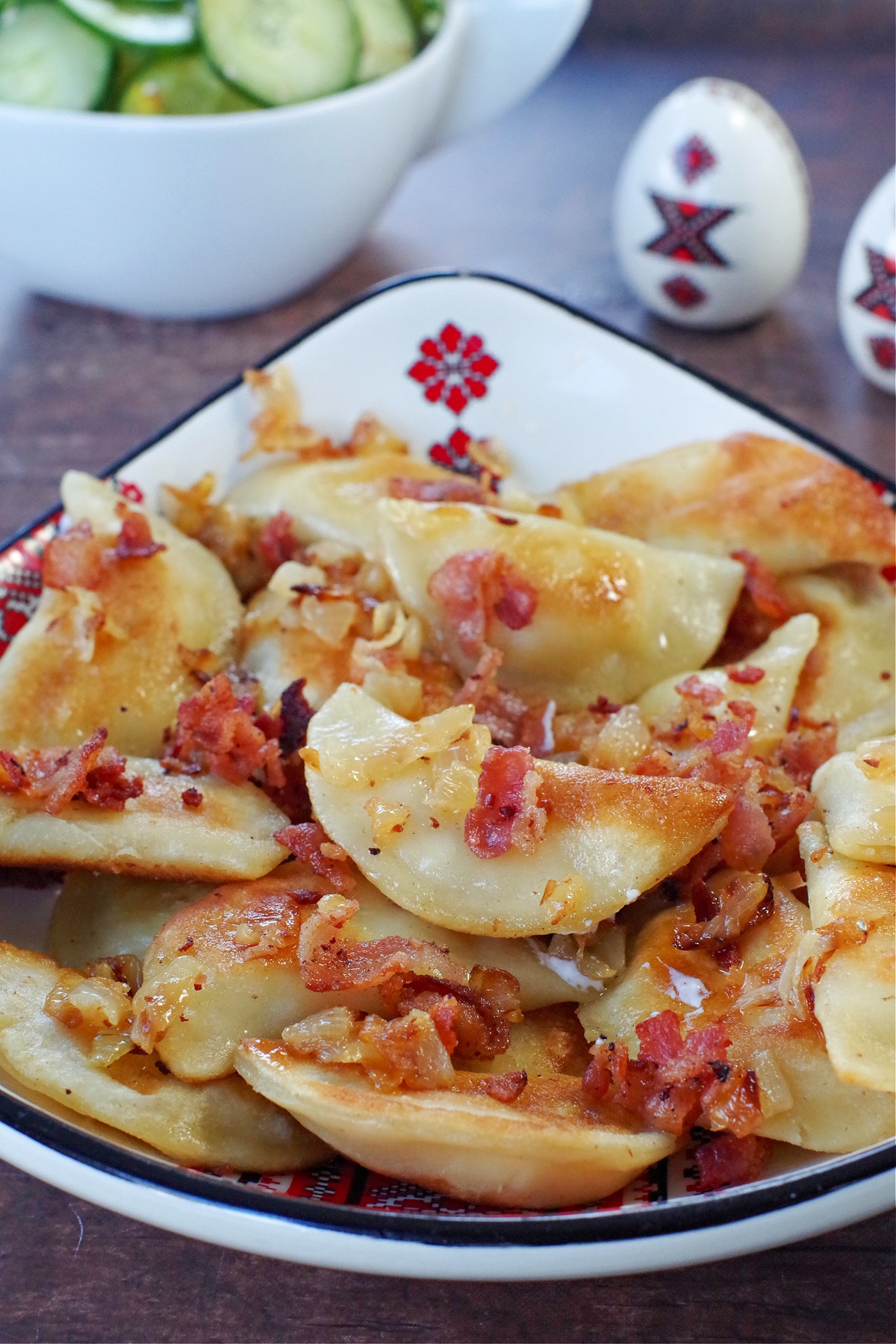 🥟🎥 How to make perogies
To help you make the best perogies (that stay together), I have included step by step photos of how to make perogies ( in the recipe card)!, as well as a video! Perogies are not hard to make, but they are pretty labor intensive. That's why it costs so much to buy homemade perogies.
🥂Have a Perogy Party!
So, I would recommend you have a PEROGY PARTY instead of trying to make 90 perogies on your own! Get some relatives and/or friends together and share the work. Many hands make light work. It's a lot more fun, you don't have to do all the work yourself and everyone gets to leave with perogies! And drinking wine while making perogies is perfectly acceptable- it's a party, after all! I have had a few perogy parties in my day, but this year, in the midst of the pandemic, it was the smallest party I've ever hosted- just the 4 of us (my immediate family) But it was still fun!
💭 Top tip: Use up Leftover Dry Cottage Cheese (and perogy filling)
Dry cottage cheese, aka dry curd cottage cheese is different from your typical And since you may have leftover dry cottage cheese and potato mixture, here are some recipes to help you use it up:
Easy Pierogi Stuffed Mushrooms
So, if you're looking for a simple, delicious and unique perogy recipe, then give it a try! And why not try my Saskatoon Berry Dessert Perogies? I use the same dough to make them (and you'll have a lot! ) Happy Perogy making and eating!
Print
📋Cottage Cheese and Potato Perogies Recipe
This Cottage Cheese and Potato Perogies recipe is from the master perogy maker, Grandma Mary Rudy! Made with dry cottage cheese, potatoes and a simple perogy dough, boiled, fried in butter and smothered with onions, bacon and sour cream, these homemade, traditional perogies are both delicious and authentic.
Ingredients
Mary's Perogy Dough
5

cups

flour

½

teaspoon

salt

¼

cup

butter or margarine

melted

2

cups

scalded milk
Cottage Cheese & Potato Filling
4

large

potatoes, peeled and chopped

600

g

-carton of dry cottage cheese

1

teaspoon

salt

½

teaspoon

pepper
Cooking
⅓

cup

butter for post boiled perogies

approximately

3

tablespoon

(or more) butter for frying
Instructions
Perogy Dough
Mix all together in bowl until the dough comes away from the sides and off your hands

Meanwhile, keep sprinkling with extra flour (about ½ cup)

Then cover (with airtight lid) and rest the dough for about an hour
Cottage Cheese & Potato Filling
Peel and chop potatoes, then cook until a fork goes easily through potatoes

Mash together with dry cottage cheese and salt and pepper. Set aside.
Assembly
Flour a large cutting board and place dough on top. Separate dough into 4 wedges

Roll out one of the 4 parts to ⅛ inch thickness (this will require a lot of muscle!)

Cut dough into circles with perogy cutter or you can use anything round that's about 2-3 inches in diameter. *2.5 inches is ideal and what I used. Repeat with remaining dough wedges.

Add a small amount (about 1-2 teaspoons) of filling to the middle of each perogy.

Dip your finger in water and run it around the outside of the circle, this will help to seal the perogy.

Pinch together in the middle (See VIDEO - how to make a cottage cheese and potato perogy)

Then work your way around the edge, pinching, while ensuring the filling stays in.

Keep pinching until your perogy is completed sealed. *It's important it's completely sealed so it will not come apart during the boiling process.

Lay on cookie/baking sheets (I find this best because you can fit a lot on)
Cooking
Boil water in a large pot and add perogies (you only want to add about a dozen at a time.)

Cook perogies in boiling water (rolling boil). *The perogies will float to the top when they are ready.

Remove with a slotted spoon.

Add to bowl with ⅓ cup melted butter (add more as needed, depending on how many perogies you are making.) As you move perogies from bowl to frying pan, add more butter, as needed) *This is the method Mary always used

*NOTE: At this point, if you plan to freeze them, you'll want to put them back onto parchment paper (or wax paper) lined cookie sheets. Space them so they are not touching and freeze them on the cookie sheets for 4-6 hours. Once frozen, you can move them into large freezer bags for long-term freezing. * I did not photograph, as we did not freeze any this time.

Fry over medium-high heat with additional butter (as needed) I use an additional 2-3 tbsps.

Fry until golden brown on one side, then turn and fry until golden brown on the other. Remove from heat. (Fry bacon and onions in separate frying pans, frying onions in additional butter for best results)
Garnish
Top with fried bacon, fried onion and sour cream if desired, and serve!
Video
Notes
*NOTE:  You may have leftover dry cottage cheese and potato mixture, here are a couple of recipes to use it up!
Perogy Zucchini Boats
Easy Pierogi Stuffed Mushrooms
Nutrition Facts
📋Cottage Cheese and Potato Perogies Recipe
Amount Per Serving (1 perogy)
Calories 49
Calories from Fat 9
% Daily Value*
Fat 1g2%
Cholesterol 1mg0%
Sodium 75mg3%
Potassium 90mg3%
Carbohydrates 9g3%
Protein 2g4%
Vitamin A 36IU1%
Vitamin C 3mg4%
Calcium 14mg1%
Iron 1mg6%
* Percent Daily Values are based on a 2000 calorie diet.
Nutrition
Serving:
1
perogy
|
Calories:
49
kcal
|
Carbohydrates:
9
g
|
Protein:
2
g
|
Fat:
1
g
|
Saturated Fat:
1
g
|
Cholesterol:
1
mg
|
Sodium:
75
mg
|
Potassium:
90
mg
|
Fiber:
1
g
|
Sugar:
1
g
|
Vitamin A:
36
IU
|
Vitamin C:
3
mg
|
Calcium:
14
mg
|
Iron:
1
mg
Save
Saved!
🥟More Ukrainian Pierogi Recipes!
Easy Pierogi Stuffed Mushrooms
Halloween Phantom Pierogi Pizza Pockets
!