Just in time for Thanksgiving! This Skinny Pumpkin Cheesecake is a great pumpkin pie alternative. Cheesecake can be really heavy but this one isn't.

And it's easy to make. So if you are looking for Thanksgiving pumpkin desserts (something that's a little different) then give this healthy dessert a try. You will be amazed by how delicious this pumpkin cheesecake recipe tastes @ only 10 WW points on the blue plan. It's the ideal Thanksgiving Cheesecake!
Jump to:
🎥 Video: Cheesecake Water Bath
Although cheesecake is not hard to make, if you have one bad experience, it can turn you off ever making it again. And because cheesecake is prone to cracking, I often use a water bath. But you don't even need to use a water bath with this recipe. It will crack a little, but the topping covers up any cracks, so it still looks great! And it won't dry out. However, if you always use a water bath and prefer it to be on the safe side, then go for it! And lastly, if you want to learn how to make a water bath, then watch this video on how to make a water bath for cheesecake! I like her trick of using a bigger pan to protect the cheesecake, but you can also tinfoil.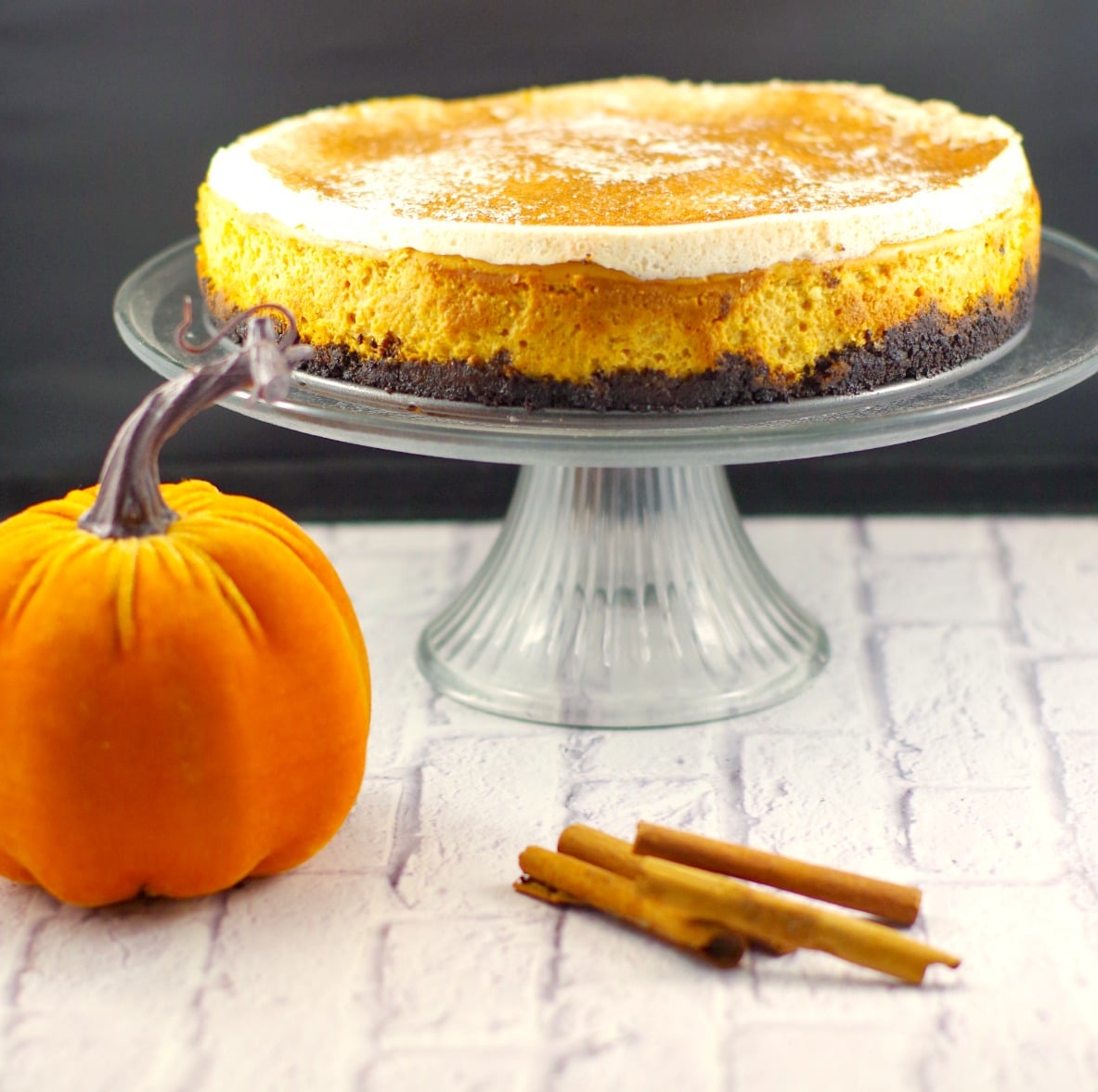 💧

CHEESECAKE WATER BATH LEAK

If you do find yourself with a water bath leak, don't despair- it does not necessarily mean your cheesecake is a write-off. Get it out of the bath ASAP and immediately switch to the water bath method above! Drain off any water from the springform pan, give it a shake and a giggle and dry off the pan with a tea towel or paper towel. Continue cooking and hope for the best. *Rest assured -Tthis has happened to me several times (before I started using the larger pan method) and my cheesecake was NEVER ruined.

This light pumpkin cheesecake has been my go-to cheesecake recipe for years. I once brought it to work and the recipe was requested by quite a few people afterwards. Then one coworker came back to me and said his wife made the cake, but it didn't taste like mine. I guess I had changed a few simple things (i.e. sprinkling the icing sugar and cinnamon on top) and hadn't included that in the recipe. Apparently my changes had made all the difference. Live and learn. Now I always include MY changes in recipes I share.
📖 Variations
Although this is a Chocolate Pumpkin Cheesecake, the pumpkin flavor is the star of the show! The chocolate Oreo cookie crust melds so perfectly with the pumpkin, it's hard to believe that this cheesecake originally had a gingersnap crust! However, if that sounds tempting to you and you want to crush up ginger cookies and use them instead of the oreo cookie crumbs, you are more than welcome to. Either way, give this Thanksgiving Cheesecake a go- you won't be disappointed!
💭
How to tell if cheesecake is done
It will still be barely jiggly when you shake/move it from side to side and the sides will have separated from the edges of the pan. But you will see it is puffed up a little around the center ** For this recipe, I advise you check it after 35 minutes, as that's what the original recipe called for. Although, it always took 45 minutes for me.
Since the 'jiggly test" can be hard to judge, the guaranteed way to know cheesecake is ready to come out of the oven is by temperature; when the internal temperature reaches 150 degrees. (At higher temperatures, the texture will suffer.) If possible, insert the thermometer into the side of the cheesecake where it rises above the pan (otherwise, insert it into the center of the cake). I use this instant read thermometer- (affiliate link) it's great for everything food related!)
💭 Top tip
Be careful when you are buying light cream cheese, as the fat contents vary greatly between brands. I find most of the store/no name brand fat content is substantially higher (almost the same as regular cream cheese) than the brand names. I generally stick to the brand names for light cream cheese.
🌡️Storing
Make ahead and refrigeration
This healthy pumpkin cheesecake can be made a day or two in advance and you can store it in the fridge for up to 3 days.
Freezing
You can freeze cheesecakes, so if you plan to, you'll want to check out Taste of Home's guide on how to freeze cheesecakes. However, if you do freeze it and plan to serve it, I do not recommend you freeze it for longer than 2 months. It's best if you do NOT put the icing sugar and cinnamon mixture on until it's completely defrosted.
👪 Serving size
This Thanksgiving cheesecake is made in an 8 or 9 inch springform pan and serves 16. Although 16 pieces seems like a lot, as you know, cheesecake is quite rich.
🍽 Equipment
I recommend you use a springform pan (preferably 9 or 10 inch) for this recipe (see my Amazon recommendations in recipe card NOTES) because it will make your life easier. However, if you don't have that type of pan and/or don't want to purchase one, you can make a cheesecake without it. You can read about how to make a cheesecake without a springform pan HERE.
So if you're looking for a pumpkin cheesecake recipe, pumpkin desserts for Thanksgiving or Thanksgiving dessert ideas, this is the one!
If you like pumpkin, here's my quick Prize Pumpkin Pie:
And if you like cheesecake, why not try my No Bake Light Red & White Chocolate Rhubarb Cheesecake:
⭐ REVIEWS
Did you make this recipe? Please RATE THE RECIPE below!
Please SUBSCRIBE (get my FREE E-cookbook) and be sure to FOLLOW ME on FACEBOOK, TWITTER, INSTAGRAM and PINTEREST!
🦃More Healthy Thanksgiving Recipes