When we first moved to Calgary many years ago, we often went to my husband's Uncle Harry and Aunt Joan's for dinners when the family was in town. I vividly remember one night Aunt Joan invited us over for a family BBQ, "It's nothing fancy," she said. "We're just having Guber Burgers.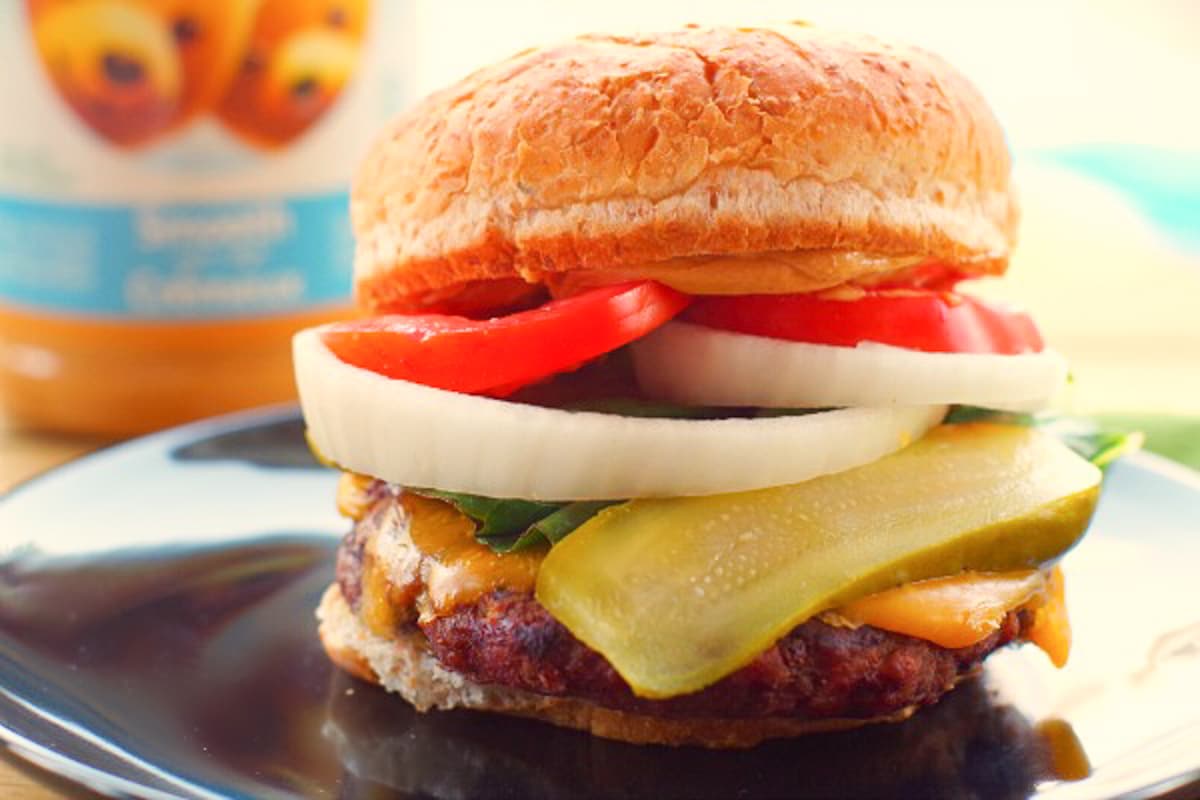 " "Hmm…" I thought that didn't sound at all appetizing. Of course, I didn't realize that a Goober burger was simply a Peanut Butter Burger.
Jump to:
However, at the time, it definitely didn't sound like something I'd want to put in my mouth. In my world, goober was a word that was not associated with dinner. And I couldn't imagine eating peanut butter on hamburger.
🥜

What does Guber mean?

Guber means peanut; also known as the ground pea of the south, or as it is sometimes called, the gouber or pindar peanut. Yet, it's also spelled goober, which by definition is a yokel; a bumpkin; a foolish or silly person. But it is also a gob of phlegm. And that's what I knew a goober as when I was growing up. Goober was gob, also known as hork (eww!)

So when I finally understood that I was simply having peanut butter on a burger, honestly, it was still tough to wrap my mind around eating food with the same name as gob.

And not being a huge lover of peanut butter, to begin with, it was a particularly hard sell. I LOVED burgers, but I only liked peanut butter. It had its place on toast and in cookies, right? But tainting my burger with peanut butter was a pretty risky venture. What if I didn't like it? Then my delicious burger would be a total write-off. But I guess I was feeling like living dangerously that day, so I went for it!

And WOW - it was that pb burger amazing! Who knew that peanut butter on a burger could completely transform a boring ol' burger into something so incredibly delicious?! It's seriously next level!
🥘 Ingredients
Peanut butter is a very mellow flavor that adds a welcome creaminess to this juicy burger. And as far as texture goes, it's like adding a burger spread or sauce to your burger. But it melds so perfectly with the ground beef and all the other toppings.
You can use creamy peanut butter or chunky peanut butter and you'd don't need a special peanut butter sauce. And you can add any toppings you like to a peanut butter hamburger, but I would recommend sticking to the ingredients I list in the recipe:
burger patties (homemade or store-bought)
burger buns
ketchup
cheddar cheese (sharp or old cheddar tastes best)
tomatoes
onions (white)
pickles (sandwich or dill pickles)
lettuce (you can use leaf, romaine, or iceberg)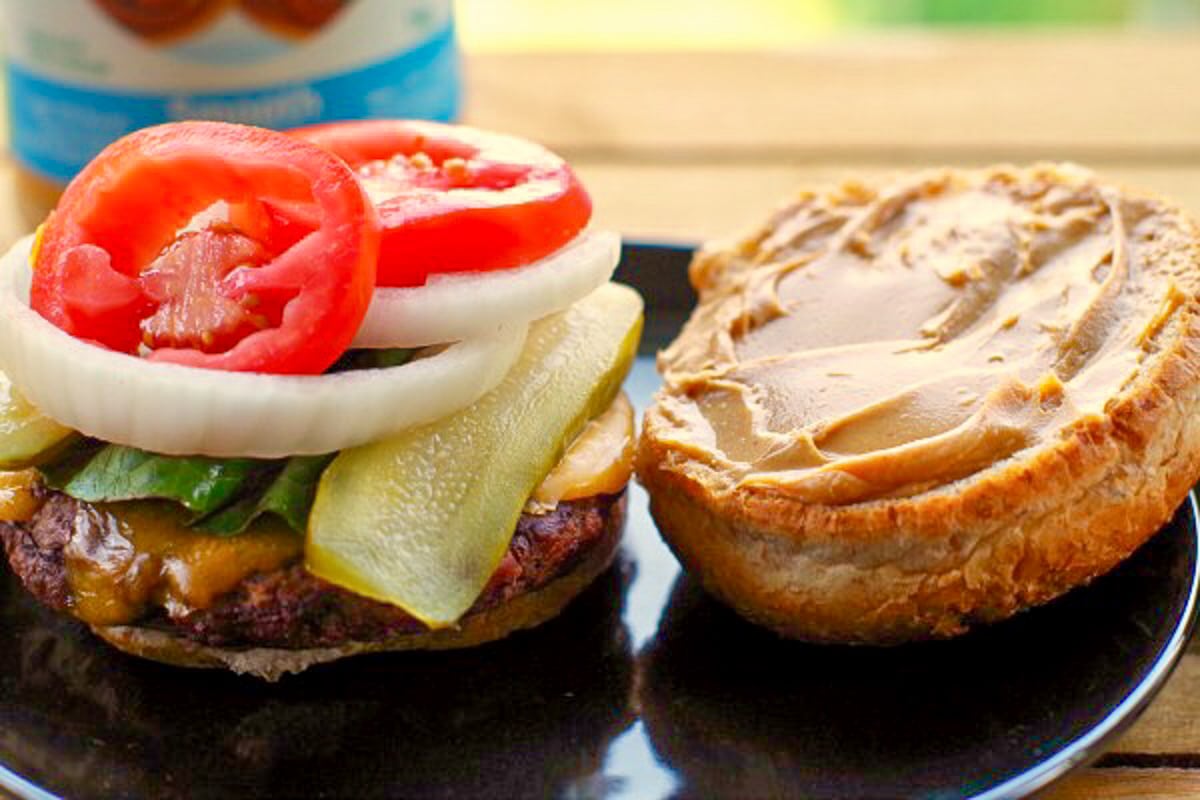 🔪 Instructions for making a Peanut Butter Burger
On the bottom bun, add ketchup, then add the hamburger patties with a melted slice of cheese.
Add the peanut butter burger toppings: Top with lettuce, then pickles, then onion, then add sliced tomatoes.
Add 1.5 tablespoon of peanut butter to the top bun.

Add the top (peanut butter) side of the bun to the rest of the burger, serve, and enjoy!
📖Variations & Substitutions
Peanut Butter Bacon Burger - just add some crispy bacon! You can use turkey bacon to keep it lighter
Onions - you can use red onions instead of white if you prefer
Gluten-free - use gluten-free buns
Lactose or Dairy-free - use lactose-free or vegan cheese
Cheese - you can use American cheese or cheddar cheese
Buns - you can use any type of bun you prefer, such as brioche buns
Peanut butter - you can use smooth or crunchy peanut butter
🌶️

Can this be made spicy?

If you want to make this Guber burger spicy, I would recommend using sliced jalapenos (in the jar) and adding them as a topping!
🥗 Side Dishes
Serve Quick Cucumber Kimchi, Sweet Potato Fries with Garlic Mayo Dip (shown below), onion rings, or a side salad.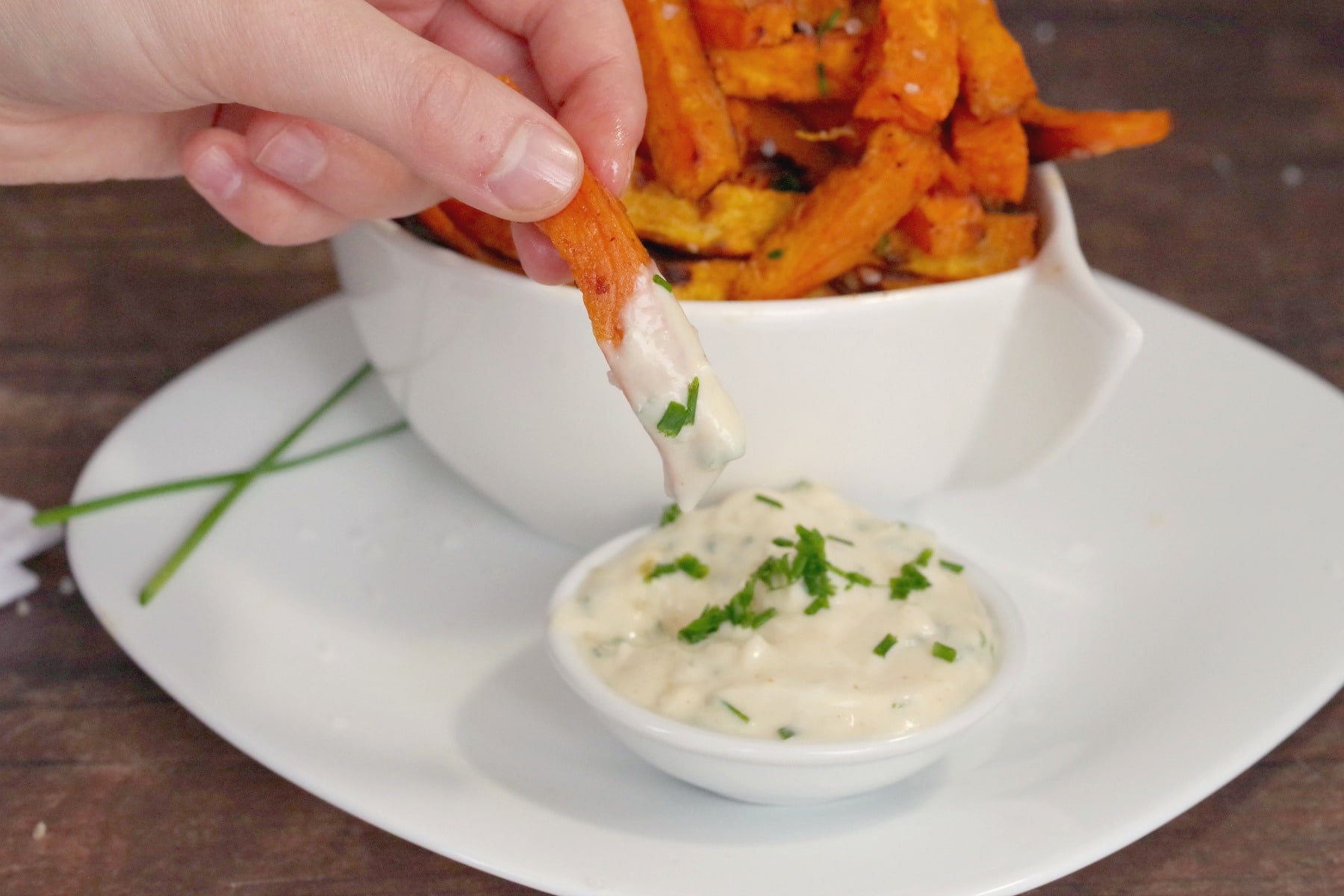 🌡️Storage
Store the burger patties separate from the other ingredients in airtight containers in the fridge. If you are just storing it overnight, you can cover in plastic wrap.
🍽Equipment
I grill my hamburgers on a gas grill, but you use an indoor grill, a stove top grill, or a charcoal grill. You can also make these tasty burgers in the air fryer.
I recently made my son a Goober burger and after his first bite, his reaction was exactly the same as mine the first time I had a Peanut Butter Burger, "WOW. That was amazing!" he said.
And I quote, "So much better than I thought it would be. The peanut butter just gives it this incredible unexpected flavor!"
🦺Food Safety
Cook ground beef to a minimum internal temperature of 165 °F (74 °C)
Do not use the same utensils on cooked food, that previously touched raw meat
Wash hands after touching raw meat
Don't leave food sitting out at room temperature for extended periods
Always have good ventilation when using a gas stove
Never leave cooking food unattendedSee more guidelines at USDA.gov
In fact, I loved the Guber burger so much that it inspired me to create this PB & J BBQ Sauce! It's great for any meat or whatever you like to add BBQ sauce too. I have used it on chicken, pork, BBQ beef on a bun, kabobs, steak, and burgers (as well as veggie burgers).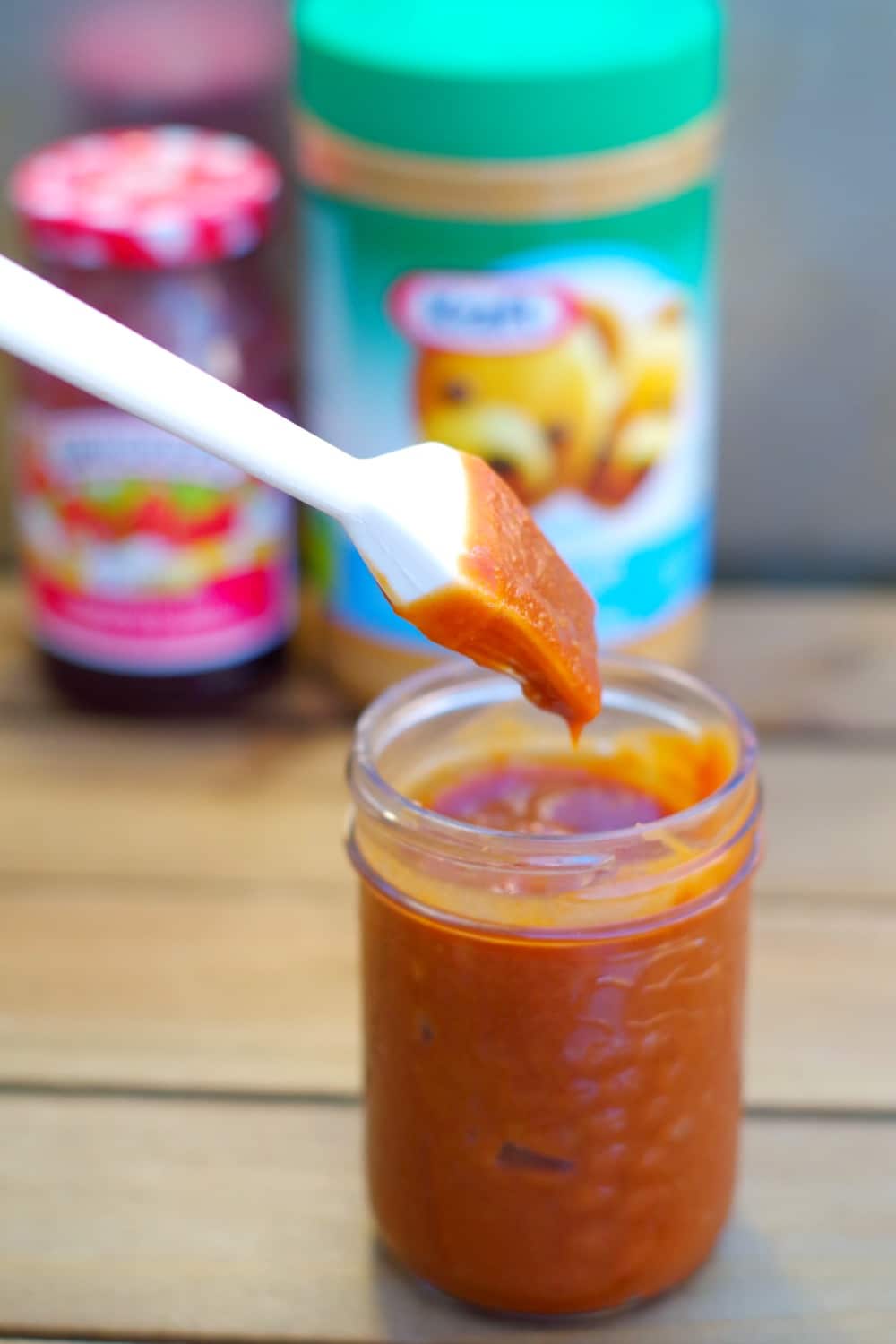 👨‍👩‍👧‍👦

Father's Day Burgers

So if you are looking for an easy and unique grilling recipe or peanut butter hamburgers for a summer BBQ or a great Father's Day dinner, then give this a try!

And you may also like my Gourmet Sirloin Burger with beets if you're looking for a burger that's a little "fancier"!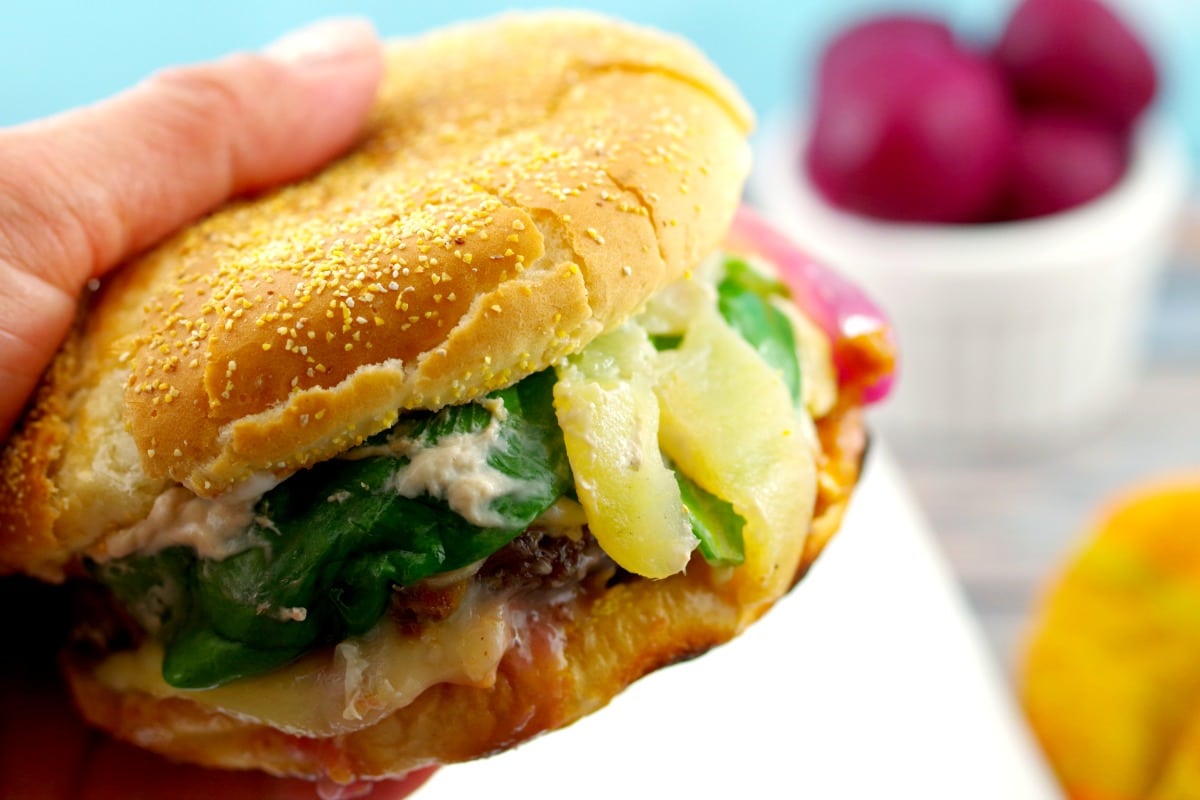 And my Chicken Burger Recipe -"Tree Burger"!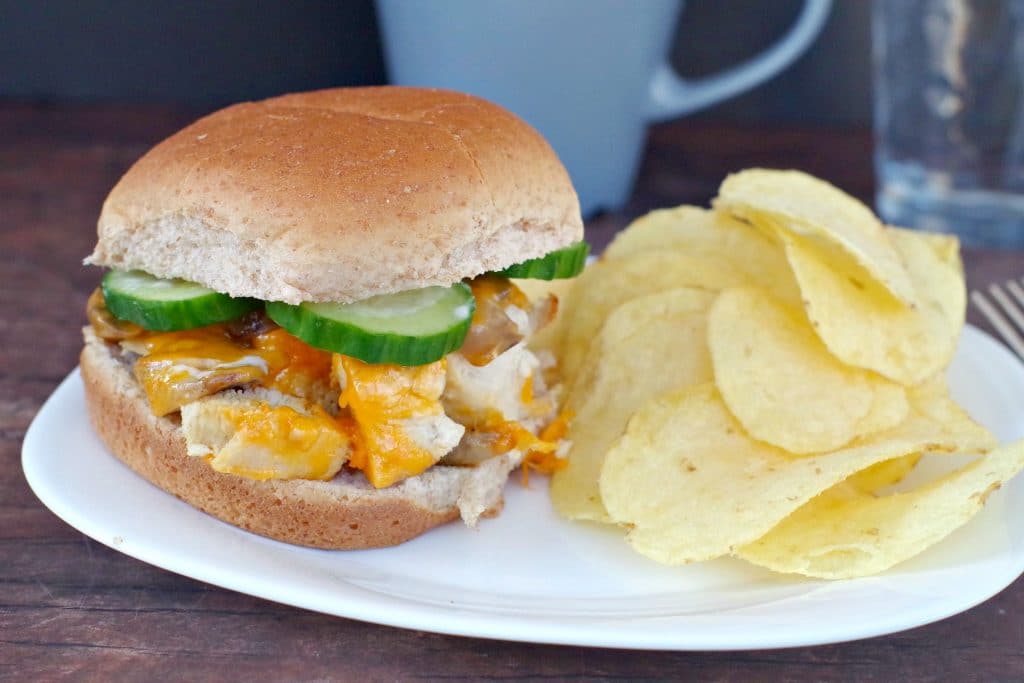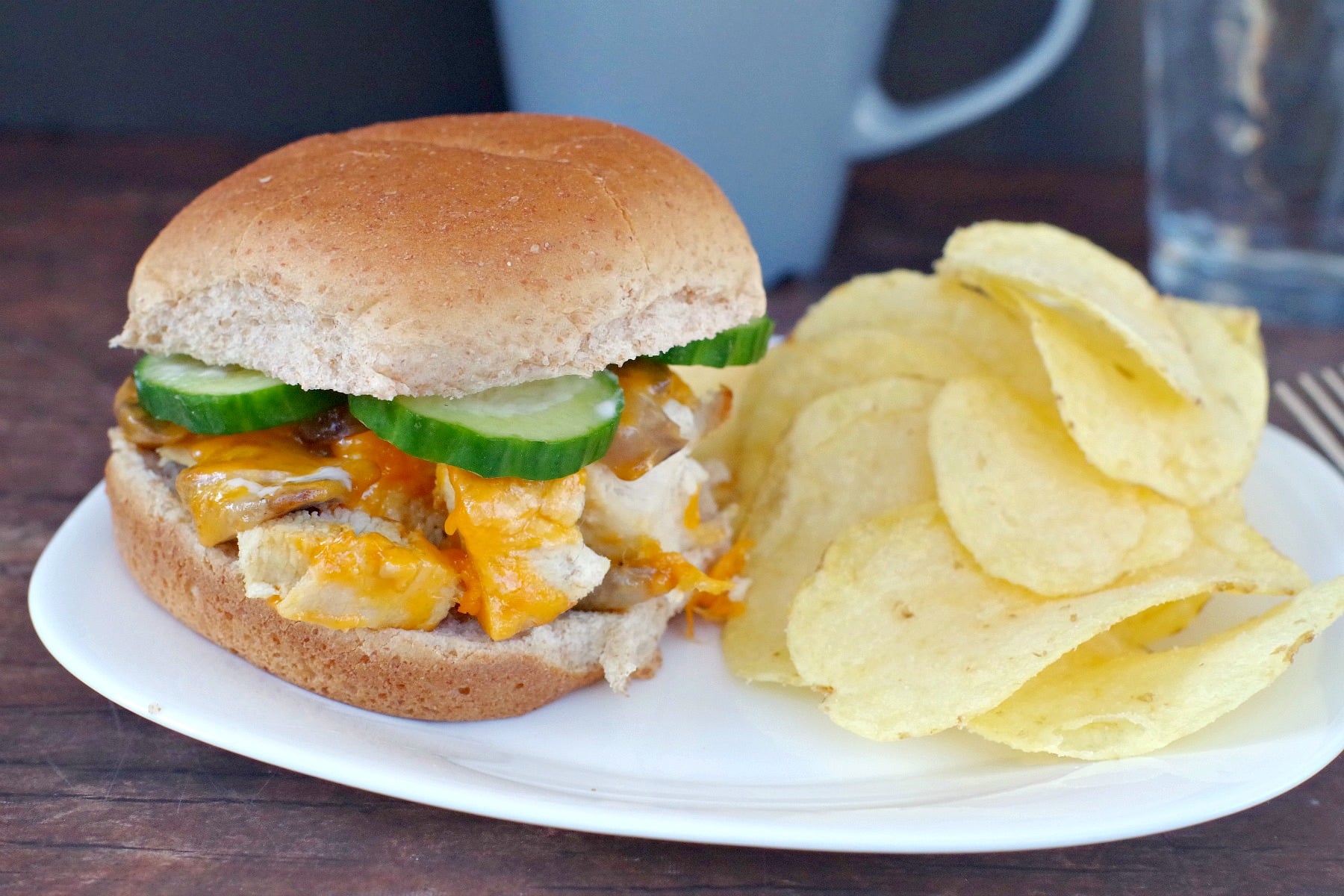 🍔Guber Burger (Peanut Butter Burger) Recipe
These Guber Burgers (Peanut Butter Burgers) are an easy and delicious grilled burger with peanut butter, tomato, lettuce, onion, ketchup, cheese and pickles (all the ingredients you already have at home). They are quick and easy to make and perfect for summer BBQ's and Father's Day! It will amaze you how the addition of simple peanut butter on a burger can elevate it to this level of yumminess!
Print
Pin
Rate
Equipment
Ingredients
4

beef burger patties, cooked

* homemade or pre-made

4

hamburger buns

* I recommend sesame seed buns

½

cup

sharp cheddar, cheese, sliced

* approximately

4

tablespoon

ketchup

* you could substitute mayonnaise

8

lettuce leaves, washed and dried

4

pickles, sliced

1

onion, sliced in rounds

2

tomatoes

* If you use a larger tomato, you may only need 1

6

tablespoon

chunky peanut butter

*add more (or less) to your liking
Instructions
Grill burger patties as per directions.

Melt cheese on cooked burger, dividing evenly by all 4 burgers.
Assembly: (I recommend you build your burger in this order)
On the bottom inside of each of the buns, add ketchup, then add the burger patty with melted cheese.

Add lettuce, then pickles, then onion, then add sliced tomatoes, to the top of the patty, dividing the ingredients evenly amongst all the burgers.

Add 1.5 tablespoon of peanut butter to the top inside of each of the buns.

Add the top (peanut butter) side of the bun to the rest of the burger, serve and enjoy!
Notes
*NOTE: I have tried a lot of combinations of condiments, as well as other fixin's on my Guber burgers and I can tell you from experience that I have given you the very BEST combination of ingredients and in the exact order! I would recommend you follow this exactly for the ultimate Goober Burger experience!
Nutrition Facts
🍔Guber Burger (Peanut Butter Burger) Recipe
Amount Per Serving
Calories 566
Calories from Fat 252
% Daily Value*
Fat 28g43%
Cholesterol 86mg29%
Sodium 1228mg53%
Potassium 970mg28%
Carbohydrates 44g15%
Protein 37g74%
Vitamin A 5727IU115%
Vitamin C 14mg17%
Calcium 261mg26%
Iron 5mg28%
* Percent Daily Values are based on a 2000 calorie diet.
Nutrition
Calories:
566
kcal
(28%)
|
Carbohydrates:
44
g
(15%)
|
Protein:
37
g
(74%)
|
Fat:
28
g
(43%)
|
Saturated Fat:
9
g
(56%)
|
Cholesterol:
86
mg
(29%)
|
Sodium:
1228
mg
(53%)
|
Potassium:
970
mg
(28%)
|
Fiber:
5
g
(21%)
|
Sugar:
13
g
(14%)
|
Vitamin A:
5727
IU
(115%)
|
Vitamin C:
14
mg
(17%)
|
Calcium:
261
mg
(26%)
|
Iron:
5
mg
(28%)
Did you make this recipe?
Please leave a star rating and review below!
📋More Grilling Recipes