If you are thinking about getting an air fryer, but not sure what to look for in an air fryer, I would recommend you focus on 4 main things functionality, size, space and budget. And most importantly do your research! Look at consumer reports and reviews and talk to people because the number of choices out there is actually overwhelming. Fortunately, I have done a lot of that for you in this article.
It took me 9 long months to buy an air fryer because I wanted to learn as much as I could before I pulled the trigger. I also wanted to get the best deal and the right air fryer for my needs. Although I watched a ton of videos and looked at several different types and models, I still wish I'd purchased one that was a little bigger. However, when I weighed the jump in price, I'm still very happy with my 8 quart Ninja Foodi 2 drawer dual. (affiliate link).
When air fryers became popular, I was skeptical, as I am with every new small appliance. After all, I LOVE small appliances and have too many, no space, and wish I could buy them all!
I didn't want to give into the hype around the instant pot and never did (I still don't own one). But that was because of my cooking style. If you are looking at getting an air fryer, you really need to ask yourself what your cooking style is and how much that particular kitchen appliance will help YOU.
When I looked at the difference between the slow cooker and the instant pot, the cooking times, how often I use it, and the fact that I've never had the need for a pressure cooker, I decided it was something that wouldn't help me very much in the long run. And when I read this article: Is the Instatpot worth the hype? I decided it wasn't for me. The air fryer is an entirely different story!
However, an air fryer made sense for my cooking style and lifestyle. And it's especially useful if you are on the WW program. It basically allows you to eat fried food in a healthier way. And depending on the type you get, it can do so much more! I also like that I can use it in the summer when it's hot, instead of the oven and it uses less electricity than the oven.
❓What does an air fryer actually do?
First of all, you need to understand how an air fryer works. Firstly, it does not actually 'fry' your food, although it tastes as if it does because it produces food that is crispy on the outside and tender and moist on the inside. And it uses very little oil to achieve this!
An air fryer combines a heating element and a powerful fan to circulate hot air, similar to a convection oven. Although, it takes less time, and makes less mess than traditional frying or cooking in an oven. It also uses less electricity than an oven.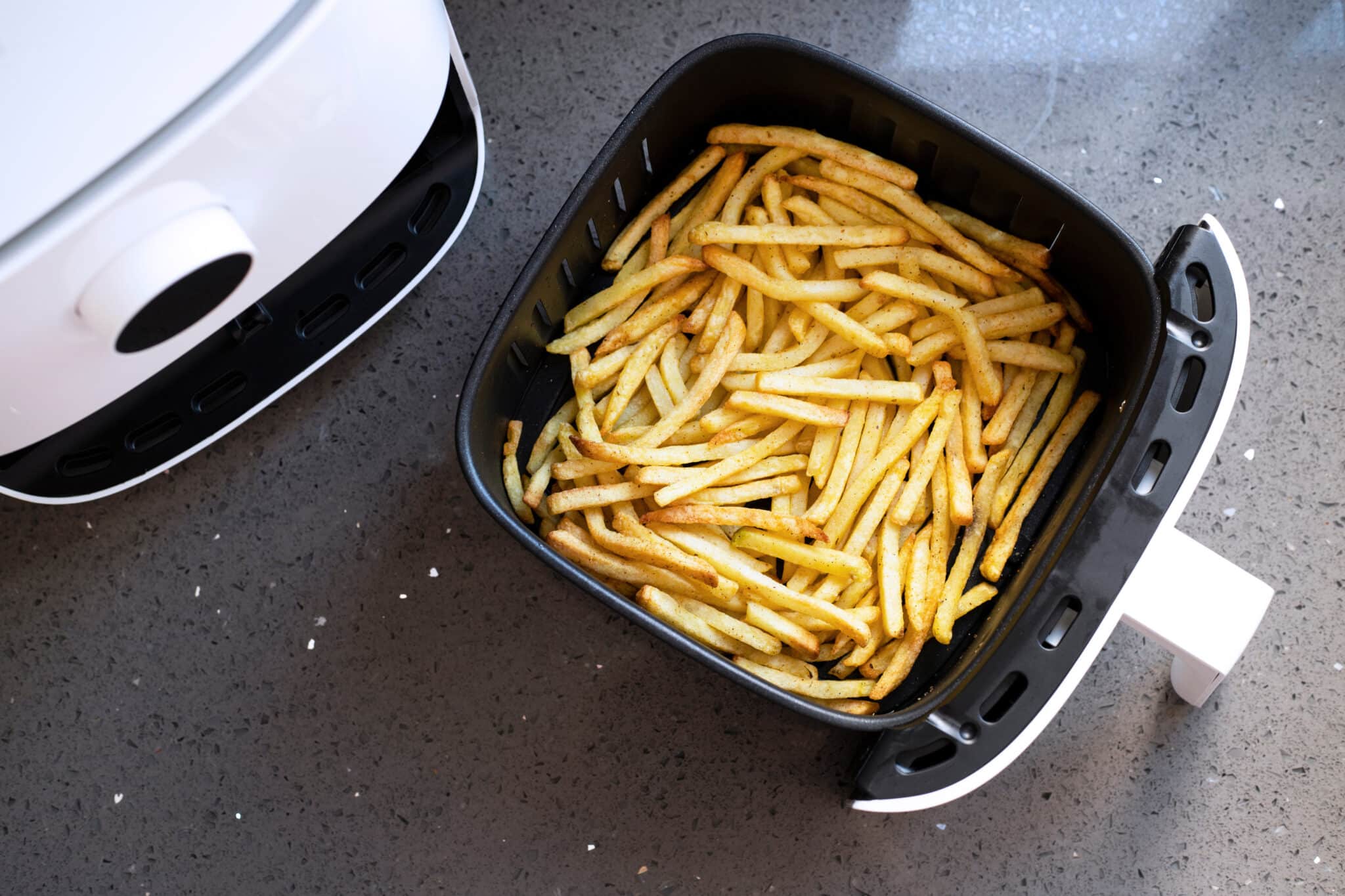 🔢4 Main Things to look for in an air fryer
1. FUNCTIONALITY
I think that functionality is the number one consideration when you are looking for an air fryer. This will also be determined by the size (see below).
BASKET, DUAL-BASKET OR OVEN
Air fryers come in three main styles: basket style, dual-basket style, and air fryer toaster ovens (tray air fryers).
Basket:
The basket style air fryer is a single basket or drawer. It doesn't hold as much food as the oven type of air fryer, so you generally have to cook in batches or 2 items at the same temperature. However, it generally cooks faster than the air fryer oven, depending on the type of food you are cooking.
Dual-Basket:
Dual basket (or drawer) air fryers do everything your usual single basket air fryer can do, times two. So you can cook with the same time and temperatures across both drawers (effectively doubling the capacity of a single drawer use) or you can control either drawer independently.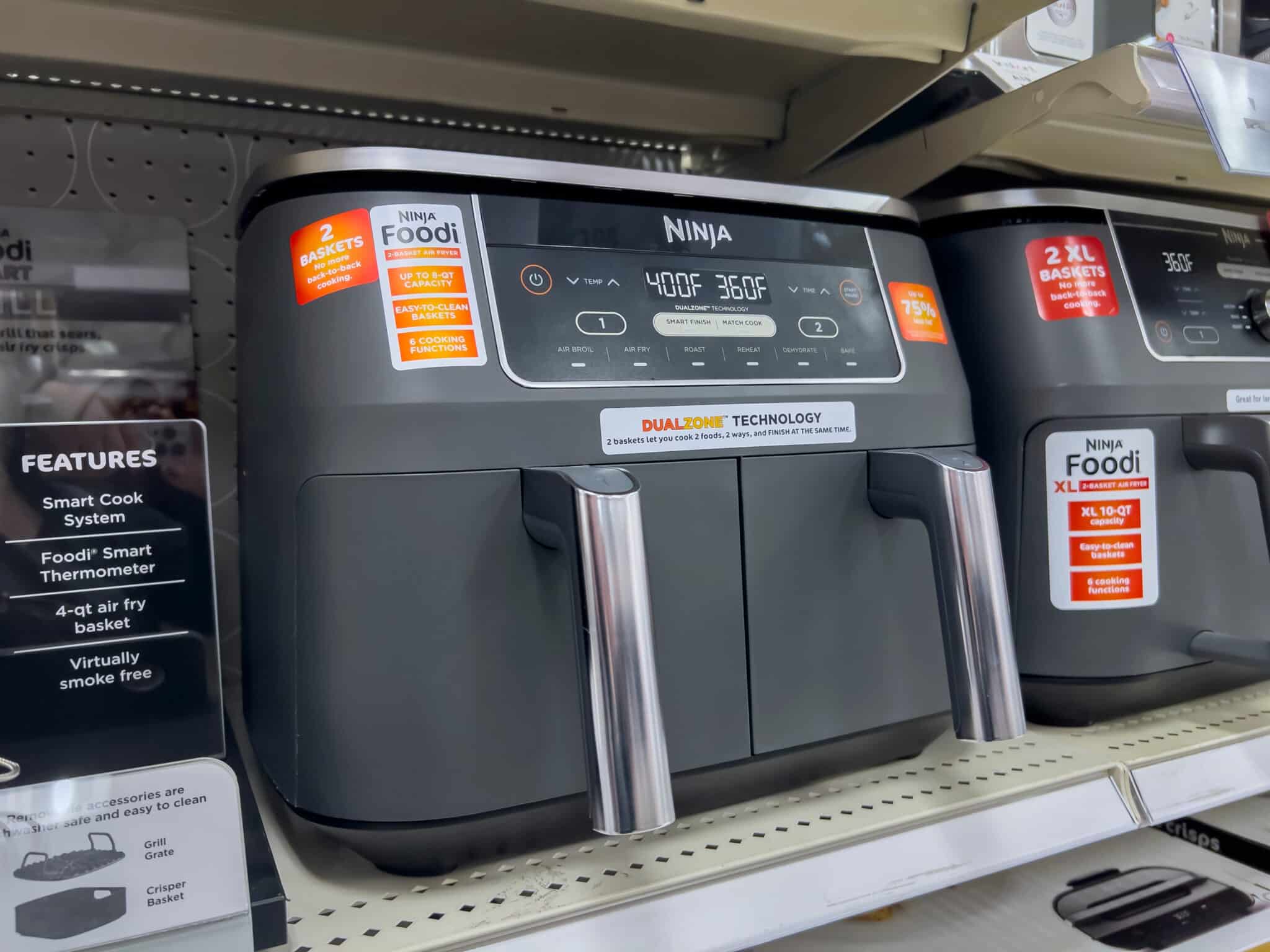 Oven
Oven-style air fryers have trays so you can cook different foods at the same time, as well as in larger quantities.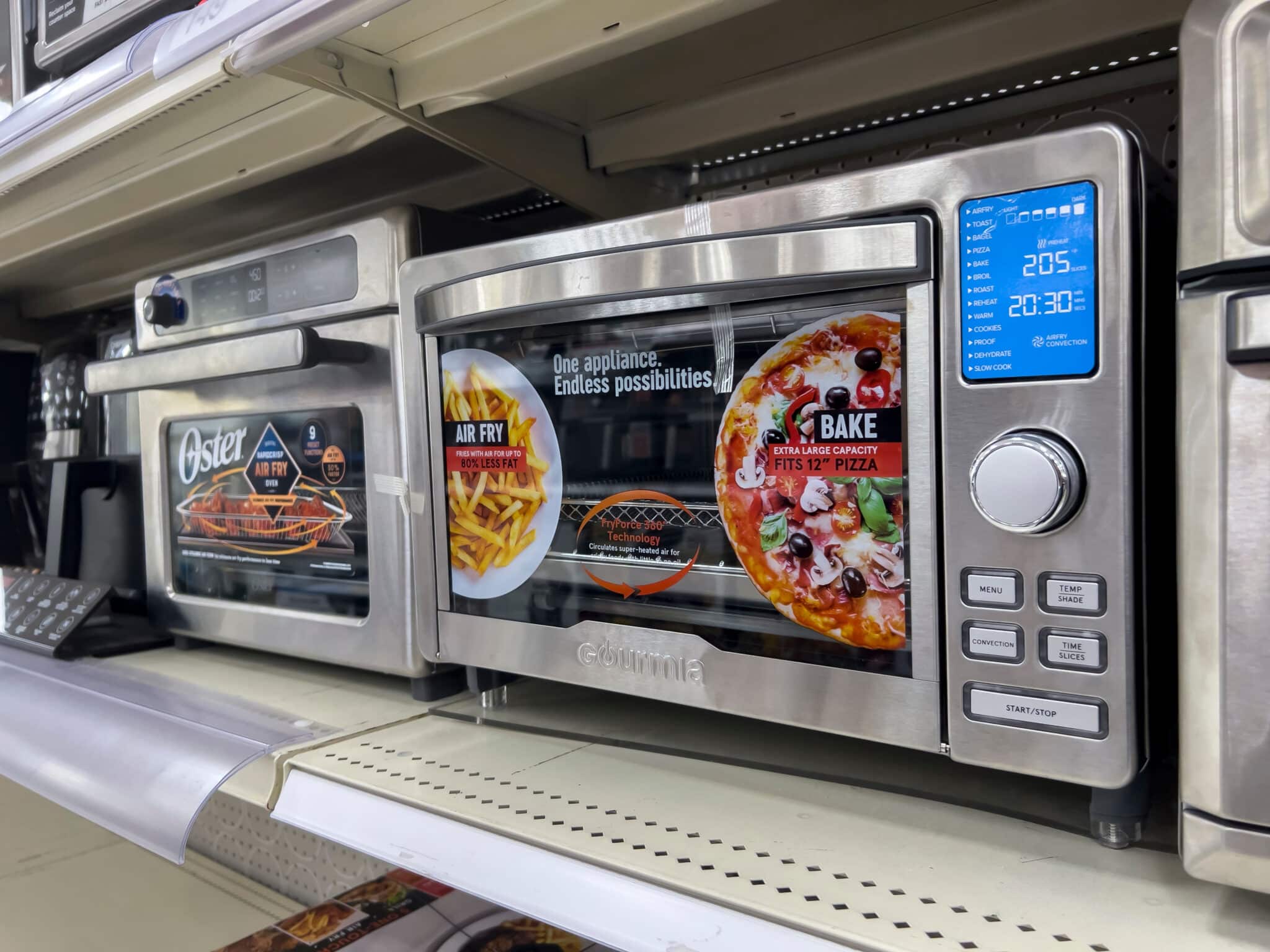 When shopping for an air fryer, think about what else you want it to do (if anything) besides air frying:
Multi-function: Air fryers can double as an instant pot, slow cooker, indoor grill, convection oven or toaster oven. You can have a couple of functions or several functions
Controls: Do you want digital or manual (dial) controls?
Settings: Bake, Slow Cook, Roast, Reheat, Air-fry, Air-broil, Toast
Match cook and Smart Cook: Do you want to cook more than one thing at once? Or cook two different items at different temperatures?
Dehydrate - do you want to be able to dehydrate herbs and fruit?
I knew I wanted the dehydrate function so I could dehydrate all my herbs and not buy a dehydrator, but didn't think I need the bake function on my Ninja air fyer, given I have an oven, so I didn't get it.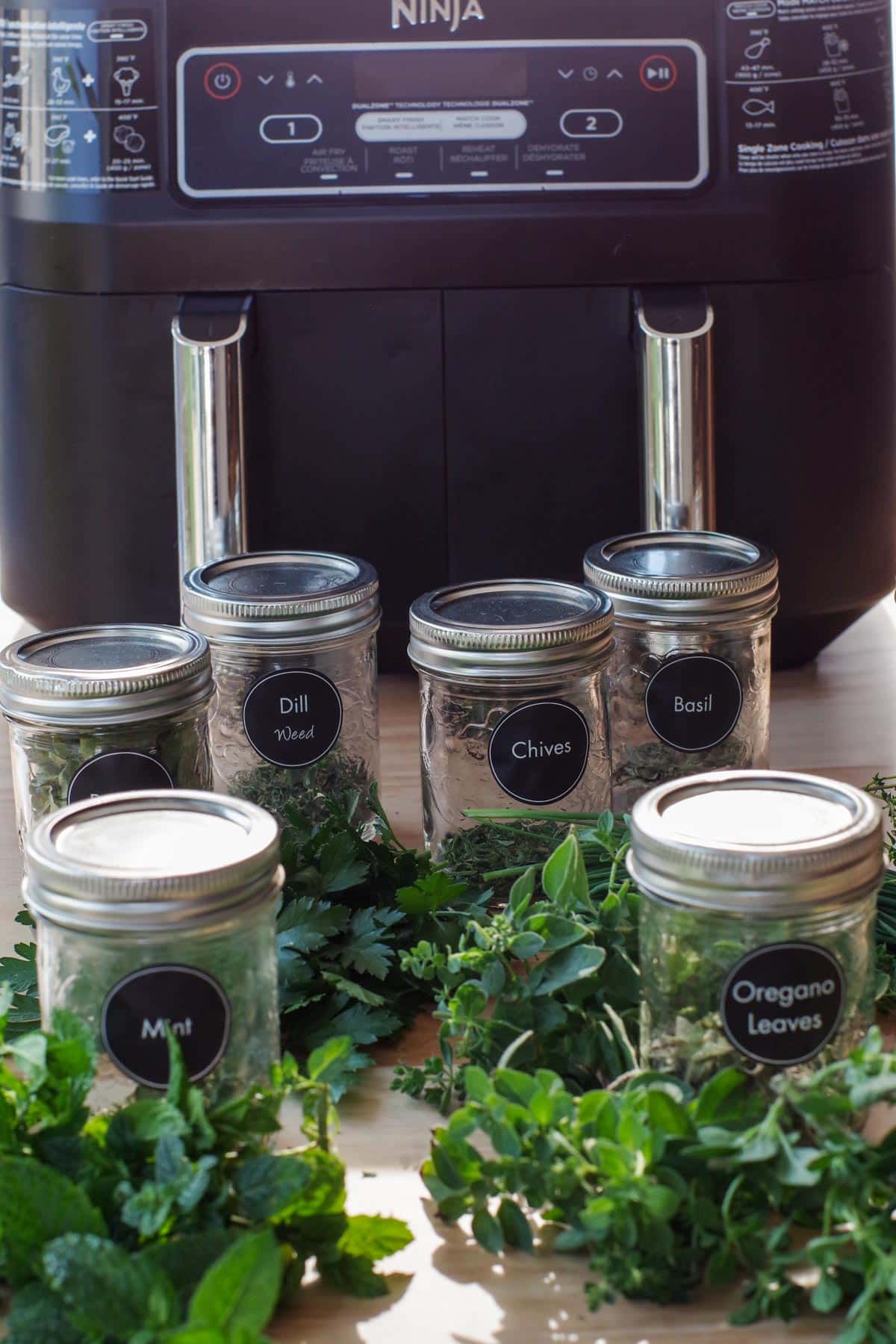 But when it was very hot out I was sure wishing I had that bake function!
2. SIZE (Capacity)
Size does matter! When you are thinking about the size of the air fryer you'll need, there are a number of considerations:
How many people are in your family? Do you have a large family? Is it just the 2 of you? Or are you living alone?
Are your family members big eaters? Do you have a teenage boy(s)?
What do you usually make that you'll want to make in your air fryer (a whole chicken?) You can fit a small chicken in each drawer of the Ninja Foodi 2 drawer (8 quart) or a larger chicken in a 4-6 quart basket- type air fryer.
Air fryer size that's best for you:
1 -2 people - a 3-4 quart air fryer can be used for cooking fish or chicken with a side of vegetables, reheating leftovers. The cylindrical and basket-type air fryers are usually enough for a single person or even 2 people.
3-4 people: a family or shared living arrangement will likely need a 5-7-quart air fryer. You can cook a whole small chicken in an air fryer this size. An oven-type air fryer would work well for this many people as well as a dual basket.
4+ people - 8-10 quart. I have an 8 quart and a family of 4 (including a teenage boy) and wish I bought a 10 quart Ninja Foodi dual zone. However, I can still make it work. I can cook a small (3-4 lb) chicken in each drawer. Either a dual-basket or oven fryer would be ideal for a larger family.
3. BUDGET
Budget is an important factor in purchasing an air fryer. But value is just as important. You want to get the best value for your money, so do your homework (see the best air fryers article below!) Here are some considerations:
How much do you want to spend?
Air Fryers range anywhere from $30 for a basic air fryer to $400 (USD) for multi function air fryers. However, you can pay over $600 *for a counter convection oven air fryer-type combo that's higher-end (like a Breville) (affiliate link)
What features cost more?
Paddle- type air fryers are usually a little more expensive than basket-style air fryers because they turn the food for you, ensuring even cooking.
Multi-function air fryers also cost more, as they do more than air frying. But again, the range can be hundreds of dollars, based on whether the air fryer reheats or doubles as an instant pot or counter convection oven.
Digital controls will generally cost more than an air fryer with manual controls.
When you decide you're ready to purchase an air fryer, keep an eye out for sales. Black Friday has some great sales, but they also go on sale regularly on Amazon or through Costco. I got a great deal on my air fryer at Costco.
4. SPACE
When deciding on an air fryer, space is a very important consideration. Even a smaller air fryer can take up the room of 2 kettles and the larger ones and the oven-style take up a lot more room, as they're at least as big as a toaster oven.
Do you have a large kitchen or a small kitchen? Or are you in a small condo?
Do you have other small appliances taking up counter space?
Do you have counter space or the cupboard space to store it off the counter? or somewhere else?
Do you have room for another kitchen appliance on your counter? Are you replacing other appliances with a multi-function air fryer and therefore getting rid of another appliance to free up space?
If you plan to keep it on the kitchen counter, you'll want to ensure it looks aesthetically pleasing.
I recommend that you check the specs on the air fryer before you buy it (especially if you are buying online) the measure the space you have to spare.
🏆Best Air Fryers
I recommend you watch videos to see how the air fryers you are interested in purchasing, actually function, and their ease of use. And read the reviews on Amazon, Best Buy, and online stores where people who actually bought the appliance leave reviews.
If you want to read some reviews on air fryers, check out this Best Air Fryers article by Food and Wine and this Air Fryer Buying Guide by Best Reviews (they list the Ninja Foodi (affiliate link) as #1 again in 2023. And this 10 Things I Wish I Knew Before Buying an Air Fryer from Insider is also a helpful article!
The Ninja Foodi dual zone (affiliate link) was voted the best dual-zone air fryer in this Best Dual Zone Air Fryer review
The Cosori air fryer (affiliate link) also has great reviews and this model has an upper and lower heating element so there's even cooking and no shaking or preheating required.
The Phillips Premium air fryer (with fat removal technology) (affiliate link) was voted best overall in several articles, including this New York Times air fryer review article. They say it doesn't take up too much counter space and is a compact kitchen appliance that bridge that gap between a microwave and a conventional oven.
🍳What can you cook in an air fryer?
Depending on the type and size of air fryer you get, you can cook anything from frozen foods to homemade foods like chicken wings, chicken nuggets, chicken breast to entire chickens (pictured below). I have also made tuna burgers, falafels, french fries, chicken fajitas, quesadillas, salmon, sausages, pizza bites, donuts, and roasted potatoes and vegetables. I also have the dehydrate function too, so I dehydrate fruit and herbs. Some people even make eggs, and bake cakes in their air fryers, depending on their functionality.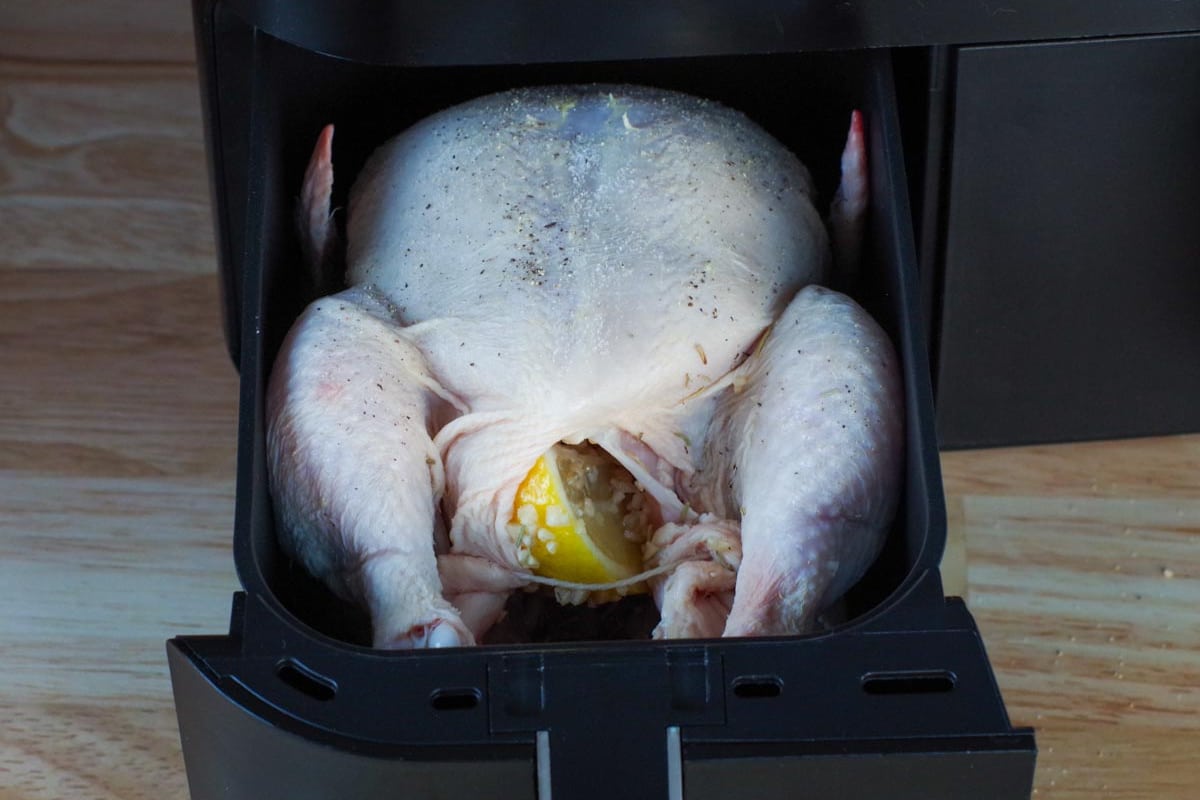 Your air fryer is a healthier alternative to frying food but it can be much more! The question is: what else do you want it to be? The possibilities are almost limitless now, depending on your needs, budget, and space.
But just because you cook something in your air fryer, doesn't make it instantly healthy. And the air fryer doesn't eliminate the need for oil, it just uses a lot less oil. But one thing is certain- it can replace your deep fryer (if you own one) and the need to fry things in oil. However, this is not including wet battered foods, as the air fryer does not properly cook this type of food (the batter drips off while the food cooks). But depending on which type of air fryer you get, it can replace other small appliances too (slow cooker, instant pot, toaster oven, small convection oven) !
Happy Shopping!
⭐ Reviews