I just couldn't bring myself to eat a boring old, plain rice krispie treat again after I tried these Apricot Sunflower Seed Rice Krispie Treats (Gluten-free)! My mother in law used to make these healthy rice krispie treats and I had never had anything like them.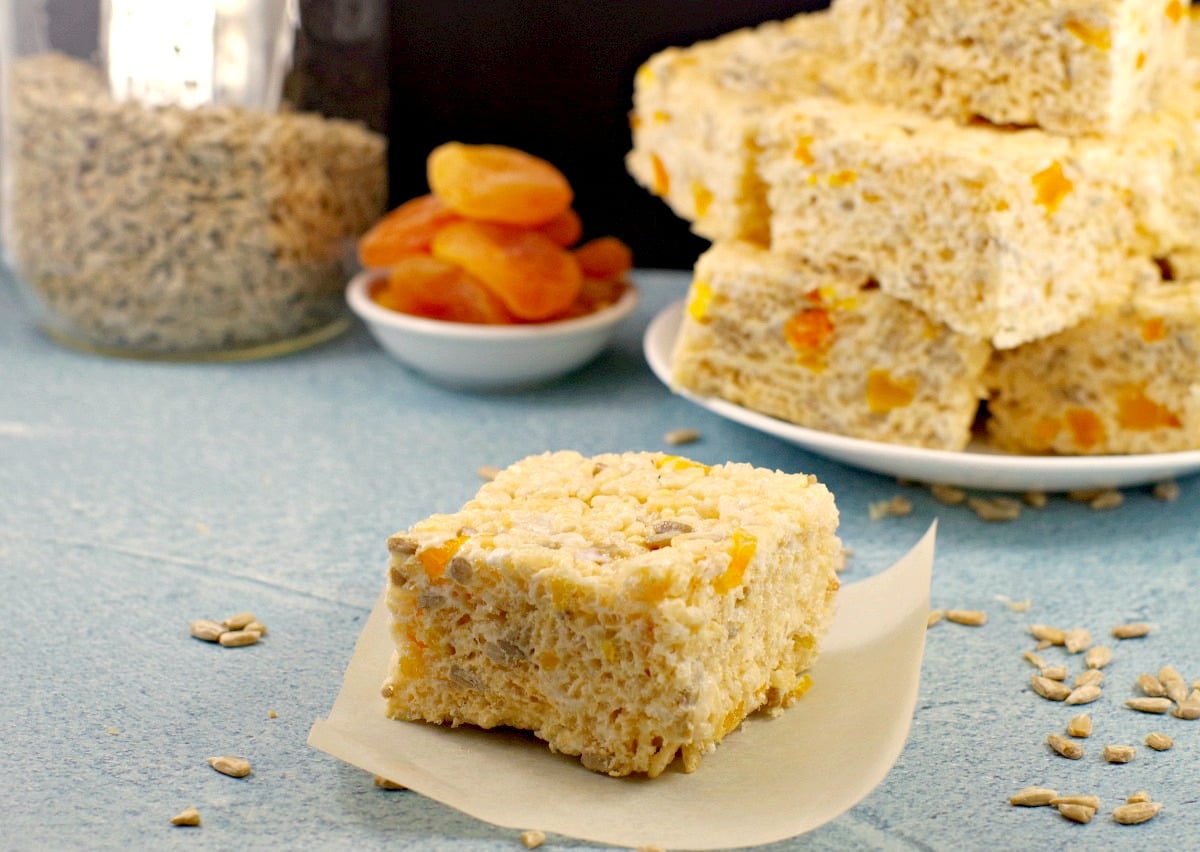 When we were kids rice cripsy treats were a really popular treat and it was pretty exciting when we got to have them (it was not something my Mom made at home). It wasn't until I met my husband that I tried this version. It's amazing how adding just a little dried apricot and sunflower seeds to a rice krispie cereal square can give it such a great variation of texture and transform it into something so delicious!
Grandma Jean was a really good cook and every time she used to visit us in Calgary, she'd make these rice crispy treats and her Chow Mein Casserole! I make a lot of her fabulous recipes now, including the best bran muffin you will ever eat in your life! I want her to live on that way; through her recipes. I know she'd like that.
How to make Rice Crispy Treats with Marshmallows:
You can make rice krispie treats with marshmallows on the stove top or in the microwave. I prefer to do it in the microwave - it's faster, less messy (especially if you grease your bowl and spoon) and doesn't burn as easily. You just have to be careful that you don't overcook the marshmallows (see my directions in recipe below).
Rice Krispie Treat Variations
There are lots of different variations of rice cripsy treats, but many involve making them even more unhealthy with add-ins like sprinkles, candy, chocolate chips etc... So if you're looking for a healthier version of rice krispie treats, then this one is it! It's very unique tasting and the sunflower seeds and apricots actually add some health benefits to the simple rice krispie square.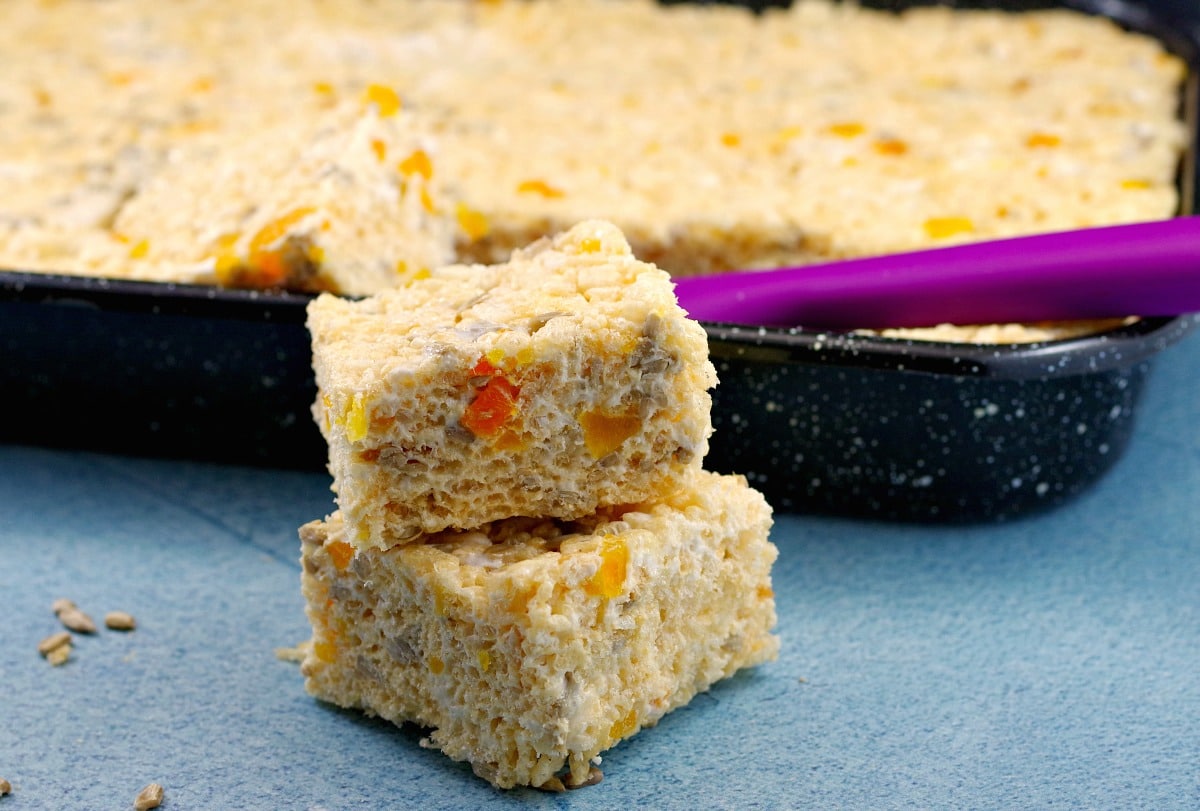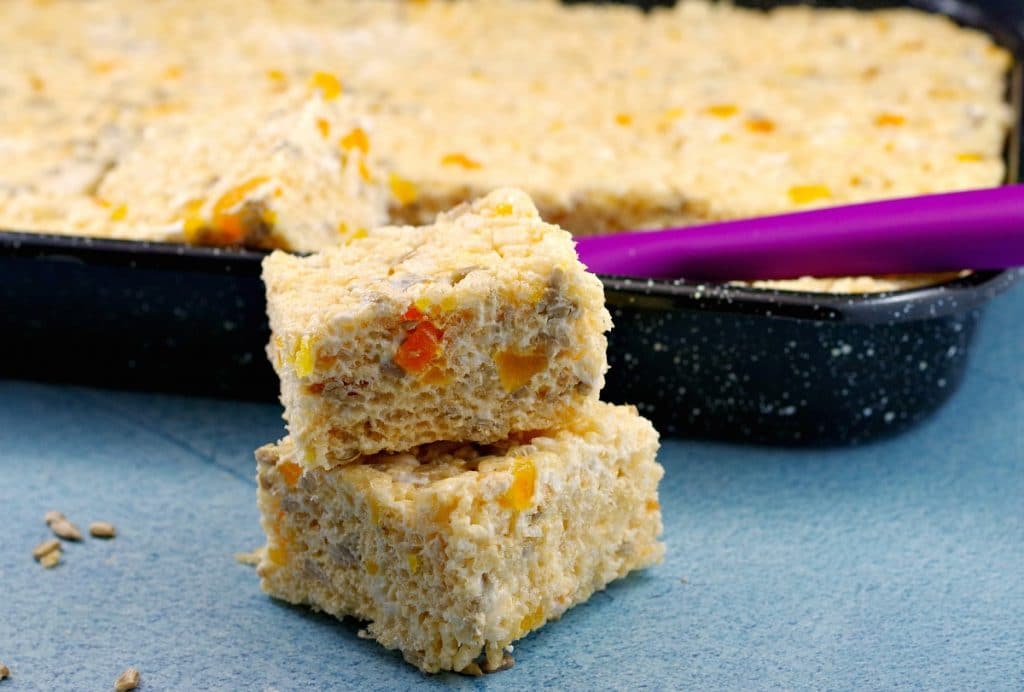 Healthy Rice Krispie Treats
Dried apricots are a good source of fiber and are considered a fruit serving, with ½ cup of dried fruit equal to one cup of fresh fruits. I'm not a big fruit eater, so this is a bonus for me! They also have a high beta-carotene content, making them especially rich in Vitamin A. Read more here.
Sunflower seeds are loaded with vitamins and minerals, including vitamin E (which has strong anti-inflammatory properties and may reduce risk of heart disease), folate (important for DNA synthesis), phosphorus (key for bone health), selenium (an antioxidant that protects against cell damage), manganese (which helps with bone production), copper (which helps with heart health and immune function), B6 (good for cognitive development and function) and zinc (important for metabolism and immune function), says registered dietitian Maxine Yeung. And sunflower seeds are notably rich in magnesium. Read more HERE!
But remember, although they may be healthier as far as treats go, that doesn't make them light, low-fat or Weight Watchers friendly. It's a treat and meant to be eaten in moderation. However, the bonus is that you're getting some health benefits from your treat!
Bake Sale
These Kellogg's Rice Krispie cereal bars are perfect for your next bake sale. They are popular sellers and really quick to make. They also freeze well, so you can make them ahead! And if you're looking for additional bake sale ideas, these Easy Butter Tarts were also a hot seller at our last 3 bake sales!
And be sure to check out my Bake Sale Ideas Board on Pinterest!
Print
Apricot Sunflower Rice Krispie Treats
These Apricot Sunflower Seed Healthy Rice Krispie treats are healthier and a unique variation of the standard rice krispie square. They also make a great bake sale item!
Instructions
Spray a 9 X 13 pan with non-stick cooking spray.

Grease a large microwave safe bowl and a large spoon (plastic preferably) with a little vegetable shortening

Add margarine and marshmallows to bowl and microwave for 1 minute. Remove and stir. If not fully melted, put back into microwave in 20 second increments and remove and stir each time until melted. * They will melt as you stir.

Once melted, remove from microwave and stir in rice krispies, chopped apricots and sunflowers seeds.

Press into a 9X13 pan. You can dampen your hands with water or lightly grease them to press into pan or use a greased spatula.

Cover with saran wrap and refrigerate for at least 30 minutes or until firm

Slice into squares and serve.
Notes
*NOTE: These freeze well and store for up to 6 months in the freezer in a ziploc freezer bag.
Nutrition Facts
Apricot Sunflower Rice Krispie Treats
Amount Per Serving
Calories 147
Calories from Fat 45
% Daily Value*
Fat 5g8%
Cholesterol 6mg2%
Sodium 83mg4%
Potassium 110mg3%
Carbohydrates 23g8%
Protein 2g4%
Vitamin A 895IU18%
Vitamin C 6mg7%
Calcium 8mg1%
Iron 3.3mg18%
* Percent Daily Values are based on a 2000 calorie diet.
Nutrition
Calories:
147
kcal
|
Carbohydrates:
23
g
|
Protein:
2
g
|
Fat:
5
g
|
Saturated Fat:
1
g
|
Cholesterol:
6
mg
|
Sodium:
83
mg
|
Potassium:
110
mg
|
Sugar:
11
g
|
Vitamin A:
895
IU
|
Vitamin C:
6
mg
|
Calcium:
8
mg
|
Iron:
3.3
mg
Save
Saved!
This post is party of The Country Cook Weekend Potluck!