"I'll have what he's having," I replied to the bartender, pointing towards the enormous, decadent red and white slushy drink in the guy's hand. I'd never said that in my life and wow did it feel good! I was on vacation after all. But unfortunately my Weight Watchers conscience kicked in, adding 'but if you have it in a smaller size…"
Damn that do-gooder voice!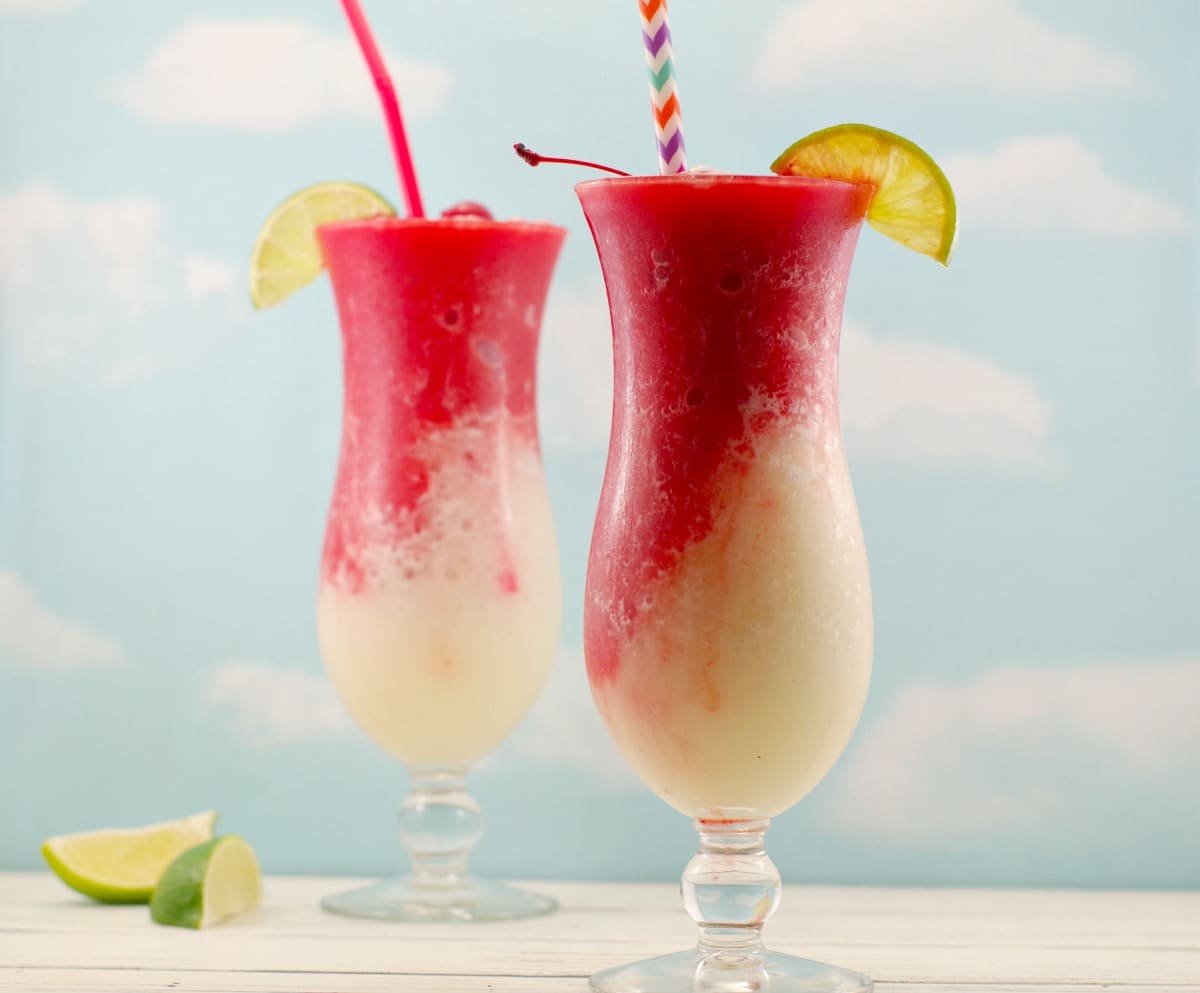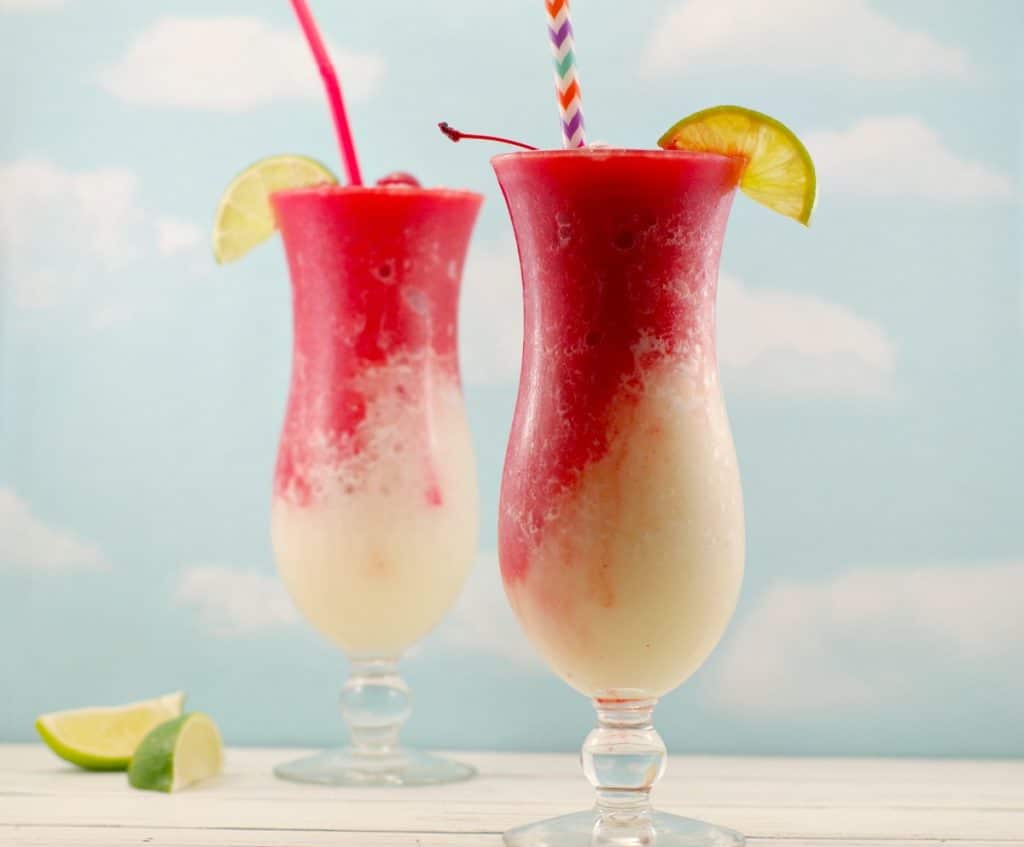 I never imagined going to a water park could be soo much fun, especially after my traumatic experience years ago. But this water park was very different… A few of those glorious, cool, refreshing drinks later, I found out what it was called -"A Miami Vice." And it was absolutely heavenly! I decided that when I got home I was going to make a Miami Vice Mocktail so my kids could also enjoy all the deliciousness that is this glorious combo.
The Miami Vice Cocktail
I'm not much of a cocktail girl; wine is my go-to drink. And if I think a place will have bad wine, then I will simply order a beer (preferably a craft beer). But for some reason, maybe because the vacation brain was in charge, I wanted whatever colorful, decadent, slushy beverage that guy was indulging in- the Miami Vice.
Mocktails for kids
However painful it is when your kids are no longer little, the silver lining is that they become more independent. And because we were at a water park in a private resort, our kids were old enough that they could go off on their own and periodically check back in with us. And even better, I didn't have to go down any water slides like I did when they were little! Did I mention I hate water slides? It's funny that someone who could spend every spare minute at a water park in their teens would end up hating them so much. But that's exactly what happens when you get stuck in a water slide.
Non Alcoholic Summer Drinks
Although my kids are are growing up too fast, they aren't quite grown up enough for alcohol. And since I like to make them special drinks, I loved this drink so much that I wanted to share that joy with them, in a wholesome non-alcoholic way, with this Miami Vice Mocktail!
Canada Day Red & White Drink
And even though the Miami Vice obviously has American roots, it's still the perfect red and white Canada Day drink!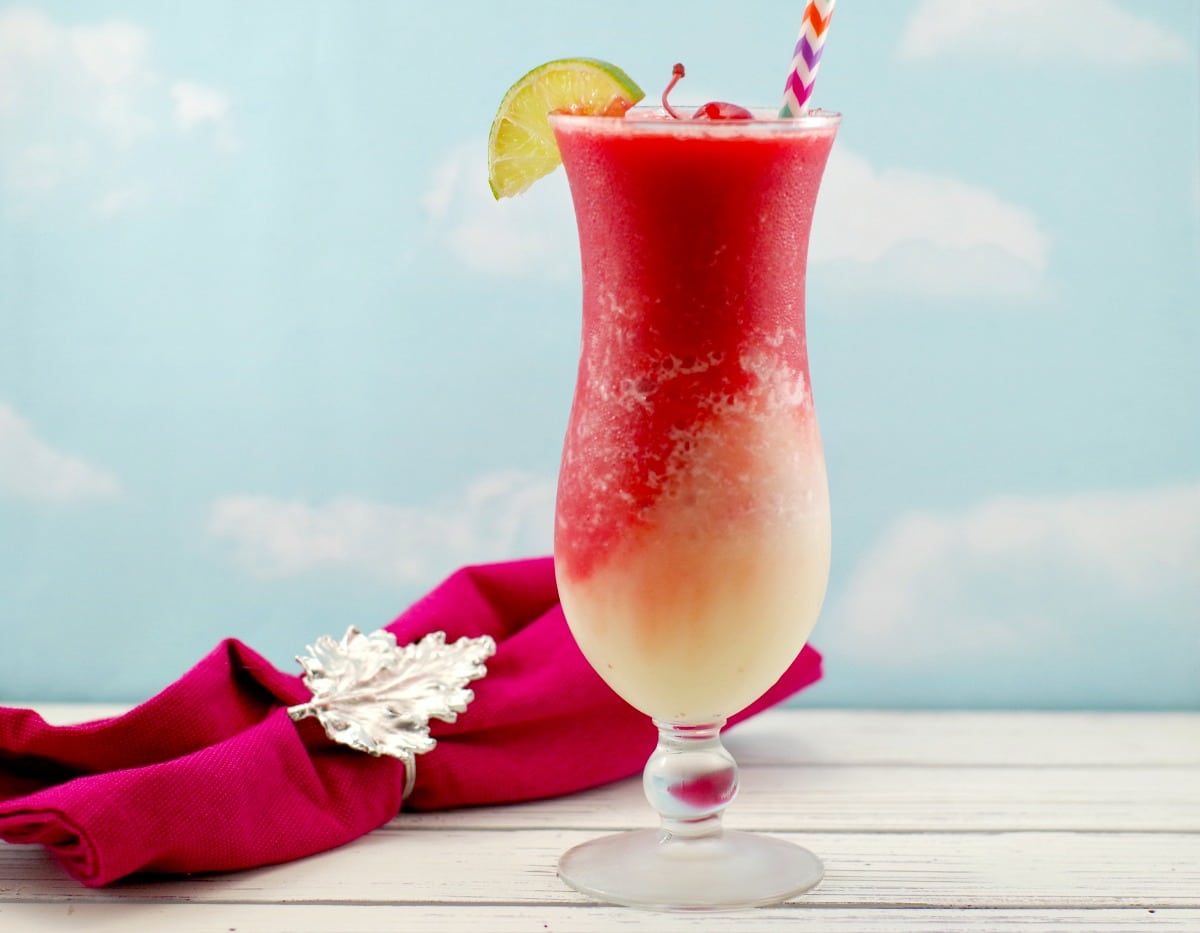 I love that you don't have to make 2 different drinks – you can simply keep the kids' non-alcoholic and add rum (if desired) for the grown ups!
Water Parks
As a University Student I worked a summer job where I planned recreational activities for adults with disabilities. One of our activities was a trip to a water park, which ended with me and one of these poor young people grinding to a halt in the middle of a slide; for some reason, there wasn't enough water coming down the slide to propel us forward. And after several minutes of panic and mad paddling, I saw an enormous shape careening towards us. And that was the end of my love affair with water slides.
I will never forget the moment the extremely large woman crashed into us, sending up spiraling out of control down the remainder of the tube. Although we only suffered very minor injuries, there was a lot of snot, tears and even some blood. But most importantly, there was psychological injury (aka water slide hatred). And from that day forward, I have not enjoyed water parks in the same way.
Miami Vice Drink
However, thanks to the The Wilderness Resort in Wisconsin Dells and their consideration for all the adults in tow (via lazy rivers, swim up bars and Miami Vices), I have acquired a whole new appreciation for water parks, so much so that we're even planning on going back this summer! And although many years have passed since that traumatic experience, I'll still be sticking to the swim up bars, lazy rivers and Miami Vices, while my independent kids enjoy all the joy the water slides bring to their lives.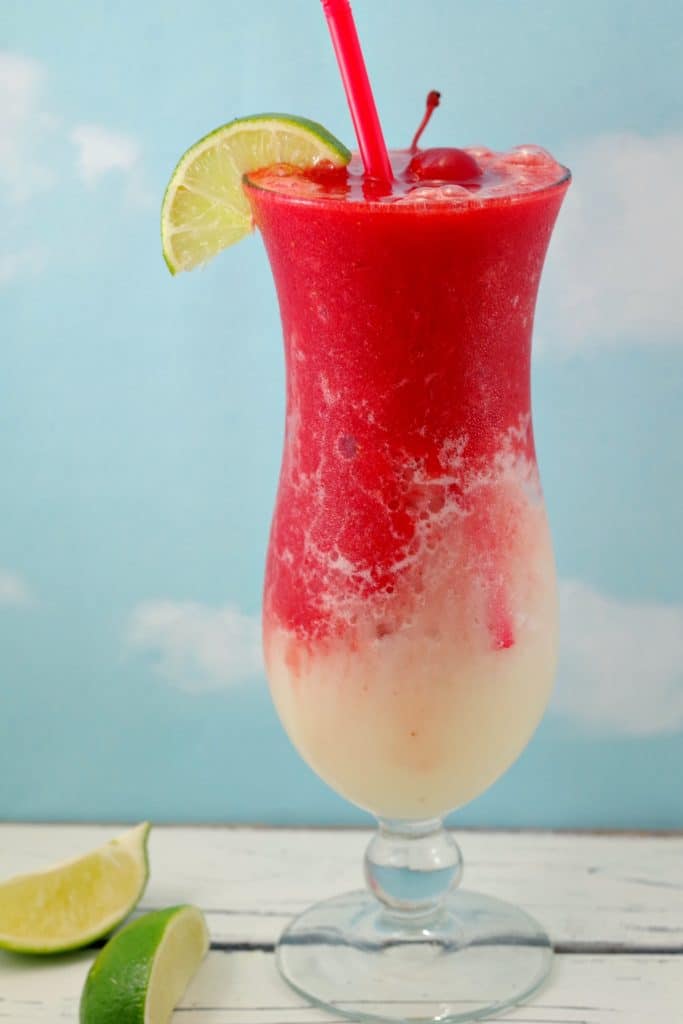 Famous Mocktails
And now I've turned this famous cocktail and refreshing summer drink into a mocktail for my kids to enjoy! And did they ever….
So, if you are looking for other non-alcoholic drinks for your kids (that can easily be spiked for the grown-ups) then give these a try!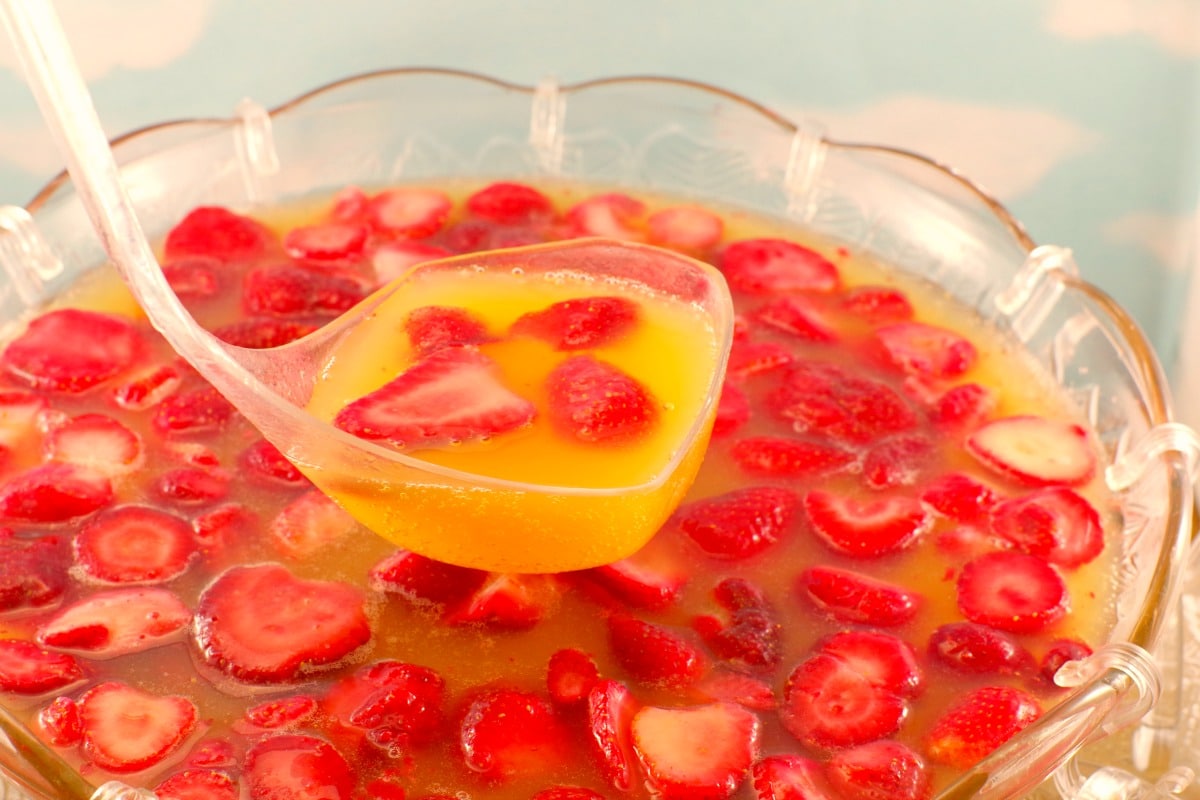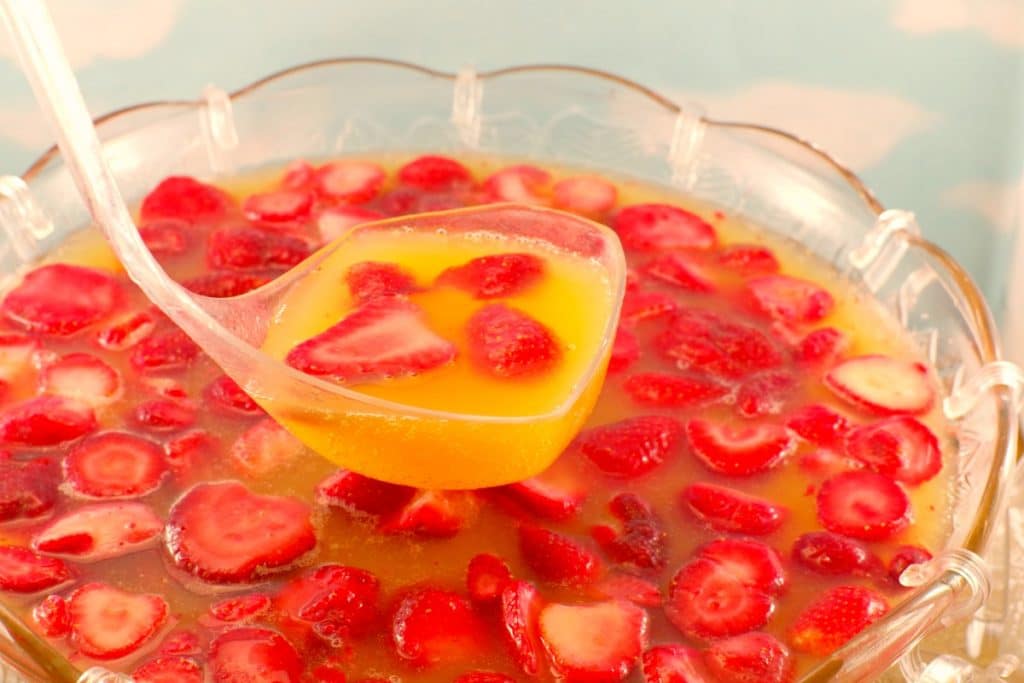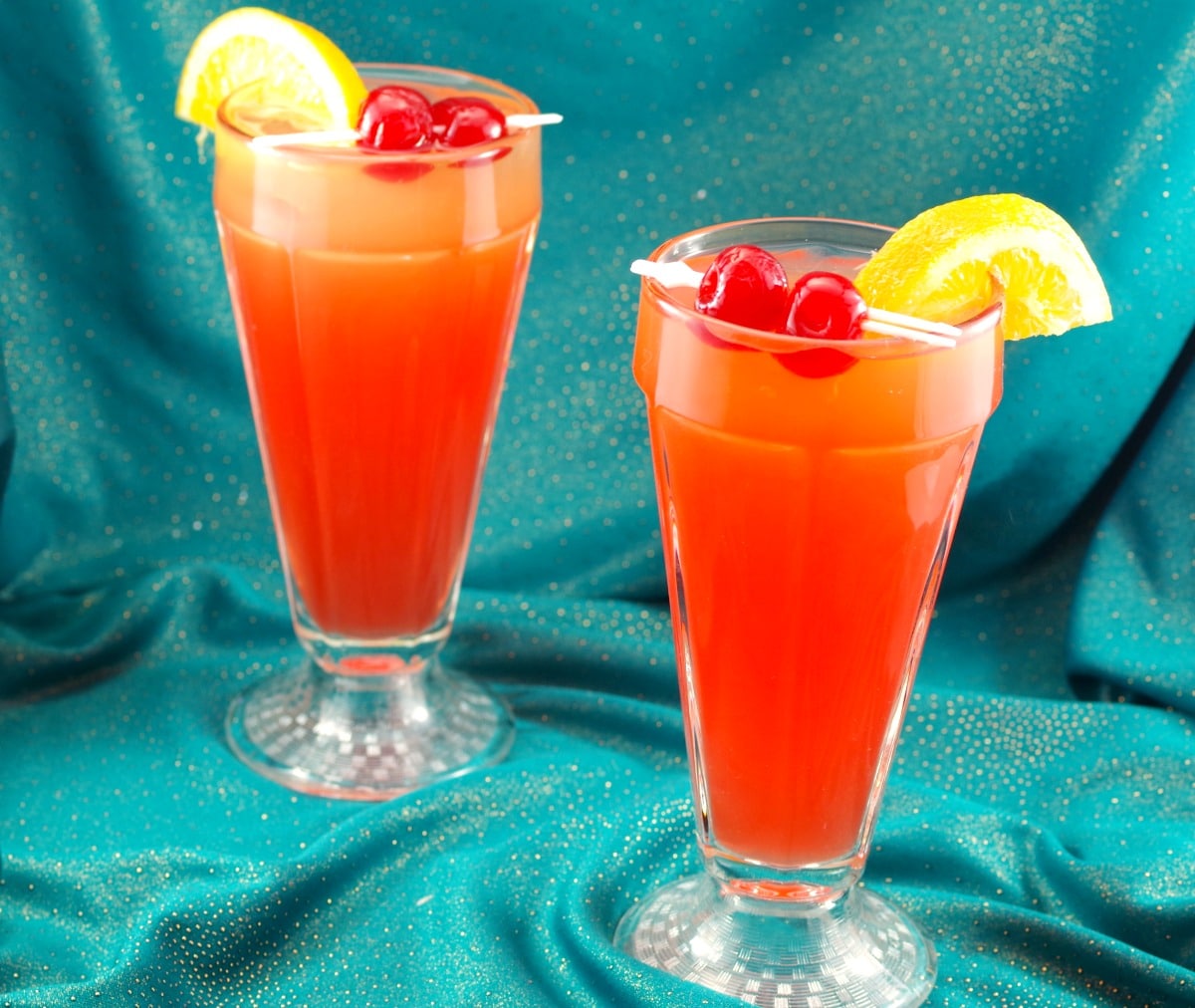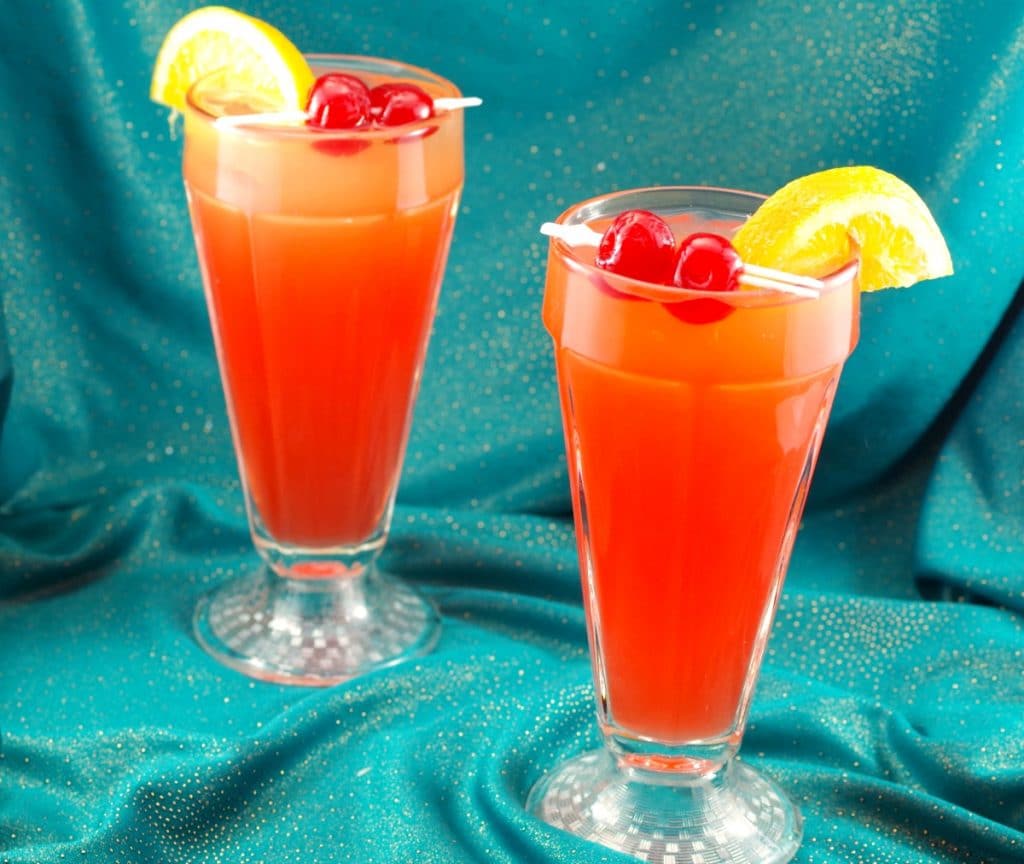 My Amazon Recommendations (affiliate links) I have the Hamilton Beach Blender and I love it!
Print
Miami Vice Mocktail
Half Strawberry Daiquiri and half Pina Colada, this delicious, frozen drink hybrid know as a Miami Vice Mocktail is a delicious non alcoholic version of the favorite Miami Vice cocktail. It' s a cool and refreshing summer drink and the perfect red and white Canada Day drink!
Instructions
Add pina colada and ice to blender and blend for 20-30 second, until blended.

Pour into jug and place in the freezer while you make the strawberry daiquiri portion.

Rinse blender thoroughly.

Add strawberry daiquiri mix and frozen strawberries together and blend until smooth/no lumps.

Mix rum extract with pina colada mixture. * if you want to separate some and add regular rum to it, this would be the time to do that.

Pour pina colada mixture into bottom half of the glass, dividing between both glasses.

Then add stawberry dacquiri mix to other half of each glass. Push down strawberry mixture on one side and stir slightly with a spoon or straw to get desired look.
Garnish
Garnish with half a slice of lime and a maraschino cherry. Serve immediately. *Keep mixture frozen when not using
Notes
*NOTE: Leftovers can be stored in freezer
Nutrition Facts
Miami Vice Mocktail
Amount Per Serving
Calories 607
Calories from Fat 9
% Daily Value*
Fat 1g2%
Sodium 109mg5%
Potassium 248mg7%
Carbohydrates 146g49%
Protein 1g2%
Vitamin C 95mg115%
Calcium 37mg4%
Iron 1mg6%
* Percent Daily Values are based on a 2000 calorie diet.
Nutrition
Calories:
607
kcal
|
Carbohydrates:
146
g
|
Protein:
1
g
|
Fat:
1
g
|
Saturated Fat:
1
g
|
Sodium:
109
mg
|
Potassium:
248
mg
|
Fiber:
3
g
|
Sugar:
137
g
|
Vitamin C:
95
mg
|
Calcium:
37
mg
|
Iron:
1
mg
This recipe is part of The Country Cook's Weekend Potluck!