That year I had decided I would do it right; differently than I had done it in the past. I wouldn't eat Christmas dinner at my aunt's house. I would have a few snacks, then save up my appetite and eat Christmas turkey dinner at my in-laws.
I thought this would be a much better solution than stuffing my face at both places or sitting awkwardly at my in-laws dinner table, full, while everyone else ate. Either way, it wasn't ideal. But at the time, I really thought this was the better plan. In retrospect, it clearly wasn't.
There were many years when my husband and I ran back and forth over the holidays, trying to spend equal amounts of time with both families. It could get a little stressful. But Christmas dinner was always the biggest challenge because of course, you wanted to be at two places at once. Too bad my plan was foiled that year because Christmas dinner is, hands down, the best dinner of the year!
Turkey dinner leftovers are the best
I love Christmas turkey dinner leftovers almost as much as I love Christmas dinner. It's not only the best meal, it's also the meal that keeps on giving! And the best of the best leftovers are definitely turkey sandwiches! Oh how I look forward to those leftover turkey sandwiches. But a leftover turkey sandwich on a Panini press, now that is something to get really excited about!
I don't know what it is about the Panini press, but it makes sandwiches good. It transforms a boring old, cold sandwich into a melty delight! I really think the magic is in the melty. Melty cheese just makes everything better and when it's Brie cheese, well, need I say more?
You don't have to make this turkey cranberry Panini on a Panini press, but if you want those little grills marks, you'll need to. If you don't have a Panini press, I suggest you get one – you will not regret it! This is one of the best ever under $75 investments I have ever made.
Leftover Turkey Panini
This Panini is the ultimate in sweet and savoury. It features apple and fig, which are truly meant to be together, by the way. I discovered fig spread several years ago when I was trying to recreate a delicious chicken burger I had at Earls restaurant. Then you add in the sweet and savoury cranberry aioli, turkey, ooey gooey melted brie and you have yourself a turkey Panini sandwich that is second only to Christmas turkey dinner. If you are not sure what to do with your holiday leftovers, then this is your turkey sandwich!
Sadly, Christmas Dinner leftovers weren't even my salvation that year:
When I arrived at my in-laws for Christmas dinner that year, I was shocked to see everyone sitting around an empty table. They never finished Christmas dinner that early! All the food had been put away and mother-in-law said, "Oh, I thought you would have eaten at your aunt's? You usually do." My heart sank. I had neglected to share my plan with my husband or his family. The even weirder thing was that there weren't even any leftovers that year and there were always leftovers. So, I did the polite thing and I lied. I told her I had eaten more than I actually had at my aunt's so she wouldn't feel bad. I was starving.
To add insult to injury, I had sat through the torture of watching my entire family eat our outstanding traditional turkey dinner at my aunt's house AND I knew my Mom wouldn't have any leftovers when I got back home because the dinner had been at my aunt's that year! Ugh.
So my carefully crafted plan to avoid being a pig and eating too much, while trying to be polite, please everyone and avoid another awkward mealtime experience at my in-laws, had completely blown up in my face. I had planned myself right out of a Christmas turkey dinner! The dinner that is THE ultimate most delicious and highly coveted meal of the entire year! And I didn't get any.
The moral of the story:
Don't squander the opportunity to eat a turkey dinner – EVER! If you have a chance to have two turkey dinners, count yourself lucky. Don't worry about eating too much, pleasing everyone, being polite or any of that- just eat! My husband's parents passed away several years ago and I'd give just about anything to have a second turkey dinner with them again.
Merry Christmas Turkey Dinner and Christmas Turkey Dinner Leftovers!
If you love quick turkey sandwiches, then give my 5 Minute Turkey Club Ranch Wrap a try!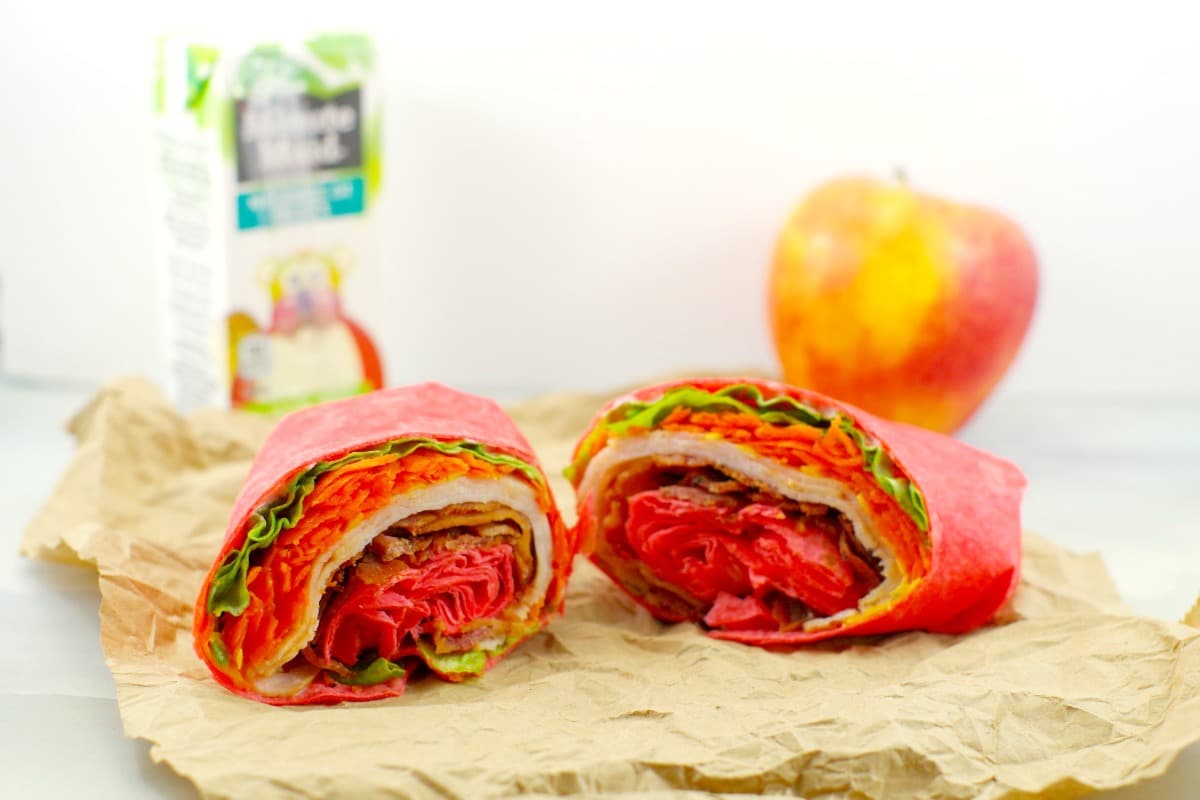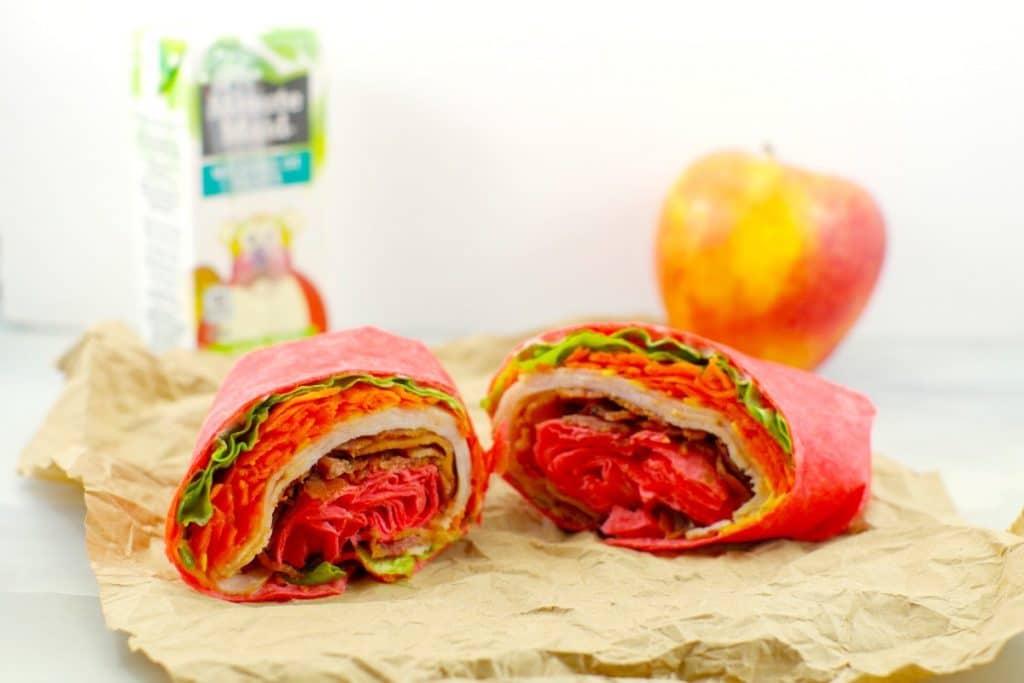 Print
Leftover Turkey, Cranberry & Brie Panini
Use up your leftover turkey and cranberry sauce with this unique, sophisticated and delicious panini sandwich! Turkey, cranberry aioli, fresh green apples, fig spread and ooey gooey melted brie cheese join together to treat your taste buds to a sensational experience!
Ingredients
8

slices

rye bread

300

g

leftover oven roasted turkey

( substitute deli sandwich meat)

4

oz

Brie cheese

2

granny smith apples

cored and peeled, cut into circles/rings

4

tsp

Fig spread

4

tsp

Cosmo cranberry aioli

See Recipe link in RECIPE NOTES
Instructions
Mix ingredients for Cosmo Cranberry Aioli together (recipe link in Recipe notes)

On one half slice of bread, add cosmo cranberry aioli, then add 1/4 turkey. Next place apple circles/rings over turkey, then add one ounce of brie cheese.

Add fig spread to the other side of the bread. Place that slice of bread on top of cheese. Repeat for remaining 3 sandwiches.

Place on top of hot panini grill and cook until ready and cheese is melted.

*Note: You can make this sandwich on a stove top in a frying pan, as you would a grilled cheese sandwich, if you do not have a panini press.

Serve and enjoy!
Notes
** You can use sliced turkey meat for this sandwich as well
How to make Cosmo Cranberry Aioli
Nutrition Facts
Leftover Turkey, Cranberry & Brie Panini
Amount Per Serving
Calories 420
Calories from Fat 126
% Daily Value*
Fat 14g22%
Cholesterol 68mg23%
Sodium 664mg29%
Potassium 365mg10%
Carbohydrates 48g16%
Protein 23g46%
Vitamin A 245IU5%
Vitamin C 5mg6%
Calcium 110mg11%
Iron 2.5mg14%
* Percent Daily Values are based on a 2000 calorie diet.
Nutrition
Calories:
420
kcal
|
Carbohydrates:
48
g
|
Protein:
23
g
|
Fat:
14
g
|
Saturated Fat:
6
g
|
Cholesterol:
68
mg
|
Sodium:
664
mg
|
Potassium:
365
mg
|
Fiber:
5
g
|
Sugar:
15
g
|
Vitamin A:
245
IU
|
Vitamin C:
5
mg
|
Calcium:
110
mg
|
Iron:
2.5
mg