Breakfast potlucks can be a challenge. You need finger foods, things that are easily transportable, and recipes that can be reheated in a microwave. Over the years we've had a lot of breakfast potlucks at work, so I've come up with many of my own breakfast recipes for a potluck. But for this post, I have also rallied my fellow food bloggers to bring you even more fantastic breakfast ideas! Here are 35 Breakfast Potluck ideas to choose from.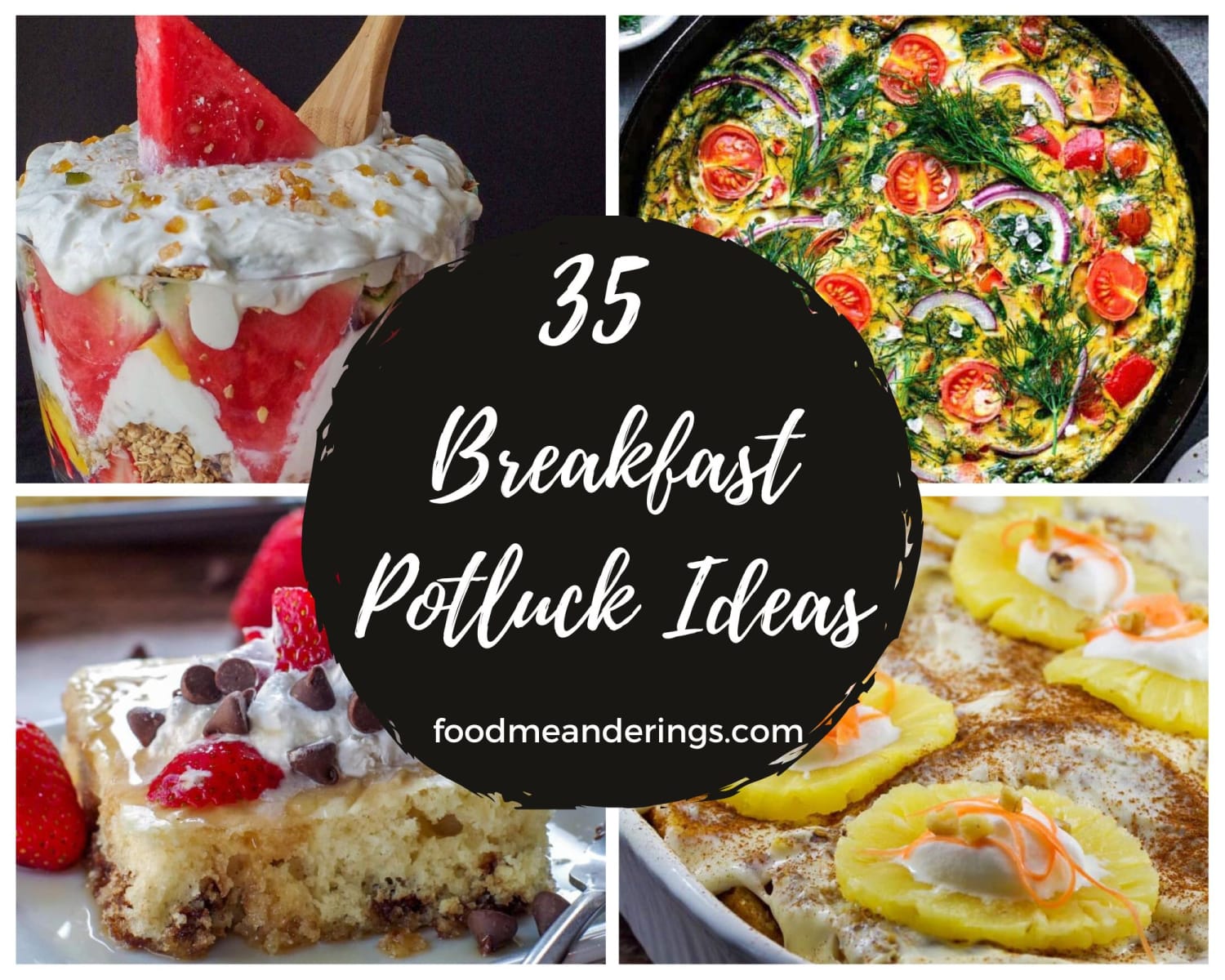 I have everything from pancakes to breakfast casseroles and healthier breakfasts, that are also on the lighter side, as well as breakfast recipes that are a little more indulgent. There are also some unexpected breakfast potluck ideas (HELLO breakfast soup! )These breakfast ideas are great for any time of the year and are ideal for bringing along to a potluck brunch or breakfast.
Breakfast Potluck Recipes
Sweet Breakfast Potluck Ideas
Savory Breakfast Potluck Ideas
Semi-homemade Breakfast Potluck ideas
If you are looking for very easy breakfast potluck ideas, semi-homemade is the way to go!
BONUS: Easy Store-bought Breakfast Potluck Ideas
Not everyone has the time or desire to cook, so here are some additional easy ideas/items you can pick up at the grocery store:
Greek yogurt with topping (store-bought granola), fruit and nuts, seeds etc..
Pastries- grocery store or bakery- scones, cinnamon buns etc.
Fresh fruit platter
Instant Oatmeal -bring topping like berries, chocolate chips, dried fruits, etc..
Frozen breakfast burritos
Frozen waffles with toppings such as berries, maple syrup, and whipped cream
Frozen pre-cooked hashbrowns
Frozen breakfast pizza
*You can dress up store-bought foods by placing them in attractive dishes and adding your own garnish or arrangement.
👪 Serving Size
Each recipe will show the number of servings. However, most recipe cards have adjustable servings (all of mine do) so you can double or triple the recipe by clicking on the serving number and selecting the number of servings you'd like. The ingredient quantities will automatically adjust.
🍽Equipment
Many recipes call for a 9X13 baking pan , so it's a good staple to have around. I like the ones with the lid, especially for transporting to a potluck. You can also buy a glass 9X13 pans with a lid, which I find very handy for so many baked dishes and desserts! Casserole dishes, in a variety of sizes, are also useful to have on hand!
I also recommend this instant-read thermometer (affiliate link) -it's a game changer! No more cutting into your food, guessing or hoping it's done. This is especially important when you are cooking for a crowd!
But it's more than just a meat thermometer! I use my Thermapen for everything from baking pie and bread to eggs, casseroles, candy making, and more!
This amazing little tool instantly and accurately measures temperature with a quick poke.
It's not just for the grill either, it's the go-to kitchen instrument trusted by the world's most acclaimed chefs and BBQ champions (it's one of Alton Brown's 'favorite things')!
And it comes with a handy little chart that gives you chef-recommended temperatures, as well as the minimum done temps for food safety.
So if you are looking for breakfast food for your next potluck breakfast, you'll love these crowd-pleasing dishes!
⭐ Reviews