It's zucchini season and if you love zucchini, and have fresh summer zucchini, then you're probably making stuffed zucchini (aka zucchini boats). It really is a great way to enjoy this summer squash! They are not only fun, but zucchini boats are also healthy and low-carb! But what to serve with stuffed zucchini? That is the question.... So, I have gathered up 35 fantastic recipes to serve with stuffed zucchini, from my fellow food bloggers.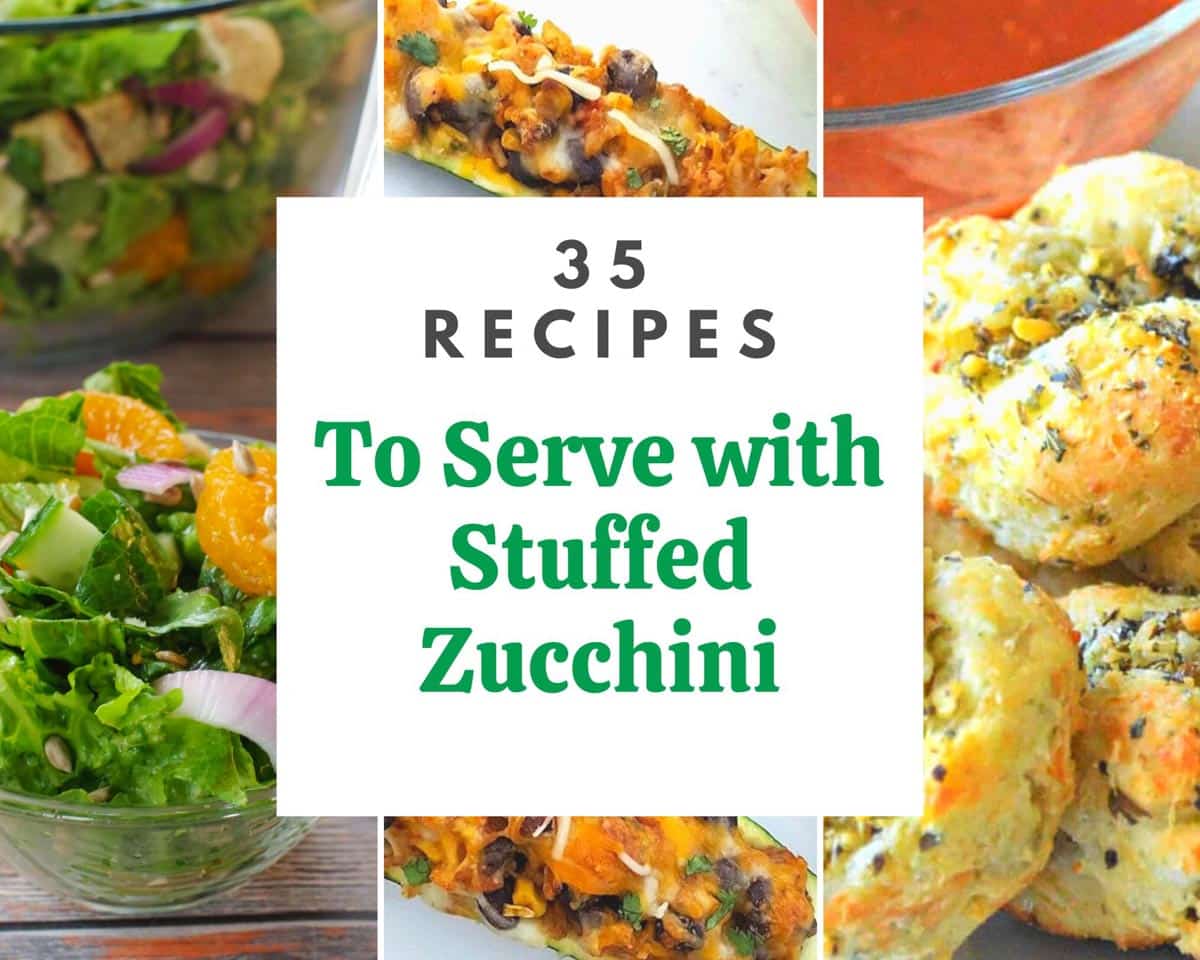 Whether you are serving fresh zucchini boats as a side or a main course, I have you covered with lots of ideas for recipes to serve with zucchini boats that the whole family will love, including salads, rice, bread, and even main courses you could serve with your stuffed zucchini side dish.
Sides Dishes to serve with Stuffed Zucchini
If you are serving a stuffed zucchini recipe stuffed with meat (Italian sausage, chicken, ground turkey, ground beef or bacon), like these Buffalo Chicken Stuffed Zucchini (shown), Healthy Perogy Stuffed Zucchini, Taco Zucchini Boats, Greek Stuffed Zucchini Boat , Southwestern Turkey Stuffed Zucchini Boats, or Pizza Zucchini Boats and this is the main dish, then you'll want to serve them with a side. I have gathered the best side dishes including salad, bread, or vegetable sides, for a stuffed zucchini main dish.
Salads
Rice
Vegetables
Bread and Buns
Other Sides
Main Dishes to Serve with Stuffed Zucchini
Zucchini boats make a great side dish, served with a main dish. Serving them on the side is ideal if you're having stuffed zucchini that is lighter or vegetarian, like these Air Fryer Zucchini Boats or Vegetarian Mexican Stuffed Zucchini (shown). Here are some main dishes that pair well with stuffed zucchini on the side.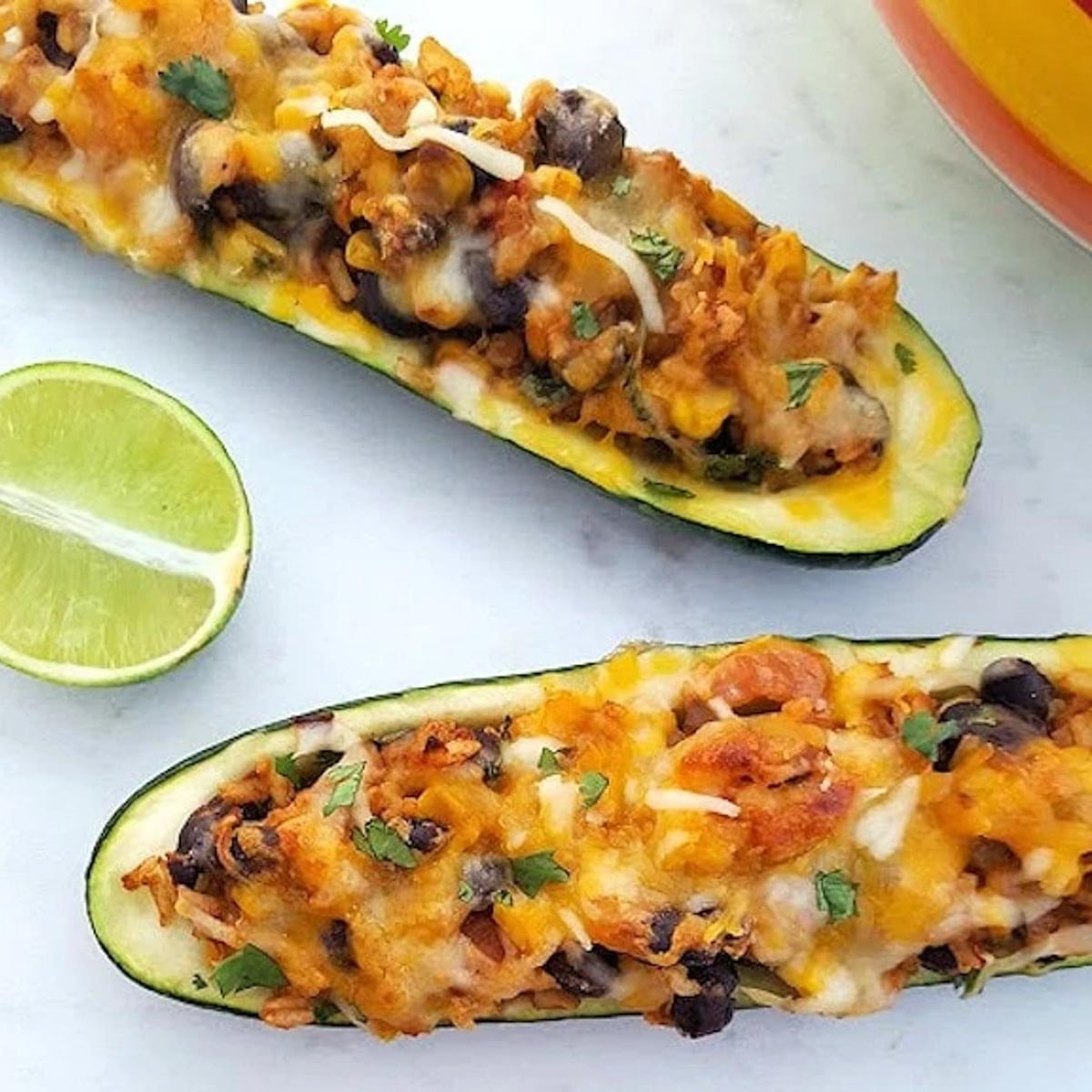 💭 Top Tip
When choosing zucchini for your stuffed zucchini, the size of your zucchini matters, and bigger is not better! Choose smaller to medium zucchini instead of large zucchini, as they tend to be more flavorful. Larger zucchinis also tend to have tougher skin. I usually grate larger zucchini and use them in zucchini bread, muffins, cookies and fried zucchini.
📖Variations & Substitutions
Cheese - the cheese in most of the zucchini boat recipes can be swapped out for another type (cheddar cheese for mozzarella cheese or Monterey jack cheese or visa versa) You can use your favorite cheese or whatever you have on hand. Parmesan cheese is an excellent garnish for stuffed zucchini!
Oil - in most recipes you can use olive oil, vegetable oil, cooking oil, and canola oil interchangeably.
Lactose-free - use lactose-free cheese and lactose-free cream cheese instead of regular cheese for filling.
Spicy - to make zucchini boats spicy use crushed red pepper flakes or add hot sauce
Lighten - you can substitute turkey sausage, chicken sausage, turkey bacon, or ground turkey to lighten up most zucchini boat recipes
🍽 Equipment
You'll need a, 9X13 baking dish , at least 2 inches deep for making zucchini boats and in many cases, a large skillet (affiliate links), for making the filling. You can also make them on a baking sheet, if you don't have a deeper baking dish. See individual recipes for specific equipment requirements.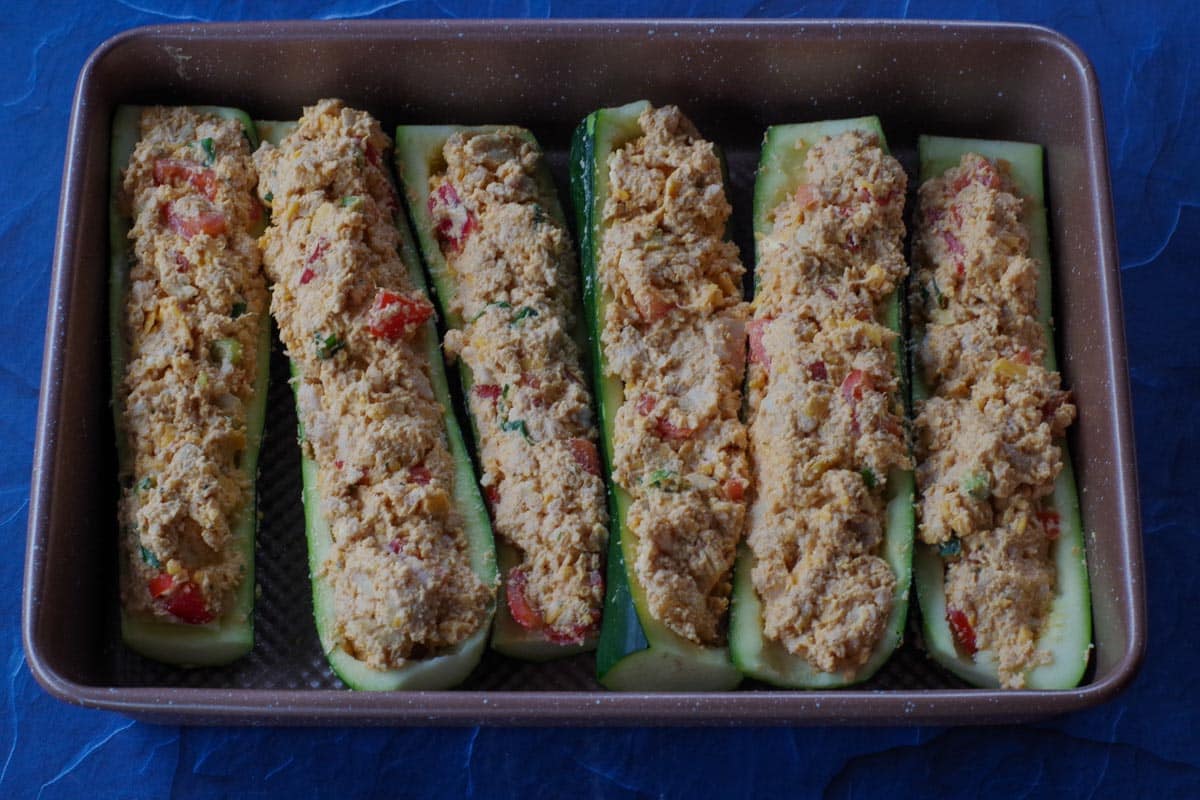 👪 Serving Size
Each recipe has the servings listed on the recipe card. However, many of the recipes also have adjustable servings so you can half, double or triple the recipe. Simply click on the blue serving number, then select the number of servings you'd like. The ingredient quantities will automatically adjust.
🌡️Storage
Store leftover zucchini boats in an airtight container in the fridge for up to 3 days. They will freeze well in a sealed container for up to 3 months. See individual side and main dish recipes for storage information.

❔ Frequently Asked Questions
Whether you grow your own and have an abundance of zucchini or get it at the grocery store, zucchini boats the perfect zucchini recipe and a healthy dinner or lunch. I hope this post helped you decide what to serve zucchini boats!
⭐ Reviews
Please leave a star rating and comment!
📋More Zucchini Recipes