If you are trying to eat healthy by getting enough fruits and vegetables, but you're busy and it's not easy to fit in, I have 45 great ideas for easy ways you can eat more fruit and vegetables.
And if you have struggled with getting enough fruits and vegetables into your diet, I feel your pain. I too have been working on this as part of my lifestyle. In light of this, I have created several recipes with fruits and vegetables that are simple to make and won't eat up your precious time in the kitchen. So, if you're wondering how to eat more fruit and vegetables, read on!
Jump to:
🍓🥕Benefits of Eating Fruits and Vegetables
According to Harvard School of public health, a diet rich in vegetables and fruits can play a major role in disease control, lowering high blood pressure, reducing the risk of heart disease and stroke, preventing some types of cancer, lowering risk of eye and digestive problems, and having a positive effect upon blood sugar, keeping you sated. Eating non-starchy vegetables and fruits like apples, pears, and leafy greens may even promote weight loss. Clearly there is good reason to be eating more fruits and vegetables. This is good news because it's lifestyle, it's something you can control. You can read more about fruits and vegetables benefits here.
🧮How many servings of fruit and vegetables do you need in a day?
Different sources recommend daily allowances of fruits and vegetables anywhere between 5-10 servings a day. So, how many do we really need? The consensus for dietary guidelines, based on recent studies, is for 5 servings. And in particular, a recent study from Harvard indicates that a total of five servings per day of fruits and vegetables offers the strongest health benefits. Apparently, the most effective combination of fruits and vegetables among study participants was two servings of fruit plus three servings of vegetables per day, for a total of five servings daily. You can read more about this study HERE.
And if it's a challenge for you to get reach your quota of fruit and vegetables each day, the Mayo Clinic recommends using this clever 1-2-3 approach throughout the day. Get six (6) servings by eating:
1 serving with breakfast
2 with lunch
3 with dinner and snacks
Hey, whatever works for you! You can read more about the Mayo clinic's 1-2-3 approach here.
Personally, my aim is to get 4-6 a day and have it balance out to 5 throughout the week. So, if you're wondering, "How can I get 5 servings of fruits and vegetables a day?" I have some ideas to share because I've been successfully doing it, without disrupting my life or spending a lot of extra time on it. ...
🥞Start early in the day - at Breakfast!
Start early- at breakfast. That way, you'll be well on your way to meeting your daily intake requirements, especially if your meal planning gets highjacked (for whatever reason) later in the day!
Smoothies and smoothie bowls - Make a breakfast smoothie or smoothie bowl with bananas, berries, or mango (I add Greek yogurt for protein.) Try my Vegan Blueberry Cookie Smoothie or my Raspberry Gingerbread Smoothie
On your toast - Avocado toast is my fave breakfast - take a piece of rye bread, toast it, mash ½ an avocado on top, sprinkle with Everything Bagel Seasoning, top with a sunny side up fried egg, then drizzle with sriracha sauce.
Toppings: You'll love my Apple Cinnamon topping on pancakes and waffles! And it's a great way to use up a lot of apples that would have otherwise gone bad.
In pancakes: my Sheet Pan Pumpkin Pie Pancakes are fast and easy or they can be made ahead. And my Healthy Red Velvet Pancakes (with Sweet Chocolate Cream Cheese Butter) are easy to make with canned beets.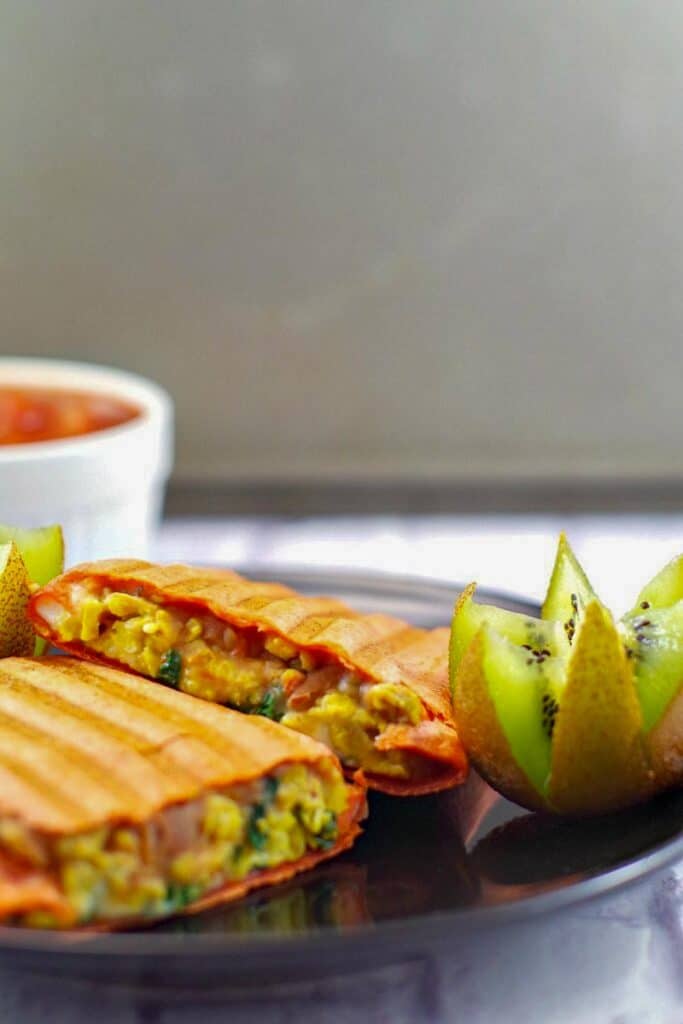 🥪Lunch (at home or on the go)
Vegetables for lunch
Wraps-add veggies like shredded/grated raw carrots. You'll love my 5 Minute Turkey Bacon Ranch Wrap *And you can buy pre-shredded carrots at the grocery store.
Add frozen vegetables to frozen microwave lunches: cook up a cup or two of mixed frozen veggies in the microwave and add them to your frozen microwave meal. You'll get that extra boost of vitamins and it will be more filling.
Stuff it! Try my Tuna Stuffed Tomatoes
Make a Salad in a Jar to go - try my No Cook Mason Jar Chicken Taco Salad!
Add veggies to your sandwiches: Cucumbers are easy to add to sandwiches, like in my Buffalo Chicken Panini and a Chicken Breast Burger.
Side of veggies and dip: I bring along a little side of baby carrots and sliced cucumbers with dip (I like Litehouse Ranch dressing) with all my sandwiches. That way I can eat them anywhere (in my car, at my desk at work etc...)
Add fruit to your yogurt. It can be fresh, canned or frozen. I also add my Apple Cinnamon Topping to my yogurt.
Add avocado to one side of your sandwich, instead of mayonnaise: this works especially well on turkey bacon BLT's!
🍌Snacks
Eat it on the go! Homemade Energy bars are a great way to eat fruit on the go! *This recipe is no bake and uses dried fruit.
Make it fun! Make a banana man by adding chocolate chips to a banana (3 for eyes and nose and 3 for buttons). I used to do this for my kids when they were young and I was trying to get them to eat more fruit. I still do it for myself when I'm torn between eating healthy and wanting chocolate (which is pretty much all the time) :). You can also make a quick, easy and healthy shredded carrot and apple wrap with raisins into "sushi" . Or add fruits and vegetables to Jell-O and cut it into fun shapes like hearts! (This is also a great way to sneak veggies into food for toddlers)
Raw veggies with healthy dip. My fave is Hummus !
Make your veggies into chips! Instead of eating potato chips, try my Parsnip Crisps. You can use an air fryer (instead of deep frying them) and they make a wonderful topping for salad, as well as a snack! Or try my Air Fryer Parsnip Fries!
Add healthy sprinkles: Sprinkle apple slices with cinnamon or unsweetened coconut.
Dip your fruit too! Dip your apple slices or other fruit in vanilla or chocolate yogurt, Dark Chocolate Hummus, apple butter, peanut butter, Nutella, almond butter or Oatmeal Raisin Edible Cookie Dough Dip
Add fruit on top: Take a healthy snack like rice cakes with peanut butter, almond butter or chocolate cream cheese and add sliced bananas on top (shown)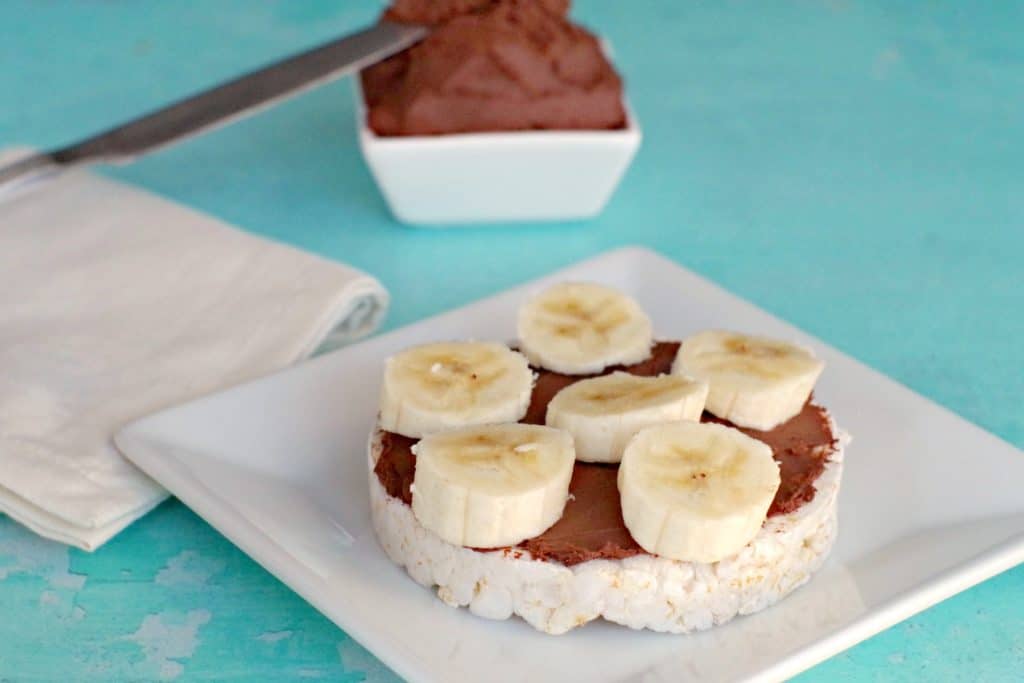 Drink your veggies- drink vegetable juice, in the form of tomato juice or V8 (but be careful re sodium) or make fresh fruit juice (if you have a juicer). You can also add frozen strawberries to punch (instead of ice) or make a fruit punch ring.
Make healthy appetizers out of vegetables: Try my buffalo chicken zucchini pizza, celery sticks, stuffed mini peppers and my Air Fryer Potato Skins!
Add fruits and veggies to your muffins. Try my Healthy Carrot Muffins with Pineapple, Healthy Rhubarb Muffins or my Healthy Pumpkin Bran Muffins
🍽️Dinner
How to incorporate fruits and vegetables into dinner
Get your veggies in your soup! I've got lots of soup recipes loaded with veggies that are easy and can be made ahead: Carrot soup, Italian wedding soup (with frozen spinach), Borscht (made with quick canned beets), Easy Healthy Minestrone Soup, Slow Cooker Broccoli Cheese Soup, and Pumpkin soup (you can use fresh or canned pumpkin).
Hidden veggies - increase your vegetable intake by sneaking veggies into other soups and sauces. When I make Shredded Zucchini & Feta Sauté, I grate extra zucchini and freeze it. Then I simply add it to my hamburger soup or spaghetti sauce/pasta sauce right out of the freezer. Other veggies, like carrots, can also be puréed in sauces as well and added to pasta dishes.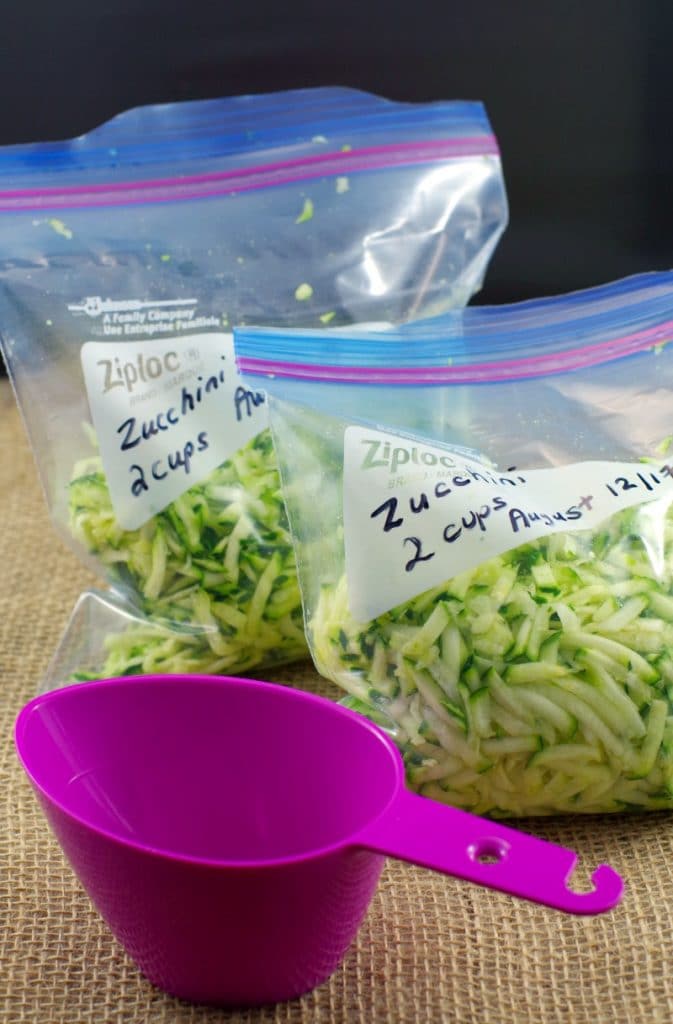 Make a healthy dinner wrap with lots of veggies and turkey or chicken (or leftover turkey or chicken)
Add fruit to main meat dishes: You can use a fruit salsa that pairs well with meats, or try my Apple Sage Pork Chops or Grilled Glazed Maple Cranberry Chicken (with Cranberry Salsa)
Make the vegetables the star of the show! Try my Perogy Zucchini Boats, Honey Sriracha Lettuce Wraps for an irresistible main dish!
Make a casserole (in advance!) Stuffed Green Pepper Casserole, Turnip and Apple Casserole or Potato and Ground Beef Casserole (with spinach)
Make your veggies on the side! Side dish ideas include: Green beans and mushrooms, Healthy Roasted Carrots, Artichoke and Red Pepper Coleslaw , Sweet potato fries or Quick Cucumber Kimchi or a simple side salad. You can also add a simple sauce to your vegetables (such as a cheese sauce on cauliflower).
Substitute healthy stuff for carbs (rice and noodles): Use cauliflower rice instead of regular rice or zucchini noodles or spaghetti squash in place of noodles.
Make a healthier pizza crust: try cauliflower pizza crust!
🍨 Dessert
Add veggies to your cookies! These Spinach chocolate chip cookies, Zucchini Chocolate Chip Cookies and Beet Red Velvet cookies are sooo good you'd never know they had vegetables in them!
Make your ice cream NICE CREAM - it's made with bananas! Or make Potato Ice Cream ("Cookies N' Creamers No Churn Ice Cream")
Bake your fruit and veggies in! Carrot bread, Apple Bread, Pumpkin Bread, Carrot cake, Banana Bread (with Lime Glaze)and Spinach brownies are all great ways to add vegetables and fruit to your baking!
❔FAQ's
How to eat more fruits and vegetables when you don't like them?
Eat them when you're really hungry, before you eat your regular meal or snack, or alongside your meal or snack. Don't save your fruit for dessert. And keep them handy so it's not a big effort to eat them. You can also puree vegetables and add into food so you don't notice them.
How to eat more fruits and vegetables on a budget?
Buying frozen fruits and vegetables is a very economical way to eat more fruit and vegetables on a budget. Also, sticking to the less costly fresh produce like apples, oranges, bananas, carrots (baby carrots are very convenient), celery, cabbage, lettuce, and tomatoes and buying other fruits and vegetables when they are on sale/shopping seasonally, is a great way to eat more fruits and vegetables on a budget.
💭Top tip
My best advice on how to eat more fruits and vegetables (that was given to me and actually works!): "Don't make getting enough fruits and vegetables in your diet into a big deal; treat it like 'brushing your teeth,"
Then it just becomes something you do every day and a healthy habit. Simply aim for at least 4-6 a day, by trying to add at least 1 fruit or vegetable with every snack or meal. If you can get 2 in at a meal, that's great and will make it simpler!
If you're looking for creative ways to get your fruits and vegetables, that won't chew up your time or break the bank, then give some of these ideas a try!
🍽Equipment
Need an Air Fryer and not sure which one to buy? Check out my What to Look for in an Air Fryer article.
I have the Ninja Foodi dual drawer air fryer (affiliate link) and love it!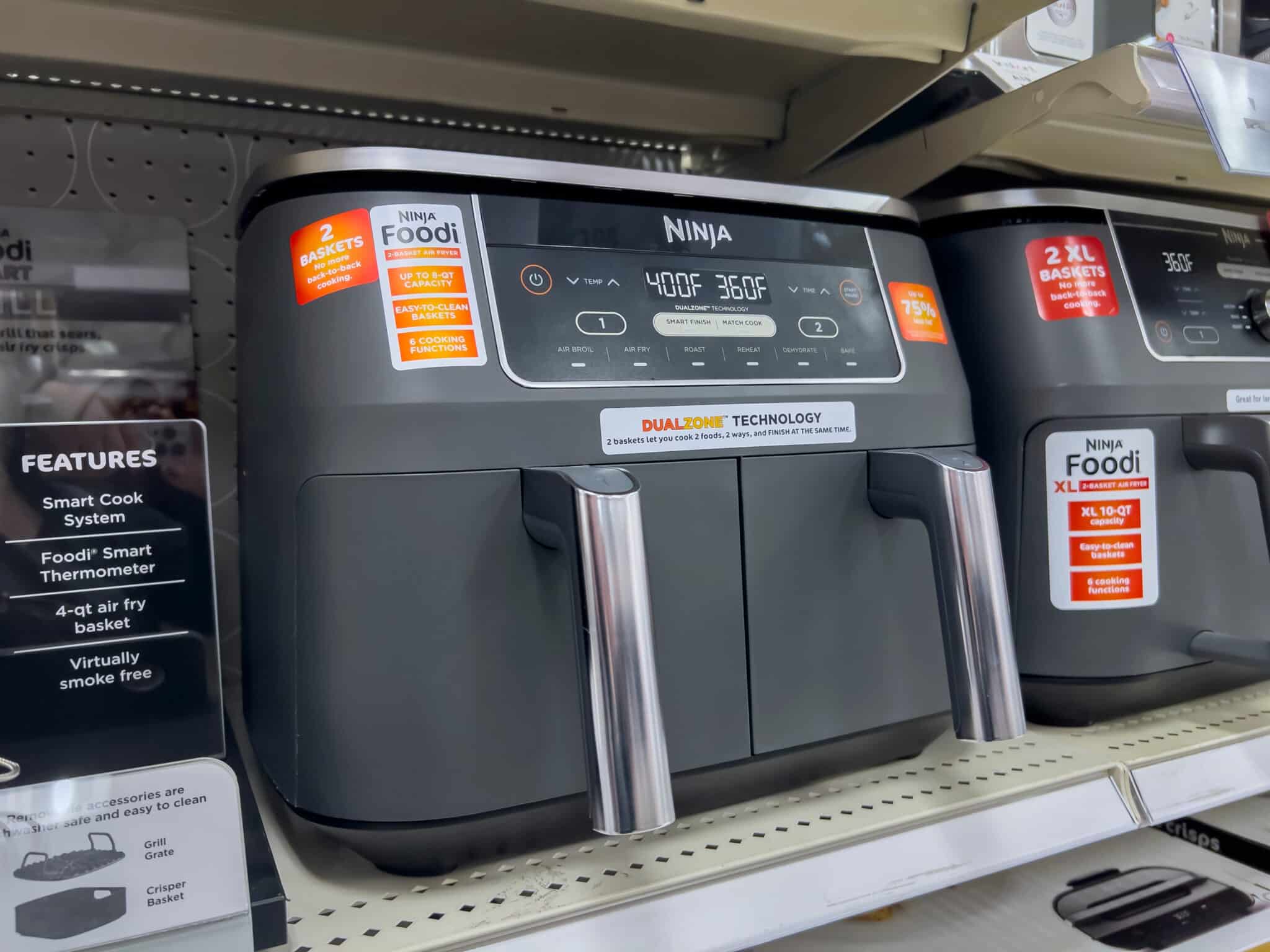 Please SUBSCRIBE  (get my FREE E-cookbook) and be sure to FOLLOW ME on FACEBOOK, TWITTER, INSTAGRAM and PINTEREST!
⭐ Reviews
Please RATE and leave a comment below if you liked this post!